How Shiprocket Enabled an eCommerce Business 'The Witty Kart' to Run Successfully?
An average 9-to-5 job is not fulfilling for many. People struggle with corporate culture and find it challenging to adapt. They can neither accept not having the final say in critical business decisions, nor can they work freely with superiors looking over their shoulders. Such individuals love to work independently and have a burning desire to make a significant achievement in their life which transcends the reality of merely being an employee.
Our seller today is one such maverick from the city of dreams, aka Mumbai, who could not imagine himself on a desk job. Read on to find out how Ankit Kapopara, the owner of the eCommerce website 'The Witty Cart,' fulfilled his dreams with Shiprocket's powerful shipping solution.
What made you start your business?
Ankit: I always wanted to run a business of my own. It was four years ago when I set up 'The Witty Cart.' I was never the kind of person who could work for someone else. Becoming my own boss was the only way for me to work both happily and productively.
How did you come across Shiprocket?
Ankit: It was a sponsored ad that I saw on Facebook, which made me aware of Shiprocket.
Why did you start using Shiprocket?
Ankit: First of all, the ad was brilliant! I loved the features which were endorsed in that video. Secondly, at that time, I was using FedEx for shipping my packages. Though the services were excellent, they did not cater to most of the pin-codes. My business demanded delivery of the shipments to both remote and accessible regions. Shiprocket perfectly matched my requirements. The integration of more than 17 leading courier partners, including FedEx, resolved one of my major issues. Consequently, I resorted to your company.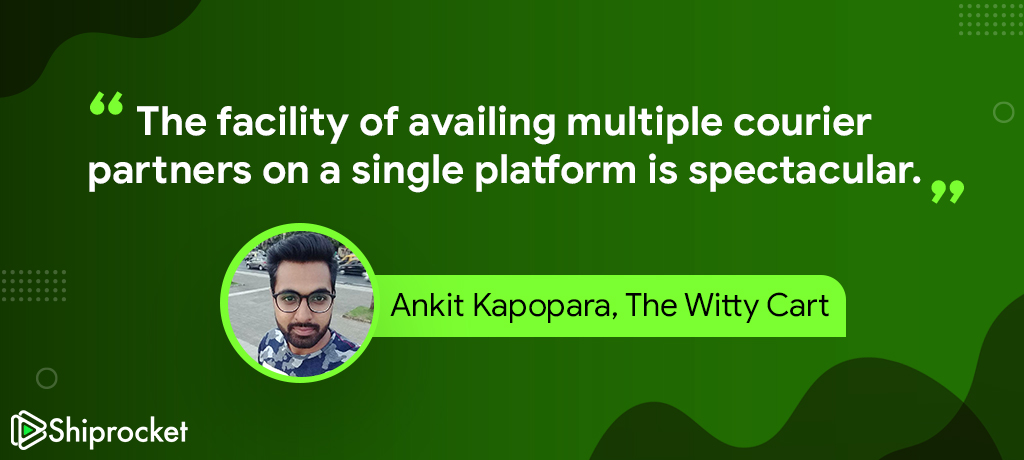 What do you like the most about Shiprocket?
Ankit: I think yours is a very user-friendly platform. There is no rocket science behind it. Anyone can use your product for their shipping needs and get the job done. Besides, the integration of multiple courier partners entices me the most. The serviceability of 26,000+ pin-codes across India is brilliant. As a seller, it satisfies me that there is no place where I cannot ship my products.
Have you seen an Increase in the Volume of Shipments?
Ankit: Yes. I get nearly 40 new orders every month.
Has Shiprocket enhanced the Shipping Process?
Ankit: Considerably. It is a result of the error-free order fulfillment that I am getting new orders every month. Moreover, there are regular product improvements to compensate for a user-friendly but fairly basic app interface. Belonging to a technical background, this is my only gripe with Shiprocket.
Have you used the Post-Ship feature?
Ankit: No, I have not.
Will you recommend Shiprocket to others?
Ankit: Yes, absolutely. Shiprocket is an easy to use platform which makes shipping effortless and should appeal to a majority of sellers who are not tech-savvy. Besides, the facility of availing multiple courier partners on a single platform is spectacular.
There is more to Shiprocket that meets the eye. While the availability of all the best courier partners under one platform is suitable for greater efficiency, there is more that is yet to be explored by our satisfied sellers. Be it Post-ship, early COD remittance, or Insurance cover – Shiprocket provides its users with a plethora of advantageous features that are helpful in the growth of their eCommerce business. Register with us today and join our extended family of over 30,000 delighted sellers. Happy Shipping!
Calculate Your Shipping Costs Now