What is Order Fulfillment? Key Steps, Process & Strategy
eCommerce in India has evolved tremendously over the past few years. From selling to a small group of people actively using the internet, eCommerce has reached a vast consumer pool across the country. With the government taking initiatives to help online sellers, many are even beginning to sell their products abroad. People's expectations from eCommerce businesses have also increased.
What seemed like an option to go for when you couldn't find something in an offline store, has now become a preference for many. So much so, that about 38% of sellers now say that they will abandon their cart if they do not receive their order within a week. But when we get to the bottom of it, what drives eCommerce? It is not just a single process; it's a combination of different procedures and units that work in synchronization to deliver to you your desired product. Let's find out what these procedures are and how they function.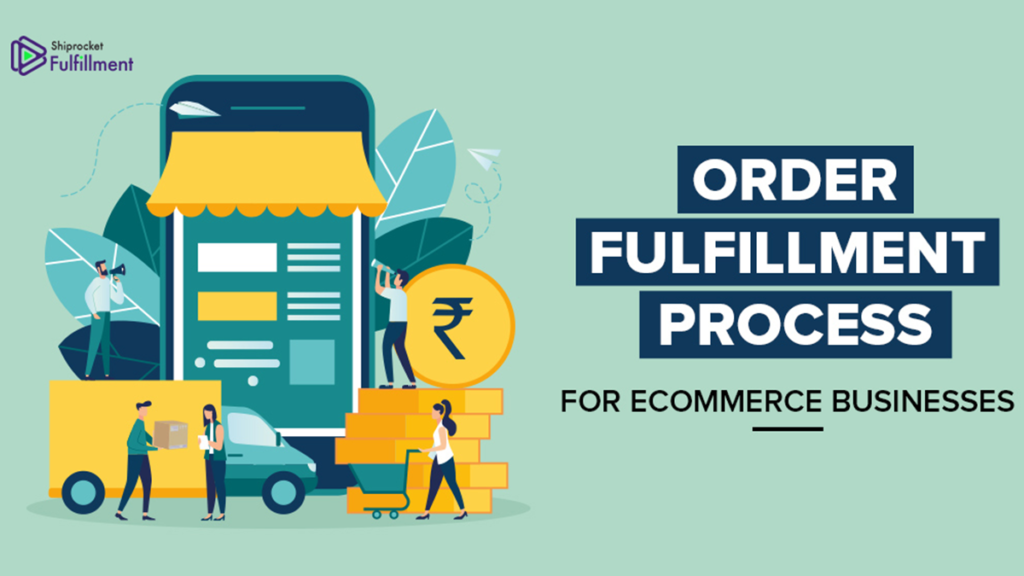 What is Order Fulfillment in eCommerce?
Order fulfillment refers to the entire process from the sale up until the post-delivery experience of the customer. It covers all the essential aspects such as receiving, processing, and delivering orders.
Most eCommerce sellers carry out order fulfillment or outsource some of the operations. A great example of order fulfillment is Shiprocket Fulfillment, which covers all the processes involved after you sell a product.
Let's take a closer look at these steps to learn more about how eCommerce fulfillment functions.
Improving The Order Fulfillment Process At Every Step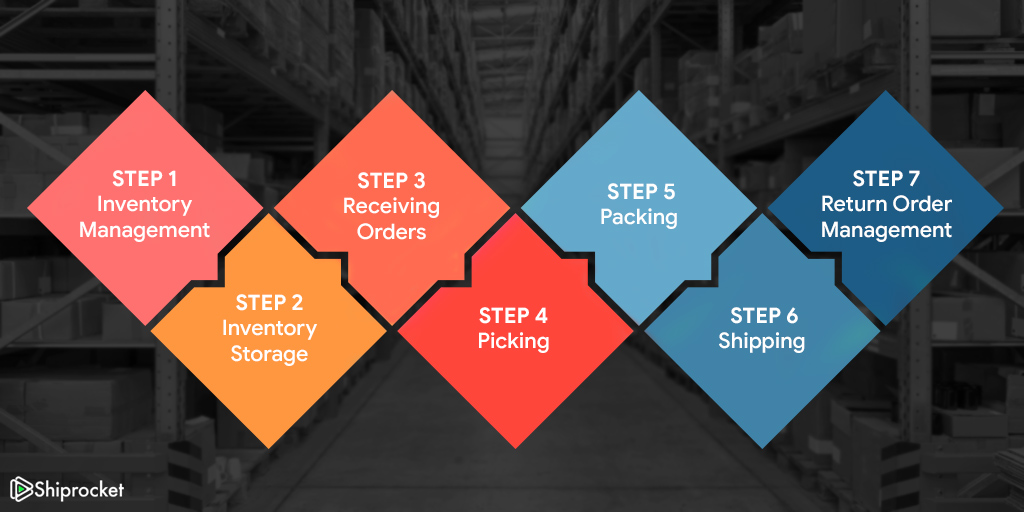 1. Inventory Management
It is an ongoing process that runs simultaneously with storage and you can place it on the first or second position. For us, inventory management comes first because you need to have a good idea of your stock before you can begin processing any order. An updated inventory with SKUs marked for each product is non-negotiable.
Regular audits should be carried out to ensure its correct implementation. Deploy an Inventory Management System for better management of your products. Add SKUs and tally them with your products to avoid any confusion. Also, check if the items are in shape; if found defective, discard them and make arrangements to purchase new ones.
2. Inventory Storage & Warehousing
Inventory management also includes storing inventory. This step is one of the most crucial as it determines the speed of your fulfillment operations. If not done appropriately, you can spend time finding products that can lead to a delay in processing. Furthermore, you can also lose out on the stock if you don't store it correctly. Therefore, arrange your inventory in proper shelves and bins along with the correct labels to avoid any hassles during picking. Optimize your warehouse space to accommodate all items.

3. Receiving
This step runs parallel to inventory management. You can accept orders manually or integrate your cart or marketplace with software to fetch orders from your store directly. Once you set your preferences for receiving requests, begin sorting them by delivery dates. For example, if a person has chosen one-day delivery, keep those orders on top priority. Send your customer an email confirming that you have received the order and estimated delivery date, if applicable. If you cannot provide a fixed delivery date, give a time frame when they can expect the delivery of their order.
4. Picking
Picking constitutes scanning through your warehouse and finding the product required by the customer. This order can include one product from one location or two products from two corners of your warehouse. Again, uncomplicated picking is only possible with a sorted warehouse. If your business receives many orders, hire dedicated staff for warehouse logistics. This measure will help accelerate your fulfillment process and save costs by streamlining the procedure.
Also, one of the best order picking methods is batch picking, in which multiple orders are grouped into smaller batches – typically including 10-20 orders. It increases the efficiency in the warehouse multi-folds. Invest in automation and technology to speed up the picking process.
5. Packaging
Packaging forms an essential part of the chain as it is a tangible representation of your brand. Therefore, you need to focus on different types of packaging and what works best for your business. You can invest in sturdy but straightforward packaging if you feel the packaging is not your primary focus or you can go for customized packaging if you can afford it. In whichever case, make sure your package is adequately packed, labeled, and matches the standards set by courier companies. The packing should be able to bear the friction caused due to transportation.
If you're looking for the finest quality packaging materials for your eCommerce business, check out Shiprocket Packaging. They offer some of the highest quality packaging materials including corrugated boxes and flyers. Read more about Packaging here.
Read more about packaging best practices

6. Shipping
Without shipping, your customer cannot transform into a buyer. Therefore, it is the most vital component of your order fulfillment process. Make sure you carry out a thorough check before signing up with any courier company or aggregator. As shipping determines the final impression of your brand in your customer's minds, try to provide them with a seamless experience. Give them varied options for payment such as cash on delivery and prepaid fees. This step ensures they have variety and you do not restrict them to just one mode. Also, make sure you partner with a courier that provides you a broad reach across India and the world.
7. Return Order Processing
Mostly, the order fulfillment chain ends at the delivery of the product. But with changing times, return orders are something added to your process. With increasing competition, return orders are unavoidable. Thus, handling them effectively is what counts. Therefore, opt for a method that can help you automate your NDR and further process return orders easily. This way, you can also reduce your returns and save on return orders by a large margin.
Courier aggregators like Shiprocket are known for providing more than just hassle-free shipping with features such as inventory management, automated return order processing, and the lowest shipping rates where your order fulfillment can be carried out in one place.
Order Fulfillment Challenges
Inventory Stock Out
There are chances that you might run out of inventory while carrying out order fulfillment operations. Therefore, it is mandatory to have sophisticated inventory management systems in place to notify you about an approaching stock out.
Seamless Distribution
If you do not have a strong distribution network, you will not be able to manage seamless delivery. Hence, look for 3PL providers like Shiprocket Fulfillment that can simplify the order fulfillment process for you and provide a strong logistics distribution for hassle-free and delivery.
How to Draft a Successful Order Fulfillment Strategy?
It can be tricky to draft a strategy that successfully takes into account all these processes. You need to be aware of all aspects of your supply chain and then work around them to provide a superior experience to your customer.
Here are a few tips to get started for drafting an order fulfillment strategy that can help you deliver products on time and also improve customer satisfaction.
Keep Regular Track of Inventory
It can be extremely disheartening for customers when they find out that the product that they ordered is out of stock. Either the customer will never shop from your store again, or lash out on social media to express their anger. Both ways, your brand will suffer. Instances like these make it imperative to streamline your fulfillment process to deliver orders quickly to your customers.
Inventory is the most critical area when it comes to order fulfillment. Your whole chain depends on it. Hence, you need to be focused on your inventory. Get into place an inventory management system that can help you get real-time cycle counts so that you're always aware when a product is out of stock or unavailable.
Without real-time inventory management, you cannot keep your warehouse organized or accurate. Integrate your inventory warehouse and water management system to stay up to date with all incoming, outgoing, and sourced orders.
Adopt Product Kitting
Product Kitting can be extremely helpful for reducing processing time as well as fulfilment costs. Product kitting refers to a process where different but related items are grouped, packaged, and supplied together as one unit.
Kitting has many advantages. You can improve productivity and reduce labor costs by storing products in separate kits. You can also reduce the inventory and improve cash flow.
Read more about product kitting here.
Automate Your Warehouse
Technology has taken over every aspect of the fulfillment chain. Your warehouse should not be left behind. You must adopt a smart warehouse system and put in to use data driven technology to manage your inventory, warehouse organization, and logistics.
You can choose to automate your warehouse with technologies that include RFID identification, internet of things, or IoT for easier tracking, and barcodes.
Once you put to use a warehouse management system, you can reduce manual errors and process orders much faster.
Maintain a Transparent Supply Chain
Supply Chain visibility on the major aspect of your strategies. With thorough supply Chain visibility, you can gain rich insights into your process and improve upon the areas that are not performing well. Once you begin tracking every step of the fulfillment chain. You will learn about the lacking areas and you can work on them.
For instance, if you track the picking activities in your warehouse and find out that manual picking of even lower shelved products increases time, you can move it to an automated process.
Therefore, it is a must to continuously track your supply chain and collect data.
Final Thoughts
It is essential that your order fulfillment process runs smoothly in order to deliver products hassle-free to your customers. Keep in mind the steps and formulate a strategy that works well for your business. Remember, it must keep your business edgy and you must always innovate to match the trends.
FAQs(Frequently Asked Questions)
Can I use my own packaging material in outsourced 3PL Fulfillment?
Yes. In fulfillment centers like Shiprocket Fulfillment, you can send your own packaging for order fulfillment.
What are the steps involved in the order fulfillment process?
The order fulfillment process typically involves receiving orders, processing payments, picking and packing products, shipping orders to customers, and handling any returns or exchanges.
Do I need a warehouse to fulfill my orders?
If you have a large volume of orders, having designated storage and processing space like a warehouse can be beneficial.
How will I know when I should outsource order fulfillment?
Order fulfillment can take up a considerable chunk of your time and resources. When order volumes increase, and loads of orders need to be shipped simultaneously, outsourcing is intelligent as slow processing will impact delivery times.
Calculate Your Shipping Costs Now