Courier Partners
eCommerce
Top Shipping & Logistics Companies in India for eCommerce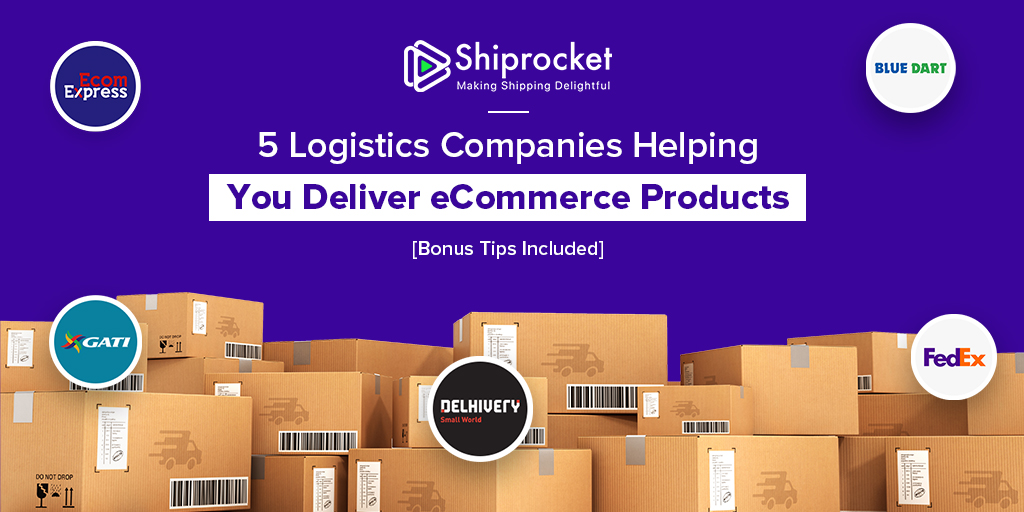 eCommerce logistics services in India have been of prime importance in the country since time immemorial. From transporting bulky goods from one state to another and now carrying almost everything via eCommerce, logistics solutions have come a long way.
Here are a few shipping and logistics service provider companies in India that can be useful for sellers who run their eCommerce business or are looking to begin one in the near future.
Delhivery – logistics and Supply Chain Company
Gati – Logistics Company
Ecom Express – Logistics Solution Provider
FedEx – Delivery & Shipping Company
Blue Dart – Logistics Company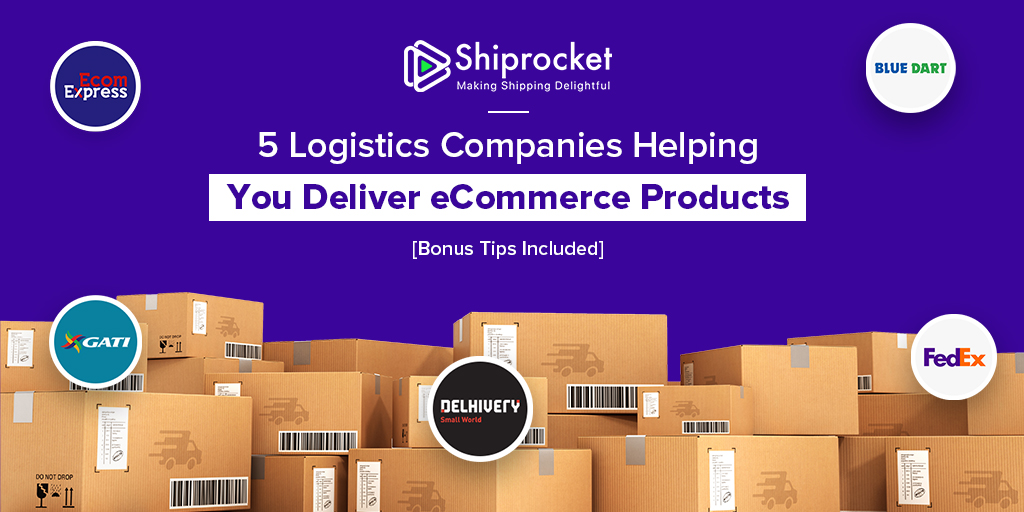 "The retail market is expanding rapidly, and today, the eCommerce sector is valued at USD 84 billion. It is projected to reach USD 200 billion by 2027."
The eCommerce retail sector is incomplete without a strong network of logistics partners. They are actual drivers of fulfillment and a significant factor that determines the success of eCommerce and tailing industries.
With a tremendous boom in the eCommerce industry, the logistics sector has also risen exponentially. Currently, eCommerce focussed logistics companies in India form 28% of the entire logistics sector in India.
These top logistics companies have a more technology-enabled infrastructure with competitive pricing to cater to the needs of eCommerce industries selling on platforms like social media, eCommerce websites, cart software, etc. solely.
Shipping companies or logistics partners aim to provide a holistic approach to fulfillment and seek to establish a streamlined operation for all post-purchase eCommerce tasks.
Before we begin, we would like to talk about shipping solutions like Shiprocket, which can be a huge advantage for your business.
Here is the List of Top Logistics Companies In India

Delhivery is a multi-faceted logistics provider with a good track record in fulfilling orders on time and fast. It's amongst the leading logistics services in India that provide technical infrastructure as well as shipping operations for eCommerce industries. They currently serve around 17,000 pin codes in the country and provide services like express delivery, on-demand delivery, same-day & next-day delivery, cash-on-delivery services, returns management, etc. They are reliable delivery partners for eCommerce businesses of all sizes.
How to Get Started?
To get started with delivery, you need to sign up with your account details like your name, your company's name, email ID, and phone number. Next, you will have to upload details like your business details, bank details, etc. Post this; a Delhivery agent will get in touch with you. You can talk to them about your business and get the best prices.

Gati is an eCommerce shipping company that provides an end to end logistics services for all eCommerce fulfillment needs. They claim to be pioneers in express distribution and their economic branch has an extensive reach to about 99% stakes in India. They cater to businesses of all kinds ranging from business to business, business to customer, and customer to customer. Some of the services include high surface cargo movement, AM to PM delivery service, fulfillment centers across India, and cash on delivery services.
How to Get Started?
To get started with Gati eCommerce, you can raise a pickup request on the website or fill in a business query form stating your business details like the company's name, monthly shipments, etc. and the team will get back to you.

Ecom Express is one of the best eCommerce logistics services in India known for its express services, fulfillment services, and digital services. They operate in around 2650+ towns in India and aim to provide a full coverage model to sellers utilizing their service for eCommerce deliveries. Currently, they provide full coverage in 25 states across India.
How to Get Started?
To get started with Ecom express, you can fill in their query form with details like your name, email address, contact number, etc. and they will get back in touch with you.

FedEx is one of the best eCommerce logistics companies and has an established name in the list of logistics services in India. It has proven to be a preferred solution for express delivery for several decades now. FedEx also provides shipping solutions for small businesses and eCommerce sellers. They have a dedicated team that handles your queries for the same. You can choose from a variety of services that include FedEx priority, FedEx standard, FedEx economy, special shipping requirements, etc. As of December 2021, FedEx has transferred its domestic operations to Delhivery.
How to Get Started?
To start using FedEx as a delivery partner for your business, you will need to fill up a basic form containing details like company name, first name, email address, IEC number, etc. Post this, somebody from the FedEx team will get in touch with you.

Blue Dart is a household name in South Asia's logistics solutions. They are known for their express delivery services via air services and provide reliable delivery to over 35,000 locations in India. They have the most comprehensive logistics network worldwide and on various distribution services, including air express, freight forwarding, supply chain solutions, and customs clearance. They have employed state-of-the-art technology to optimize supply chain management for eCommerce businesses. They have various web-based tools, standalone tools, a company to want to make your eCommerce shipping faster and much more advanced.
How to Get Started?
To create a corporate account with Blue Dart, you can get in touch with them on the number provided on their website.
Shiprocket – One-Stop Solution For All Your Shipping Needs

If you want to get all the logistic partners under one platform, then Shiprocket is the ideal shipping and logistics solution for you.
Shiprocket is a logistics and order fulfillment company in India that aggregates courier partners onto one platform for making eCommerce logistics services a simplified task for your eCommerce business. Currently, we have onboard 14+ courier partners that include names like Delhivery, Ecom Express, Blue Dart, etc. We also provide the cheapest rates starting at Rs.20/500 gm for domestic shipping. We offer shipping across 24,000+ pin codes in the country and 220+ countries and territories worldwide.
We are a technology-backed logistics solution provider that uses a data-backed infrastructure to provide sellers like you with an uncomplicated shipping and fulfillment platform. You can integrate over 12+ sales channels into your Shiprocket platform.
Our panel also includes analytics of all your shipments ranging from audio zones, courier performance, state-wise delivery performance, etc.
Shiprocket does not only provide seamless inter-city and inter-zone shipping. We have other solutions like fulfillment services like Shiprocket Fulfillment and hyperlocal delivery that can help you target a large audience and deliver hassle-free.
How to Get Started with Shiprocket?
Shiprocket has a seamless onboarding system. All you need to do is head to the platform and fill in your name, email address, and mobile number. You will get an OTP on your mobile number, enter that, and you are good to go.
Once you begin using the platform, fill in your company details, and add an order. If you have integrated a sales channel like Shopify, Woocommerce, Amazon, etc., your orders can be directly imported from there too.
Just recharge your wallet → and add your order → Choose your courier partner → and Ship your products.
Final Thoughts
With the advent of eCommerce and logistics services in India, the country is heading towards an advanced era of fulfillment. With so many offerings at your disposal, you can choose the best for your business and make order delivery and fulfillment a seamless experience for your customers. With many options available, you can simplify your operations and streamline order management to a great extent.
FAQs (Frequently Asked Questions)
How can I get started with Shiprocket?
You just need to create your account on app.shiprocket.in, complete your KYC, recharge your account, add orders, and start shipping.
What should logistics companies typically offer?
Logistics companies must offer pickup services, returns management, integration with your eCommerce website, and payment collection options.
What if I want to tie up with multiple courier companies?
You can do so by shipping with them individually or shipping via a logistics aggregator like Shiprocket.
Calculate Your Shipping Costs Now