Introducing Shiprocket Packaging – Smart Packaging for Quicker Fulfillment
Packaging is an integral part of the fulfillment chain. It impacts the entire supply chain and determines the speed at which you complete your first mile operations as packaging is largely manual and requires precision. But often, it is also the slowest process that setbacks your chain of events because it is largely manual and needs to be in sync with inventory management, warehouse management, and shipping.
Sometimes, it becomes difficult to keep a track of the packaging being used as it is a separate inventory of its own. Most eCommerce business owners face the brunt of delayed deliveries and poor shipping experience because they cannot provide optimal packaging or their shipments are delayed due to the time taken for arranging the right packaging material.
You also need to keep a check on the overall weight of your shipment, as most courier companies charge based on the volumetric weight that includes the weight of the packaging.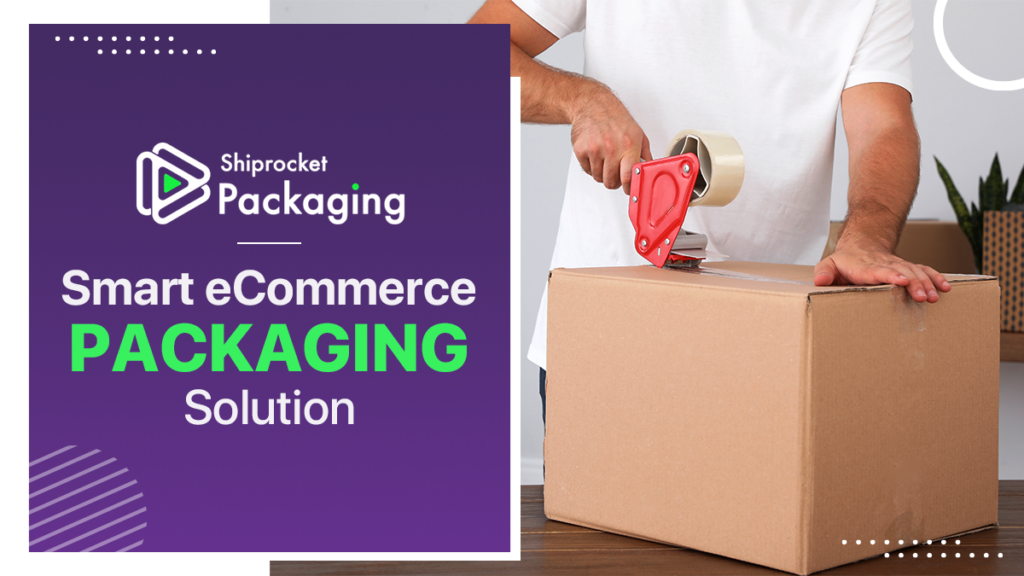 This makes it even more important to have a solid system in place for packaging.
There has to be a process in place that can help you streamline your fulfillment and maintain harmony between packaging, inventory, warehousing, and logistics. All these operations are carried out simultaneously and need to have complete synchronization in order to avoid confusion, roadblocks, and delays.
Most sellers purchase packaging material from several vendors. To make sure that the material is of good quality, you have to go to the store physically, conduct various quality checks, and then purchase the material. Usually, during transportation, the material can also get damaged and that can eventually lead to a faulty delivery to the customer.
Therefore, to make this process automated, simplified, and quick, Shiprocket brings to you a new feature with the name Shiprocket Packaging. It is an attempt to help you optimize your packaging, provide you with quality packaging material, and also give you a solution to standardize fulfillment operations.
Let's find out more about Shiprocket Packaging and how it is useful for your eCommerce business.
What is Shiprocket Packaging?
Shiprocket Packaging is an innovative packaging solution for your business that gives you the opportunity to purchase some of the finest packaging material like flyers, packaging boxes, corrugated boxes, etc. from Shiprocket.
The products are listed on the website with complete dimensions and related specifications. All you need to do is place your order on the packaging website and pay for it online. Our product will be delivered to the doorstep of your delivery address.
Package Master – Simplify Package Management
Along with Shiprocket Packaging, we also bring to you 'packaging master' in the Shiprocket dashboard that helps you sync your inventory with your packaging material so that you can process orders quickly and maintain a check on your packaging inventory at the same time.
When you process orders on the Shiprocket panel, Shiprocket's package master makes it mandatory to add the packing material information so that you can save it for future use.
You can also add your own packaging materials information like the length, breadth, height, type along with the images, and store it for use with future shipments. This reduces manual work and you can maintain continuous sync between your packaging material and inventory.
When you purchase the packaging material from Shiprocket, the material information such as the dimensions, type, images, etc.is automatically saved under the package master and you do not need to get it approved for processing your orders.
Benefits of Shiprocket Packaging
Shiprocket packaging along with package master brings to you several advantages such as reduction in weight discrepancies, sync between processes, quicker packaging, and much more for your business. Let's elaborate on them a little bit –
Finest Packaging Material
Shiprocket Packaging gets you the finest packaging material for your products. These materials undergo several quality checks and are made available to our clients post that.
You can purchase various products such as tamper-proof courier bags, courier bags with POD sleeves in various sizes such as 8×10, 12×16, and 14 x16. Along with this, you can also get your corrugated cardboard box supplies from Shiprocket in the three-ply cardboard range of 6 x 4 x 3, 9 x 4.5 x 3.5, and 10.5 x 7 x 4.
The best part about these packaging flyers inboxes is that they are hundred percent recyclable and can be utilized multiple times before they fall down on quality.
At Shiprocket, we constantly make an effort to promote sustainable shipping & logistics.
Cost-Effective Packaging
All the packaging material present on the Shiprocket packaging website is priced at extremely nominal rates so that you don't have to do the hard work of negotiations and wait till the best price is offered.
Even if you have to order a small amount, do it without compromising on the quality of the products.
Reduction in Weight Discrepancies
If the packaging is not appropriate, it can lead to weight disputes with the courier partners. To ensure that these complications don't arise, you can lock the dimensions of your packaging material and map it to specific SKUs so that your packaging becomes uniform across inventory. With this move, your packaging cannot be questioned for weight disputes.
Along with freezing dimensions, you can also add images of the packaging material to store complete information in case of any further disputes.
Automate Inventory Management
By mapping SKUs to the packaging material, you will reduce additional manual efforts for keeping track of packaging material for inventory and which product is suitable for which product. It will help you streamline the process and make it more accessible for everyone who is a part of the process.
This will help you eliminate miscommunication and synchronize packaging operations with inventory management & shipping.
Faster Order Processing
With all the above measures taken for mapping packaging with inventory, purchasing packaging from a trusted seller, and reducing weight discrepancies, you can easily process orders quicker.
This organization and streamlining gives you an upper hand when processing orders and you can set deadlines for tasks easily.
As your first mile operations improve, you can schedule pickups sooner and a major chunk of time will be saved.
Conclusion
Shiprocket Packaging is the best thing that can happen for your business when it comes to seamless order fulfillment and delivery. Purchase packaging from India's eCommerce logistics leader and automate your process easily.
Make sure you hop onto the bandwagon to ensure maximum output and the best service.
FAQs (Frequently Asked Questions)
How can I buy packaging material from Shiprocket?
You can visit our Shiprocket Packaging website to purchase high-quality packaging materials from us.
Is there any additional charge for shipping packaging material?
We offer free shipping across the country; you can buy with us without worrying about the shipping cost.
What types of packaging materials can I buy from Shiprocket Packaging?
We offer high-quality corrugated boxes, courier bags, tapes, and stretch film rolls in different sizes at very reasonable rates.
How can I track my order with Shiprocket Packaging?
You can track your order here by entering the Order ID or AWB no that you must have received upon order confirmation.
Calculate Your Shipping Costs Now