Top 20 Best Low Investment Business Ideas With High Profit
Starting a business is a massive responsibility and can be overwhelming for a lot of people. However, not following the everyday monotonous 9-5 office routine anymore and making all decisions yourself is one of the world's best feelings.
But, not everyone is able to turn their dream of running a business into a reality due to lack of funds. Now we have a solution for you!
Here are some practical ideas that we think can get you high profits without burning a hole in your pocket. Watch this video and get started:
Here is a list of low investment business ideas, which also yield good profits. You can now start your own business and turn your passion into a profession. Let's have a look at some of the small investment businesses in India.
Most Profitable Low-Investment Business Ideas in India
1. Dropshipping
Dropshipping is one of the best small profitable business ideas these days. It is a retail fulfillment method where you can open an online store without storing any inventory. Thus, you don't invest a penny in inventory and can start a business with limited funds.
Whenever the store makes a sale, the product is purchased from a third party and directly shipped to the customer. Simply put, you make a sale, pass the order to the supplier, and he ships it to the customer on your behalf. Thereby, you don't have to store or handle the inventory. It saves your time as well as money.
The products can be curated from more than one supplier. However, it is suggested you first order a sample product from the supplier to ensure he is reliable and that the products' quality fits the online store.
With the dropshipping model, you don't need to focus on buying or storing inventory. You can concentrate entirely on the marketing of the online store and customer service. Notably, your store's trustworthiness will depend on the quality you offer and the order fulfillment strategy you adopt. Hence, it is one of the top small investment businesses in India. You must keep a check on both to ensure business success.
It is a low-investment business idea through which you can also test the market and find out the best one before investing in your own products and launching them.
2. Courier Company
Being one of India's fastest-growing markets, starting a business in the courier industry is yet another low-cost business idea with high profit. A recent shift in the eCommerce industry has inevitably helped the courier service business to grow at an incredible rate.
At the place of starting the business right from scratch, which might cost a lot, you can consider taking a franchise from a well-established courier company. Many reputed courier companies are offering their franchise at a minimal price. Besides, you would also get access to their technology-related infrastructure and training and development.
3. Online Bakery
The online food business is one of the most popular small profitable businesses in India. And bakeries are quite popular as well. If baking is your cup of tea, you can consider starting a bakery and encash by sharing homemade recipes. The best thing about this business idea with low investment is that you can start it from your kitchen itself. And all you need is an oven and ingredients!
Cakes are an integral part of all celebrations. But, you can consider selling other baked items as well, like different types of bread, muffins, cookies, pizza, etc. It is not just a unique business idea, but a profitable one as well!
While companies like Ovenfresh took many years of hard work to reach where they are today, many business owners are able to raise numbers in just a few months by taking their businesses online. Just register the bakery on various online food delivery platforms to increase its reach.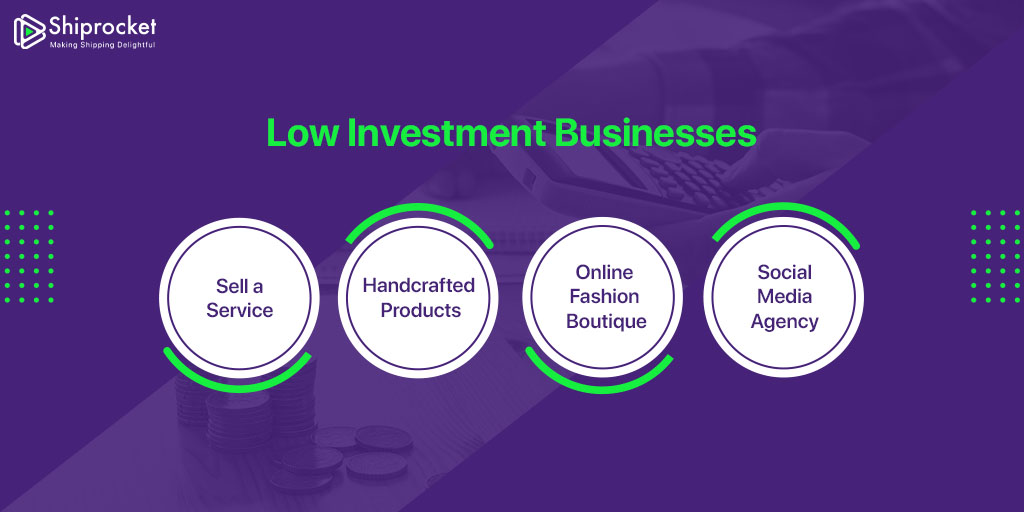 4. Online Fashion Boutique
With people becoming more fashion-conscious, the fashion and lifestyle industry in India is on a surge. India's online fashion trade is expected to grow up to USD 111.40 billion by the end of 2025. Therefore, an online fashion boutique is one such small profitable business idea that you can consider.
You necessarily don't need to be a fashion designer but a fashion lover. Make money by selling your sense of style online! One of the good low-investment business ideas, an online fashion boutique is very simple to open. It can be started at home. You can curate the items from different vendors into your online store (using the dropshipping model). Or design and produce in-house. Choose a niche and create a brand.
From dresses to accessories and footwear to jewelry, build your brand around single or multiple product niches. Notably, the quality of the products, customer service, and fulfillment strategies will play a significant role here.
5. Sell a Service
With a service-based business, your time is the inventory. It is your most significant investment, as well. What you need to get going with this business idea is to have a skill that is in demand and can be useful for others.
Writing, blogging, web designing, photography, fitness training, and calligraphy are some such skills around which you can start a business. You can register yourself with the various freelance marketplaces to increase the chances of getting discovered by the people who require your skills. Besides, your social media handles can help you the best in marketing and spreading the word around. It is indeed the best business to start.
6. Digital Assets
You can think of selling digital products. They are the best low-investment business idea because you need to create a digital asset just once and then you can replicate it and sell its copies. In a nutshell, the cost of product production is zero. Also, you can use computer and online tools to create a digital product.
7. Lending library services
Are you a passionate reader who has collected many books but is now struggling with what to do with them all? Don't worry; there's a simple solution that does not involve selling your beloved books. Consider starting an online store where you can lend them to other book lovers. By monetising your assets, you can continue to enjoy your collection while also making a profit from it. Starting a membership library with an annual subscription fee is a great way to give book readers the joy of reading without the financial burden of buying books. By sharing your love of books and starting an online lending library, you will also contribute to a culture of sharing and sustainability while earning some extra income. One can also initiate a book exchange option to purchase used books for your members.
8. Create an app
Apps are mostly software written to be used on smartphones. There is an increasing market for developers who can create functional and quality apps to meet customer requirements. App developers can work from anywhere, provided they have a good internet connection and a Software Development Kit (SDK). Developing an app can cost from nothing to a huge amount of money, depending on the complexity and usage of the app. It can be a simple game, a to-do list app, or something complex like WhatsApp or Instagram. There are free app development tools available that can help you build a simple app without requiring knowledge of programming languages.
9. Digital Marketing
With the internet becoming a source of information and business, there is a great potential to promote the services or products associated with a business. With digital marketing, you can use the internet to promote the brands to potential customers. This is required by almost all companies that intend to take their business online. It is a rapidly evolving field that requires constant upskilling, but it is a low-investment business that can be started quickly. If you have experience in marketing, this is an area you can look into.
10. Affiliate marketing
Affiliate marketing is a part of digital marketing. It involves promoting businesses' products on your site or social media account, and in exchange, a percentage cut of the sales or commission is received. Starting affiliate marketing requires very little investment. It takes dedication, as you have to attract many visitors to your website or blog account and ensure they buy the products or services listed on your site. If you do not have a website or blog, you can start affiliate marketing through the affiliate marketing programme offered by Amazon.
11. Online tuition/coaching class
If you are interested in teaching, conducting online classes would be a great source of income. The classes can be for science, mathematics, spoken English, essay writing, and many more. The increasing demand for online education has increased the scope of online coaching services. It is a low-cost business idea, with the only investment being a good laptop or personal computer with a strong internet connection and your subject expertise. Various platforms, like Zoom or Skype, make it easy to provide online coaching remotely to students.
12. Recruitment services
There is always a requirement for capable employees in any organisation. The Human Resources (HR) department ensures the recruitment of the right candidates for the organisation. Recruitment services are one of the highest-paying businesses that involve shortlisting candidates, selecting the most suitable candidates, and appointing them for jobs. All this is possible from the comfort of your home while earning a great commission from the organisation. It would be best to tie up with reputable organisations to, in turn, build your reputation as a good recruitment services provider.
13. Blogging/Vlogging
Blogging and vlogging (video blogging) can become great money-making solutions. It is an interesting business idea for performance artists to flaunt their talent and gain more followers in the online world. Certain vlog platforms pay you based on the number of views generated through your video, while others earn through advertising revenues generated through Google AdSense. For bloggers and vloggers, the investment is a computer and a website to put their content on. Heavy investment in cameras and editing tools is also not required to shoot vlogs, although good shooting skills through a phone and editing skills will help.
14. A personal or virtual assistant
People with good organisational skills are in high demand. There are many tasks that a personal or virtual assistant can handle without being onsite. It can be basic secretarial work or front-desk functions for different clients done from home. The tasks can be like keeping track of calendars, making flight arrangements, and doing office work.
15. Errand/concierge service
Although one can order almost all services or products online, it is not easy for old and non-tech-savvy people to do so. Tasks like grocery shopping and doing small errands are time-consuming and tiring for the elderly. Errand/concierge services that are specifically catered to the older generation for an hourly rate or by task would help them to a great extent. It is a revenue-generating and mentally rewarding job. This service can also be made available to working professionals.
16. Virtual bookkeeping and accounting
Bookkeeping helps businesses keep proper records for taxation and financial management. Virtual bookkeeping provides the flexibility to provide accounting services for a client remotely. It is increasingly in demand as it is an arrangement that benefits both business and bookkeeper in terms of cost and flexibility. It only requires access to the secure network of the organisation and the accounting software to work on. One can also work with multiple clients, thus generating an added source of income.
17. Social Media Agency
In the digital age and cut-throat competition, almost all companies want to market their products digitally. They are willing to spend big budgets on advertising through various digital channels and paid social media posts and campaigns.
Running a social media agency can be a brilliant small business idea if you have a sound knowledge of marketing, branding, communication, social media, and web presence management. You can start your business venture to help other companies establish a robust digital presence.
All that you require is a few computers, skilled professionals, and an office to start with.
18. Printed Products
Though this is a dropshipping model only, the main focus of printed products is offering customized products. This is your go-to option if you have an eye for graphics and aesthetics. You can either use your own designs or offer your customers an opportunity to create their designs. You can offer products like t-shirts, phone cases, hoodies, hats, and much more.
19. Handcrafted Products
The internet and the advent of technology have opened the doors for artisans to broaden their horizons by going from artists to professionals. Unlike retail stores that acquire their products from multiple sources, handcrafted businesses produce products in-house. Their primary focus is on providing a personal touch to the consumers that no other businesses can.
Whether you make candles, soaps, pottery, and even sauces, you are in a position to start a unique business. Here, product development and procurement are in your hands, quite literally.
For instance, candles are no more used just during a power cut. Now, they are more of a home décor item and are widely used as gifts for different occasions as well. Consumers want to buy candles in various fragrances. They like to buy unique and customized products. Similar is the case with other items.
You can either start with a small batch or on a pre-order basis until you generate consistent sales.
20. Self-Improvement Coaching
Self-improvement courses are very much in demand these days. People have skills and ambitions, but they need guidance and direction on how they can achieve heights in their life. Self-improvement coaching is a service-based model. You can teach your customers how they can prepare themselves to achieve their intended goals. You can also offer niche-specific courses and certifications.
The Final Say
India is the third-largest start-up center in the world with over 69,000 recognized start-ups, with a home to 100 unicorns, as of May 2022. The data shows the willingness of the people in India to start their own businesses. With their willingness to start something of their own, they look for small profitable best business ideas that can fetch them good profits. So, with these low investment and high-profit business ideas, you can also consider starting your start-up. All that requires is a solid idea. And if executed well, you can be the owner of one of the most successful small businesses in India.
FAQs (Frequently Asked Questions)
What do you need to start a low investment business?
It depends on the business you want to start. But initially, you need the basic equipment, some money, and a whole lot of enthusiasm to start your low investment business.
How soon can I start earning money with an online business?
When you start an online business, the revenue might not be instant. But, after putting in efforts consistently, you should see some small revenue in a few months' time.
Do I need to hire a team for starting my low investment business?
When you start a low investment business, you should focus on acquiring tech and equipment first before hiring a team. Initially, the pressure is not a lot, you can even work alone or with a partner if you have one.
Calculate Your Shipping Costs Now