5 Popular Digital Products to Sell Online
The eCommerce market is diversified, and people earn money by engaging in different businesses. Selling digital products is one such endeavour. While many entrepreneurs are turning towards selling digital products, many don't precisely know what digital products encapsulate.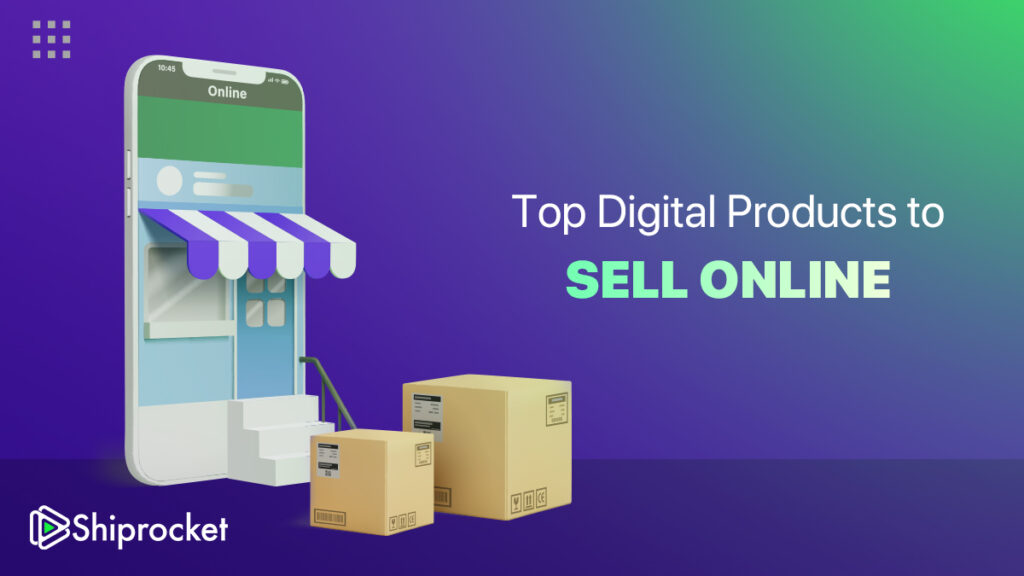 Digital products can't be touched, held, or tasted. Due to their popularity, many entrepreneurs choose to sell these intangible goods online. The best thing about these products is that they can be created just once and sold to different customers simultaneously. There is no need to replenish the inventory time and again. Besides, there is no need for any brick-and-mortar stores.
Digital products are the least expensive option and an excellent opportunity to earn. Today, we will discuss the pros and cons of digital products and the top digital products to sell online.
What is a Digital Product?
A digital product is a product that doesn't have a physical form. It can't be held in hands and is sold online. For example, you can't touch an e-book or hold a software program. However, some digital products can be turned into physical products. For instance, you can buy a hard copy of an e-book.
As an entrepreneur who sells digital products in India, your goal should be to create great products and sell them to your existing and new customers. While a digital product is different from a physical one, selling it online is no different from selling a physical one. You need to attract customers, retain them, and offer them the best customer service.
Digital Products VS Physical Products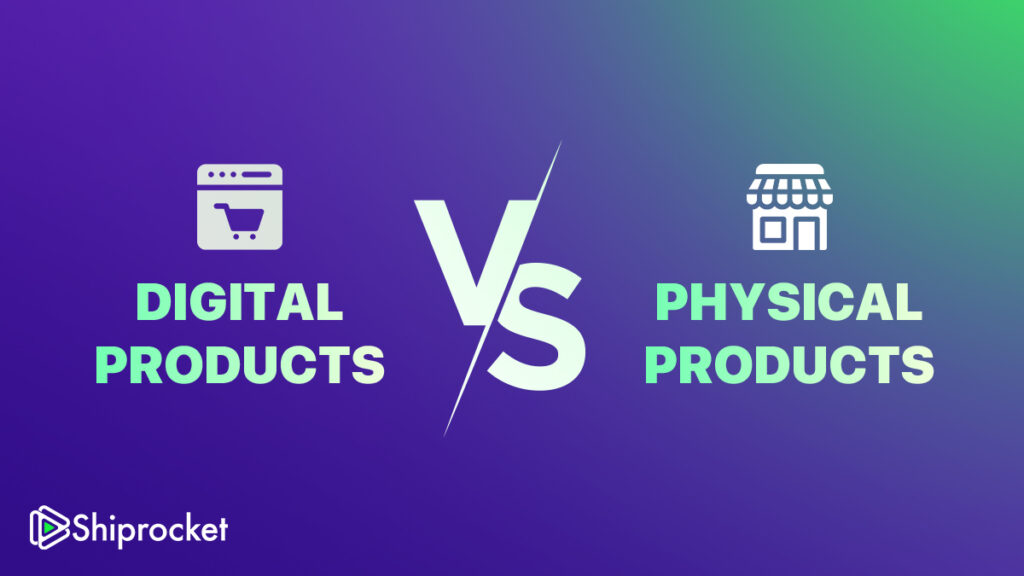 Physical products have always dominated the market for hundreds and thousands of years. Then you might wonder why you would create a digital product instead of a physical product. Digital products have a few perks over their counterparts:
You never worry about the inventory; it is never in deficit or surplus. Besides, there is no need to rent out space to store products.
There is generally no additional cost related to assembling materials.
Customers receive the product almost immediately after they make a purchase.
When you advertise digital products, you must refine your audience and create only brand-appropriate messages. Since it is an intangible product, sometimes it becomes challenging to illustrate the benefits of digital products.
For instance, when selling an orthopaedic chair, you show how the chair provides proper support to the spine and helps ensure the correct sitting position. Further, they can be adjusted as per the buyer's height.
However, explaining the uses of a software program can be challenging. First, you can sell your software program to only a particular audience segment. Second, you need to educate your audience about the uses of the program through blogs, landing pages, webinars, and satisfied customer reviews.
Top Profitable Digital Products To Sell Online in India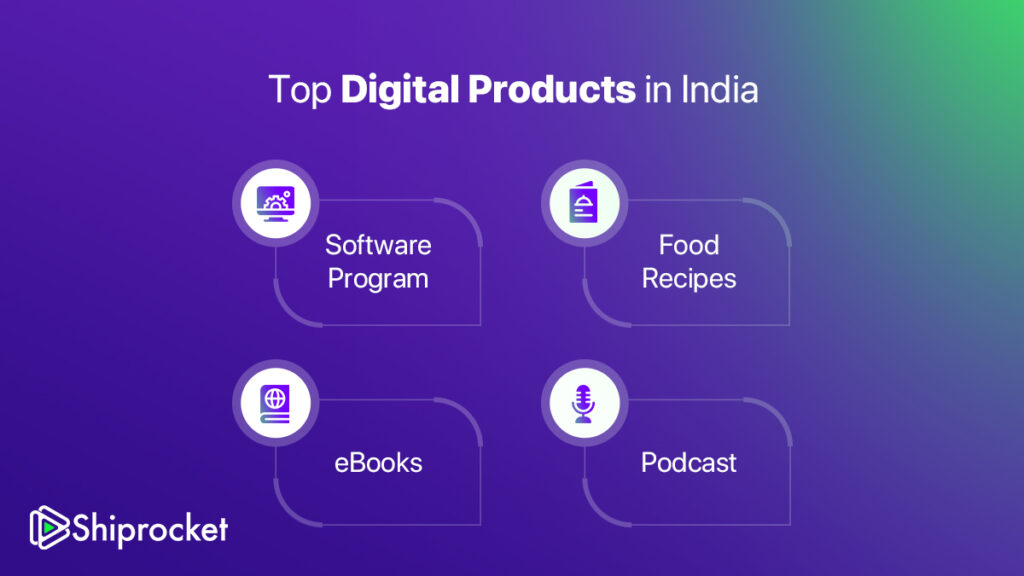 India is one of the world's widest customer bases. There's no doubt that digital products thrive in such a vast market. Here are the top digital products to sell online:
Software Program
Food Recipes
eBooks
Podcast
Let us now have a look at these digital products in detail that you can sell online:
Software Program
If you love the computer, creating new software can be your new business idea. You can build software to help your potential customers overcome their pain points. You can build a software program around marketing activities, web insights, video or photo editing, and designing graphics. Just ensure that whatever software you plan to create, make it user-friendly.
You can sell your software subscription for a month, six months, or a year instead of selling its license for a lifetime. This model gives your better revenue compared to the licensing method.
Food Recipes
Many people these days want to taste different cuisines, which is why the cookbook is another best-selling digital product. You can sell a cookbook with other recipes. Recipes are indeed available for free, but there is a reason why consumers buy cookbooks – a paid product is to be of better quality and more valuable.
You can collect recipes for a single or different cuisine. You can consider grouping recipes of the same theme or geographic region. Not just a book, but you also create a social media channel where you can upload daily, weekly or monthly recipes.
Mobile Applications
Mobile applications are essentially the same as software – just on a different platform. Earlier, people used to install different software on their computers and laptops. The same purpose can be met through mobile phones as they now come with better graphics and support heavy applications.
While you can charge a fee on your application, you can also offer your customers freemium. This includes in-app purchases for customers willing to pay to access more features. Besides, you can also earn through advertising on your application.
eBooks
eBooks have gained a lot of popularity as digital products. You can write on any topic and sell it online. The best part is that this offers passive income, which you can earn throughout the months and years. The eBook's subject, length, and content depend entirely on you. Some writers also prefer to create series. You can sell them individually – it will provide you with an opportunity to upsell.
You can also hire a graphic designer to design your eBook or use an online template to do it yourself.
Podcast
Podcasts are generally free, and many business owners use them as promotional tools. You can consider starting a podcast that offers in-depth guidance – share your expertise with the listeners.
You can make it subscription-based and earn from it. Or you can take the freemium route where listening to the podcast can be free, but the listeners need to pay if they need extra features like downloading.
How to Sell Digital Products Online?
Selling digital products online is a profitable business idea. Here's how you can get started:
Determine Digital Product
Firstly, decide the type of digital product you want to sell online. You can choose any of the options discussed above – eBook, software, or any other.
Create Your Digital Product
The next step is to develop the digital product. This may involve creating, designing, writing, programming, or recording the product, depending on your product's nature.
Set Up an Online Platform
Create an online platform to sell your digital products. Some popular options may include:
Brand Website: you can create your website using platforms like WordPress or Shopify. With this option, you will get more control and flexibility. However, it also requires technical knowledge or assistance to set up.
Online Marketplaces: you can sell on existing platforms like Amazon, Etsy, and Flipkart- just list your products and sell them. These online marketplaces have built-in audiences, making it comparatively easier for you to reach potential customers.
Set Pricing and Payment Options
Determine the pricing strategy for your digital product. Perform market research, consider the value you offer, and set a competitive price. Choose convenient payment options for your target audience such as UPI, credit cards, and PayPal.
Create Compelling Product Descriptions
Write engaging product descriptions that highlight the benefits and features of your digital product. You can also consider using high-quality creatives and videos to showcase your product.
Market and Promote Your Digital Products
Develop a marketing strategy to promote and reach your target audience. You can consider utilising social media for brand awareness. You can also use other marketing tools like content marketing, email campaigns, influencer collaborations, SEO, and paid advertising to generate product awareness and drive traffic to your product listings.
Provide Excellent Customer Support
Last but most important point, offer prompt customer support to give your customers a pleasant experience. Address their inquiries and issues promptly and give them helpful solutions.
Summing Up
In no way do we mean to say that physical products are any less than digital products. But digital products are new in the market and have opened up excellent opportunities for new and aspiring entrepreneurs. Lastly, you still need to offer your customers some value in whatever product you sell.
Calculate Your Shipping Costs Now