What is Dropshipping Business? Everything you Need to Know
Most people who are looking for an online business opportunity come across Dropshipping business model as an option. It is a modern online business model that requires minimal investment.
Dropshipping began gaining popularity as an eCommerce business model back in 2006 when AliExpress gained popularity in the United States. But only a handful of entrepreneurs know about the Dropshipping model.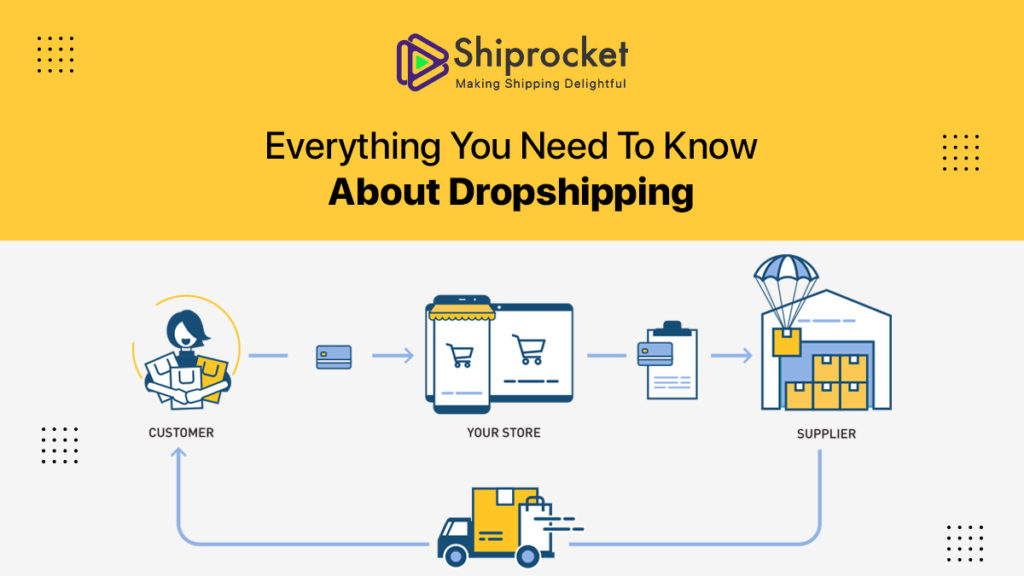 Till now, not all retailers are aware of this highly lucrative business model. In this blog, we shall discuss what Dropshipping is, its benefits, and disadvantages.
What is Dropshipping?
A type of retail fulfillment method, Dropshipping means selling products without storing them in a warehouse. In this method, the retailer doesn't store products. He purchases the products from a third-party supplier only when he receives an order or a purchase is made. The products are shipped directly to the buyers—this way, the retailer does not have to handle any inventory.
In a Dropshipping business, the retailer is not required to fulfill inventory or orders in any way. The supplier takes care of everything.
Dropshipping is a great option as it doesn't require much investment like traditional retail business models. There is no need to pay rent for the store and overhead and arrange a warehouse to stock products. All you need is to open an online store and tie with suppliers who have the products you want to sell.
In this model, you are a middleman while the merchant is responsible for processing orders. It is a simple yet rewarding business model. This business model requires less money to get started.
There are many advantages and disadvantages of Dropshipping. And you must weigh them before you decide to start your own Dropshipping business.
How Does Dropshipping Work?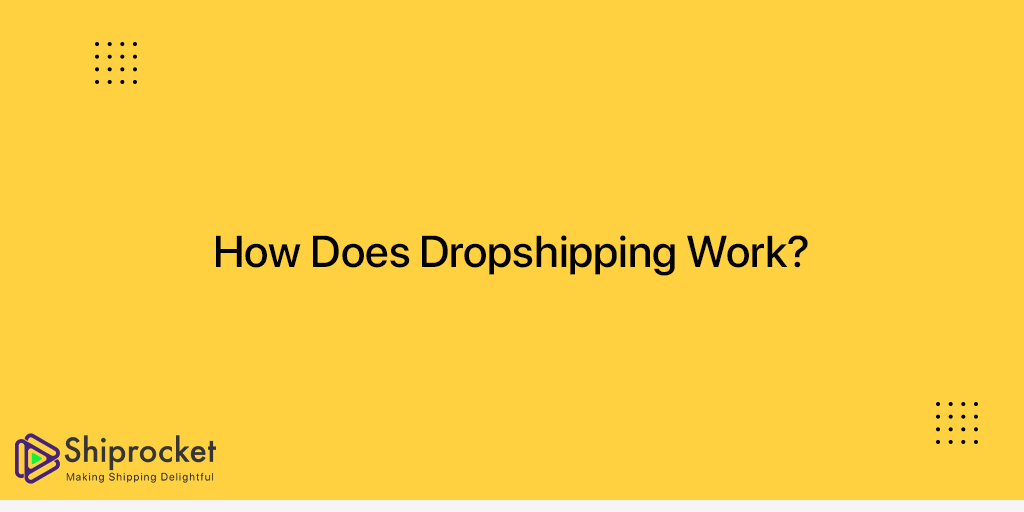 The process of Dropshipping is very simple. It includes the following steps:
The retailer uploads the products he wants to sell on his website.
Customers visit the website, go through the products, and place an order.
The retailer receives the order details and forwards the same and customer details to the supplier.
The third-party supplier then packs the products and ships it with the online store's label and branding.
This is an attractive business model that eliminates the warehousing cost. With Dropshipping, you don't need to purchase inventory but just redirect the orders to the third-party supplier. Also, there is no need to have a physical business location.
Benefits of Dropshipping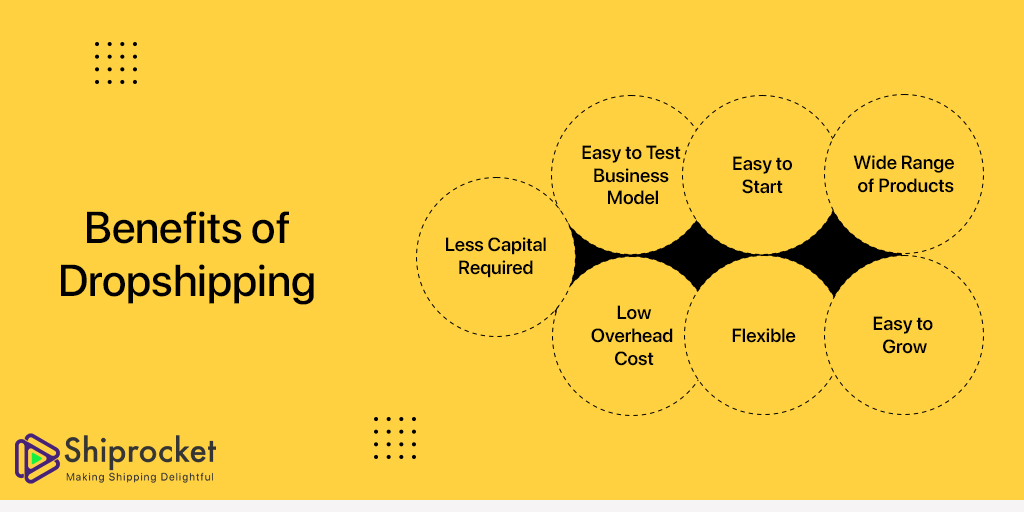 Dropshipping is an excellent business model for individuals who wish to start something new. Here are the benefits of opting for a Dropshipping business model:
Less Capital Required
This is probably the biggest benefit of Dropshipping. It is possible to launch an online store without investing in a physical store and inventory. Traditionally, retailers have to spend a heavy amount on purchasing inventory.
However, there is no need to invest in purchasing products with the Dropshipping model unless you have already made a sale. With insignificant inventory investment, it is possible to launch a successful online business with very little investment.
Also, since there is no investment in buying inventory, like in a traditional business, there is a lesser risk.
Easy to Test Business Model
Dropshipping is a useful eCommerce business model to test the waters before launching a physical store. You can test the customer's likes and dislikes by adding additional products, e.g., fashion accessories or a unique item. Essentially, Dropshipping is selling products without investing in and storing a large amount of stock.
Easy to Start
Running an online Dropshipping business is comparatively easier since there is no need to directly deal with physical products. You can avoid the following:
Managing a warehouse
Paying for storage space in a warehouse
Tracking inventory and managing inventory level
Packaging and shipping products
Handling returns
Low Overhead Cost
The overhead cost is low since there is no need to invest in purchasing inventory and managing a warehouse. In fact, many people run Dropshipping store as a home-based business with just a laptop, internet connection, and a few recurring expenses. As your business will grow, your cost is likely to increase. However, it will always be low compared to a traditional retail setup.
Flexible
As said above, a Dropshipping business can be run from your home or anywhere with just a laptop and an active internet connection. You just need to communicate with your suppliers and customers and conveniently run your business.
Wide Range of Products
Since you don't have any pre-purchased inventory to sell, you can offer a wide array of products to your customers. As soon as your supplier stocks a new product, you can list it for sale on your website too.
Easy to Grow
In a traditional retail setup, you will also have to work double if you receive double orders. However, in a Dropshipping model, the heavy work related to processing orders is done by the third-party supplier. This will help you grow and expand your business without taking any additional pain.
However, bear in mind that the increase in sales will surely bring you additional work in terms of customer support.
Disadvantages of Dropshipping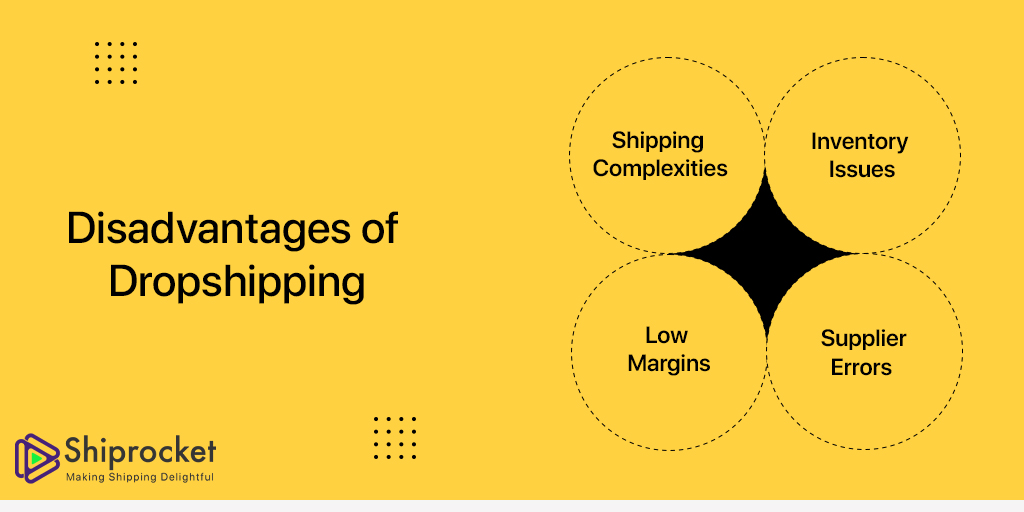 All the advantages we have discussed make Dropshipping a lucrative business model. However, before you make up your mind, take a look at the disadvantages as well to make a well-informed decision.
Shipping Complexities
If you tie with different third-party suppliers, they all are associated with different courier partners. This will increase the shipping costs, and it will be difficult for you to keep track of your orders.
Suppose a customer places an order for two items, and the items are available with separate suppliers. You will incur different shipping costs, and you will have to track both the orders separately.
Inventory Issues
Since you don't stock your products, you cannot track the products' incoming and outgoing. Thus, you don't know which products are out of stock. But when you source products from multiple warehouses and suppliers, their inventory can change anytime.
Low Margins
One of the biggest disadvantages of Dropshipping is it is highly competitive, and it offers low margins. Since it is very easy to start an eCommerce Dropshipping business and has a low overhead cost, it is the most preferred online business option. Also, since the investment is low, the retailers can run a business at very low margins.
However, you can make a difference by making a high-quality website and offering excellent customer service.
Supplier Errors
Your customers can blame you for something that is not your fault. However, you still will have to accept the mistake. Since suppliers fulfill the orders for you, they may commit some mistakes, and you will have to bear those mistakes and apologize for the same. Also, low-quality products, mismatched products, and botched shipments can damage your reputation in the market.
The Final Say
In the end, we can conclude that Dropshipping is not the perfect business model, yet it is a stress-free way to start and run a business. But like every other business, it requires hard work. This business model has some advantages as well as disadvantages. But, with some planning and consideration, you can resolve all the hurdles and take your business to new heights.
Calculate Your Shipping Costs Now