The Ultimate Guide to Dropshipping on Amazon
As a seller, you must have heard about Amazon, even though you're still figuring out what drop shipping is. To start with, drop shipping is a technique to sell your products to your customers without going through the most tedious parts of order fulfillment.
Sounds something you might be interested in?
Well! You're at the right place. Here is the perfect guide to get started with drop shipping on one of the best eCommerce marketplaces-Amazon.
Read on to find out more-
What is Dropshipping?
Dropshipping is one of the easiest ways to sell online without getting into the hassles of warehousing and shipping your products. Put differently if you're drop shipping you're avoiding stocking and shipping part of the order fulfillment process of your business. Instead, you have the manufacturer of the product or wholesaler do it for you. Your task would be providing a platform to the customer so that they can shop, browse products and receive orders.
One of the best elements of dropshipping lies in the fact that you won't have to worry about buying an inventory before listing it for the customers. Although, you'll have to look for multiple suppliers so that you don't run out of stock when the order arrives.
Drop shipping also offers a lot of flexibility to sell your products as and when you like. You can list items from wholesalers on your websites or marketplaces where they'll sell like hotcakes. To drop ship your products, you can choose from the marketplace if you're in no rush to creating your website. And when it comes to marketplaces, there's nothing better than Amazon.
How Does Amazon Work?
Amazon is undoubtedly one of the biggest eCommerce websites where anyone can sell and reach out to an extensive base of customers with ease. It allows retailers and drop shippers to sell on its platform and benefit from its services. All it requires is getting registered on its platform and getting approval from Amazon.
For order fulfillment, Amazon offers three services: Fulfilled by Amazon, Amazon Easy Ship, and Amazon Self ship. While FBA is responsible for warehousing and shipping your orders, Easy ship only helps you ship using amazon logistics network. And self-ship provides you complete flexibility to pack and ship your orders on your own, using a 3PL logistics service.
However, if you're registering on Amazon as a drop shipper, opting for FBA is mandatory. Amazon also has its specific guidelines that you must abide by to dropship via Amazon.
Do's & Don'ts of Dropshipping With Amazon
There are a couple of dos and don'ts from Amazon, that any seller needs to comply with to list their products on the eCommerce website. You must-
Be the eCommerce seller of record for your products

Identify that you are the seller of your product on all information connected to the customer such as packaging slip etc.

Take the ownership of receiving and processing return orders of your products.
What Doesn't Amazon Permit?
Amazon doesn't permit that you buy products from another online retailer and get it shipped directly to your customer.

You are also not allowed to ship your product with a packaging slip containing a name other than yours.
6 Steps to Dropshipping on Amazon
Comply with all the drop shipping and selling policies.

Link up with a supplier to sell their products on Amazon

Create listings and sell your products

Ask your supplier to ship products to FBA

Hand over your supplier's share as you receive money

Sit back and monitor your profits.
Benefits of Amazon Dropshipping
Reach Out to a Wide Audience
One of the prime benefits of drop shipping on Amazon is reaching out to a wide audience without having to put tremendous efforts for the task. Since Amazon is already a household name among online shoppers, you can easily reach out to the customers who are shopping on the platform. Though you might have to work out for getting your products rank high, but with smart measures, it's easy to accomplish.
Bear Nno Ccost of Warehousing
One of the significant areas where drop shippers make their profits from is warehousing. Because they don't have to manage any inventory physically, there's a lot to add to the profit margins.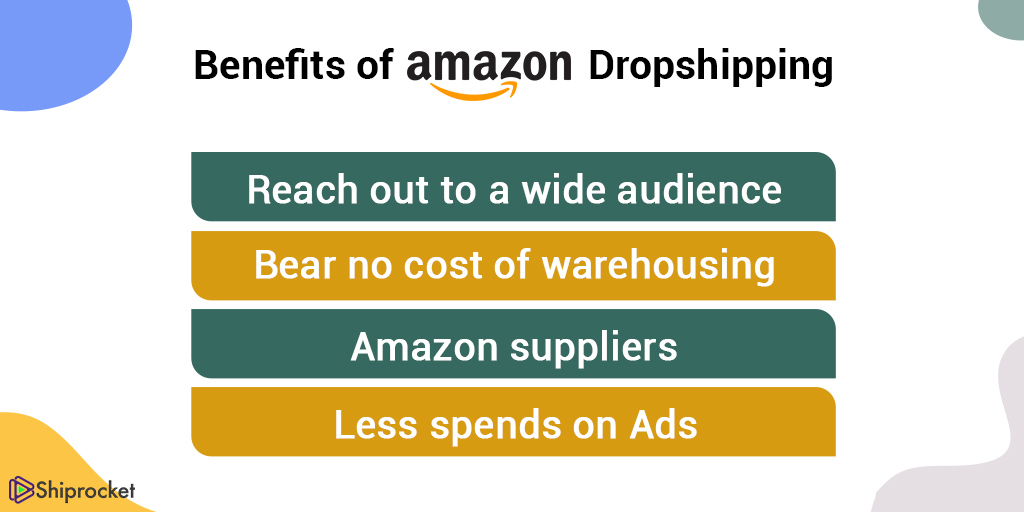 Amazon Suppliers
Amazon also sources its products in bulk from suppliers. They store it in their warehouses and are responsible for sipping and managing returns from the customers. With this model, even small and medium-sized businesses can expand and explore international markets.
Close to None Spend on Ads
Dropshipping your products on Amazon can lead to fewer expenses for running ads as compared to traditional methods when you own a website. Amazon lets you run ads to gain profitability and sales and also benefit from the organic traffic that's flooding on the website.
Drop shipping can be one of the most profitable ways of selling online, only if you're doing it right. Make sure you have multiple suppliers, because no matter whose products you're shipping to your customer, it'll ultimately put your reputation at stake.
Calculate Your Shipping Costs Now