The Beginner's Guide To Taking An Offline Store Online
With the advent of eCommerce, most offline businesses are now making a move to the online selling platform. The largest stores who have been in business for many years to recent sellers who have just started selling, everyone is selling through online channels now. But most times, when you want to join this bandwagon to increase sales, you miss out on the details and your online business doesn't succeed as you hoped it would.
Most importantly, in times of COVID-19, when most people are opting to shop online, it has now become a necessity for businesses to take their store online. Read further to learn more about the checks you must follow to make sure your online sales soar as high as your offline ones!
Selling online is not the same as an offline store. Of course, the basic principle of enticing customers and pitching your products to them remains the same, but how you conduct this process online, varies distinctly from what goes on in an offline store.
There are multiple advantages to investing in an eCommerce store right now. The industry is booming, and there can't be a better time to reach out to the people who are slowly beginning to shift their preference for online shopping. Here are a few advantages to help you take that leap toward setting up an online business
Why is it a Good Idea to Sell Online?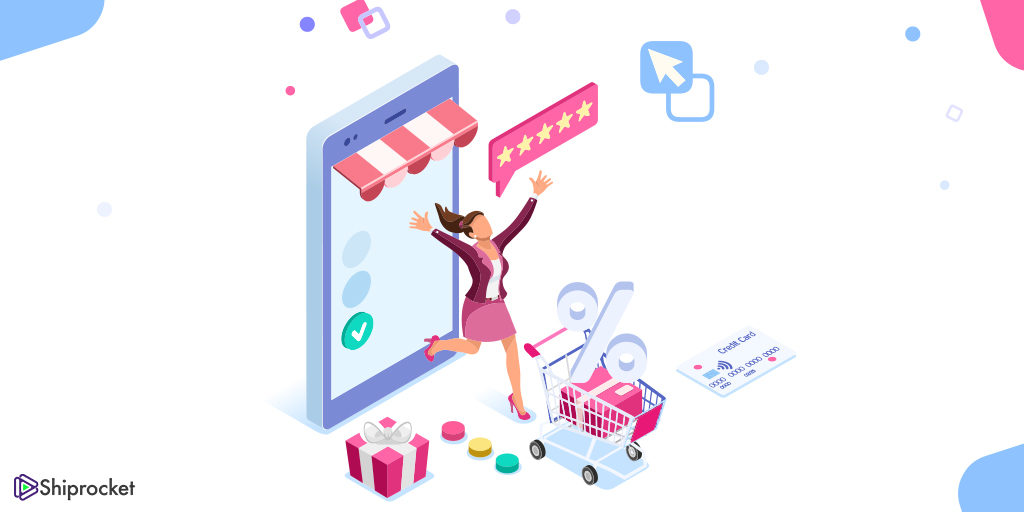 1) Tap into a wider audience
With eCommerce emerging as a more well-known phenomenon among millennials and young adults, you do not want to miss out on telling them about your product and persuading them to buy it. Furthermore, as these users are super active on their smartphones, if you don't reach out to them there, you can lose out on significant opportunities.
For example, you run an offline store. How many customers visit you in a day? A maximum of 30-50 per day. Once you take your store online, you will be visible to lakhs of customers out there who might be interested in the products you are selling.
2) Low setup cost
Setting up an online store is cheaper than you think. You don't need as much workforce, resources, and investment is also small. Therefore, coming online will not cost you a lot as your offline store might have!
3) Additional reach and accessibility
While your offline store only reaches out to a particular demographic, an online store gives you a platform to reach out to customers across various domains. For example, if you have a store in south extension, South Delhi you can advance your reach to the whole of Delhi. But if you have an eCommerce store too, you can reach out to people across India and even the world. That is the power of the internet.
Moreover, with hyperlocal delivery services booming in India, you can easily ship your items within a day or two. One such example is Shiprocket hyperlocal services. With Shiprocket hyperlocal services, you can ship almost all kinds of items to customers residing within 50 km from the pick up location. You can directly download the Saral App (the mobile application of Shiprocket hyperlocal) and start shipping your hyperlocal orders.
4) Increased promotions
We all know word of mouth is one of the most viral ways of building awareness for your brand. But little do you realize that online word of mouth is much stronger and impacting than an offline one. If your customers praise you online, it is out there for billions to read. Moreover, both forms combined can help you increase your reach drastically.
Things to keep in mind when you bring your offline store online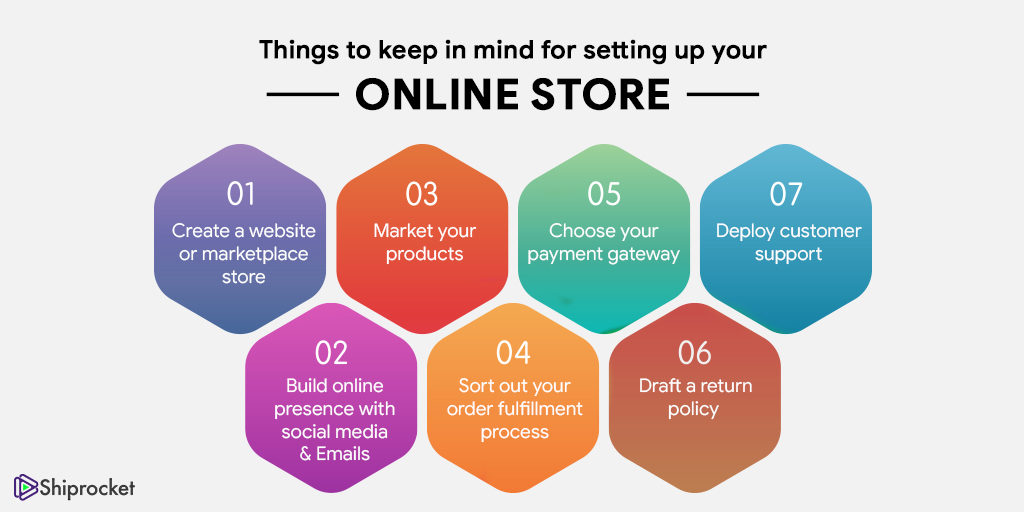 1) Create a stunning website or marketplace store
When you start to sell online, you need a platform where you can showcase your products. For this, you need a website or a store where people can come and see your products.

You can set up your store on sales channels like Shopify, Magento, Woocommerce, Bigcommerce, etc. If you feel setting up a website is a plunge and you want to experiment first without doing so, you also have the option to list your product on online marketplaces. This process is similar to showcase your products in a supermarket, along with other brands. For marketplaces, you have options of Amazon, eBay.
Be it your website or marketplaces, always put up your products with the proper product descriptions, professional images, utility guidelines, etc. To do so, make sure you invest in a good content management system(CMS).
Not aware of what a content management system is? Read more here.
2) Set up an online presence
Once you have set up your website/marketplace, it is time to tell your customers about it. Now for doing so, you will need to first establish an online presence and slowly begin reaching out to your target audience. For this, we recommend you always conduct a thorough market research first, figure out who your audience is, and then proceed with marketing your product to them.
Essentials for setting up your brand online
a) Social media handles
Create a Facebook and Instagram page and post regularly on them. See what your competitors are posting, what your consumers are interested in, and form a proper schedule for posting. This process of gaining followers takes time, thus, set up your pages soon and begin promoting them on various platforms. Make use of multiple features of these handles to engage with your buyers and sell your product to them.

Once you have enough followers and your website is up and running, you can also set up a Facebook shop and sell products directly through your Instagram page.
b) Email lists
Email marketing is an old but effective formula which works for most eCommerce brands. But to send across emails, you need a list of people. Therefore, make sure you collect the email addresses of your website visitors with gated posts (these are posts which require the customer to sign up or submit their email address before accessing it). Through gated posts on your website, you can slowly build a quality email list and communicate with them to engage and sell your products.
c) Paid advertisements
Paid advertisements include Google ads, Facebook ads, Youtube ads, etc. They follow a pay per click formula where you can set a budget and pay these organizations to run your company's advertisements based on the number of clicks each ad gets.

For those planning to sell on Amazon, even Amazon advertising is an excellent option for you where you can gain increased visibility among your customers.

To learn in depth about different marketing techniques, read our guide for eCommerce marketing, and its benefits.
3) Order fulfillment processes
Coming to the most significant aspect of any retail business, order fulfillment. As you would be aware, this requires the following steps :
a) Inventory management
Inventory management forms an essential segment of both online and offline selling. But for online sale, you have to be extra aware that you update your inventory at all times, and sync it with the orders being processed. To do so quickly, you can sign up with inventory management software and process your orders peacefully.
b) Packaging
Packaging is vital for both sectors, but when selling online your packaging speaks volumes about your brand and business. Therefore, invest in branded and customized packaging.
Shiprocket Packaging provides smart packaging solutions for your eCommerce business. Buy high-quality corrugated boxes and flyers directly from the website. And, the best part is the packaging materials used are absolutely biodegradable.
Learn more about packaging designs and techniques here
c) Shipping
This step might not have been as relevant in your offline selling process but online, this makes or breaks your business. So always be extra careful about how you ship your products. These days, sellers like you prefer shipping directly through an online platform to avoid any hassles of balancing between online selling followed by offline shipping. Therefore, shipping software provided by courier aggregators is the best option.

With courier aggregators, you can ship using various courier partners like FedEx, DHL, Bluedart, Delhivery, and the best part is you can choose a different one for each shipment. Also, when you opt for shipping software, you get a platform that enables you to ship forward and return orders within a few clicks, print labels, and also fetch orders from your website or marketplace.

One such shipping enabler is Shiprocket. We provide you with a platform where you can manage your inventory, automatically import your orders from websites/marketplaces, and ship at the cheapest rates starting at Rs. 23/500g.

If you want to know more about shipping software and why you must invest in them, click here!
4) Choose your payment gateway
A customer making an online purchase will always be worried about their money since they cannot see who is at the receiving end of it. A secure payment gateway removes this confusion, and with increasing awareness about digitization, consumers are becoming more aware of how the process escalates. Moreover, even you want to avoid any hassles of delayed payments and cyber crimes. To make sure you evade all these concerns, opt to use a secure payment gateway for your online store. Few of the big names include Payumoney, Paytm, Citrus wallet, etc.
5) Draft an exchange/return policy
Return orders are a phenomenon that can be reduced but never completely removed. Thus, to make sure you handle returns appropriately, draft a robust return policy which states all conditions and process involved in return orders. This policy should be available on your website, and its position must be prominent. Correctly handled returns are crucial to returning customers.
6) Customer service
Last but not least, lay a firm foundation with a customer service team. This team shall be adept with your company's policies and should handle all queries properly. In case of disputes, they should be trained to settle them within time and adequate support. Help documents and FAQs also form an essential part of your customer service, so make sure you invest in customer service software to align your tasks and maintain a more sorted process.

Adapt these indicators in your strategy to make sure you can scale your business as profoundly as your offline store!

Calculate Your Shipping Costs Now