eCommerce Shipping Trends
eCommerce Shipping Best Practices for Indian sellers in 2019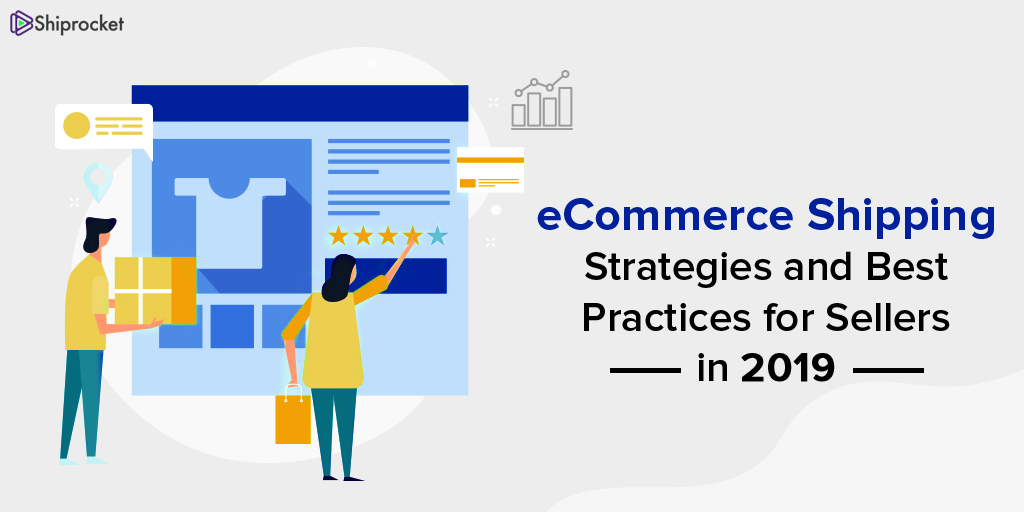 You're probably putting a lot of efforts in listing your products, finding the right suppliers, uploading product images, writing emails, doing it all to make your customers happy.
But until you're paying attention to the aspect of shipping for your business, all your efforts might be in vain, without you even knowing about it.
In today's progressive world, where the eCommerce industry is growing at an unprecedented rate, shipping is the ultimate point of convergence for customer satisfaction and an improved eCommerce experience.
If done the right way, shipping can help you sell products like hot cakes in the market. And we're here to prepare you for it. Read on to find out the best practices to swear by in 2019 and excel with eCommerce shipping like a pro:
What should you look at? (Shipping considerations)
When we talk about customer satisfaction, the entire eCommerce experience comes down to one single element- shipping. Consider it as something that can make or break your business. Most of the sellers strive hard to improve their shipping strategy, but seldom figure out where to start.
Shipping is also that stage of your order fulfillment process where you might feel that you no longer have complete control over your brand. However, if you're looking at the right parameters, you may have more to do with shipping, than you think.
One of the factors that sellers are inclined to be shipping costs. No doubt, they can make a tremendous difference to your business, which is why one must plan a nuanced strategy around it.
While too high shipping costs can make you lose customers, too low shipping costs can do the same for the profit margins in your business.
Getting this piece right can open your doors to unrivaled profits and customer satisfaction. However, having full control of your business will not just mean offering lowest rates, but also the shipping options that your customers are expecting.
As a seller, your goal must be to accomplish all and be able to cover your costs at the same time. Let's have a look at the most common considerations you're probably missing out, which can have a direct impact on your shipping:
The size and weight of your products:
No matter what your approach is, the size and weight of your products are something you can directly exercise your control on. It also has a significant impact on your overall shipping strategy.  Understanding the size and weight of your products can help you adopt a pricing strategy for your shipping.
For example, if a majority of your products have similar size and weight, you can go for per-item shipping rates based on zones that vary depending upon the location of your customer, rather than weights. This practice can help you find flat rates for shipping your parcels to your customers.
Alternatively, you can break down your products into groups of specific weights and dimensions to get a clear picture of what you're shipping and how much of the costs are dependent on weights.
While this practice can help you strategize on your saving your shipping costs, it can also lead to a better return on investments.
Tip: When you carry on this process, make sure you take the accurate weight and dimensions of your product so that you are also able to estimate the adequate packaging required for your products.
The shipping destinations
Looking at shipping destinations are another critical consideration for eCommerce sellers. Since most of your customers are expecting free shipping, it is best to offer a flat rate shipping based on the zones that you're shipping to.  Not only will it cost you less, but also put less burden of shipping costs on your customers.
Tip: If you're shipping to Delhi, charge a flat rate to your customers and radiate your costs as the destination varies from Delhi.
The choice of shipping platform
To avoid feeling like you have no control over your business once you hand over the parcel to the courier company, it is best if you choose a smart shipping platform that instead allows you to be in check of your package.
If you're looking at the big carriers, the best thing you can do for your business in 2019 is to look at other options for shipping your products that have tons of features designed to help your business grow.
Tip: Analyze the significant concerns of your business around managing inventory and shipping. Then, go for a courier aggregator such as Shiprocket which can help you understand your shipping analytics and provide features to simplify your order fulfillment process.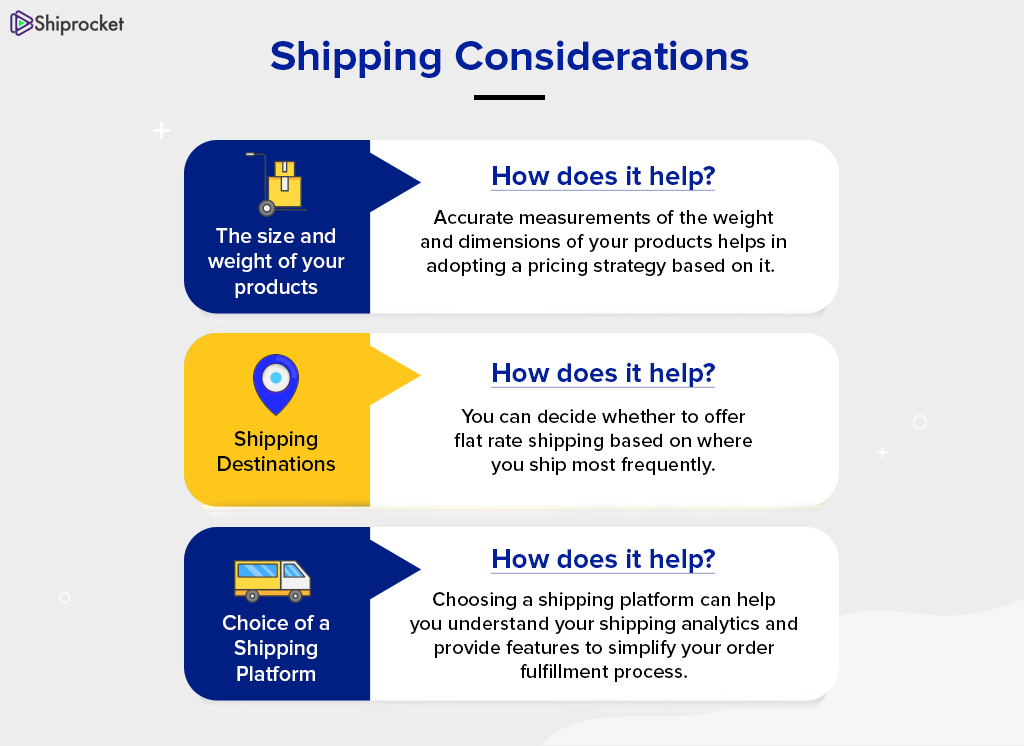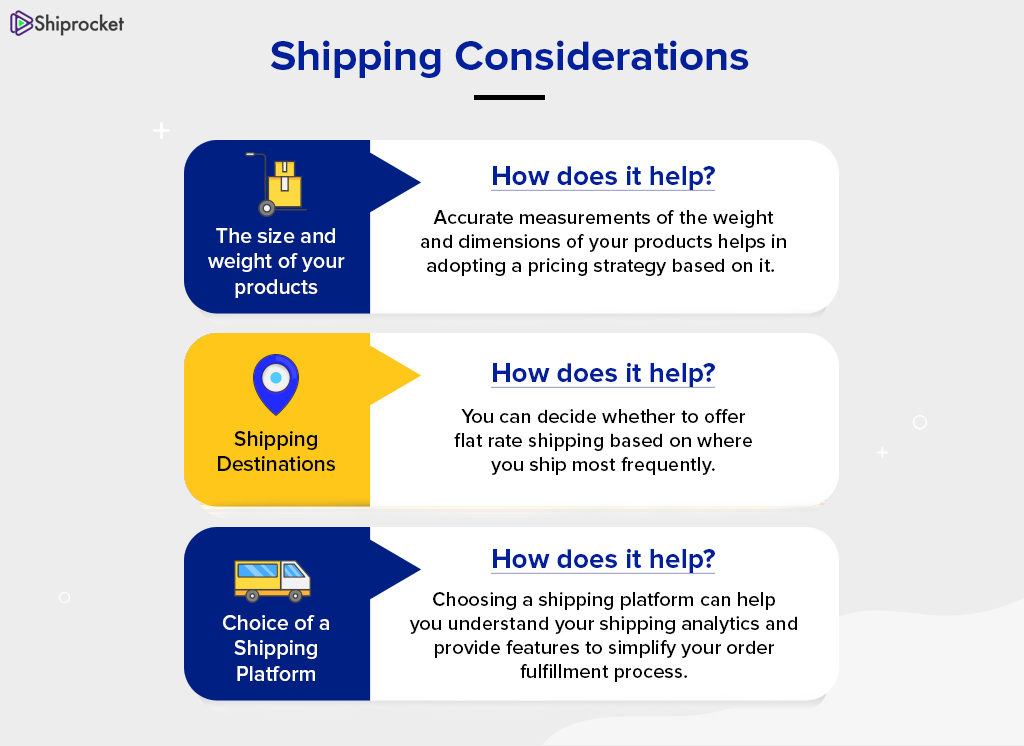 eCommerce shipping process
Whether you're starting your business from scratch, or running it successfully across multiple channels, your eCommerce shipping process must be straight. You'll need to spend some time analyzing your shipping policy (or creating if you still don't have one), setting your shipping goals so that you realize the key areas where you have to work hard, and lastly choosing a shipping software for a smoother last mile order fulfillment process.
Let's have a look at each of these closely-
How do you plan to address your customer queries related to shipping, without something to stick to? Exactly! That's what you need a shipping policy for!
Especially, when you own a website, publish your shipping policy page at an easy to reach section so that customers can refer to it before making a purchase.
Even market research has this backing up! 80% of the customers would prefer referring to your shipping policy for information on shipping costs, delivery timeframes, returns etc.
So, as you begin to draft your policy, make sure you have the following points covered-
Mention if you're offering flat-rate shipping, free shipping or threshold based free shipping. It puts a clear picture of your business in front of the customer
Tip: If your shipping costs vary based on your customer's purchase, it is wise to add a shipping rate calculator at the checkout.
Your delivery time-frames
Do you offer same day delivery of your products? Mention it in your shipping policy page. Providing the information on how long you take to deliver your customer's packages, is definitely something that will help them in proceeding with purchase from your store. This way they'll know when to expect the product at their doorstep.
Customers want to know the carriers you use to ship products so that they know where to expect tracking messages in their inbox.
Be sure to divulge this information, if you offer international shipping to entice any potential customers.
Delivery exceptions must be highlighted in your policy pages to establish transparency.
Further Reads: A Seller's Guide to Creating An Ultimate E-commerce Shipping Policy
I'm sure you have goals in life, it's time you had a few for your shipping strategy too. Once you're all set with your shipping policy, the next thing you need to focus on is establishing your shipping goals.
Shipping goals define what you want to accomplish with your eCommerce shipping strategy. Though goals may vary depending on the type of business you're running, there are a few that reside in the core of your strategy if you're shipping physical products.
Increase Average Order value
Increase Operational Efficiency
Choosing a shipping software:
In the age of automation, doing repetitive tasks is the most outdated habit, you're guilty of pursuing. You're probably wasting your time and resources on things that a lot of tools and software can do it at much lower costs.
And this is why you must choose your shipping software to simplify your tasks and add value to your business. A quintessential shipping software will help you compare shipping rates, print labels, integrate your sales channels with them along with automating your notifications and doing plenty more things for your business that you're deprived of.
But in the process of choosing a good shipping software, here are the fundamental things you must look at:
Integration with your sales platform
Easier processing of undelivered orders
Analytics for shipment monitoring etc.
Post shipping order experience is one thing that most sellers neglect, but those who pay attention capitalize on a lot of opportunities.
Tip: Remember that nothing beats customer experience and if your shipping software can go that extra mile in providing you with that, hop into it. Shiprocket is one platform that can help you market your products well and provide a quality post ship experience to your customers.
Now that you have considered the right parameters for your shipping strategy, its time to explore the best shipping options that you can offer to your customers.
Whether you're selling products or not, free shipping is a term you couldn't have missed.  But as popular as it is, free shipping is equally challenging for a seller.
Popularised by eCommerce giant Amazon, free shipping has now raised customer's expectations, forcing it for adoption to all eCommerce sellers, whether big or small.
If you're still in qualms of its benefits, here are a few-
Easy for customer's understanding

It appeals to the customer

People are more drawn towards completing checkout with free shipping
Free shipping is the best thing you can do for your customers, but it might be a great thing for your business.
So, if you're offering it to your buyers, make sure you have something as a backup for your business. Here's what you can do-
Add a threshold order value for free shipping. All the big guys are doing it. You should too! Whether you look at Amazon, Flipkart, Myntra or other brands, they are all ready to offer free shipping, only if you shop for a certain minimum value. And guess what? Customers do.
Offer seasonal free shipping: If you offer once in a while free shipping to your customers, it will create a rush to shop more, ultimately balancing your shipping costs by increased sales.
Tip: Set the order threshold value for free shipping at least 15-20 times your average order value to accommodate your free shipping costs.
Free shipping might be the best option, but if you're not willing to offer it, the next best thing you can do is offer flat rate shipping.
Ever been to a shopping site that offers one shipping cost, no matter what your order value is? Yes, that's flat rate shipping.
Tip: So, if you're offering a flat rate shipping you can charge, say, Rs 50 for most of the zones in India.
Another shipping option that can cover your costs and provide affordable shipping options is offering live rates to your customer. Live rates from a carrier send a clear message to your customers, on what and why of your shipping costs.
Though, it is definitely not one of the options you can promote for your business because the costs will rapidly vary with the destination of the package and its weight.
Tip: Partner with multiple couriers and offer a chart of shipping costs to the customers as live rates. Your customer will be tempted to compare and select the cheapest option. Alternatively, negotiate with your courier partners to offer cheaper shipping for shorter destinations.
Swearing by the three options is not the only choice you can make for your shipping strategy. As an eCommerce business owner, you can mix different strategies and look at what works the best for your business.
The mixing and matching of shipping options can be extremely effective as it will also allow you to balance your revenue and promotional opportunities at the same time.
Tip: You can offer free standard shipping on your products along with levying charges on expedited shipping. Alternatively, if you own a retail store, you can offer standard shipping, overnight shipping along with in-store pick up of your products.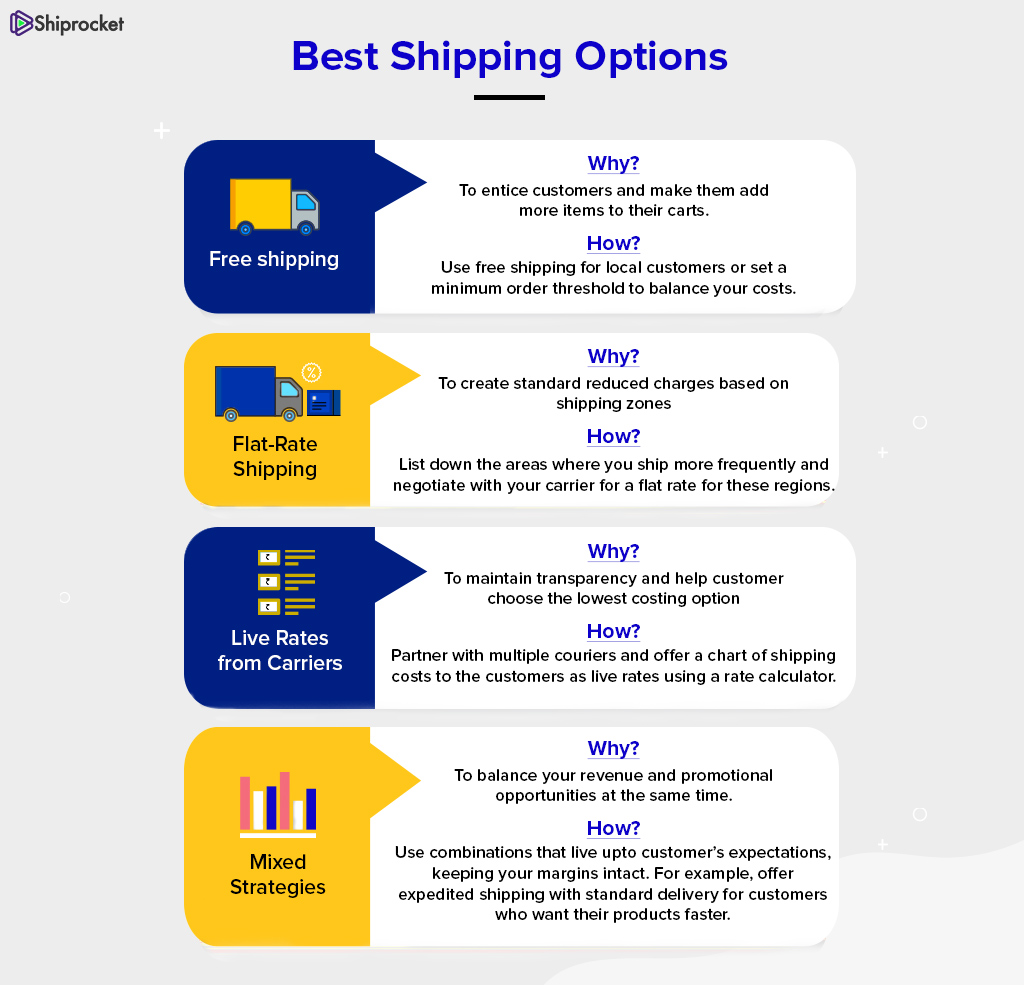 Getting perplexed while choosing which shipping option to offer to your customers is normal if you've never thought of it before. Remember that when you're starting just provide multiple options to your customers so that they find what they're looking for.
Once your shipping options are straight, the next element of the fulfillment process that you must focus on is the packaging and marketing. Whether you realize it or not, your packaging plays a huge role in determining your shipping costs.
As the eCommerce industry grows more and more with each passing day, packaging and shipping have moved from being the mere tools of order fulfillment to one of the biggest factors responsible for customer satisfaction.
Your packaging can be a huge selling factor for your brand. And if you go by the saying, the first impression is the last impression, you've got one more reason to pay attention to your product's packaging.
However, if you've been neglecting it, it might be one of the reasons for your inflated shipping costs.
Choosing your packaging materials
Choosing the right packaging materials is the first thing you need to take care of, prior to shipping your physical products. Begin by measuring the exact product dimensions and weight, so that you know how much packaging will be required to safely pack your order. Here's what you can do-
Because most of the courier companies charge you based on the volumetric dimensions, make sure your packaging is sufficient enough to keep your product safe, but not over the top. Put differently, do not package a small product in an excessively large box, or you will be charged for the dimensions of your box.
Hence, if you're planning to save shipping costs, this is what you must swear by. It's called utility packaging and your only focus on safeguarding your product.
However, if you're aiming at creating an impact with your customers, branded packaging is worth investing your time and money. Wrap your product in a craft paper or add a small note for your customer, you can use all your creativity to your packaging.

Best practices
Here are the best packaging practices you must look out for-
Use bubble wraps for safekeeping delicate products.
For business products, use boxes or envelopes
Easy fold mailers or side loaders can be used to pack books etc.
If shipping lightweight non-fragile products like socks, you can use poly mailers.
For branded packaging, use ribbons, personalized notes, craft papers and more.
Further Reads: Packaging Best Practices For E-commerce Business Success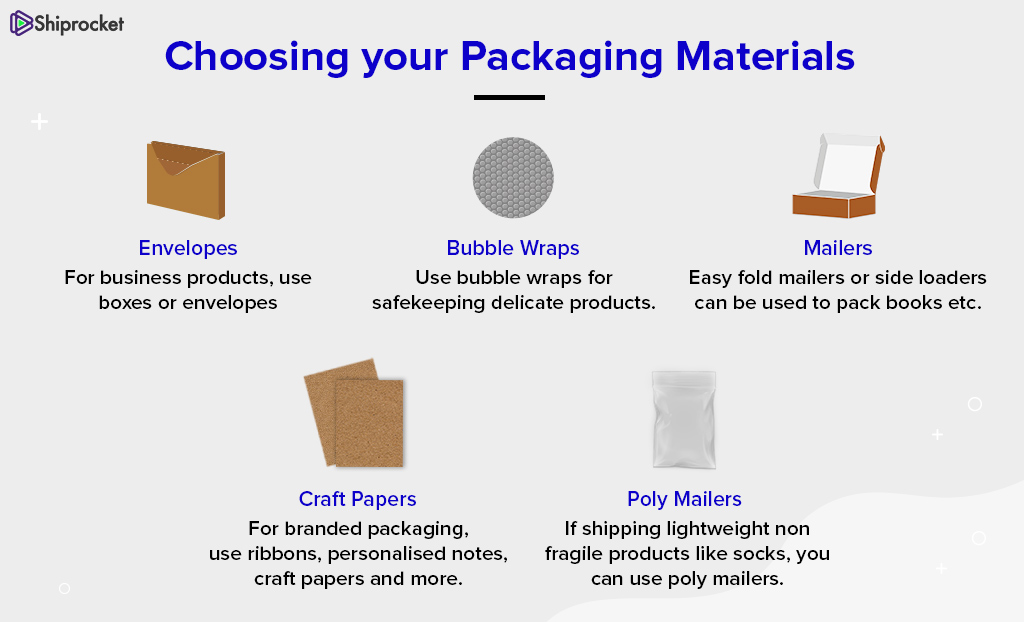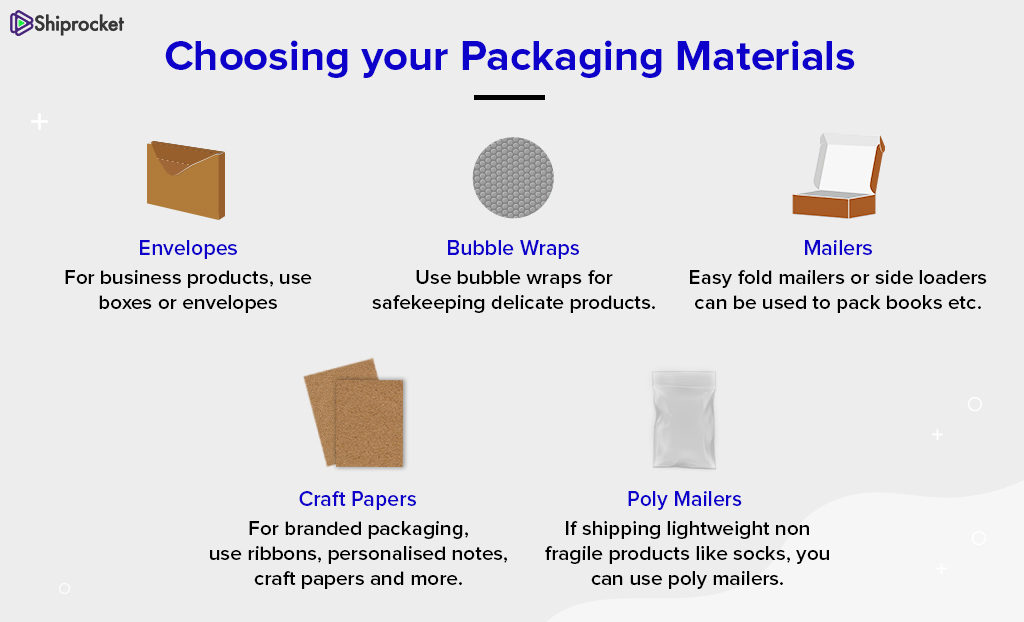 Choosing the best carriers
One of the final steps of the eCommerce shipping process, where you must pay attention is choosing the right carriers for your business. Here's what you must consider-
Unless you get an estimate of your shipping costs, how will you put your best efforts in minimizing it? For this reason, consider all the important elements that are contributing to your shipping cost. These include-
Insurance (If you're offering)
Once you've listed down all these parameters, you can enter them in a rate calculator tool to know your shipping costs.
An ideal rate calculator tool must also be able to provide you with a comparison of rates by different courier partners. It will help you in minimizing your shipping costs by handing over your parcel to the lowest cost partner.
Use the Courier recommendation Engine
Alternatively, if you have a hard time finding the right courier partner for your company, you can also use a courier recommendation engine that will find the right partner for your products. All you require to do is provide the tool with your shipping priority, whether you want to ship with the cheapest partner or the top rated.
Pricing your product for the customer requires a number of factors to be taken into consideration. But if you need to be successful in the world of eCommerce, keeping an eye on profits must never be neglected.  And shipping contributes to a significant chunk of your business costs, which is why you must always include them in your product pricing.
Tip: Represent all your costs in a tabular format when finalizing your pricing. It is because until you actually list all your costs, you may be surprised by how quickly little charges add up.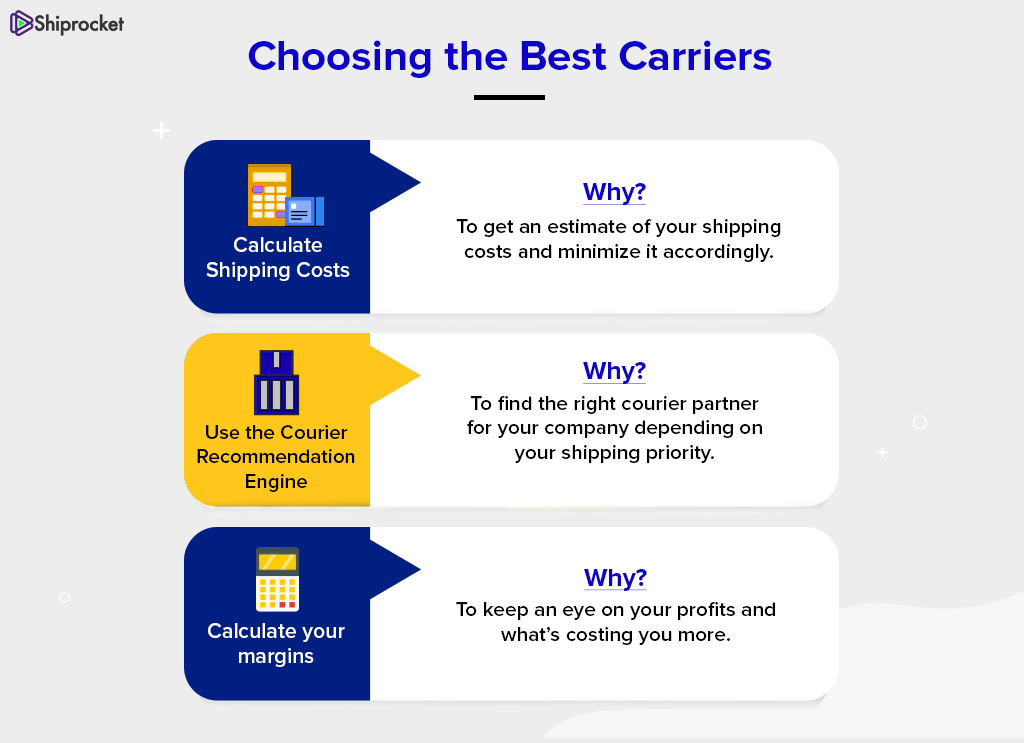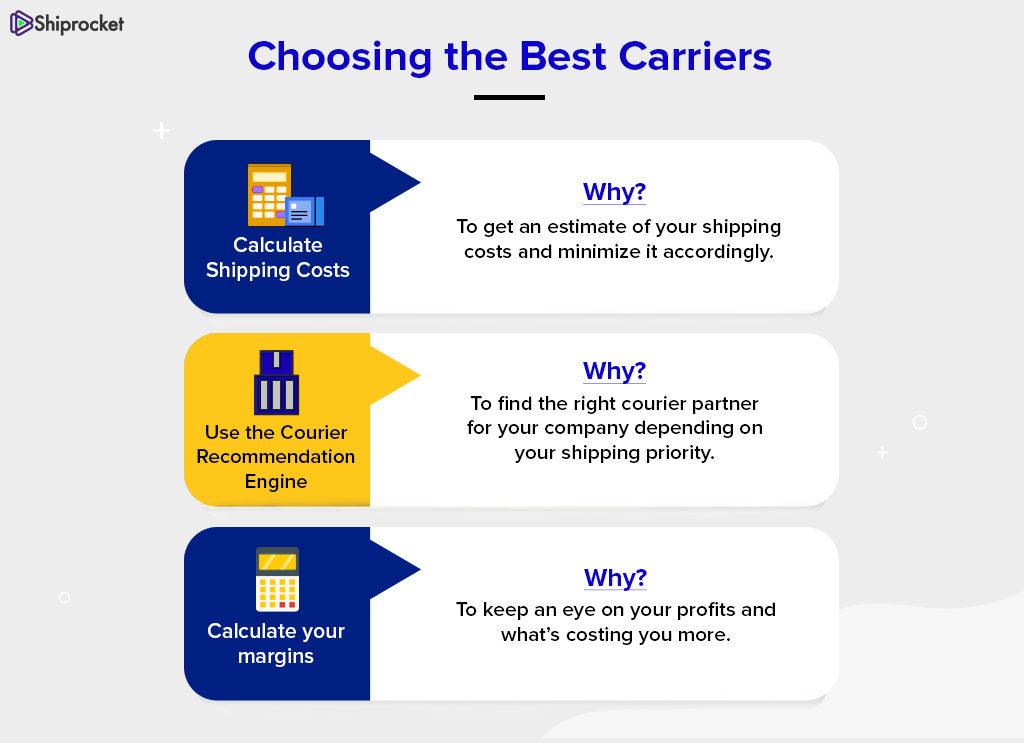 Conclusion
Shipping can undoubtedly be a challenge for eCommerce sellers. And these challenges are bound to be unique concerning the nature of your business.  To overcome these, you'll need to work hard by adopting different practices and keeping a check on what's working for your business.
Just like many aspects of your business that take time in building, tweaking and working your way to customer satisfaction through shipping will require your patience but ultimately pay off.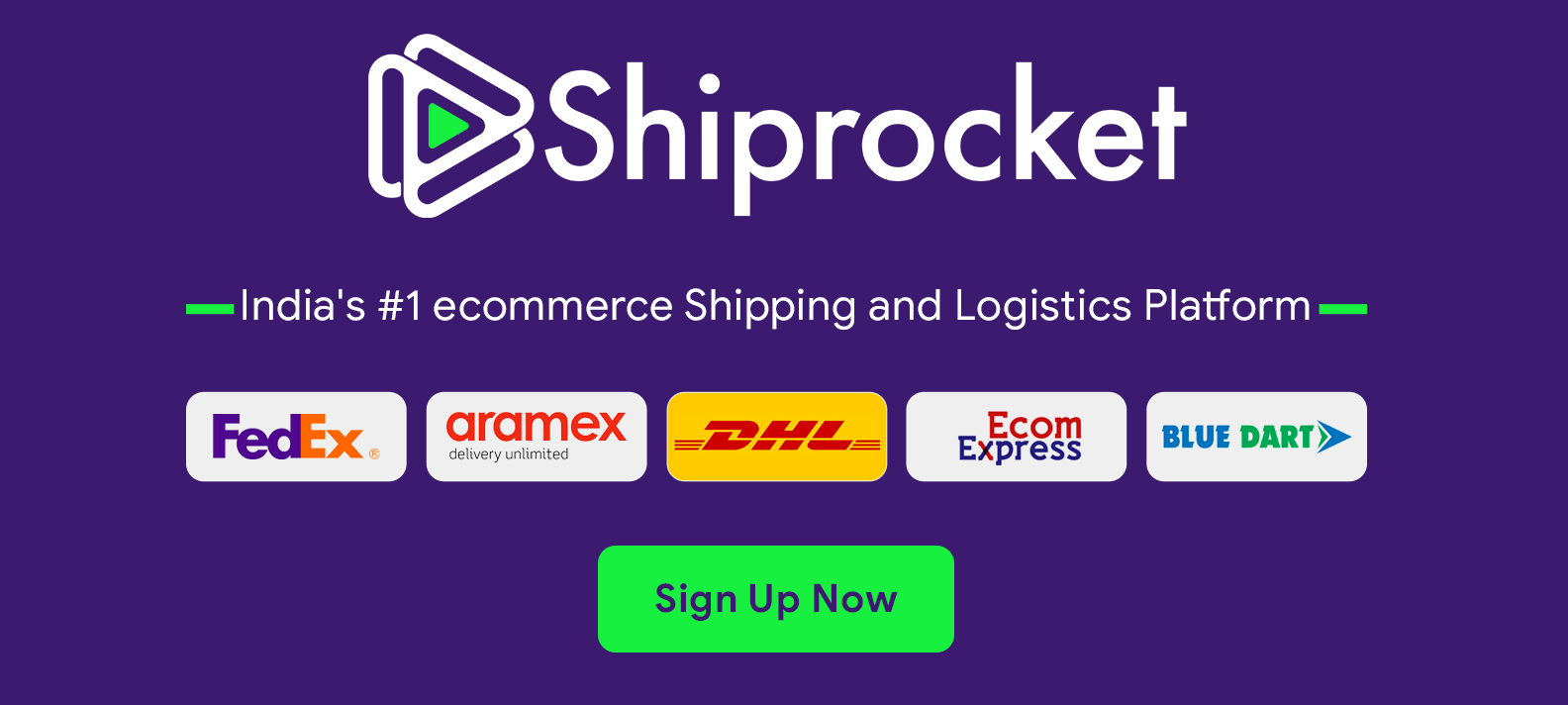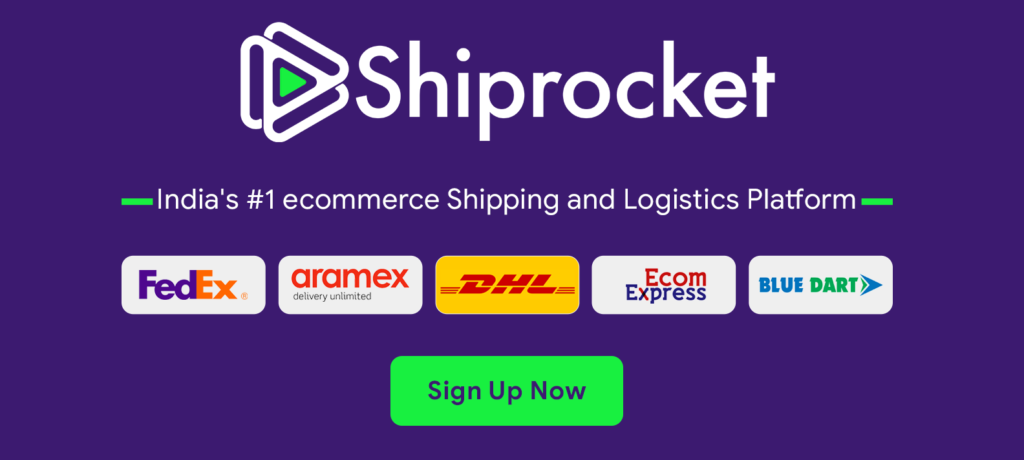 Calculate Your Shipping Costs Now