20 Biggest Challenges of eCommerce and How to Handle Them
From fierce competition to logistics complexities, eCommerce is an ocean of challenges. In order to handle these hurdles, you need to think strategically and innovatively. In this article, we will identify the 20 biggest challenges of eCommerce and uncover actionable strategies to conquer them. We also explore all-in-one solution providers for these challenges.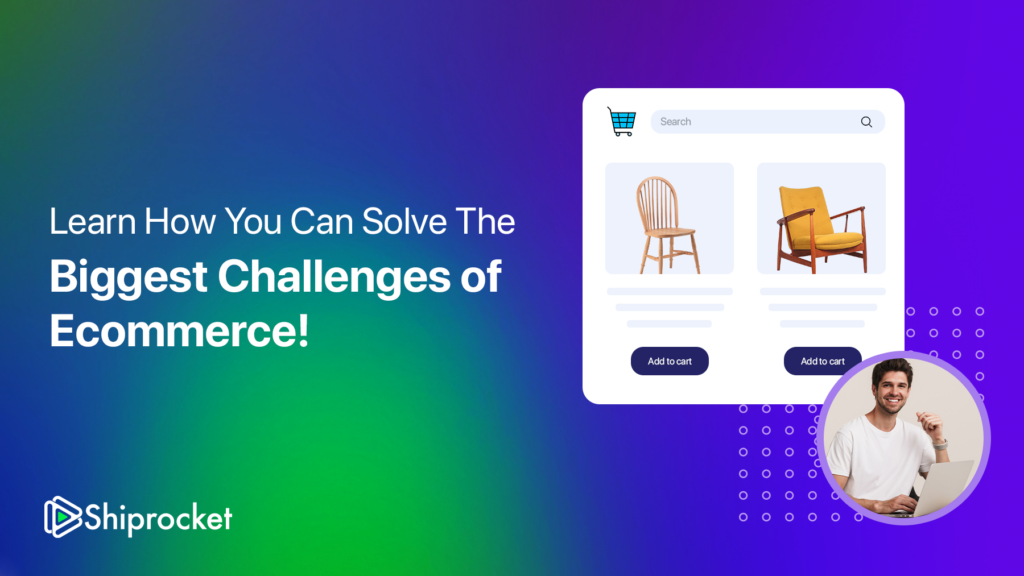 Identifying and Tackling the Top 20 eCommerce Challenges
Every eCommerce business will have its own unique set of challenges and will have to find solutions that are best applicable to those issues. However, across the eCommerce industry, there are some common challenges. The top 20 such eCommerce challenges are as follows:
1. Intense competition
The ease of starting and managing eCommerce businesses has also led to a multitude of competitors vying for the attention and loyalty of customers. The digital marketplace is saturated with numerous online stores offering similar products and services, making it challenging to stand out from the crowd.
By crafting a unique value proposition and differentiating your brand with on-time delivery, understanding target audience needs, and experiences will ensure competition is overcome.
2. Customer Acquisition
Acquiring new customers is a constant challenge in the eCommerce industry. With countless online stores competing for customer attention, businesses must employ effective strategies to attract and convert potential buyers.
Using digital marketing tactics, search engine optimisation (SEO), social media advertising, influencers, and targeted content marketing that emphasises your value proposition will lead to better customer acquisition.
3. Abandoned Shopping Cart
One of the significant hurdles faced by eCommerce businesses is the issue of abandoned shopping carts. Customers often add items to their carts but do not complete the purchase because of various reasons. The reasons may include complicated or time-consuming checkout processes, concerns about payment security, unexpected costs, or distractions during the shopping journey.
You can solve this challenge by displaying trust-inducing icons of secure payment gateways, following up with personalised emails, and incentivising a successful transaction. Integrating your services with secure third-party logistics providers can also ensure carts are not abandoned.
4. Limitations in Website Performance
The performance of an eCommerce website plays a crucial role in shaping the customer experience. Slow-loading pages, technical glitches, or unresponsive interfaces can frustrate visitors and lead to abandoned shopping sessions.
To address these challenges, it is essential to consider switching to a reliable hosting provider, implementing website optimisation techniques, and conducting regular performance testing for your site.
5. Lack of Mobile-friendliness
With the increasing dominance of mobile devices in online shopping, businesses must adapt their eCommerce platforms to cater to mobile users effectively.
Optimise your website for the mobile user, ensuring its responsive design and intuitive navigation offer a streamlined checkout process using a mobile app to give customers a better experience.
6. Unoptimised Inventory
Managing inventory efficiently is crucial in eCommerce. Unoptimised inventory can lead to issues like stockouts or excess stock, resulting in lost sales or increased carrying costs.
Integrating with automated platforms of shipping and logistics providers enables you to track stock levels, automate reordering, and gain real-time visibility into your inventory. Forecast demand with precision, and let the light of optimised inventory levels guide your path.
7. Logistics Gaps
Your eCommerce business is greatly impacted if your shipping and logistics providers are unreliable and cannot deliver as per the timeline your business offers. Poor performance and repeated delays will lead to customer churn, even if you have a great product portfolio.
To overcome these challenges, it is crucial to effectively manage the delivery of diverse products and handle suppliers, manufacturers, and international customers. Negotiate favourable rates with these providers and offer flexible shipping options to secure customer loyalty.
8. Poorly-framed Returns and Refunds Policies
A challenging aspect of eCommerce is managing returns and refunds efficiently. Often there is ambiguity about the category of products that can be returned and those that cannot be returned. For example, it has to be clearly mentioned that innerwear or discounted clothes cannot be returned.
It is always a better strategy to be a good business that respects customers. Craft a clear and customer-friendly returns policy, streamline your returns management process to minimise time and costs, and focus on customer-centric processes.
9. Weak Cybersecurity
With the growing threat of crimes online, cybersecurity is a critical challenge in eCommerce. Businesses must prioritise robust security measures to protect customer data and prevent security breaches.
Establish strong cyber security by implementing SSL certificates, conducting regular security audits, and safeguarding customer data with encryption. Educate your staff on best security practices and be ever-vigilant in the face of potential cyber threats.
10. Few Payment Gateways
Offering diverse and secure payment options is vital for eCommerce success. The challenge lies in providing customers with a wide range of payment gateways that suit their preferences and instil trust.
Ensure user-friendly payment options: From credit cards to digital wallets, use the power of seamless transactions to match your customers' preferences.
11. Lack of Customer Retention Strategy
Retaining customers is as important as acquiring new ones. Businesses must develop effective customer retention strategies to foster long-term relationships and drive repeat purchases.
The ideal strategy to retain customers is to offer personalised experiences, rewards programs, and exclusive offers. You can also use email marketing to stay connected with your customers.
12. Lack of Personalisation
When customers do not see recommendations, or there are wrong recommendations; they are likely to move away from the eCommerce seller.
Hence, personalisation, such as product recommendations, customised promotions, and greeting customers by name, will be necessary.
13. Lack of Cross-channel Integration
Poor inventory management creates dissatisfaction among customers. When they order a particular size, they expect to be delivered the same. If the inventory is wrongly managed, then it leads to dissatisfied customers and refunds.
Integrate different channels to provide a consistent brand experience. Synchronise inventory and order management, ensuring customers can effortlessly navigate between platforms with social media integration.
14. No Scope for Scaling
As an eCommerce business grows, scalability becomes a significant challenge. Increasing traffic and transaction volumes require businesses to continuously optimise their infrastructure.
Continuously optimise your infrastructure, upgrade server capacity, and virtualisation offer necessary solutions.
15. Weak Customer Service
Insufficient customer service can greatly hinder eCommerce companies and amplify the challenges they face in their operations.
To overcome this, you can establish multiple channels for customer support. Proactively engaging with customers and actively addressing their concerns will be highly beneficial and can contribute to building strong relationships and customer loyalty.
16. Lack of Data Analytics-driven Processes
Data analytics plays a crucial role in understanding customer behaviour, optimising marketing strategies, and improving business performance.
Data analytics track key performance indicators, analyse customer behaviour and gain insights into your business's strengths and weaknesses.
17. Not Localised
Many eCommerce companies struggle to adapt their offerings to cater to the specific needs of local markets. As a result, they fail to attract customers and experience a lack of engagement from the online community, as there are no relevant products and services available.
To address this issue, businesses need to prioritise localisation efforts. This includes adapting website content and product descriptions to align with local regulatory requirements.
18. Lack of innovation
eCommerce sellers are likely to become stagnant and not attract new customers or retain customers if they do not innovate or offer exciting products to their customers.
A business that is the first adopter of new changes and is open to constant innovation to achieve customer satisfaction goals can drive growth. In eCommerce, innovation ensures you are aligned with industry developments, have the capability to explore emerging technologies and experiment with new marketing strategies.
19. Lack of Legal Considerations
Adherence to data protection and consumer protection laws is of utmost importance for eCommerce solution providers. Failure to comply can result in significant fines and legal repercussions.
For smooth eCommerce operations on your website, you should comply with the necessary data protection regulations applicable to your location. Seek counsel from legal experts to guide you through the maze.
20. Lack of Customer Engagement
With the abundance of choices and information available online, cutting through the noise and effectively delivering relevant and compelling content to engage customers becomes difficult.
Overcoming this challenge requires strategic planning, personalised experiences, cohesive messaging, transparent communication, reliable customer service, and the ability to adapt to changing customer needs.
Shiprocket's Solutions for Your eCommerce Needs
Industry stakeholders have found solutions to some of the biggest challenges of eCommerce. Logistics provider, Shiprocket, offers all-in-one solutions that solve the majority of these issues-
Simplified Shipping: Shiprocket offers hassle-free shipping solutions that streamline the entire process, from order fulfillment to delivery.
Wide Reach: With Shiprocket, you can expand your customer base by shipping to over 26,000+ pin codes across India and 220+ countries worldwide.
Multiple Courier Partners: Gain access to a network of leading courier partners, allowing you to choose the most suitable shipping option for your business.
Cost-effective Solutions: Shiprocket offers competitive shipping rates, helping you optimise your shipping costs and increase profitability.
Automated Order Management: Save time and effort with Shiprocket's automated order management system, which syncs seamlessly with your eCommerce platform.
Tracking and Notifications: Keep your customers informed every step of the way with real-time tracking updates and automated notifications.
Return Management: Effortlessly handle returns and exchanges with Shiprocket's integrated return management system, providing a smooth customer experience.
Dedicated Support: Shiprocket's team of experts is available to assist you with any queries or concerns, ensuring a seamless shopping experience.
Experience the power of Shiprocket's comprehensive eCommerce solutions and take your business to new heights. This service provider can handle your shipping needs, so you can focus on what matters most—growing your business and delighting your customers.
Conclusion
In any eCommerce business, challenges arise at every step. It is the ability of the business to overcome such challenges that will drive its growth. The biggest 20 challenges eCommerce retailers face can be solved with innovative strategies, nurturing customer relationships, and being prepared for new business environments with technology-backed solutions. Partnering with the best industry solution providers only multiplies the reach of your eCommerce business and sets up for greater customer acquisition and better cart conversion. Speak to experts at Shiprocket to find optimised logistic solutions and overcome even the biggest challenges!
Frequently Asked Questions(FAQs)
How do shipping providers ensure package security?
Shipping providers implement real-time package tracking systems, tamper-evident packaging materials, quality control measures, and insurance to ensure package security.
What strategies do shipping providers employ to improve international shipping?
Shipping providers streamline international shipping by offering services like international express shipping, handling customs documentation and clearance processes, and partnering with customs brokers to navigate complex regulations.
How do shipping providers handle returns and reverse logistics in eCommerce?
Shipping providers develop efficient returns management processes like return labels, facilitate return pickups/drop-off locations, and streamline return authorisation and refund processes.
Calculate Your Shipping Costs Now