How does online shipping work?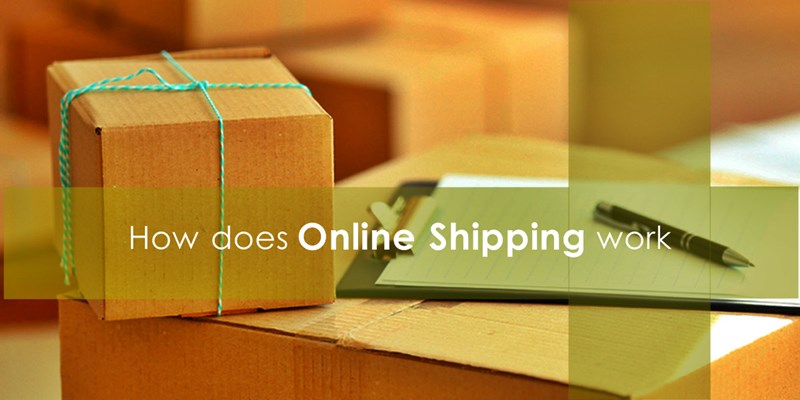 Shipping and delivery are one of the most important aspects when it comes to eCommerce. It is perhaps an integral part of the whole system, without which the whole supply chain management process becomes flak. As the main objective of an online business is to deliver the items to the customers in a timely and efficient manner.
Apart from timely delivery, there are various practices to be followed in eCommerce shipping as an online store to provide best customer experience to your users. At the same time, keep yourself up to date with what it would cost to deliver an item to the customer, so you can keep a close eye on your expenses.
Here is the process of the working of eCommerce shipping explained:
1. Processing the order
Order processing is a term for a set of activities needed to process the order made by the customer. Every purchase is tied to a specific order and tracking ID for the item to be delivered. Different teams have different tasks to perform in processing the order. The production and logistics team updates the inventory, closes the purchase order, and assign the tasks to the packaging and delivery team.
2. Packaging the order
The next step is to pack the items properly before ultimate shipping. Packaging has two-fold purposes; firstly it prevents the item from getting damaged, and secondly, it helps create brand value. Some of the common packaging options include boxes, packets, envelops and so on. Based on the type of item, the packaging is done.
Packaging should always be user-friendly and less cumbersome. However, it should be sturdy and durable enough to prevent the product from damage during transit. Moreover, your brand logo (if there is any) needs to be clearly visible on the package as it helps increase brand value and retention.
3. Logistics and Delivery
This is the third and most important step in the whole shipping process. eCommerce companies need to have a reliable logistics process in place for seamless and timely delivery to the customer. In this case, employing or partnering with a reliable and reputed third party logistics or courier agency helps. They will deliver the items on your behalf. eCommerce giants like Amazon have their own logistics division to deliver orders. Others may opt for online shipping aggregators like ShipRocket, which provides an option to choose from multiple shipping partners to the sellers, and that too, on pre-negotiated shipping charges.
4. Returns
Last but not the least, shipping also involves processing returns. After the customer returns the items due to various reasons, the logistics agency ships it back to the retailer and the returns process starts. Based on the return terms and conditions, the refund is processed.
The increasing popularity of digital platform has led to the rapid growth of eCommerce in the world. With innovative shipping techniques coming almost every day, it is expected to benefit both businesses and customers.