eCommerce Shipping & Return Policy for Online Store Success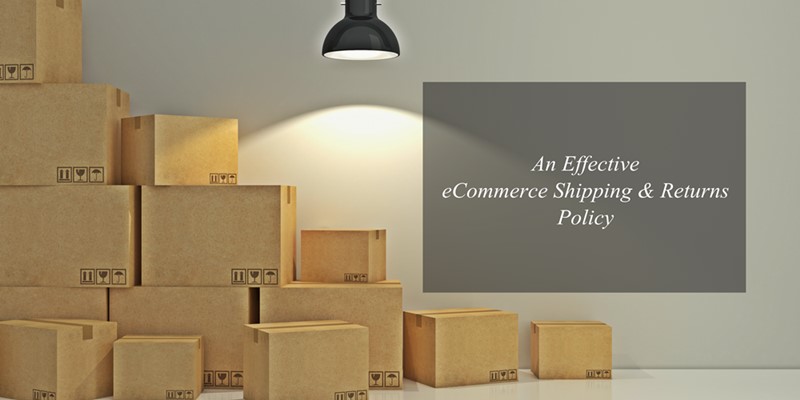 While you are in business, customer satisfaction is of utmost importance! No business can flourish if you cannot satisfy the needs and preferences of your customers. There are lots of instances when customers may need to return a particular product back to the company due to several reasons. Well, this is where proper customer satisfaction strategy comes into play. You should always respect the decision of the customer and ensure that the item that he or she wishes to return is properly catered to. All these help you to create that trust and goodwill for the long run. In order to have a proper returns mechanism in place, it is important that you have a quick and developed shipping strategy.
According to a study, almost all the customers will want to have an eCommerce shopping and returns mechanism that is hassle free and effective. An effective returns mechanism can also indirectly increase the revenue of the retail store. In most cases, customers who experience a hassle free returns process seem to spend more, which amounts to around 457 percent above the pre-return spending. Furthermore, the business gets positive reviews and accolades from the customers.
As an online retailer, if you really wish to add to the goodwill of your business, you should look into the following mechanisms to make your returns and product shipping a truly great experience for customers.
Following things must be taken into account while making your eCommerce shipping and return policies:
Prevent Returns as much as Possible
Well, it's obvious that customer won't like everything they buy online and would want to return it. However, you can try as much as possible to minimize returns. In most cases, returns take place when the item delivered does not match the information provided on the site. To prevent such mismatch, the information about a particular product needs to be true, detailed and organized. Also, the terms and conditions need to be clearly defined. The site should list all the valuable information such as the exact color, dimensions, features, sizing chart, and so on. It also immensely helps to have a frequently asked questions section.
The above information and specifications will help the customers to have a better idea about the product. In case of products, such as clothes or other lifestyle items, photos of models wearing or holding the product need to be displayed.
Another great way to win customer's trust is to let the customers see the product reviews. Leave the reviews neutral as they are. As per the survey published by PowerReviews, around 90 percent of consumers mentioned that product reviews influence their buying decisions to a great extent. Around 95 percent said that they consult customer reviews before buying a product, and around 61 percent said they trust consumer reviews over friends and family.
Have a Foolproof Returns Policy in Place
Once you have provided all the right info on your products page, it's now time to pay attention to your returns section. Have this done keeping in mind both the business and consumer perspectives? The time aspect that consumers would consider is the time period for the return. Try to have a returns window between 60 and 90 days, unless the product is perishable. A longer returns period is always helpful to win customer satisfaction. For example, businesses that sell online mattresses should at least 100 night trials along with free shipping and free returns.
Some terms and conditions that you need to clarify in eCommerce returns policy are:
Do the original packaging and tags have to be intact?
Are returns applicable to sale/clearance items?
What to do if f damage was inflicted by the consumer or the shipping process?
Can the product be placed back into inventory?
It is also important to determine the shipping process to be used for the returns. Do you need to use a Ground service that is affordable or have a faster return with a Priority service? How will your customers drop off their packages? Can the customers leave the package in their mailbox, using USPS, or at nearby FedEx or UPS location?
You may also print the return label and include it as part of the package, or email a printable return label, in case the product needs to be returned. All these will affect the overall shopping experience of the customer, so it's advisable to consider these aspects carefully.
Ensure to make the Returns process Hassle Free
Once you have a proper returns mechanism and policy in place, try to provide a hassle free experience to the end customers. Ensure that customers can easily access the return policy and return instructions and understand them well.
It is always good to provide returns packaging along with the delivery package like poly bags, small mailers and so on. As per the reports, most shoppers want to have an easy-to-print return label along with the delivery label.
If possible, try to have a centralized returns portal for your customers. This the need for lengthy customer service calls or email exchanges to a great extent. The customer simply selects a reason for the return and then receives a return shipment label.
By having an effective returns policy, you will not only simply improve the shopping experience but also add to the customer trust and goodwill.