Latest Innovations in eCommerce Logistics and Delivery
A successful and secure shipment of the product is what matters to an eCommerce business and its customers for a pleasant online buying experience. As the whole concept of eCommerce business takes place over the internet, it is important that the products are delivered to the customer within the stipulated time and in the best of the condition. Well, this is where technology comes into play.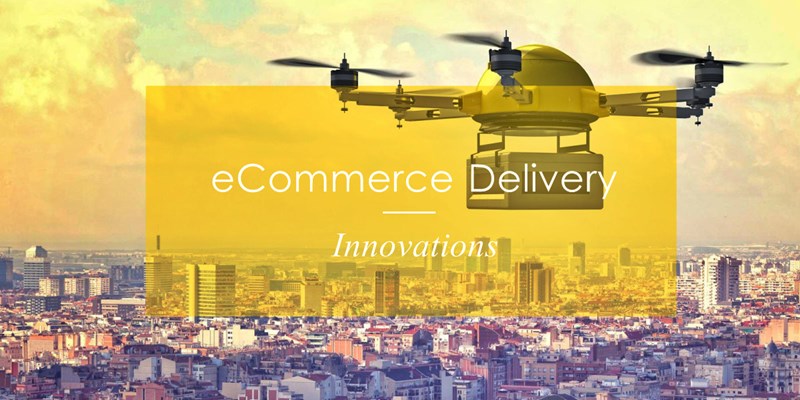 By using the advanced technology delivery platforms, you can offer a seamless delivery experience to your customers. Not only will the shipment reach them on time, but also it will be in the best of condition along with great packaging.
The main objective of the latest delivery platforms is to ensure that delivery takes place within a very short span of time, irrespective of the location and distance. Moreover, the shipping medium and packaging is given quite an importance in order to ensure that no hitches take place in the delivery process. Furthermore, all these delivery platforms are fully compliant with the business and trade regulations to ensure no legal hassles take place.
These are the latest shipping innovations in the eCommerce logistics industry:
Drone Delivery: Drones, which were once used for military purposes have taken over the eCommerce industry as well. The main advantage of making product delivery through drones is to save time to a great extent. Moreover, these are very effective when it comes to delivering necessities such as medical products, eatables and so on. Most drones have the ability to fly at an average speed of 60 mph that make them quite an effective transportation medium.
Droid Delivery: Thanks to advanced technology, droid delivery is slowly coming up in the eCommerce business as a reliable delivery platform. In simple terms, droid uses robotic technology to deliver goods to the nearest retail outlet or delivery location. Very soon, eCommerce businesses like Amazon will implement the droid technology to deliver products.
Big Data: We are already aware of the advanced Big Data platform that has made its presence. Now, it will be introduced on the eCommerce platform. It can be used to manage the whole delivery process of the product, ranging from shipping to final delivery. DHL has started utilizing Big Data to introduce its real-time parcel volume prediction feature.
Hyperlocal Delivery: Hyperlocal delivery is the latest buzzword in the eCommerce industry. More and more businesses are exploring into the world of hyperlocal as customers are demanding deliveries made within a few hours. The concept of hyperlocal delivery is to deliver items within a specific geographical area, mostly within the same pincode. Shiprocket has also come up with its hyperlocal delivery business where it allows sellers to sell products such as groceries, medicines, food items etc within 15 kms from the pick up location.
In the coming years, the delivery platforms and channels in eCommerce will experience a sea change, thanks to automation. Soon, we will have self-driven vehicles that will deliver the products to the delivery location. With more use of robotic technology, delivery in eCommerce will be a unified process fully managed from start to finish. Companies will combine both traditional and these innovative methods to provide the best services to their online buyers.
Calculate Your Shipping Costs Now