Why Does Your eCommerce Business Need A Shipping and Logistics Aggregator?
eCommerce is an indispensable part of our lives now. We are all dependent on buying things online, and eCommerce marketplaces like Amazon, Flipkart, Snapdeal, and Myntra have only made this phenomenon more widespread. So when we talk about eCommerce, shipping is the process of utmost importance as without it your products cannot reach your customer. Statista reported that India's retail e-commerce CAGR is going to reach 23 percent from 2016 to 2021. This statistic implies you're probably going to ship five times the orders you are currently shipping. Also, your buyers are not going to be located in only one region of the country. Therefore, this is where courier aggregators come into the picture. They're here to make eCommerce shipping easier for you. Read on to find why you must opt for them!
What is a Courier Aggregator Platform?
A courier aggregator is a business which has tie-ups with major carrier partners. This way, they bring many courier companies to one platform and provide you with lower than usual shipping rates. As it is a space that involves multiple courier partners, you can choose which carrier you want to wish to use to ship your orders. Along with these, there are many other features you can get with courier aggregators such as automation, API integration, etc.
Advantages your Business Gets with Courier Aggregators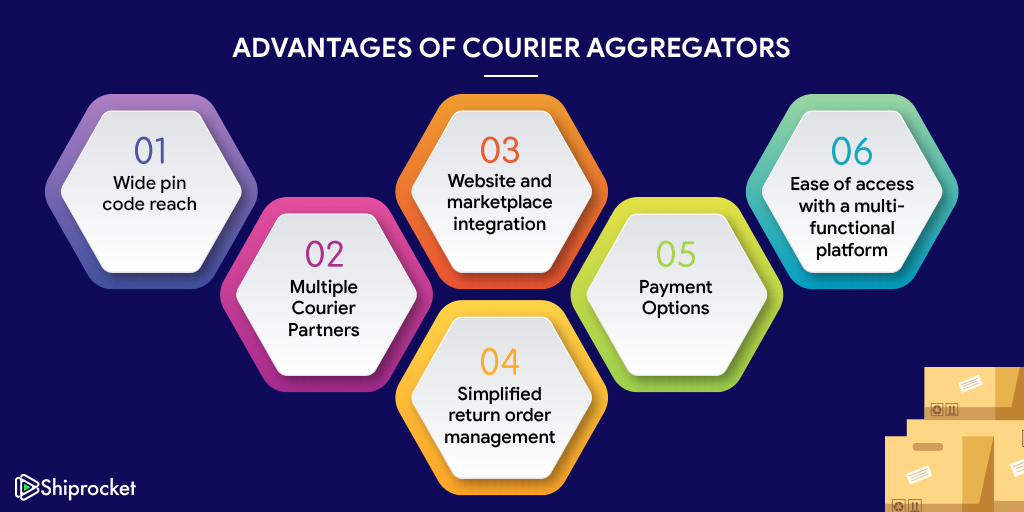 1) A wide pin code reach
With courier aggregators, you get a broad pin code reach as you leverage the pin code reach of more than one carrier. Thus, with many courier partners at your disposal, you can reach out to a massive audience across the country.
2) Multiple courier partners
Many courier aggregators have over ten courier partners integration with their platform. You get a choice to select the one which is best for your business and matches the requirement for each shipment depending on the pickup and delivery pin code. Also, you can choose the service which offers the cheapest rate or is most liked by audiences.
3) Website and marketplace integration
You can integrate courier aggregator platforms with your website or marketplace with the help of APIs. These APIs fetch data from your site and save the orders in the platform to make shipping possible directly from the platform. This avoids any loss in orders and keeps your website in sync with the fulfillment procedure.
4) Simplified return order management
With a platform which has multiple courier partners, it is easier to process return orders. First, you can choose a partner who can carry out the function easily. Second, as the platform is unified, you can place a return order directly. Also, you don't restrict your return orders because accessibility to a pin code is difficult with only one carrier.
5) Ease of access with a multifunctional platform
Usually, courier aggregators provide you with a platform which enables you to carry out forward and return order processing from one place. These give you access to all functions in one place, and you can quickly fulfill all your order yourself.
6) Payment options
Most eCommerce logistics providers can't provide you with many opportunities for collecting payment from your buyers as they don't have the resources to do so. With eCommerce shipping partners, you get a choice for cash on delivery and prepaid payments.
One such courier aggregator offering these and many more features is Shiprocket. We are India's leading eCommerce courier and logistics provider with over 15+ courier partners, 13 websites and marketplace integration, and other relevant features to make shipping an easier task for you. Find out about these features and explore the best shipping platform there is.
Additional Features you Can Avail with Shiprocket – India's leading Courier Aggregator
1) No setup fee
You can use Shiprocket for free. We do not charge any fee for using the platform, and you only pay for the courier charges of each shipment. Thus, you can make use of a fully equipped platform to provide your buyers with a seamless eCommerce shipping experience.
2) Inventory management
You can add your inventory into the Shiprocket panel and map your orders directly from there. This option saves you many manual hours of manually logging and tallying every order with your list. Also, if you utilize Shiprocket, you can save on investing in other inventory management software.
3) Courier recommendation engine
This engine is Shiprocket's proprietary software. Our courier recommendation engine is a machine learning based data engine that helps to determine the best courier partner for a shipment based on its pickup and delivery performance, COD remittance, and return order management. Thus, if you're confused about choosing between 15 courier partners, we will do the work for you and tell you which carrier is most suited for each shipment.
4) Faster COD reconciliation
As compared to other courier partners, Shiprocket offers thrice-a-week COD remittance. This comes to an advantage for you as your money would not be stuck with any courier partner or middleman. You can readily accept COD orders as the payout time from them would reduce significantly.
5) AI and data backed platform
Shiprocket is India's only eCommerce shipping platform which is supported by artificial intelligence and offers features like courier recommendation, estimated delivery date, etc. These pieces of information help you make informed decisions and also help you deliver a far better shipping experience to your customer.
6) Business analytics
The Shiprocket platform also contains detailed analytics of your shipments, and we send two daily digests every day to inform you about your pickups and delivered orders. These numbers help you keep a track on the business and also improve any strategies that may require an upgrade.
7) Insurance cover
With Shiprocket, you get maximum insurance of upto Rs. 5000 for your lost shipments. You can ship hassle free and tension free and also not stress about trusting Shiprocket.
8) Automated NDR dashboard
We have a digital NDR dashboard that reduces the processing time of undelivered orders by over 50%. We have introduced a buyer flow to give your buyers a chance to send their feedback and delivery preference regarding the undelivered order. You can also reduce your RTO by almost 5% with this dashboard!
9) Continuous order tracking
Integrated APIs from courier partners ensure that you and your buyers get regular updates about the whereabouts of your orders and informed at all times by emails and SMS.
With such amazing features at your disposal, you can definitely ship far and wide to make sure your product reaches safe and sound to your buyers!
Calculate Your Shipping Costs Now