30 Products That Sell Online Like Hot Cakes!
If you are looking for the right business initiative which can help you earn good money in a short period, you can opt for a home-based business. The global market today has opened lots of business opportunities and home businesses are also one of them. People from across the globe, starting from students to retirees are opting for selling online from home to their worldwide customers to earn some extra bucks, without spending the enormous amount of money, time, and energy.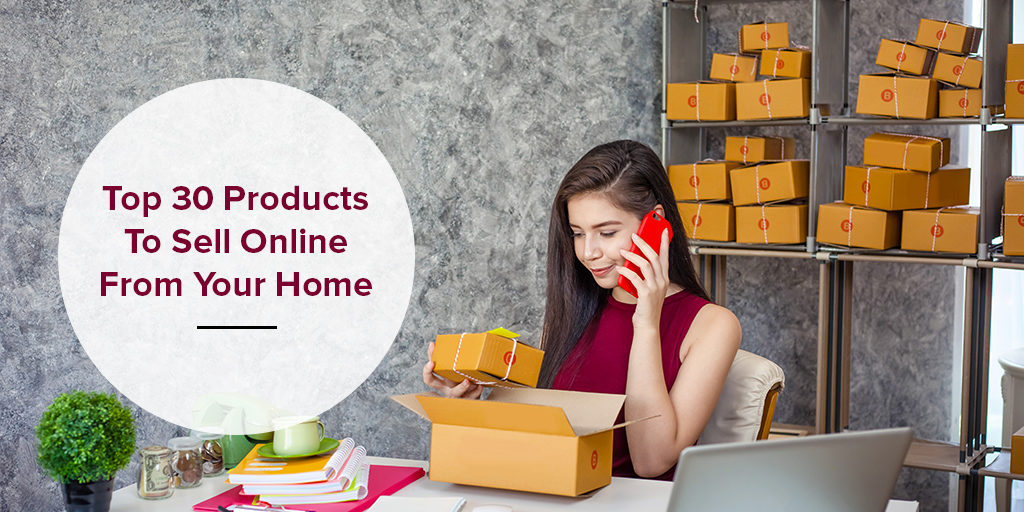 How is Selling from Home Beneficial?
eCommerce business is one of the most popular forms of home business. It offers you the scope to earn thousands with just a click of a mouse. If you have a computer and a high-speed internet connection, you can quickly start a home-based online business. Finding customers is comparatively easy as there are many eCommerce platforms where you can instantly start selling online.
Because of flexible hours, low capital and less stress, home businesses can be ideal for students, homemakers, retired professionals, and aged people. Surveys have shown that these types of people prefer to start an online business from their home for earning some extra money.
Getting your basics right
Now that you have decided on selling online from home, what are some of the items that can help you succeed, and what are the fundamental aspects that you need to keep in mind to reap good profits? Well, the first step toward getting prospective customers is to identify your target audience and their demands. Once you can know that, half of your job is complete.
How to Deliver these to Your Buyers?
That is indeed a million-dollar question! You need to chalk out a proper business and promotion plan for selling your products while at the same time thinking about national and international shipping. If you can plan appropriately and implement business techniques, you are bound to be successful. Moreover, when you sell from home, your inventory is not too big and order volumes are not too high. You can easily get in touch with hyperlocal delivery providers like Shiprocket, to provide delivery within a radius of 50 km. Since you will be able to reach customers faster, you can develop lasting relationships with them.
With Shiprocket, you can ship with delivery partners like Shadowfax and Dunzo at the most nominal rates. If you want to ship hyperlocal orders, click here.
Do you want to start doing business online from the comfort of your home? Some popular products can drive good sales without spending too much effort and money. Watch this video to find out:
Here is a List of 30 Trending Products to Sell From Home in 2023
1. Fashion Items
When it comes to fashion, the products are always trending on the internet. Clothes and fashion accessories rank among the top products to be bought over the net. You can start a clothing business and add an ethnic touch to it by selling handmade fashion products.
2. Body Products
They too have a good demand over the internet. Some of the famous bath and body products like shampoos, cream and lotion, age rejuvenation products and so on.
3. Electronic Products
If you are into the electronics business, you can reach millions of customers over the net. You can sell different gadgets, and advanced digital items like laptops, digital cameras, Bluetooth enabled devices, and so on.
4. Mobile Phones
In this age of smartphones, it is quite evident that they will have high demand on the net. You can start a home-based phone selling business and reach out to thousands of customers. It provides a scope to reap good profits due to high demand.
5. Bags
Bags rank among the favorite items/products to sell online from home. You can make your bags with innovative ideas and sell them over the net.
6. Art Items
If you have that artistic instinct, you can utilize it to sell art items online. Some favorite items include cartoons, paintings, postcards, and so on.
7. Jewelry
We all know jewelry is a prized item always. So, you can start a cool jewelry business online from home. Based on the demand, you can sell costume jewelry, ethnic jewelry, and plush jewelry.
8. Sweaters and Knitting Products
If you are good at knitting, you can use that skill to sell cool knitted products. Some of the items that have good demand include sweaters, cardigans, woolen bags, head and hand bands and lots more.
9. Candles
Handmade gel candles are quite sought-after items or products to sell over the net. They are used for different celebrations and occasions. You can create gel candles of attractive themes and sell them online.
10. Books
If you are a good writer, you can write e-books and sell them online. With kindle editions already quite popular, you have an excellent chance to make it big over the internet.
11. Shoes
A lot of people buy shoes over the internet. You can sell cool shoes over the internet. And please come up with innovative themes and ideas.
12. Coffee Mugs
Coffee mugs have a good demand as they are bought as gift items. If you know glass painting, you can sell hand-painted coffee mugs online.
13. Bedding Items
Lots of people looking to purchase hand-designed bedding items. You can sell handicraft pillows, bedsheets, cushion covers, and so on.
14. Scarves
You can sell handmade scarves as a home-based online business. Hand-designed beautiful scarves will sell like hotcakes.
15. Soaps
Herbal soaps have an excellent online market. You can start a lucrative business of homemade herbal soaps.
16. Belts and Ties
Accessories have a considerable demand in the market. The two most bought men's accessories are belts and ties. Thus, if you can source them from a vendor or produce them yourself, selling them online is a good idea. Customized belts and neck-ties are also a rage these days.
17. Homemade Perfumes
With increasing awareness, there are innovations. People are now looking for more environmentally friendly and organic products. Handmade products are thus a good idea to sell if you want to sell over the internet.
18. Phone Cases
This product is something which will only go out of the market if we discontinue smartphones. Some use them for protection while some use them for decoration, but almost everyone uses phone cases. They can be sourced easily and finding an audience for them is also easy.
19. Headbands
Again, women accessories never go out of fashion. Since headbands are something most young girls wear to school as a part of their uniform, it is bound to do well with parents who buy stuff online.
20. Handmade Socks
It is the era of customization and what better than socks. Netflix and chill socks is a very famous example. So if you can source such socks from somewhere, it is a great product to sell over the internet
21. Greeting Cards
These are everyone's go-to item when they can't find much to express themselves or even otherwise. Customized greeting cards for every occasion is an upcoming trend, and you can add your creativity to it and sell it online.
22. Beach Blankets
For those who thrive outdoors, beach blankets sell wonderfully with them. Target the right audience and project your product in the most favorable light
23. Lights and Bulbs
These are a necessity of every household, and you source them from any local seller and sell them via your store online. If possible, you can even drop ship such an item. Make sure to have a clear channel of communication and understanding with your supplier.
24. Spices and Edible Items
India is famous for its spices, and each area is diverse in its produce. Thus, the spices and edible items in your area can be a hit with the other segments of society. Make sure you follow all guidelines while shipping.
25. Handmade Toys
Handmade toys have been a tradition since long. Thus, whenever parents get the chance, they want to opt for choices wherein their kids can experience authentic stuff but usually have no idea where to buy them. So, if you make hand made toys, it is a good idea to try and sell them online for connecting with a broader audience.
26. Pet Care Products
You can't take care of pets without care products. As pet care shops are not present at every locality, people look for online shopping options. Therefore, pet care products are a great choice.
27. Fitness Trackers
In a fitness-obsessed world, fitness trackers are the latest addition to fitness gear. They are smart, dynamic, fashionable, and useful. Thus, selling them is a smart choice too.
28. Watches
Fashion accessories are high in demand and wristwatches never go out of style. Thus, make sure if you're selling watches, you stock up and have a vast variety.
29. Enamel pins
Accessories that add charm to your outfit are always wanted. Today, enamel pins are no more just formal. Thus if you can be creative and add design and manufacture quirky enamel pins as well, you are bound to make a profit.
30. Baby products
Newborn products acquire a significant chunk of the market. Baby products include oils, shampoos, apparel, kinds of toothpaste, etc. Selling them is a good idea as new parents today are aware and choose wisely.
By implementing the right home business ideas and selling the right products online, you can quickly get good returns and also enjoy that flexibility of time and workload.
How can I start my own website?
You can create your own website on channels like Shopify and list your products there to begin selling. The process is extremely simple and you can get started in minutes.
Is there any process to ship my marketplace and social media orders?
Yes! You can signup with Shiprocket and sync your website, marketplace, and social media website. You can start shipping immediately.
How to know which product will I sell best?
You should do thorough market research, talk to buyers, and see your manufacturing and sourcing capacity to decide your choice of product.
How can I secure funding for my business?
To secure funding for your business, you can reach out to investors, take out a loan, and much more. Read more here
Calculate Your Shipping Costs Now