How To Start Apparel eCommerce Business In India
Are you planning to start an apparel eCommerce business in India? It's no surprise why!
Intelligent entrepreneurs have determined the popularity of eCommerce niches. Selling clothes online is a popular choice both for beginners and pro eCommerce entrepreneurs. Clothes are no more a basic necessity. Indeed, they have a universal appeal and are comparatively simple to customize.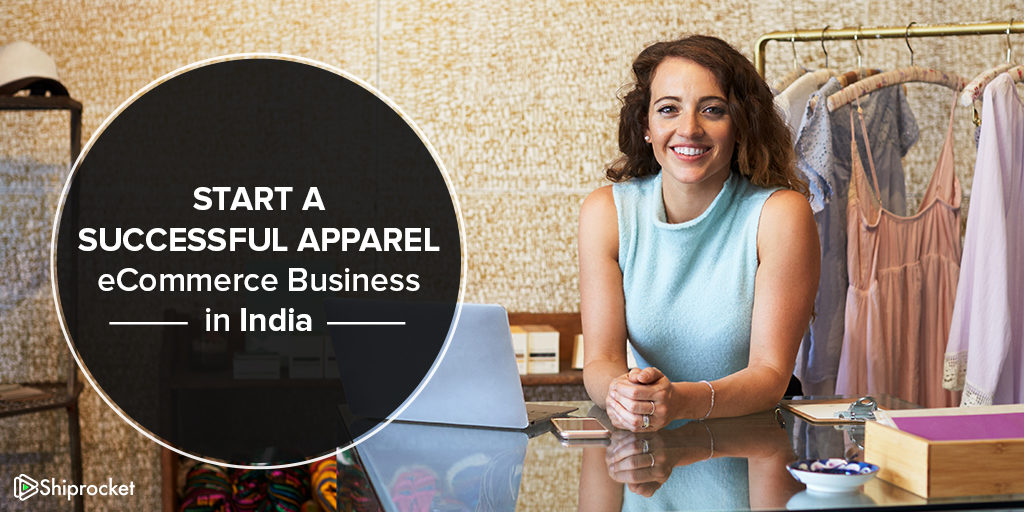 However, just because a niche is popular and profitable doesn't mean you'd get instant success. With increasing popularity comes increasing competition. Every other day, an online store comes up. It is necessary that you make sure your store stands out from the millions of others. To ensure the same, it's vital that you pitch high-quality products, customize your own clothes, and build an efficient brand image.
If you're new to the eCommerce industry or looking forward to adding clothes and apparel to your online store, then this is the post for you! In this blog, we will take you through the steps you must consider to start a successful apparel eCommerce business.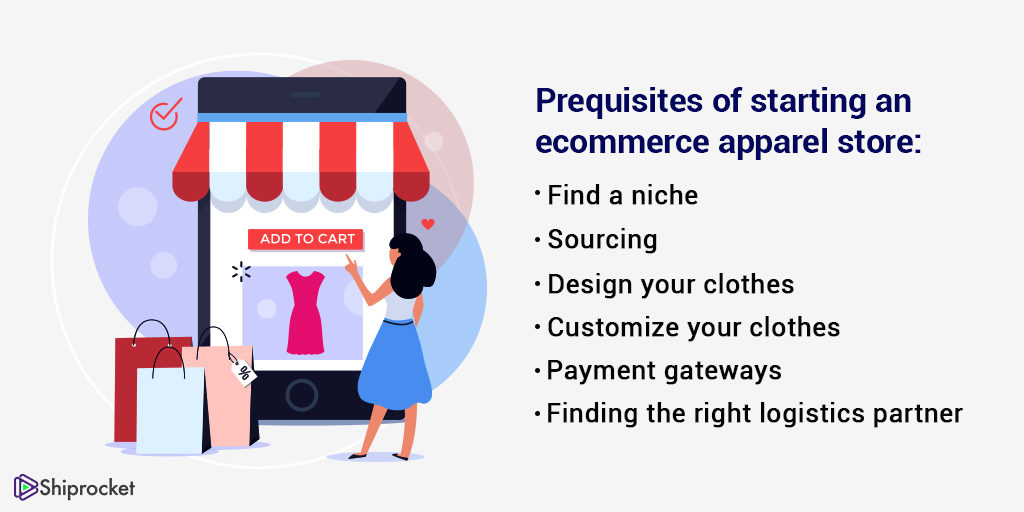 #1. Find A Niche
As you begin to start your apparel eCommerce store, it may be useful to find a niche for your business. Since eCommerce is a competitive arena, finding a niche for yourself can help you stand out from the lot. For instance, If you create shirt dresses or t-shirts that are truly unique, either in terms of price range or design, the chances for your success will be considerably high.
Key takeaway: Before you create a niche store, it's crucial that you take your time, research on your idea, look for something which is out of the box or an untapped market. It is easier to gain a foot when there's little competition. It can be a cheaper option as well!
#2. Sourcing
Sourcing is one of the most important prerequisites of starting an online eCommerce business. The reason why people buy or don't buy from an online store is often their product quality. Thereby, before you start, take time and decide from where you will source your clothing material. It's better to source high-quality apparels as it will result in providing superior customer experience.
Key takeaway: If your products are low in quality or get torn after one or two washes then it will leave a bad brand image of your store, on your customers. This will decrease the purchase frequency, which is something you would clearly want to avoid.
#3. Design Your Clothes
If your products have great and unique designs, you will stay ahead of the game. Your products will act as a strong foundation for your eCommerce business. Try to be creative. Try to create your apparels on various themes. You can choose a theme for your online store. Look out for the designs that will match your brand.
Various brands such as W, Bewakoof, Chumbak, and many more stand out from the lot because of their unique designs.
Key takeaway: If you don't feel confident about creating something different then you can seek help from local designers. Moreover, you can take the help of online platforms such as Upwork, Fiverr, etc. to get unique ideas from freelancers all over the world. Such platforms assist in getting high-quality designs at reasonable prices.
#4. Customize Your Clothes
CX is need of the hour. Customers often find problems in choosing the right sizes as per their body types. If you provide customers with customized sizes and designs, it will result in higher customer satisfaction. Before sending across the apparel, you can also seek validation from your customers via email. They may point out some important changes that might also help you in the long run.
Key takeaway: Cultivate a culture around your brand. For instance, a plus size woman is not satisfied with the sizing options, if you could provide a bigger size as per her body type, she will be more than happy. Customizing clothes creates a connection with them. She might come back to buy more stuff from your apparel store.
#5. Payment Gateways
As an eCommerce seller, it is essential that you keep in mind the importance of a secured payment gateway and its effect on your business. A secured payment gateway protects the details of the credit card of the customers. There are multiple payment gateways such as Paytm, Paypal, RazorPay and more. Keeping the convenience of the customers and requirements of your store in mind, pick a payment gateway.
Key Takeaway: By using a secured payment gateway, you can reduce the frequency and severity of credit card frauds. Before choosing a payment gateway, lookout for their service cost, virtual terminals, service agreements, and appropriate payment flow.
#6. Finding The Right Logistics Partner
Deliveries can make or break the relationship that eCommerce sellers are trying to build with their customers. The biggest pain point for the eCommerce sellers is finding a reliable logistics partner. Despite a decent product and competitive prices, you can easily lose customers if the apparel delivery is not up to the mark.
Key Takeaway: To make the entire shipping process easy, it is recommended that you use a courier aggregator like Shiprocket. The courier aggregator assists you in hassle-free delivery by offering multiple courier options as per the needs of your store. It helps you in choosing the best-suited courier partner with the help of its courier recommendation engine. The courier partner is recommended on the basis of various metrics such as cost, return order management, reviews, ratings, and pin codes.
The Bottom Line
When you start your apparel store, you need to find a balance between the quality, costs of production, and profits. No one can assure the success or failure of a business. Take time and search for the components that you don't know about. Look out for your competitors. Look for new ways such as influencer marketing, social media marketing, and more to connect with a broader audience.
Be passionate, create a theme, customize your apparel, and keep your costs low. Happy selling!
Can I ship bulk orders with Shiprocket?
Yes. You can ship bulk orders with Shiprocket.
Where can I create my eCommerce website?
You can create your eCommerce website on portals like Shopify, Woocommerce, etc.
How many courier partners does Shiprocket provide on their platform?
With Shiprocket, you can ship with 14+ courier partners.
Calculate Your Shipping Costs Now