How to Grow your eCommerce Business with a Powerful Content Marketing Strategy
eCommerce marketing is an essential aspect of your eCommerce strategy, without which your business can't move forward. Exercises like word of mouth, per promotions, social media posts are all governed by one common thread – content. Yes! Content is an integral aspect of your eCommerce marketing strategy. It may be dormant in most cases, but if put to good use, it can be a game-changer for your business.
Earlier, advertising meant showing people content while they were watching or reading something else. Today, advertising means what the customer is watching or reading.
Trends have changed over time, and the digital space has expanded rapidly. The use of correct content can be a blessing for any marketing strategy.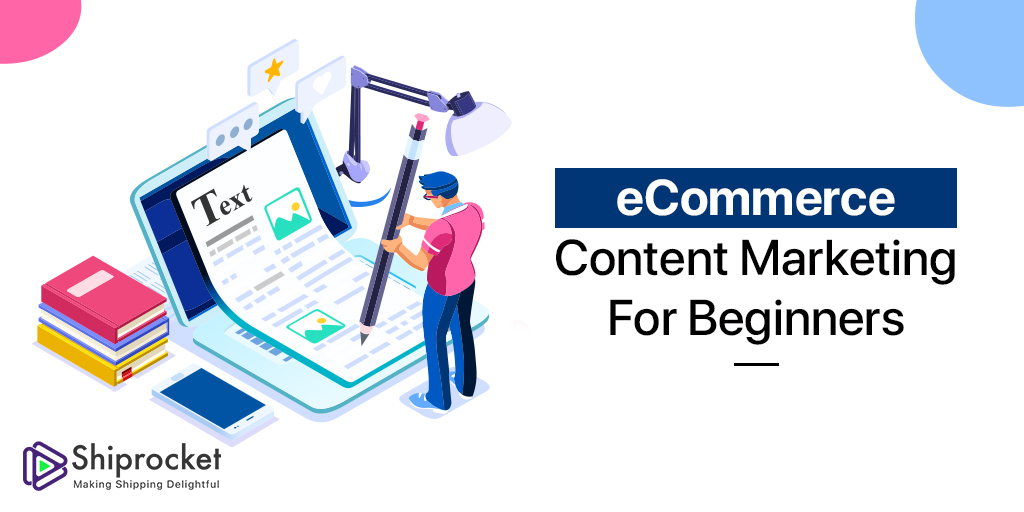 Content has the power to drive sales and generate a good ROI if used at the right place at the right time. Therefore, content marketing becomes an integral aspect of your strategy if you want to stand in the eCommerce competition for the long run. Let's see how content marketing is essential and how you can leverage it for your eCommerce store.
What is Content Marketing?
If you look at it from above, it is a technique to sell your products with the help of useful content. But, content marketing runs much deeper.
Content marketing is the technique of creating and distributing relevant and compelling content across various channels to develop a long-term relationship with your target audience. It can be used to influence the buyer's purchase decision by candidly sharing information, formulating stories, and addressing their concerns actively rather than showing them ads, and irrelevant content.
How is Content Marketing Relevant for eCommerce?
In today's day and age, content is consumed at a swift pace. On every channel that you visit, there is always contained in the form of text, images, videos, PDFs, e-books, webinars, etc. similarly, for eCommerce businesses, this content can be a significant driver for your sales.
Since so many people are active on various channels, it can be fruitful if you showcase your products with the help of interesting content and visuals.
Even though content marketing cannot be the sole reason your business generates sales, it can be a significant contributor to driving more people to your website.
For example, Kama Ayurveda is a leading brand for authentic cosmetics, essential oils, and beauty products. But when you visit their website, they do not sell these products; they also have a blog that talks about the benefits of using their products, how buyers can apply these in daily lives, tips, remedies, etc.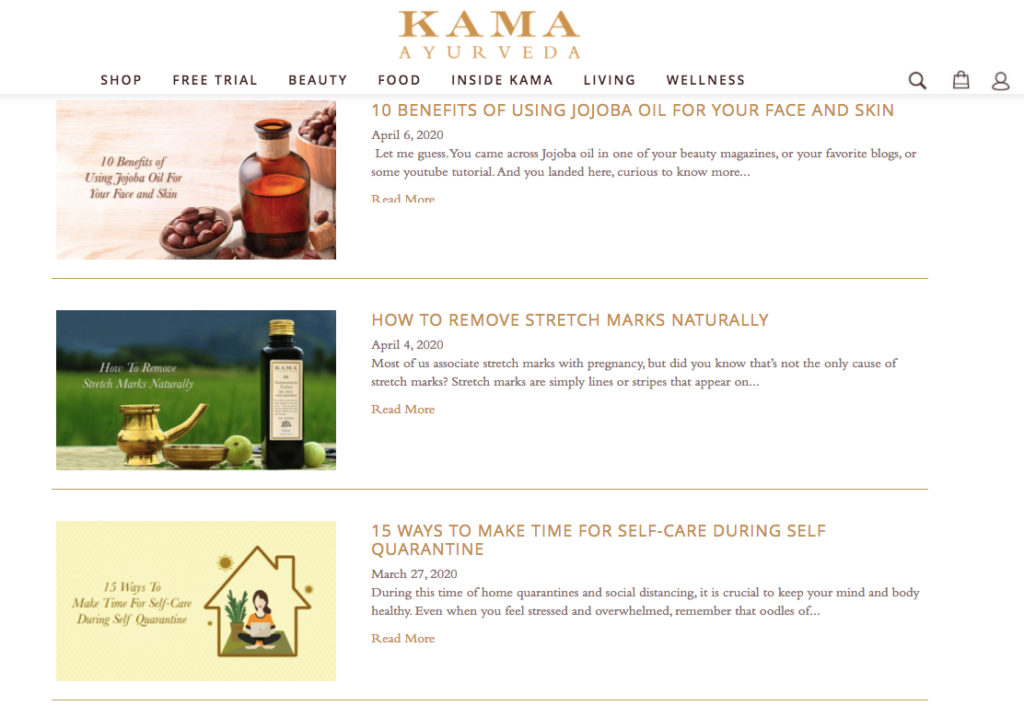 A blog like this can be engaging for customers who visit the website for the first time. It can give them a better insight into the products and also help them to make an informed choice.
This is just one example of how content marketing can add value and weight to your eCommerce strategy. Almost all brands are making use of content marketing to promote their products in a more authentic and easy to consume manner.
Content Marketing Posts that Can Work Well for Your Store
Content marketing is a vast field. It includes many kinds of posts that you can share among your audience. But not all posts work so well for eCommerce stores. You need to carefully study your audience and continuously AB test to see which post is gaining the most traction. Here are a few posts that can perform well for your business –
Blogs
Blogs are a brilliant way to engage and educate customers who land on your website for the first time. They can be used to elaborate on your products and also give information on how to use your products efficiently. Furthermore, you can share these blogs on Social media and in groups.
Videos
Videos are an interactive approach towards communicating with your buyers. They can be used to give visual tutorials on how the products work and how they can be used in several ways. Also, if you have new product launches, you can use videos to generate excitement and engage with customers on social media.
Guides
If you sell electronic items, self-installing devices such as chairs, tables, or similar products, guides can play a significant role. You can give your buyers a detailed process of how the product works and also provide additional information with it. You guys can also talk about the various ways in which the product can be used. For example, if you sell baking equipment, you can write guides on how to use different models for different types of cakes.
Product Reviews
Since you sell many different products on Your website, you must leave useful reviews on the product pages too. After all the research, buyers usually look for reviews by actual users of the product. Therefore, if you have a product review from your customers that states the authenticity of your product, it will do wonders for your store.
Case Studies
Case studies are a detailed analysis of a particular product and its impact. For example, if you sell furniture, you can write a case study about how your products help renovate a customer's house. This case study can include all the specifications of the product and how they were applied in building and renovating the house. Customers find case studies useful if they are researching the product and comparing it with your competitors.
Testimonials
Usually, people confuse product reviews with testimonials. Even though both are similar, they have a few differences. Product reviews talk specifically about the product, its application, and its benefits. Testimonials are a holistic review of the company and the customers association with it. They talk about the overall experience of the buyer, including the product, services offered, and the support rendered post-purchase.
Infographics
Infographics are a detailed graphical representation of information. They can contain data, flowcharts, comparisons, etc. For example, if you sell home appliances, Infographics can be used effectively to compare various models, their functions, and who it will be suitable for. As these infographics are graphical and contain concise information, they are engaging and help the customer make a prompt decision.
How-to Posts
How-to posts talk about a detailed process on how to use the products. You can customize this content by also including alternate ways to apply the product. For example, if you are a brand that sells Scarves, you can write posts like how to style a scarf in 10 different ways. These posts are very popular with GenZ and Millennials. Also, if you create video content around these posts, they are bound to gain excellent traction.

How to Create an eCommerce Content Marketing Strategy?
Study the User Journey
To begin with, carefully monitor the user journey on your website. You can track their activity and see where they spent most of the time. Also, you can keep a check on users coming to your social media, and then making a purchase. This exercise will give you a fair idea about where the user spends most of their time and what content will work best for them.
Conduct Surveys
Surveys are the most primitive yet the most necessary form of research. You must conduct short surveys asking your buyers about where they heard about your product. This can be a small piece of information that can help you decide where your target audience lies. Also, if your customers are exiting the product page mid-purchase, you can ask them a few questions about why they are doing so. Through this, you can get information about what extra they might be looking for on your page.
Competitor Analysis
Thoroughly study your competitor's website, social media handles, and other channels to see how they are marketing their product to the customer. Identify the type of content they are using and try to build something more resourceful than that. A detailed competitor analysis can help you eliminate competition and enhance your strategy to reach the customer faster.
Finalize Your Channels
Based on your primary and secondary research, short is the channel on which you want to promote your content. They can be third-party websites, and social media handles like Facebook, Twitter, Pinterest, or channels like Medium, etc. once you finalize the channels for content distribution, you can create content accordingly.
Pick Out Posts
Next, identify the type of posts that you want to create and share. Depending on your research And the channel identified, select the posts. These could be any of the above-listed posts or even all of them.
Create a Plan
Once the post and channels are in place, decide how and when you want to create content, followed by where you want to share it. Once you have answered these questions, strategically align your plan, and start creating, posting, sharing actively.
Track Results
No initiative successful until you correctly track the results. Track the users coming to your website from the content pieces you have shared. Use the right tracking codes and deploy platforms like Google Analytics to see the results of your content accurately.
Audit Content Regularly
Review the content you have shared and keep updating it with newer information. This will help you maintain the freshness of your content. Continuously audit your content and update it with amendments and any changes.
Content Marketing Strategies for Your eCommerce Business
Share User-Generated Content
Try to share as many testimonials, product reviews, and buyer comments as they will help you gain more authenticity. This type of content prompts customers to purchase a product based on the reviews from their peers. You can also share posts about how customers are using their products.
Generate Backlinks
Generating backlinks is an essential part of your content marketing strategy. You can establish a strong presence online with the help of these links. Also, they can be useful for driving traffic to your website or blogs. Guest posts are useful for generating backlinks. Also, you can deploy social bookmarking for generating these backlinks.
Boost Content & Run Paid Campaigns
Once you have started sharing your content across social media, you can also promote it using paid campaigns. These can also give your content pieces like blogs, images, testimonials, etc. greater visibility. Moreover, you can also share your content in social media groups to make it reach a wider audience.
Use Videos
Videos are a great way to communicate your message to the target audience. They can engage viewers for a longer period and also give more information about your product. Videos between the time frame of 3-10 minutes perform well on social media and gain maximum exposure.
Make Demo Guides
If you sell a bulky product that requires a lot of instructions to set up and use, making demo videos and guides can be extremely helpful. People's first instinct when they get stuck with a product is to Google its solution. Therefore, you can increase your online presence by creating these guides and answering questions on mediums like Quora and other discussion forums.
Use Product Images
Most importantly, make use of real product images to support your content. They add more weight to your piece and help with adding more value. If the customer can identify what they are reading about, half their queries are answered there and then. Hence, product images are an important part of your eCommerce marketing strategy.
Examples of Content Marketing in eCommerce
There are several brands in India that are using content marketing for their business. It has worked well for their business as they have grabbed eyeballs across the internet. Many times, you must have seen their campaigns as viral too! Nevertheless, the efforts made my most brands are commendable and you can learn a lot from them. Here are a few examples to get you started.
Amul
Amul is a household name in India. They have been using content marketing as an intelligent tool for its benefit. Ever since we were kids, Amul has been synchronous to the Amul girl and the satirical posters they released every week. They are a clever example of moment marketing done in conjunction with content marketing done right!
Here is an example of their latest campaign showing the remote working position of most female workers!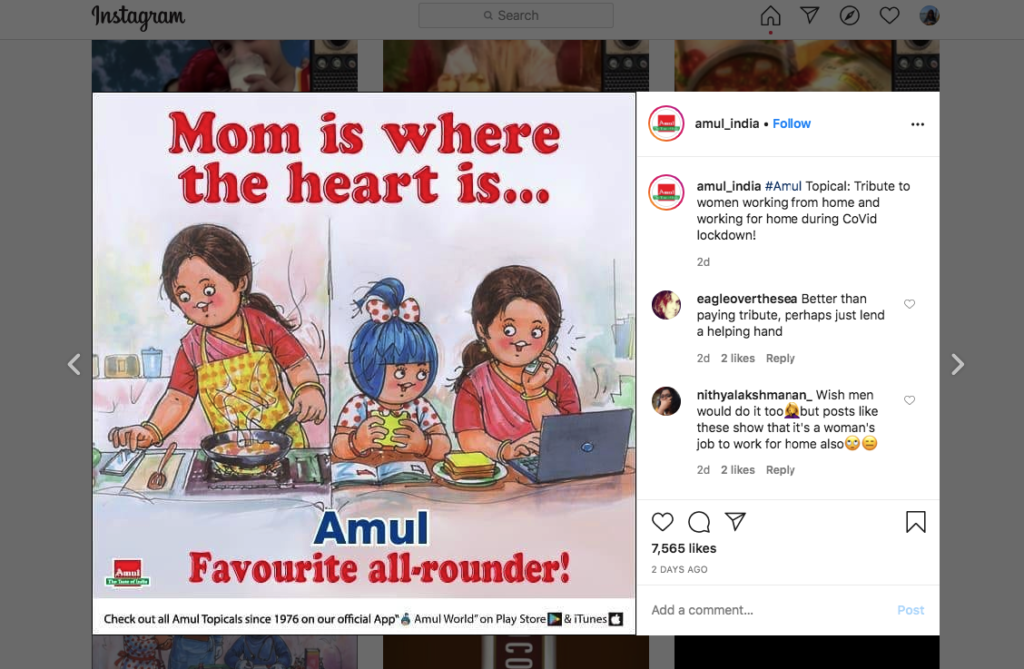 Along with that, you can find witty content all over their Instagram handle. For example, here is a post promoting their Paneer –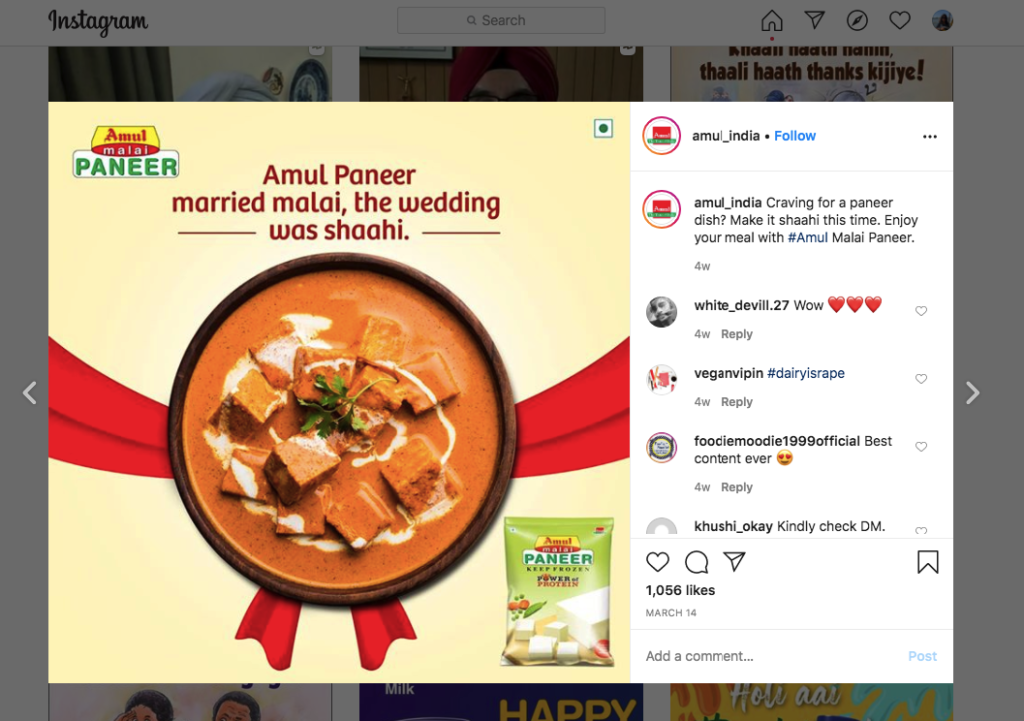 Flipkart
Flipkart is a great example of how user-generated content can help brands grow. They have their own section called Flipkart stories that features customer stories from across the country, podcasts, sellers sagas, their initiatives, etc.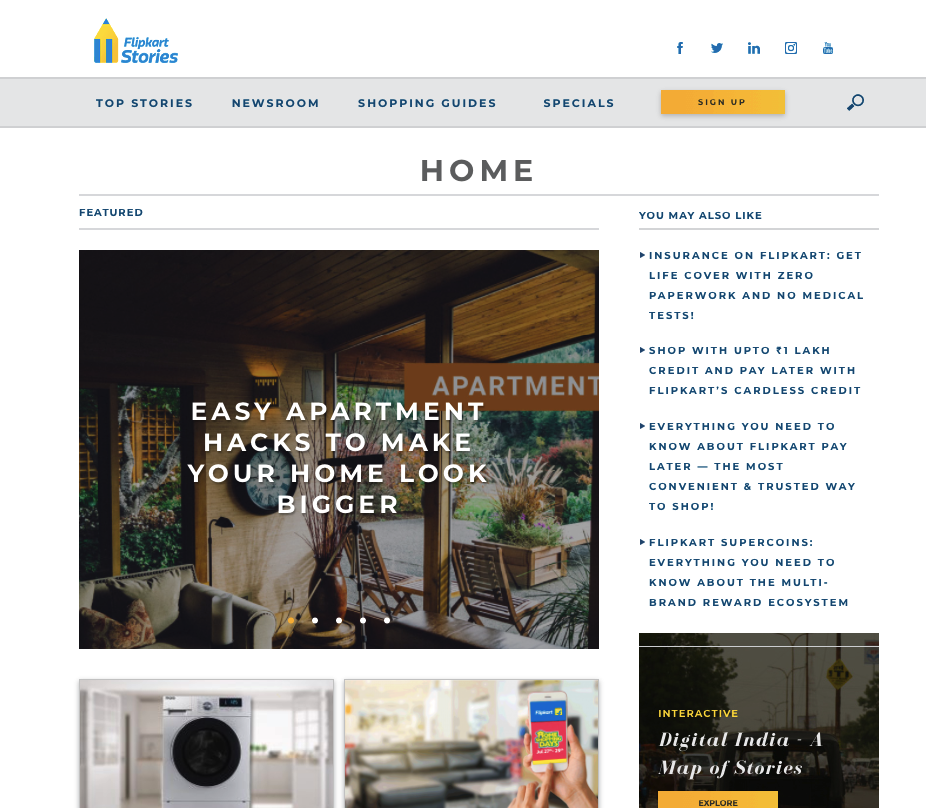 Along with this the Flipkart story section also has shopping guides that can help users with safe shopping, latest trends, etc. along with this they also have interactive content like videos, blue sky talks, books, etc. this type of content can be very useful in promoting the product and also guiding the customer for making a purchase.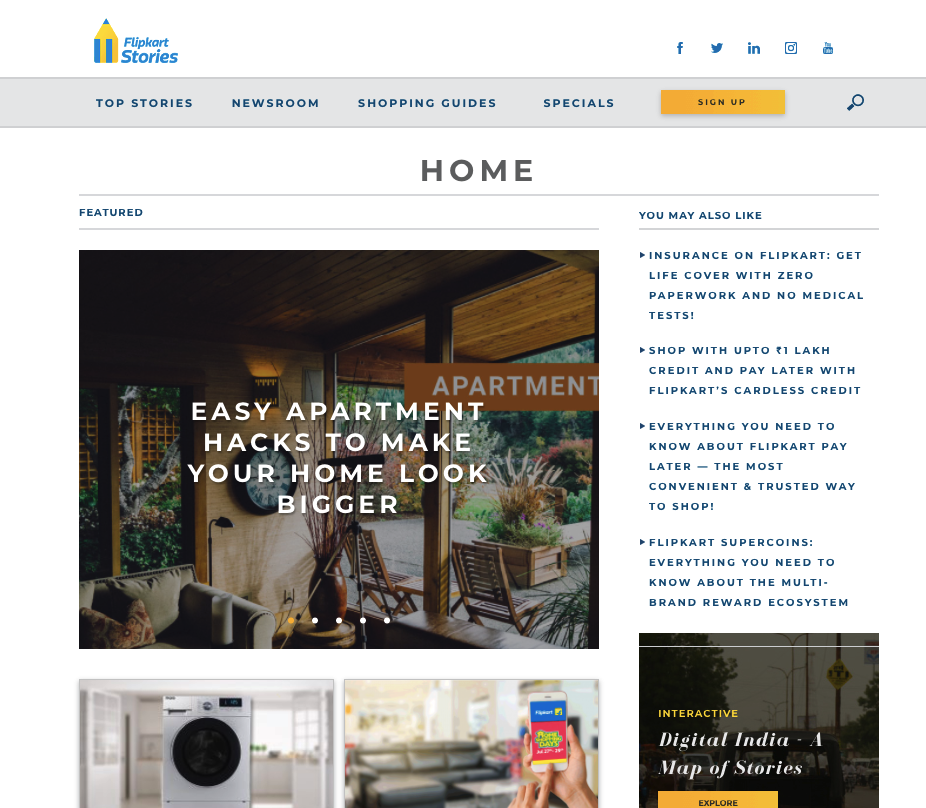 Nykaa
Nykaa is the pioneer of cost-effective cosmetics in India. It is a one-stop marketplace for all beauty products. Also, they have deployed great content and influencer marketing to attract an audience to their website.
They have a beauty advice section on their website that contains masterclass by experts, their digital magazine, buying guides, and beauty routine finders.

Their beauty book contains home remedies, diet tips, precautions and tips to take care of your skin, hair, and personal hygiene. Furthermore, the Nykaa TV section contains tutorials by makeup and beauty experts.
They also have beauty buying guides to help with deciding the correct product for your skin type, tone, preference, occasion, etc.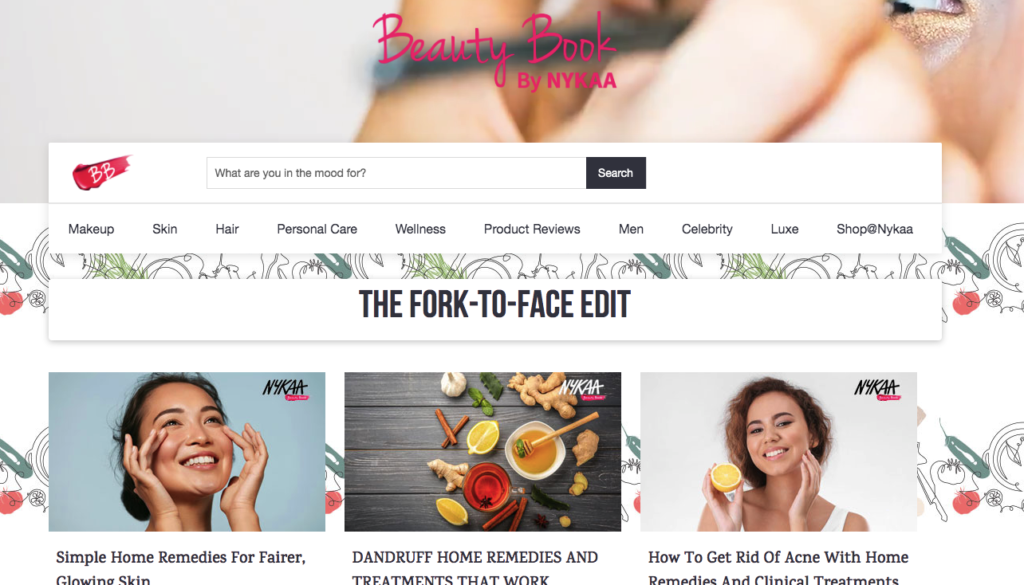 These help the buyer to select products. Moreover, they influence the purchase decision and can prompt buyers to make more purchases than intended.
Bewakoof.com
Bewakoof.com has the quirkiest range of T-shirts and other accessories. Most millennials and Gen Z individuals flock to the store to buy products that have witty quotes from TV shows, movie dialogues, cartoon characters, etc.
Bewakoof.com has intelligently used its blog to display various fashion trends, how-to tips for different occasions, styling tips, designs, etc.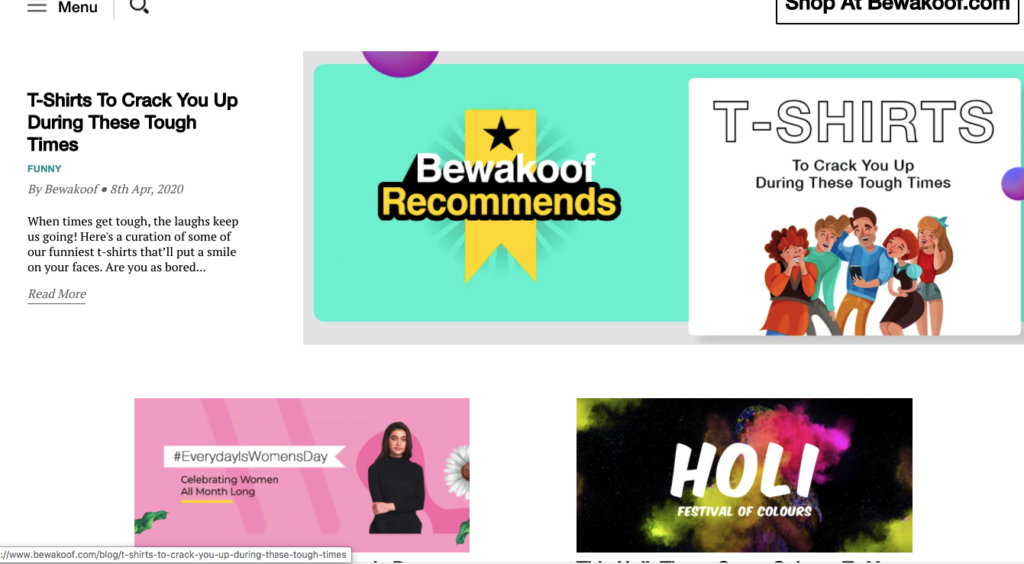 Their blog has different types of content for different people. They do not just recommend their products on their blogs but also cater to different verticals of fashion like Indian, western, wedding outfits, etc.
It is an intelligent way to connect with the audience on a common interest and subsequently sell their products.
Final Thoughts
In the current eCommerce scenario, content marketing is an indispensable tool for any eCommerce business. It has the ability to greatly enhance your eCommerce strategy and also give you an insight into your customer's preferences. Make sure you deploy content marketing in the right way for maximum success.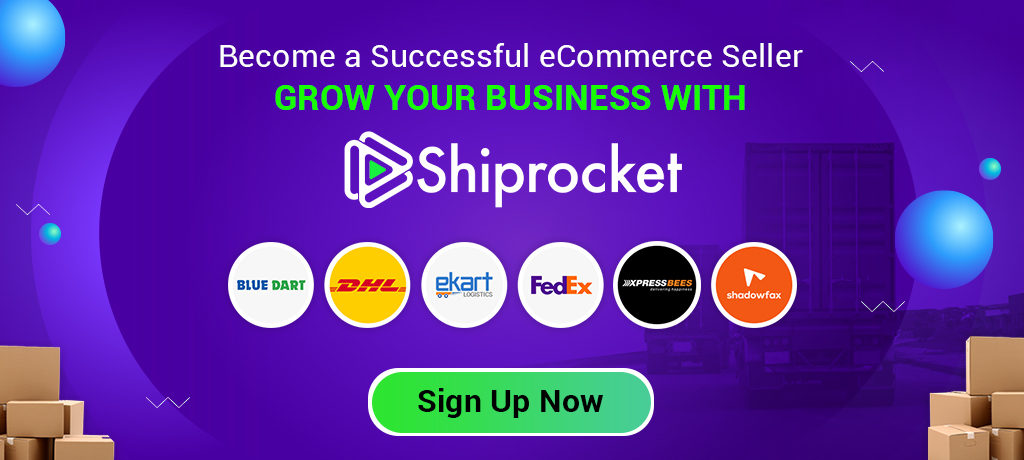 Calculate Your Shipping Costs Now