How to Collect Positive Reviews for Your eCommerce Store
You sell great products. Your customer support is best in the industry. Your factory brings out high-quality goods. You get emails from your customers praising your offerings. And, you bask in the glory of positive customer feedback.

But, are you taking advantage of customer reviews? Looking for a credibility boost for your business?

Well, positive reviews from customers are pure gold to any business. So why not? Read more to know why and how to collect them!
Why Positive Customer Reviews are Crucial for Your eCommerce Store?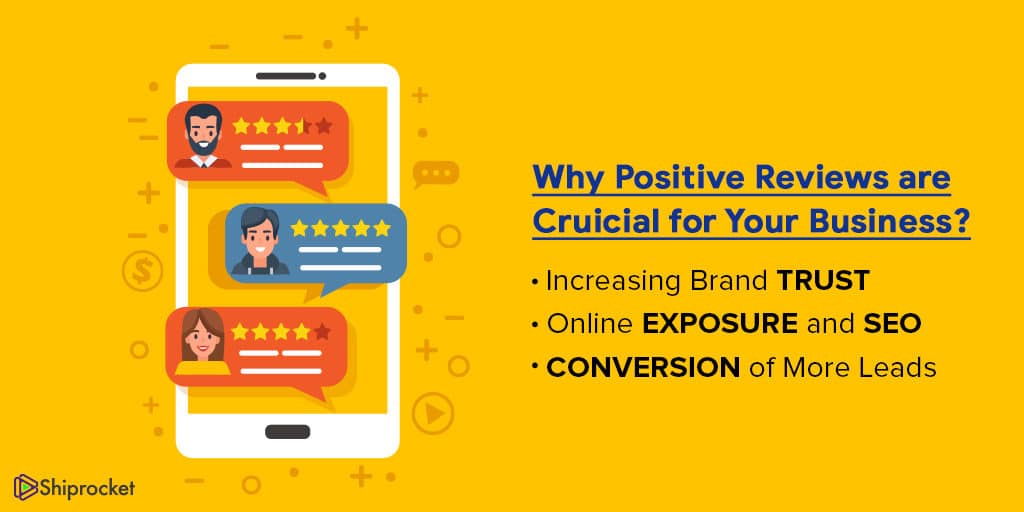 Today, it has become a practice for customers to carefully research about a business before purchasing their product or service. As per a survey by BrightLocal, about 88% of the consumers read reviews to determine the quality of a local business. And, 72% are of the opinion that positive reviews make them trust a local business. It is an added advantage for those who are newbies or local businessmen.
Often, businesses build amazing websites and sell creative products, but they often face a drawback, i.e. visibility on the internet. To improve visibility on the internet, search engine optimization is the key. Search engines need to be optimized as they know how to recognize a website with positive reviews.

Tip: Get your clients to write positive reviews. It will help boost your website's ranking & online presence.
What your former customers think about your brand attracts more customers. Word of mouth is one of the oldest and best marketing strategies. Providing customer delight and meeting their requirements is worth it!

When customers can judge your capability of meeting their needs, is backed by positive reviews , they will be willing to give you a chance. Thereby increased leads and better conversions.
How to collect Positive reviews from your customers?
#1. Provide incentives for writing reviews
In every seller-customer relationship, there has to be some give and take. There are 'n' number of possibilities when it comes to providing incentives to your customers. Better the rewards, better are the reviews. But, be very cautious! Don't come across as 'trying to buy the positive customer testimonials.'
Provide sensible and relevant incentives such as free gifts, promotional gifts, discount coupons, and gift cards. Anyone who writes reviews, positive or negative, should get a lucrative offer or an incentive.
Pro tip: Try to ensure that positive reviews that are accompanied by videos and pictures get better rewards. The more exclusive and lucrative your reward is, the more customers will covet it.
#2. Send automated emails after every purchase
Asking customers to provide reviews immediately after a purchase is made, is a right time to approach the customers. Emails are one of the best ways to do so since the purchase is still fresh in the customer's mind.
Devise an automated mail that explains the requirement of reviews and testimonials for your business. Make sure the procedure to write/share reviews is easy and quick.
#3. Consider influencer marketing
Influencers are bloggers and video makers having a massive fan following on social media (instagram, facebook, twitter, etc.). These influencers can be hired to review your products. Usually, they are in perennial search of products that they can share with their followers.

For instance, if you are selling face creams, find bloggers who write reviews of skin care products and approach them to review your products. Followers of such influencers usually take into consideration the products they swear by. It increases the trustworthiness of your products.
#4. Opt for social media
Marketing your business on social media for free is one of the ideal strategies of getting reviews. All you need is great content to build an online presence. Once you build up a good reputation with the quality of your products and customer service, reviews start flowing in automatically.

Pro tip: While dealing with your reviews on social media, be consistent in what you're posting online. Coming across as a brand requires continuous efforts.
CX is the ultimate game setter
Customer is the king. The customers are the ones on whom everything is dependent. Thereby, everything should be customer-centric. Develop quality products keeping the customers in mind. Try to build products with a personal touch. Furthermore, try to deliver the products as soon as possible. Ensure that their products reach on time. To decrease their shipping costs and provide fast shipping, use a courier aggregator like Shiprocket. On-time delivery can make or break the customer's experience. Make sure you choose your courier partner wisely.

Also, concentrate on the quality of your after-sale service. Ask them if they require any changes in the products. Try to convince them that their reviews are necessary to provide the best quality of products to other customers. Address their queries and complaints in an efficient manner.

Once you get the review, start working on the negative ones. And then, take out time and follow up with your customers. This will result in building trust and positive brand image of your company. New visitors shall get influenced effortlessly and can easily be taken to the sales funnel.
So what are the techniques you use to get customer reviews? We would love to hear from you!
Calculate Your Shipping Costs Now