5 Quick Strategies to Market Your Products Effectively to Generation Z in 2023
It's time your business strategies make a shift! It's time to target the latest generation of active buyers who are the next lot of decision-makers. eCommerce has evolved, and so has your target audience. Generation Z is who you will need to sell to next! The big question is, how? Are the strategies that you have been using till now enough for this sect of the audience? Every generation sees a new trend in buying patterns, and this one is no different. Here are a few ways that can help you sell better to them. Let's dig deeper to see what they are –
Before we begin talking about strategies, it is essential we clearly define this audience, their makeup, and their expectations from the eCommerce market.
Who is Generation Z?
Generation Z is the population that was born between the years 1996 – 2015. Currently, this generation is in the age group of 04 – 24-years. The buying pattern of this generation is entirely different from generation X. Since this generation of young adults have had access to the internet and mobile phones from a young age, their interaction with eCommerce websites is more immersive. They have seen the transformation of eCommerce and the emergence of widespread marketplaces. Social selling is not an alien concept for them, and they will not shy away from exploring new niche stores on Instagram or Facebook.
Probably, their first big purchase, like a mobile phone or laptop, was also from an eCommerce website or marketplace. They've tracked orders longer than generation X has waited for letters or emails, and therefore, are well aware of the online shopping ecosystem. Their expectations from companies are different, and they will be the front runners in experimenting with the omnichannel eCommerce stream that is currently emerging in the space. To target them, you need to be equipped with recent trends and evolve with short-lived trends that take social media by storm each day.
How to Market Your Products to Generation Z?
Join the 'Trending' Bandwagon
This generation is always bustling on social media. They are omnipresent and are consuming content at all times. Therefore, if you want to strike a chord with them, you need to be adept with the latest social media trends and how to ace them. Each day sees a new trending format. Any piece of information becomes a new advertising campaign. A great example is the over expensive bananas served to Rahul Bose. It became a social trend, and most brands joined the pattern.
Look out for such trends and keep diversifying your content to be noticed by this generation. Content is what sells on social media. Hence, keep track of what's trending and modify your content accordingly. If you can stand out and grab the attention of these social media activists, you can be rest assured your products will sell like hot cakes among them.
Deliver Your Products on Time and Fast
Nothing beats a positive delivery experience. Call it old school or modern warfare, but the race to customer satisfaction cannot be achieved without successful fulfillment. To generation Z, nothing matters more than quick delivery. They are the consumers of one-day and two-day deliveries and have their expectations set on that. Anything below that does not qualify as a superior delivery experience for them.
To achieve a zen level of fulfillment, you must first optimize your inventory and warehouses, followed by shipping products with a solution like Shiprocket. When your target audience thrives on choice, how can you ship with just one courier partner? Shiprocket offers you the best courier companies on its platform, and you can ship your items with a different courier company. Also, you can sell on various sales channels and manage all orders on Shiprocket. It truly is a no strings attached association, how your audience likes it.
Sell Experiences, Not Products
Behold the power of rich experiences. While the previous generations were all about the introduction of new technology, fancy inventions, and economic boom, the future generations are more interested in experiences than a product. They feel that experiences are more insightful, and there has to be a solid reason for their purchase. As they say, 25% is your product, while 75% is it's utility, applications, and benefits.
Like traditional marketing campaigns sold the product on face value, you have to mold your campaigns to make the Gen Z feel like they need your product. In other words, you need to sell the intangible 75% of your product rather than the tangible and visible 25%. A regular marketing campaign is only going to be redundant in the coming times.
A great example is Apple. They never advertise the features of their iPhones; the pictures do the talking. The 'shot on iPhone' campaign showed the exemplary image quality of the iPhone XS camera. That is how Apple has built brand loyalists over the years. Sell the benefits, not the product!
Optimize Every Social Channel
With an all-round presence on social media, Gen Z has a stronghold on every channel. Be it Twitter, Instagram, Facebook, Youtube, or Pinterest, these individuals have consumed different content from different formats, and the concept of variety and content diversity is not new to them. So make sure you create varied content that is suitable for each platform. For example, if you are creating an explainer video for youtube, instead of posting the same video on Instagram, you can share a shorter video with interviews about the product. This optimizes the content for respective platforms and conveys the message in several formats, making it unique.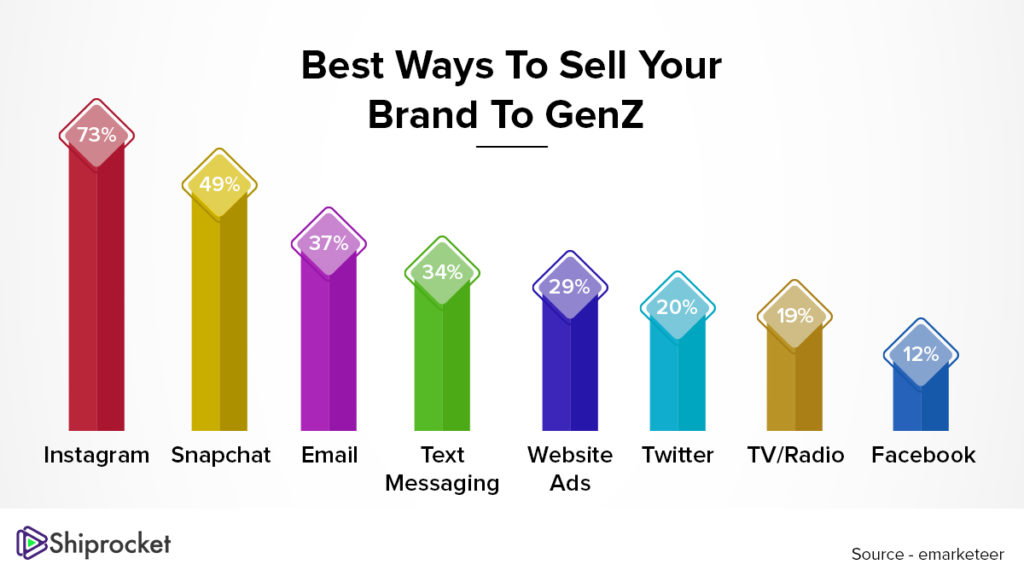 Amplify Mobile Commerce
Generation Z has had early access to mobile phones. They've seen their utility from the start, and all their buying habits are more inclined towards the phone. Moreover, after the advent of Amazon and Flipkart in India, Gen Z has forgotten what it is like to shop via a laptop or PC. So, make sure your website is mobile-optimized, and the user journey is as short as possible. Eliminate all roadblocks and keep the process simple. Furthermore, if you can invest in a mobile application, nothing like it. It makes the experience much more personalized and faster for the customer.
Conclusion
Tapping into Generation Z is not difficult; just know the power of the digital business, and your eCommerce venture is good to go. Though some things such as user experience never change and even Gen Z has similar expectations when it comes to that. Just focus on evolving with the trends, and you will easily be able to sell to every new generation that comes. Do let us know what worked for your business and if there is anything else that can be useful for the seller community!
Calculate Your Shipping Costs Now