A Guide to Competitive Analysis: How to Tackle Competition in eCommerce Business
Keeping an eye on the competition around you is more important than it seems. It helps you anticipate your rival's move, prepare yourself for what's ahead and stay on top of your niche at all times.

This practice is often called competitive analysis, and it's what you must be paying attention to if you haven't done in a while!

However, if you understand competitive analysis as spying on your competitors by stalking their social media accounts and subscribing to their emails, this post is what you must be reading right now.

Studying your competitors goes far beyond descrying upon them. You must have an appropriate strategy in place, from where you can draw conclusions and update your views about the market. Because at the end of the day, you want your competitors to pick you, instead of the others in the market.

Read on to find out how you can give your buyers more reasons to zero in, over your business.

Why Competitive Analysis Is Important in eCommerce, No Matter Whether You're an SMB or a Market Giant?
Competitive analysis of your business rivals serves as a foundation stone in carving a niche for yourself in the market. And no matter whether you are a small business or a well-established one, keeping an eye on your competitors will only accelerate your growth.

When you analyze your competition's strengths and weaknesses, it's easy to determine how you can market your brand to gain your customer's attention.

Moreover, the insights into your competitor's changing moves in the market can also help you keep up with the industry trends and tackle them with new offerings.
What You Must Cover In Your Competitive Analysis?
Analyzing your competitor is no rocket science, but you must start by penning down the points that you must be ready to cover. Though, it may vary depending on your business, here are some essentials that you must not neglect-
The market share owned by your competitor/competitors
The customers they are targeting
The key differentiators of their product
Elements of usability such as page load time, cross-browser compatibility, call-to-action characteristics etc.
Their approach towards order fulfillment, particularly shipping
Their marketing message or the key factors they highlight to sell their products
Social Media approach
The type of content they are marketing
Taking a look at these factors will help in determining how your competitor is trying to distinguish themselves in the market. Most importantly you will get to understand the pain points they are targeting and how you need to alter your strategy to keep up with them.
How To Do A Competitor Analysis?
Now that you're aware of how crucial competitive analysis can be for your business, the sooner you start, the better combating strategies you will be able to develop.

But don't worry if you're clueless about starting! Check out the practical steps below-
Step 1: List your competitors, then categorize them
You might have more than a handful of competitors in the market but all of them might not be offering the same goods and services as your business. It is, therefore, important to break them down into direct and indirect competitors.

Start by listing down all the competitors you can think of! These may include businesses that
Have a similar model of business as yours
Sell the same products
Have similar target or slightly contrasting target audience
Are new to the market
Lead the market
Tip: Don't create a competitive landscape that is either too small with a single competitor or too large with hundreds of them. List 7-10 competitors in relation to your current positioning in the market.

How to Find Your Competitors?
If you can't really figure out who your competitors are, try using the tools available in the market. For example, you can search for business specific keywords on Google and Amazon to get a fair idea of your competitors.

Once you find a name from there, look up to their website and social media channels to find out more.

Alternatively, you can also take the help of professional tools such as Alexa, Hoovers, SEM Rush, Ahrefs etc.

The aim of using all these tools is to get a comprehensive overview of your competitors.

How To Categorize Your Competitors?
Once you have a list of all your competitors, it is advisable to categorize them so that you can determine the ways in which they relate to your business.

Classify them into these categories-

Primary competitors
Your primary competitors are those businesses that have either similar products as yours or target the same audience. For example, shoe retailers Nike and Adidas are primary competitors to each other.

Secondary competitors
Your secondary competitors sell products that are similar to yours but to a different audience. These products may be low or high version of your products. Suppose you are a retailer of Fastrack watches, your secondary competitor may be a retailer of Fossil watches.
Tertiary competitors
The businesses that sell products which are only distantly related to your business are your tertiary competitors. They may become your primary competitors if you plan to expand your business in the future. For example, if you sell laptops, a company selling laptop skins could be your tertiary competitor.

Tip: To keep a track of your competitors, make a spreadsheet and keep on adding vital information to it.

Step 2: Write the elements you want to compare
Once you clearly understand who your competitors are, it's time to focus on the elements you want to compare. A large part of this may depend on the kind of business that you're running. However, there are three elements that you must absolutely add to your criteria of analysis.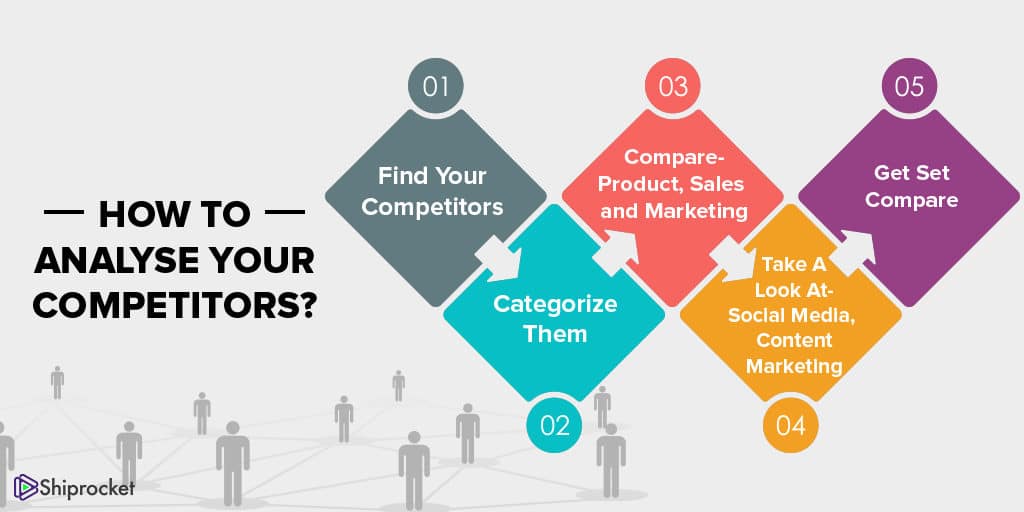 What Should You Analyze In Your Competitor's Products?
A product resides in the heart of any business. It is what represents your brand to the customer, which is why analyzing your competitor's product is a must.

Start by understanding the products that your competitors are selling along with the quality and options that they are offering. One of the most important factors that you must consider while studying your competitor's product is pricing.

Then move on to discover the following factors that revolve around your competitor's products-
The price range of products
Any seasonal or occasional discounts
Low-cost or high-cost estimate of products
Market share of competitors
Volume sales or single sale product type
What Should You Analyze In Your Competitor's Sales?
Insight into your competitor's sales can tell you a lot about their positioning in the market. You can look for these points when analyzing-
Their sales process
Channels they sell through
Locations where they sell through- single or multiple
Whether they are scaling
Revenues and total sales volume
Reasons their customers are leaving
Knowing your competitor's sales process can help you can prepare your representatives to deal competitively with the final stage of the purchase. Alternatively, if a customer gets in touch with you to avail your services, you can set up a sales process, asking them which services were they previously using and what made them switch.
What Should You Analyze In Your Competitor's Marketing?
Marketing has the power to make or break your business. And that's why you must always keep on reinventing your marketing strategy. Diving into your competitor's marketing strategy can throw a great deal of light on the ways they reach out to their target audience.

Start by taking a look at the following points:
Whether they write blogs?
Do they publish whitepapers and e-books?
Are they creating infographics?
Do they use videos and creative visuals to drive their products?
Are they working on their PR?
Are they running just online campaigns or offline as well?
Once you determine the kind of marketing tactics that your competitors are using, move on to checking the frequency with which they post.

If they post regularly, you should be paying attention to the quality of content they create. A large archive of the content does not mean that they will deliver quality. Look for opportunities where you can perform better and produce better content than your competitors.

The type of content your competitors are producing also tells you a lot about their lead generation strategies and any new segments they might be willing to target.

You can also check social media and other platforms to keep a tab on the number of shares or engagement that a post has gathered. With this, you'll come to know about the topics customers in the same niche prefer to read.
Step 3: Take a Look at Social Media and Online reviews
If you've ever thought of analyzing your competitors, I'm sure you must have gone through their social media accounts. Social media tells a lot about how customers perceive your competitors.

Check the engagement they gather along with their social media presence. So, if you've been ignoring the potential of social media for your business and your competitors are reaching out to customers there, may be you can harness its power too.

Check for the following points-
Posting frequency
Number of fans
Content engagement and virality
Promotions such as ads
And then based on the type of business you're in, you can take a look at the following social media platforms-
Facebook
Pinterest
Youtube
LinkedIn
Once you're done with collecting data for all your competitors, start comprehensively studying them to form a rating around it.

Start Analyzing Today!
Now, with all the above information how would you rate your brand, in relation to your competitors? This will throw immense light on the key area where you must be working.

A good approach to analyzing your competition is also analyzing yourself in the bracket of the same parameters. Set a baseline. Then utilize all the records that you've gathered to perform a SWOT analysis.

Thus, the sooner you pick competitive analysis as a key strategy for taking your business forward, the faster you begin to accelerate in the market.

Calculate Your Shipping Costs Now