Tips to Craft the Perfect Instagram Bio for Your Brand
Even though it may seem like a small thing, writing the perfect Instagram bio is quite a task. Most business owners leave it as an afterthought – a line they fill hastily when creating a business account on Instagram.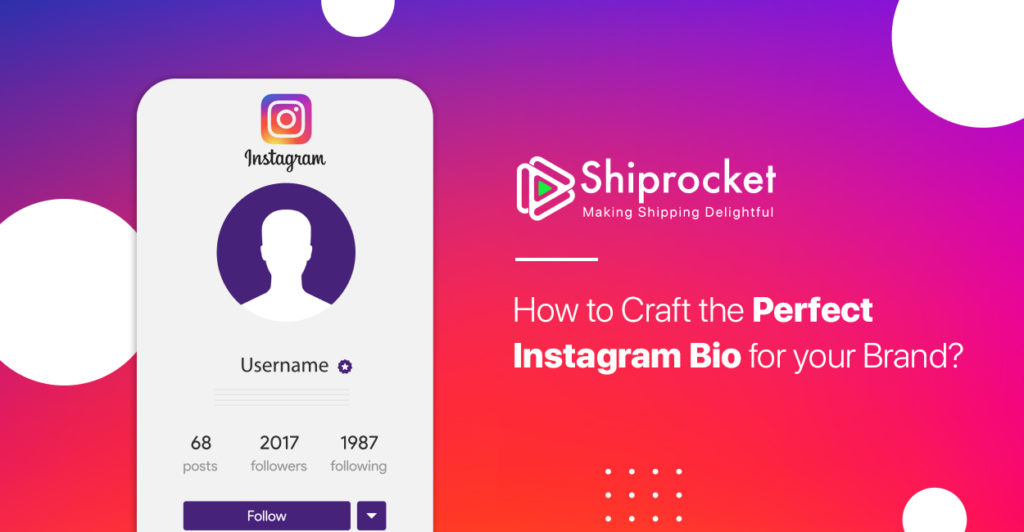 In reality, Instagram bio is a valuable asset for your business as it welcomes the users to your profile. It gives an outstanding first impression, communicates the key information, and converts the visitors into followers. It is crucial to focus and dedicate time and efforts on creating the perfect Instagram bio as you only get 150 characters to sum up what your business is.
What Is an Instagram Bio?
An Instagram bio is the small summary of the user or business that is found underneath the username. It is a short description of 150 characters and can include contact information, emojis, and other relevant information. It can also include external account links, hashtags, and username.
Notably, Instagram bio is one of the deciding factors for users to decide whether or not to follow the account. So, it is vital to keep every bit of it informational.
Why Does Instagram Bio Matter?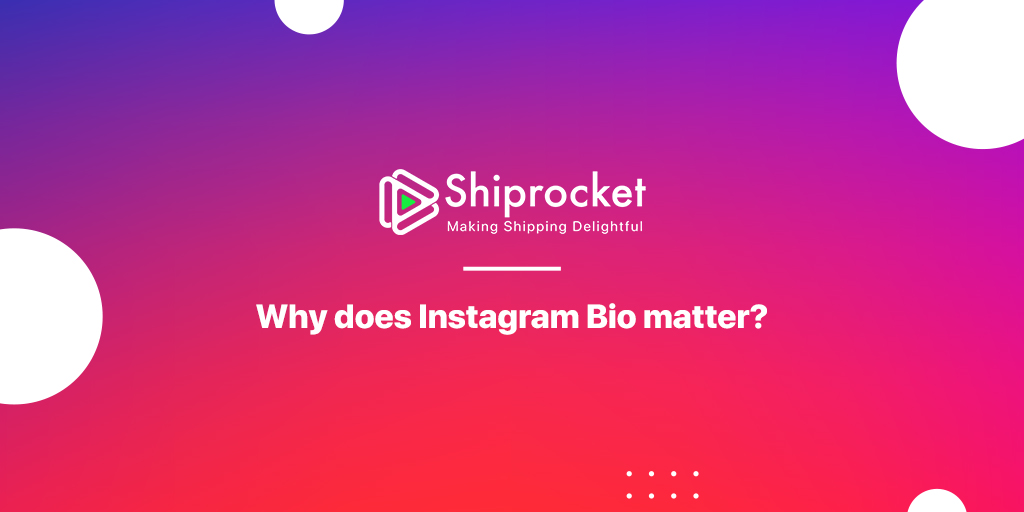 As simple as it may seem to you, Instagram bio helps in establishing a brand presence. It tells who you are and what you sell. This space can be used to tell your customers what they should know about you and your business' offerings.
In most cases, Instagram bio is the first point of contact when someone visits your account. He may be visiting through a paid post or story or even a hashtag. The bio must create a good first impression while also telling the users why they should follow you.
So, you must focus on creating a bio that represents your brand personality and lays down a unique value proposition. However, this very much depends on the strategy that you adopt for Instagram.
What All Goes Into an Instagram Bio?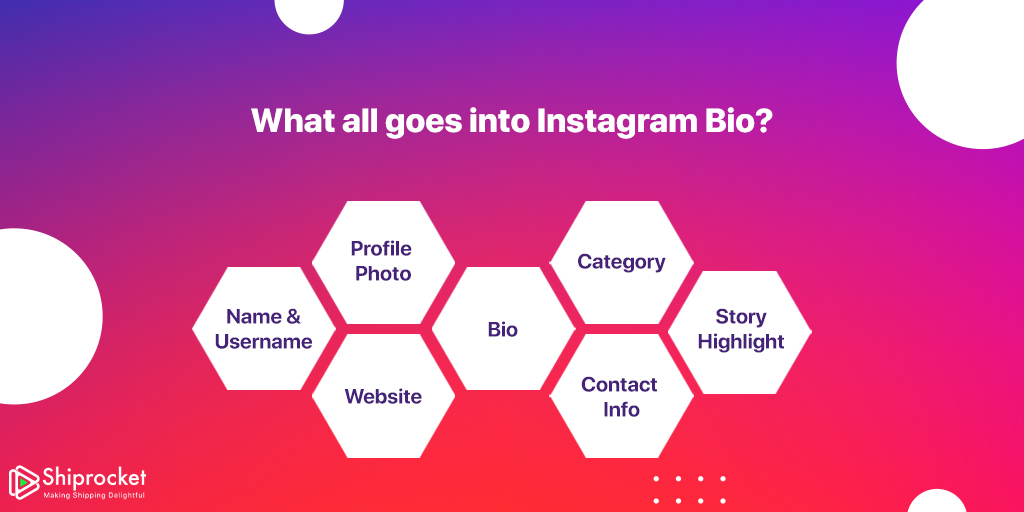 The key to writing a good bio for Instagram is knowing what all goes into it:
Name and Username
Your name is your real brand name. You can also make it as per the keyword searches. The username is the @handle name and a part of your profile URL (instagram.com/username) as well. However, the name and username on Instagram can be the same as well.
For example, Shiprocket has an Instagram account with the name of Shiprocket, and its username is Shiprocket.in.
Profile Photo
The profile photo should be relevant to your brand. It can be your brand logo, physical store photo, or even product photo. The image that you choose must look good and relevant to your business and brand.
For a widely-recognized brand like National Geographic TV, even just a bright yellow N works.
You can also opt for the same profile picture across all your social media handles to create a brand identity and help users recognize you.
Bio
Bio is the section just under the name. Here, you express yourself and communicate your brand personality. You have to say all you have to say in only 150 characters, and therefore, need to be precise. This can be what your brand offers and why should the users follow you. It may seem a few words, but if used carefully, can communicate thousands of words.
Website
This is the only section on Instagram where you can add a clickable link. So, you must use this space wisely. You can provide the URL of the homepage of your website. Or you can also regularly update the URL with links to new products and content pages.
Category
Here, you can specify the category where your brand falls – whether a media company or a food cafe. This is optional, and you can enable it if you wish. This falls right under your business name.
Contact Info
Contact information is vital for customers who want to take the next step and connect with your business. You can provide an email address and call button without taking any space in the Instagram bio.
Story Highlight
Story highlights are the stories in the clickable thumbnails form. Once you post a story, it is visible to the customers only for 24 hours. But you can save them as highlights, and they will always be visible with your bio.
Tips to Write an Instagram Bio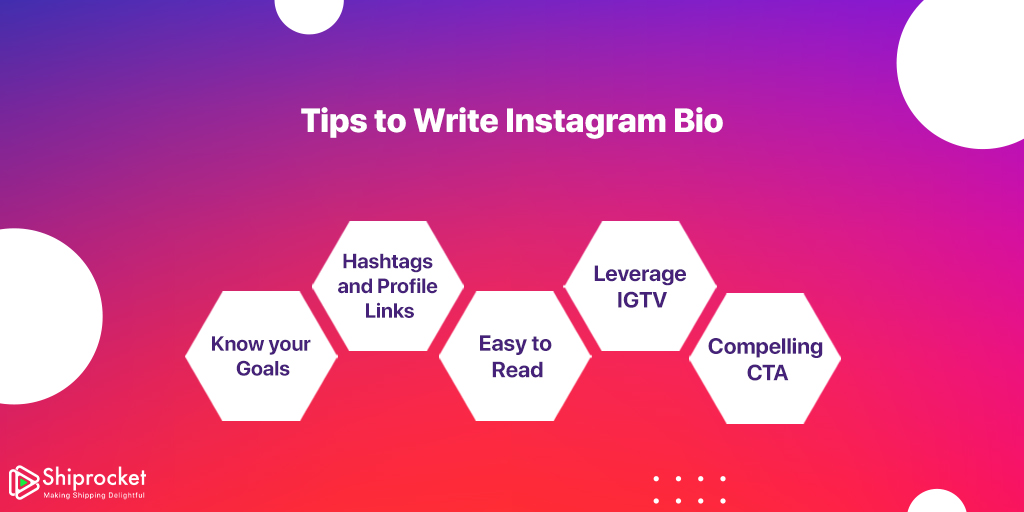 Let's now take a look at how you can create an impactful Instagram bio:
Know Your Goals
Since you have 150 characters only, it is imperative that you must be clear with what your goal is with the Instagram bio. Knowing precisely what you want in your bio will help you narrow down what you write.
You could use the space just to communicate your Instagram presence to your audience. You can talk about your latest product or inform your audience about your business. However, if you choose to talk about the latest products, be sure that you update the bio regularly.
Notably, some brands also use this section to talk about their brand mission.
Hashtags and Profile Links
You can add hashtags and profile links in the bio. This is a great option for brands that have multiple accounts. If you add hashtags, you direct the audience to user-generated content.
Besides, you can also use hashtags to promote campaigns or upcoming sales. Many mobile phone companies use this opportunity to promote the launch event of their upcoming mobile set.
Compelling CTA
Call-to-action buttons are placed next to follow button, and they free up some space in the bio. Well, who doesn't like a direct CTA button? Make sure the users know what exactly are they expected to do when they visit your Instagram page.
With these buttons, you can direct them to your website, download a new guide, share their photo with your hashtag, or check your latest blogs.
Easy to Read
Your Instagram bio must convey your message clearly to the audience. The users must easily read and process the information without any trouble. Line breaks, spacing, and vertical bar characters can be beneficial here. They help in emphasizing critical information. You can also consider using emojis at the place of bullet points. But bear in mind that this doesn't look professional and is not apt for some brands, especially those offering products to the professional community. Also, keep in mind that the spacing and vertical bars also add to the total characters count. So use them strategically and avoid going over-the-top with them.
Leverage IGTV
An extension of Instagram, IGTV lets Instagram users create and share videos of up to 1 hour. These can also be live streams and are published on the user's main page. Brands like makeup studios often leverage this opportunity by publishing makeup tutorials.
The following are the ways to use IGTV for your Instagram bio:
Partner with influencers for an IGTV video
Broadcast business events
Host live Q&A sessions
Final Words
The Instagram bio can make all the difference in boosting the social presence of your business. It is the right opportunity for you to showcase your creative side and exhibit brand identity. You can also grab the opportunity to entertain your audience with fascinating posts.
Calculate Your Shipping Costs Now