Most Popular Hashtags For Likes on Your Instagram Store
Instagram is one of the most popular social media platforms for people across the world. As per a report by Statista, Instagram has reached nearly a 1 billion monthly user mark and has 500 million users using the platform daily. That's a huge milestone for the social media app, which has grown nearly 10 times in the last five years.
Now, from a brand perspective, one must leverage the opportunity to connect with a huge audience to boost his/her brand. Using the right Instagram hashtags is the trick behind extending your reach and engaging with the right audience.
Just how building a business needs the right strategy, creating the appropriate and relatable hashtags also need to be backed by sufficient research and effective strategies. Let us take a look at how Instagram hashtags work and what are a few of the most popular hashtags that can help you gain traction for your business page and help you get more likes –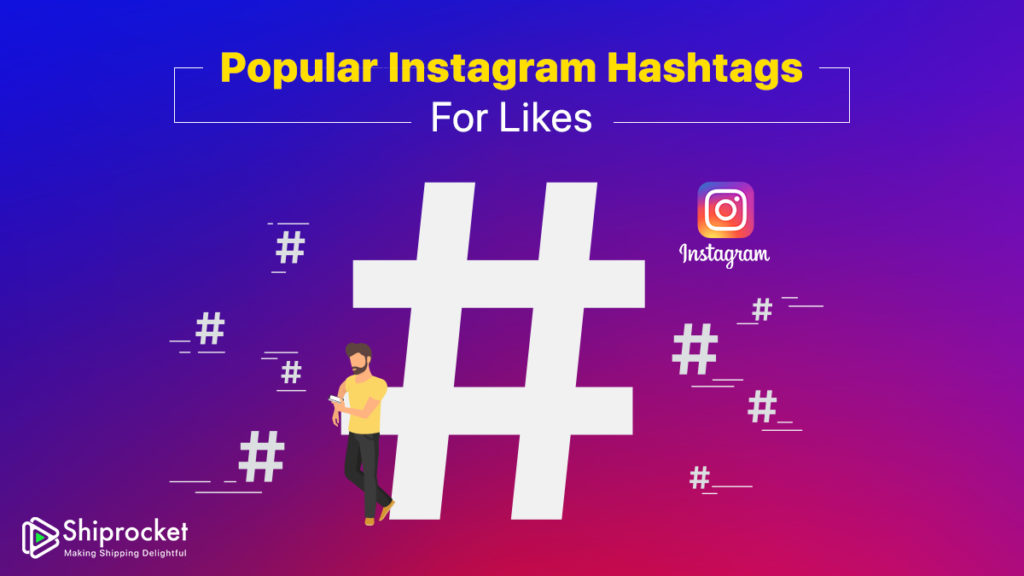 The Concept of Hashtags and how they Work on Instagram
First, let us understand the concept of hashtags. In social media terms, a hashtag is a label used on social media platforms such as Instagram, Facebook, Twitter, etc. that makes it easier to find posts related to the hashtag or information that contains specific content. It is created by including the symbol # in front of a word or words without any space. Any word that has a hashtag attached to it becomes clickable.
Coming back to Instagram, whenever a user clicks on a phrase containing a hashtag, he is taken to the discover feed of Instagram posts which contains all the other public content attached to that particular hashtag.
The main intent of creating hashtags is to make your content visible to users of Instagram. Whenever a user is interested in a particular content, he/she just clicks on the hashtag and all the content related to that hashtag becomes visible to him. Hence, the right hashtags can put you in front of your target audience, even if they haven't connected with you before.
There are three ways of using hashtags on Instagram.
You can add hashtags to your Instagram stories, IGTV video, Instagram reels, and posts
You can add hashtags on your Instagram profile bio
You can follow hashtags you are interested in
Why Instagram Hashtags are Important?
Despite several jokes on the overuse of hashtags on Instagram, if used properly, they can be beneficial for your business:
Competition
All businesses must figure out who their competition is, what they are offering, and how are they advertising. This information helps in making better decisions. Instagram hashtags can be used to research competitor accounts, their posts, and most used hashtags.
With this information in hand, you can assess the audience's response to the competitor's posts, what is working for them, and what's not. Besides, hashtags constantly change – what is working today might not work tomorrow.
Branding & Visibility
Branding and visibility go hand-in-hand. Good visibility means successful branding. Hashtags are generally used for branding and visibility. Hashtags can be used to get more visibility, expand the audience, and increase awareness. When users will search for a specific hashtag, they will see your post with the hashtag. This will result in increased reach and more followers and potential customers.
Promotion
The main reason why hashtags have gained a reputation is because of their ability to help marketers create targeted campaigns. When you post a promotional post with a hashtag, your followers will use the same hashtag in their posts, and then their followers will use it. Basically, hashtags help gain visibility for a campaign and reach the target audience.
Most Popular Instagram Hashtags
Now that we know the concept behind hashtags, let us take a look at a few of the most popular Instagram hashtags you can use based on your industry:
Fashion
#ootd
#style
#fashion
#streetstyle
#fashionista
#instastyle
#fashionblogger
#instafashion
#womensfashion
#mensfashion
#fashionstyle
#fashionable
Grocery
#groceryshopping
#grocerystore
#groceries
#groceryhaul
#grocerylist
#healthyfood
#onlinegrocery
#localstore
#healthygrocery
#shoppingcart
#grocery
#supermarket
Food & Beverage
#goodeats
#igfood
#foodstagram
#nomnom
#instayum
#eatfamous
#beverages
#instagood
#cleaneating
#foodgasm
#food
#drinks
Technology & Gadgets
#electronics
#tech
#innovation
#gadgetfreak
#technologia
#technology
#gadgetgalore
#electronicsstore
#instatech
#smartphone
#technology
#science
Fitness Equipment
#fitness
#fitnessmotivation
#trainhard
#cardio
#gym
#fitnessaddict
#fitlife
#instafitness
#fitnessgoals
#fitspiration
#getfit
#fitfam
Instagram Contests
#instagiveaway
#giveawayalert
#sweepstakes
#<yourbrand>contest
#winitwednesday
#contestentry
#freebiealert
#instawin
#giveawaytime
#winit
How to Use Instagram Like a Pro
Now that you know how huge the user-base of Instagram is, growing a following for your eCommerce business on this social media platform is slightly difficult. However, it's one of the most effective ways to reach a larger audience. Here's a list of a few important Instagram tips and tricks for you to grow your following:
Engagement
The best way to gain support from your existing followers is to engage with them as much as possible. Do more live videos, post more real-life photographs, describe your products to them in video formats, and keep posting engaging content. If they have liked or commented on any of your posts or stories, do not hesitate to reply or at least give a like to their comment. It will mean a lot to them as a customer.
Frequency of Posts
You must keep the frequency of your posts high if you want to succeed on Instagram. Keep posting compelling content on a regular basis to bring engaged customers to your online shop. If you post once in a week or once in two weeks, chances of gaining and retaining customers become lesser. Remember, your customers will always be interested in watching what you post on your social media, almost daily.
Post Quality
Keep your post quality high at all times. Make your content stand out through your creativity and photography skills. Customers will always engage more with quality content, rather than poorly structured ones. Take better photographs of your product offerings to curate an Instagram feed that truly represents the voice of your brand.
Measuring Your Instagram Hashtag Progress
You have already included all the relevant hashtags in your Instagram posts and stories, and now it's the time to evaluate the progress of all those hashtags. You must know which hashtags are working in gaining more traffic and which are not.
Instagram analytics tells you how much your channel is growing, including the number of impressions on posts, audience your post has reached, likes, comments, etc. Did you see a considerable jump in the number of followers since you started with your hashtag strategy?
You also have the possibility to experiment with new hashtags, and see which pattern to follow after you evaluate if any changes in the hashtags you're using are leading to a desirable result.
Keep monitoring the hashtags you are posting. There are several tools out there, such as Keyhole, that can tell you how much your branded hashtag is working and if you are able to gain traffic organically through that hashtag.
Final Say
As we all know Instagram is one of the most used social media platforms in the world, there can be no better way to reach a huge audience leveraging hashtags on Instagram. If done correctly, you will see an evident rise in the number of likes, comments, and followers of your account.
But remember to keep reviewing your Instagram content, so that you always keep up with the latest trends. Hope this article will help you in building your hashtag strategy and will keep you engaged with your customers.
Calculate Your Shipping Costs Now