How to Start an Online Electronic Store in India?
The electronics industry in India is booming. Without a doubt, it is one of the fastest-growing sectors in the eCommerce and retail space. With more and more policies like vocal for local and make in India coming up, the electronics industry has seen a rise in production and sales.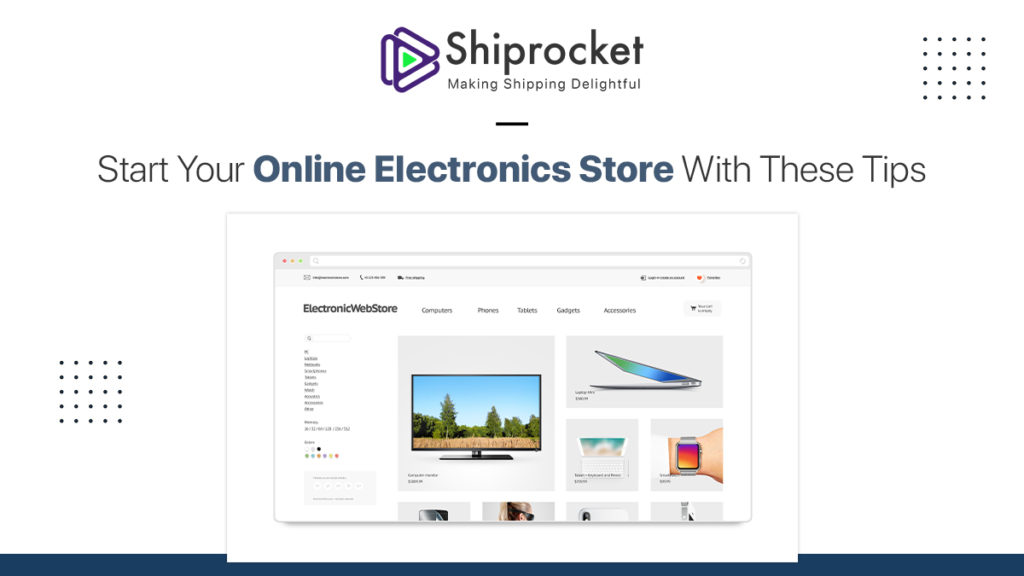 Over the years, electronics have become an integral part of everyone's life. Be it laptops, electrical appliances, simple calculators, or fitness bands; the industry is ever-growing. So, if you are looking to start an electronics eCommerce store in India, the market is ripe. With the increase in demand and the need for local production, your business can work well with the target audience, and you can expect positive sales.
An electronics business does not necessarily need to be a B2C business provider. You can also target large business houses and provide them with electronic materials wholesale. Even if you are looking for a drop shipping business or starting something new, electronics are a good bet. But the question is, how can you successfully start an electronics eCommerce business and sustain it? Here is an overview of how you can create a successful electronics eCommerce business and grow it among your target audience.
A Rise in the Demand for Electronics
India's electronics market is expected to increase with a CAGR of 24.4 percent from USD400 billion from USD69.6 billion in 2012. This indicates the growing demand for electronic goods in India. The need for recent technology has attracted various investments from big companies. The market size of the electronics industry right now is USD 400 billion. This means that this up-and-coming sector has excellent potential for any new seller. But since the field is competitive, you must have a niche that you can promote as Indians are now looking for home-grown brands rather than imports. Having the right internet presence and social media standing will help you establish your brand with your consumers and make sure the day purchase from you over and over again.
Let's have a look at how you can start selling electronics online successfully.
How to Start Electronic Store Online?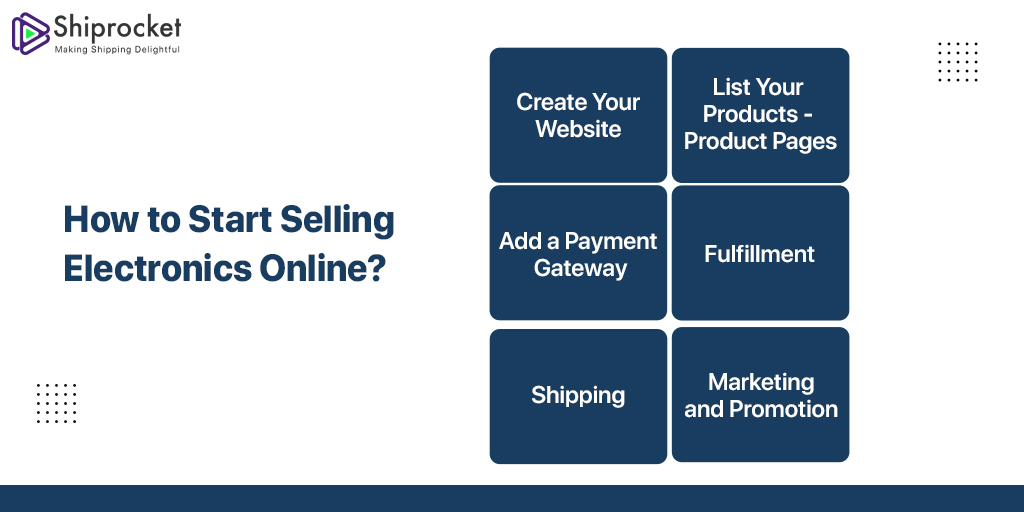 Step 1: Create Your Website
The first step to start selling electronics online is creating your website. You need to have your store online so that customers know where to find you. There are many website builders available on the internet. One of them is Shopify. Shopify is one of the most accessible and utilized website builders by most eCommerce shops. They have several store templates and a user-friendly set process. This allows you to conveniently set up your store without needing little to no technical expertise. All you have to do is create your account and list of products. We provide several integrations for different aspects of your business, like product listing, marketing, shipping, designs, etc.
Step 2: List Your Products – Product Pages
The next step in setting up your online store is listing your products. You can list your products based on categories, alphabetical order, etc.; make sure you upload your inventory correctly and have separate product pages for every product. This will help you improve the issue of your website and guide consumers to the right product quickly. Ensure that the products listed are organized so the navigation can be simplified within the website.
Step 3: Add a Payment Gateway
After listing your products, add a payment gateway. Customers are looking for several payment modes when they shop online and do not want to be restricted to just one. Adding a payment gateway will help you with secure payments and give you a chance to provide different payment modes like UPI, net banking, credit and debit cards, E-wallets, etc. The payment gateway will simplify payment collection for you, and also, the transaction fee will be lesser.
Step 4: Fulfillment
The next most essential aspect of the entire process of setting up an electronic store is fulfillment. How you fulfill your orders speaks volumes about your business. Fulfillment includes operations like order management, picking, and packaging. If all these operations are carried out in sync, your order processing speed would be faster, and you will be able to ship products sooner. Always use the best packaging material as the packaging you use depicts your brand's overall personality. Packaging stays with the customer longer than the product in some cases as it is reusable. Hence, use sturdy packaging from reliable companies like Shiprocket Packaging.
Step 5: Shipping
The most vital component of your eCommerce business is shipping. Shipping enables you to send products to your customer's doorstep. Therefore, make sure you tie up with a reliable shipping partner like Shiprocket to ensure that you can deliver across the country seamlessly. A limited pin code reach will restrict your target audience. Shiprocket provides you with a 27000+ Pincode reach and shipping with 17+ courier partners. If you create your website using Shopify, you can easily add the Shiprocket app in there to begin shipping seamlessly.
Step 6: Marketing and Promotion
Once you have set up your store, you need to promote it to your target audience. Ensure you have a substantial social media presence to start promoting your website and products immediately after you launch. Once your store is live, you can continuously take care of the SEO to ensure that you rank well on Google search results. Draft a proper eCommerce marketing plan so that you have all initiatives in one place. Ensure that your project has a blend of content marketing, along with SEO and social media.
Here are some marketing strategies you can adopt for your eCommerce business.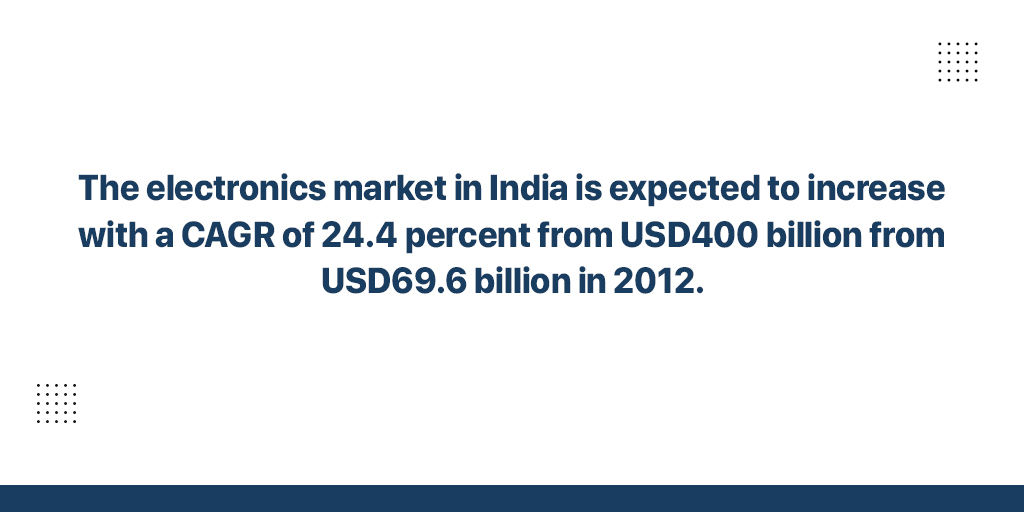 Types of Products You Can Sell
Mobile Phones
With new brands coming up each day, you can start sourcing and selling mobile phones on your website and target tier-2 and tier-3 cities for a personalized experience.
Laptops
As digitization increases, every sector requires a laptop for its employees. You can start a wholesale business and supply laptops to agencies, companies, and schools, etc.
Mobile and Laptop Chargers
These are accessories without which you cannot successfully run electronics. Therefore, starting a business of chargers can be more profitable.
Power Banks
As everyone travels with their devices, they will need to charge them with some source. Powerbanks work the best here.
Sound Devices
Almost all industries require sound devices like portable speakers, earphones, headphones, microphones, etc. Selling these devices could help you reach consumers faster and fulfill their needs.
Final Thoughts
The electronics market in India is booming. It is an excellent opportunity to invest in an eCommerce business and sell effectively to a broad audience, just getting the hang of digitization. Take that plunge and start your own electronics eCommerce business today!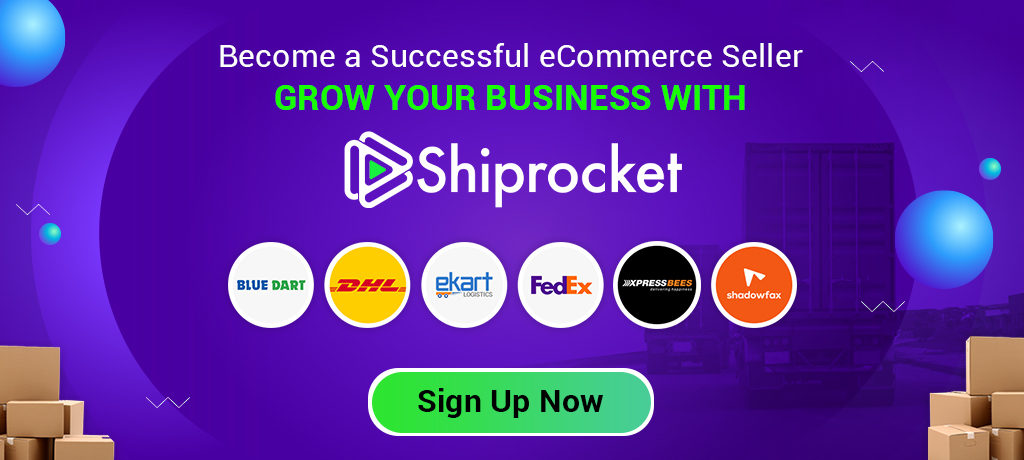 Calculate Your Shipping Costs Now