How Shiprocket Helped Tanmay Pandya Become One of the Top Sellers on Amazon?
It is an enduring vision of the small sellers to grow and transform their eCommerce businesses. There are thousands of small sellers in India that come from different industries and places. What all of them have in common is their passion that determines their success. In this week's edition of our Seller Speaks Series, go through the story of Tanmay Pandya, an enthusiastic seller who was interviewed by Shiprocket's Marketing Specialist, Nishtha Chawla.
Tell us About Your Business.
Tanmay: My family comes from a background of cross-border trade. We were service providers for other import sellers on Amazon. We provided IOR (Importer on Record) services. Since we gained considerable knowledge about this industry, my brother and I developed a passion for this business. We believed if we could do it ourselves, why do it for someone else? That is when we got a team of experts and got on the business bandwagon.
How did you come across Shiprocket?
Tanmay: A friend of mine belonging in the same field recommended Shiprocket to me. His feedback was very positive.
What problems did you face before registering on Shiprocket?
Tanmay: We were using a local courier partner. Our business was continually facing delivery glitches from their end. Besides, it was upsetting to see that many pin codes were not serviceable by them. Ultimately, we decided that it was time to switch to a better partner.
How do you Find the Services of Shiprocket?
Tanmay: Pin code serviceability has been a significant necessity for my business. Ever since I registered with Shiprocket, I have benefitted from multiple courier partners to ship products across the globe. Within India itself, I can ship my products to over 26000 pin codes. You have partnered with all the foremost courier partners. My last-mile delivery efficiency has never been better.
Have you Noticed an Increase in the Volume of Shipments?
Tanmay: Yes, there has been a significant increase in the volume of shipments since becoming a Shiprocket user. Now, I and my brother are one of the top 5 sellers on Amazon. Our business is getting an average of 200 orders per day, which is considerably higher than we used to get before.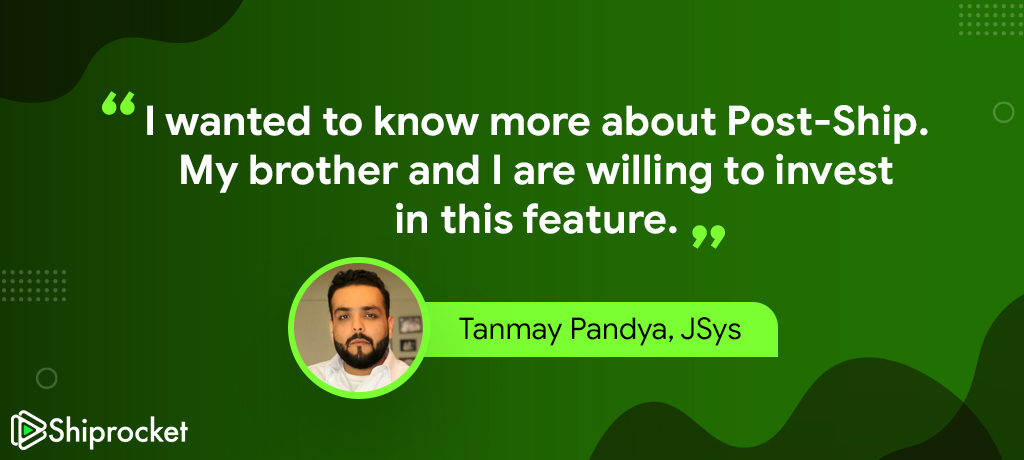 What do you Like the Most About Shiprocket?
Tanmay: I love the automated platform you provide to your users. The end-to-end automation on my seller panel has allowed me to focus on my elementary business activities. Again, the TAT for product delivery has also improved a lot.
Do You Use Shiprocket Post-Ship?
Tanmay: I am glad you mentioned this. I discussed it with one of your customer support agents, and I was delighted to know about the Post-Ship features. After all, who does not want to give a better post-purchase experience to their buyers?! We will surely be using it.
Will you Recommend Shiprocket to Others?
Tanmay: I do not doubt that I will. Our business itself has a future goal of 1000 orders per day, and I hope that Shiprocket will support us in that endeavor too.
Speaking of passion, the success of our thousands of sellers is our success. It is our appetite to continually work on our product so that the tech advancement of your business, along with your personal entrepreneurial growth, never stops. Register today, if you want to develop your eCommerce business into a rip-roaring success and get your business story featured in our section.
Calculate Your Shipping Costs Now