How To Create Unique eBay Product Listing
Did you know that there were over 18 million sellers on eBay in 2022?
The online eCommerce industry is getting both competitive and saturated by the moment, but with over 133 million shoppers worldwide, there are more than plenty opportunities to sell your products on eCommerce marketplaces, especially on eBay.
eCommerce Trivia: There were 1.7 billion product listings on eBay in 2022
Grabbing buyers from all over the world for your business needs an extra mile of effort than finding buyers domestically. Let's see how.
What Influences Global Buyers When Shopping On eBay?
To grab the attention of customers and stand out from the seller crowd, you must first know what most buyers look for in a brand when shopping online. Here's what they are:
Brand Visibility
The first and most important factor playing into the minds of buyers is global visibility of a brand. It could be on social channels, on search engines such as Google, or on commercial advertisements. The more the visibility, the more authenticity you can build in front of your global audience. Not just it, this spreads the word about your brand's existence in the market.
Pricing
Product pricings almost always have a major influence on buyer decisions when it comes to eCommerce, but this is more so in case of international customers. This is because there are additional charges involved such as shipping fees and secure packaging costs. Whether you are a brand with a direct to consumer channel or a retailer, pricing is always the primary factor involved.
Product Imagery
75% of online buyers rely on product photos when looking to make a potential purchase from an eCommerce website. Retailers with high-quality images have a higher chance of orders flowing in than others. Moreover, the option to zoom product photos is an added advantage for buyers if they wish to view the products closely before placing any order.

How To List Products On eBay Effectively
Whether it's on eBay, or any other eCommerce marketplace, building a trustworthy relationship with your global customers is the key to increasing your sales and order flow. Buyers mostly reason with the overall product visibility, aesthetics of brand, and professionalism in order placement and processing.
Here are a few ways you can ensure buyer loyalty from across the globe with unique eBay product listing:
High Ratings
The more negative feedback you have on your product pages, the lower are the chances of retaining loyal customers globally. Seller ratings are crucial for leading platforms like eBay, and you should always strive to achieve eBay top-seller benchmarks as much as possible. Here's how.
Less delayed deliveries: The total number of delayed deliveries must be less than 2% of all orders placed annually.
Minimum defective products: Everything you ship must reach your buyers in a perfect condition, and if there are defects, it should be minimal (only 3 to 4 orders per year).
Quick Resolutions: In scenarios of concerns regarding product or orders, quick buyer ticket resolutions help to gain buyer confidence and in turn, higher seller ratings.
High-Quality Photos
When we talk about high-quality photos, this includes the product's colour, image quality and has multiple images to view on. This means your products should be sized well, with a higher resolution of at least 500 pixels (1600 pixels for mobile version) for listing on eBay. Furthermore, the product's imagery must contain photos from different angles for the buyer's clear understanding, and must have minimal clutter on the background.
Categorise Strategically
You can either catalogue your products through eBay's catalogue (which includes identical looking products from other sellers as well) for a professional visibility, or create your own catalogue on eBay. Once you are done cataloguing, you can now add very specific features to your products that makes it easier for buyers to land on your product. For example, adding various colour combinations and sizes for the same item will make your product pop-up in exact search results requested by customers.
SEO-Friendly Listings
Buyer behaviour suggests that people almost always opt for products that pop-up in the first few search results, or in the first page of the product pages. eBay's own search engine tool, Cassini, helps your products rank and get displayed on top search results with ease.
Cassini makes SEO-based rankings based on the following measures:
Item information
Product description
Response time
Click through rate
Sell through rate
Seller ratings and feedback
Shipping policies and delivery times
Generous Offers
Over 60% shoppers check for returns and refund policies before placing any orders on eCommerce platforms. You can offer free returns on your products for more demand globally. eBay supports its sellers with a partial refund policy for international order returns now, while few leading sellers can also offer free returns up to 30 days of order delivery.
Effective Pricing Strategy
Comparing best items at reasonable prices is what buyers are after, especially when it comes to international orders, with all the extra shipping and return costs. Ensure your item prices are better than what your competitors offer, and settle for a price that works both for you and your dedicated buyers.
Bottom Line
While it is tempting to sell your products on global platforms , knowing how to list products on eBay and achieve regular sales from across the globe is primary. Choosing the right imagery, detailed descriptions, and creating aesthetic advertisements are a few ways to ensure you attain the right market for your global business. Aligning your product descriptions with SEO friendliness of eBay further helps your products stay on top of the marketplace.
Read our blog on how to start selling your products on eBay today here.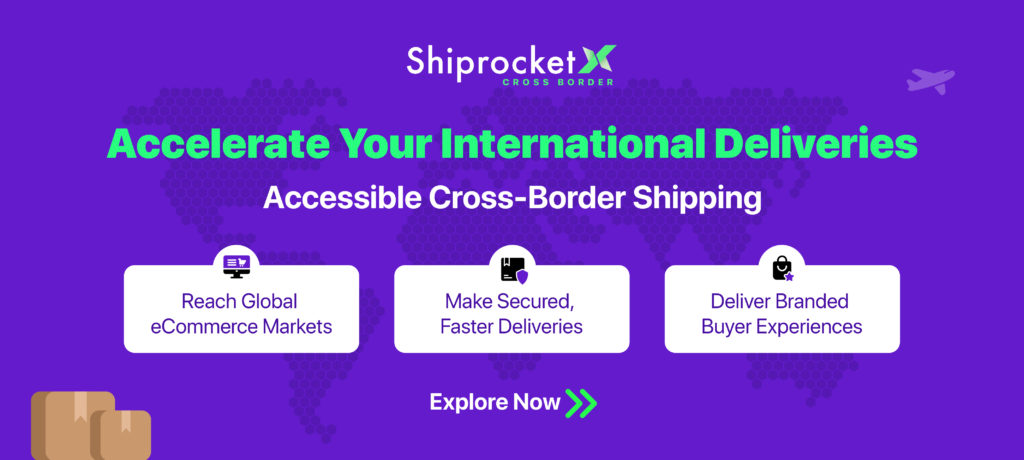 Calculate Your Shipping Costs Now