Turning Dreams Into Reality: Recapping The Best of Shiprocket SHIVIR 2023 
The recently concluded Shiprocket SHIVIR 2023 proved a remarkable platform for knowledge exchange, networking, and forging new paths in digital eCommerce. This day has undoubtedly etched its significance in eCommerce history, leaving a lasting mark that is bound to resonate for years to come.
With a resounding success that left attendees renewed and enriched, let's look through the journey of highlights and unforgettable moments of this extraordinary event. From riveting keynote speeches by industry leaders to interactive workshops that unveiled the latest trends, every facet of Shiprocket SHIVIR 2023 had a level of excellence that set a new standard for industry events.
Seasoned veterans and budding entrepreneurs found themselves in an environment that fostered learning and genuine relationship-building. The networking opportunities offered a chance to exchange thoughts, forge partnerships, and collectively envisage the evolving eCommerce ecosystem of the eCommerce industry.

Aapki unnati ka saathi – encapsulated the very essence of Shiprocket SHIVIR. The phrase reverberates throughout every aspect of the summit, serving as a guiding principle for all attendees and participants.
Under the theme "Nurturing eCommerce Businesses of the Future," Shiprocket SHIVIR 2023 orchestrated a symphony of visionaries, business luminaries, and policy shapers. The event brought together champions of Aatmanirbhar Bharat, pioneering entrepreneurs, and innovative service providers, all driven by the common goal of propelling India's diverse marketplaces into the digital age.
The summit experienced an impressive turnout of more than 1600+ participants and 90+ speakers at the venue, which included well-known eCommerce industry leaders, startups, and delegates from diverse sectors. Many panel discussions were conducted during the event, covering various topics.
A glance at the diversity of topics covered
Going Cross Border – A $200 Billion Opportunity
Customer Experience: Unlocking the Growth Lever
Understanding Key Pillars of Cross-Border Business Success
From Business to Brands – How to Build Brands That Last
How to Grow Your Business 10X Online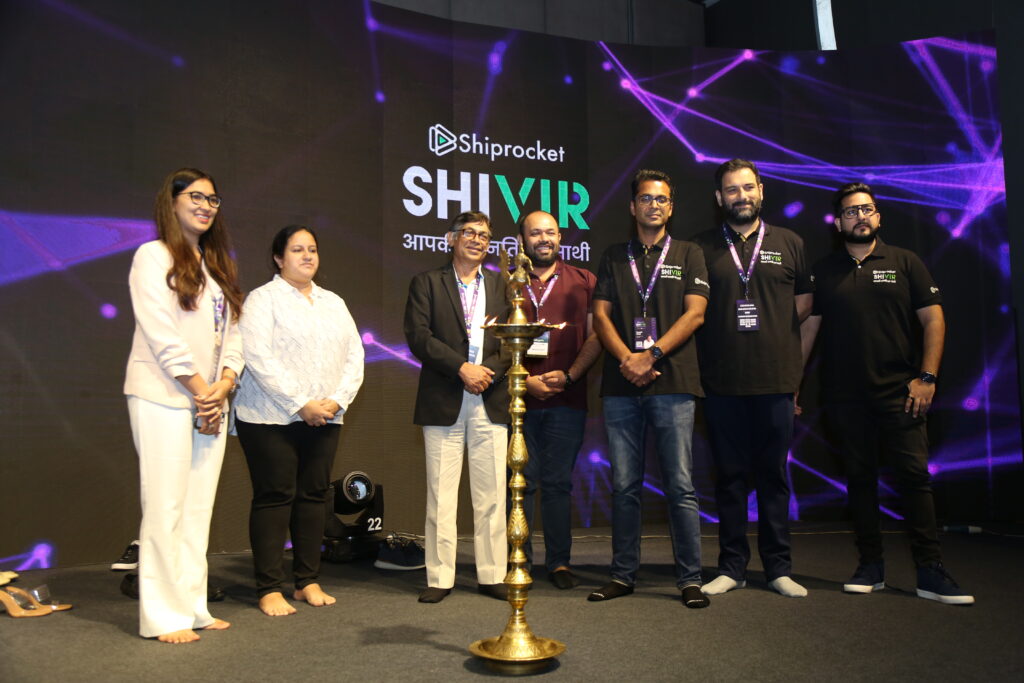 The day kicked off with a radiant lamp-lighting ceremony graced by influential figures such as Mr Saahil Goel, Co-founder and CEO of Shiprocket, Mr T Koshy, MD and CEO of Open Network For Digital Commerce (ONDC), Mr Gautam Kapoor, Co-founder of Shiprocket and Mr Vishesh Khurana, Co-founder and Head of Growth of Shiprocket. This symbolic commencement set the tone for the event filled with wisdom, collaboration, and transformative ideas.
A pivotal moment arrived with Mr T Koshy's keynote address, which delved into the critical role of ONDC in democratising eCommerce across India. Through strategic alliances with eCommerce platforms, financial institutions, logistics providers, and industry associations, ONDC aims to empower the growth of Micro, Small, and Medium Enterprises (MSMEs) and navigate the ever-evolving digital landscape.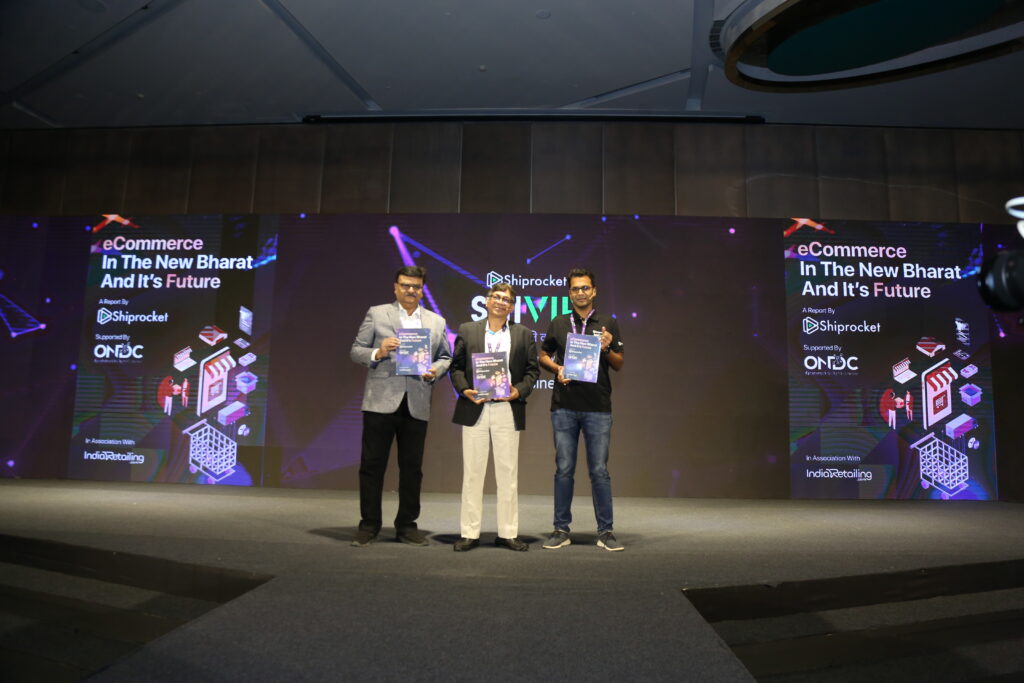 One of the highlights was the launch of the insightful report titled "eCommerce in the New Bharat and its Future – A Report by Shiprocket." Saahil Goel, T Koshy, and Bhavesh Pitroda, the CEO of Images Group, unveiled the report that delves into the Indian eCommerce ecosystem, covering its current state, market dynamics, and challenges. It provides valuable insights for understanding and navigating this rapidly changing industry. This comprehensive analysis of the report encapsulated the present scenario and illuminated the path forward, drawing insights from both the digital realm and the intricate tapestry of local eCommerce. The report captured the current state of affairs, painting a vivid picture of the eCommerce landscape today and projected the industry's trajectory, providing valuable foresight for businesses to navigate in the ever-evolving market.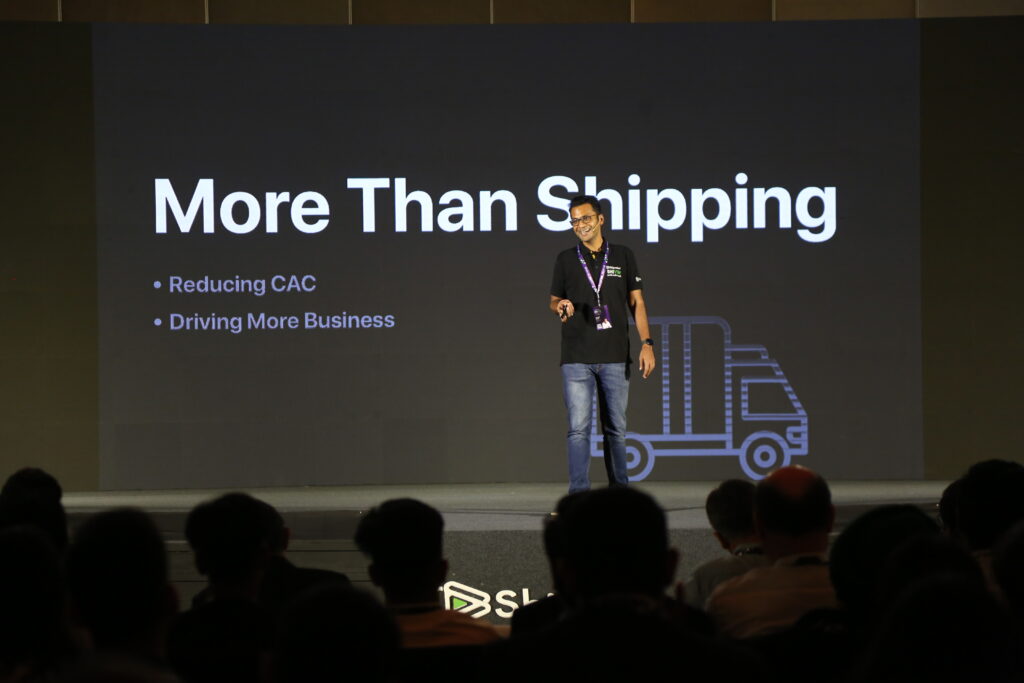 Saahil Goel, in his engaging keynote, shared the remarkable journey of Shiprocket from its inception to its current status and driving force for business growth. He explored emerging trends, challenges, and prospects within the eCommerce industry, inspiring attendees to embrace innovation and adapt to the changing dynamics of the market.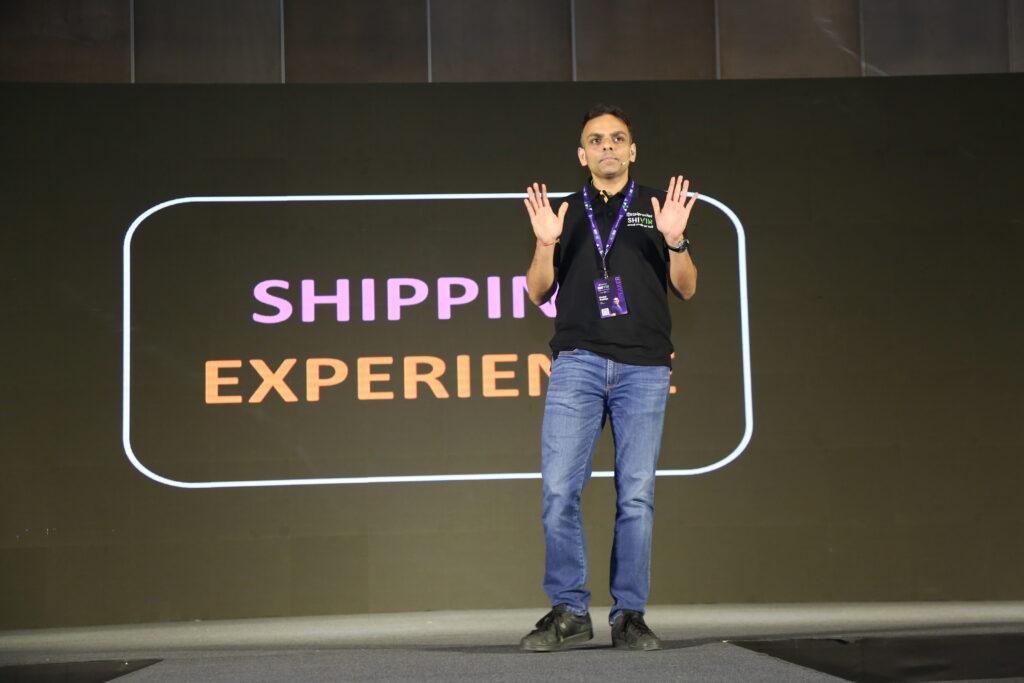 The unveiling of game-changing products by Praful Poddar, CPO of Shiprocket, was a moment of excitement and anticipation. Products like Branded Boost 2.0, ONDC Reach, Advanced Shipping Solutions, and the Enhanced Website Shopping Experience promised to redefine the eCommerce landscape. These innovations aimed to empower businesses, enhance customer engagement, and streamline shipping processes.
Throughout the summit, panel discussions, masterclasses and fireside chats were conducted, covering diverse topics ranging from growth strategies and cross-border opportunities to the role of artificial intelligence in Direct-to-Consumer (D2C) growth. Notably, one such masterclass was led by the visionary Vaibhav Sisinty, the Founder of GrowthSchool, offering attendees exclusive insights into harnessing AI for propelling D2C growth to new heights.
The summit reached its culmination with closing remarks that resonated with the energy of electrifying discussions, groundbreaking insights, and unforgettable memories. Attendees left the event enriched with knowledge and inspired to pioneer new avenues in the eCommerce ecosystem.
In essence, Shiprocket SHIVIR 2023 was a fusion of innovation, collaboration, and aspirations. It served as a hub of ideas, a nexus of connections, and a driving force propelling the eCommerce ecosystem toward a brighter and more dynamic future.
This event's success is a witness to the remarkable spirit of collaboration and collective endeavour, demonstrating the dedicated support of all those who stood behind us. Through the seamless collaboration of these individuals and their unwavering commitment, we were able to orchestrate an event that not only met but exceeded all expectations, marking it as an achievement to be celebrated together.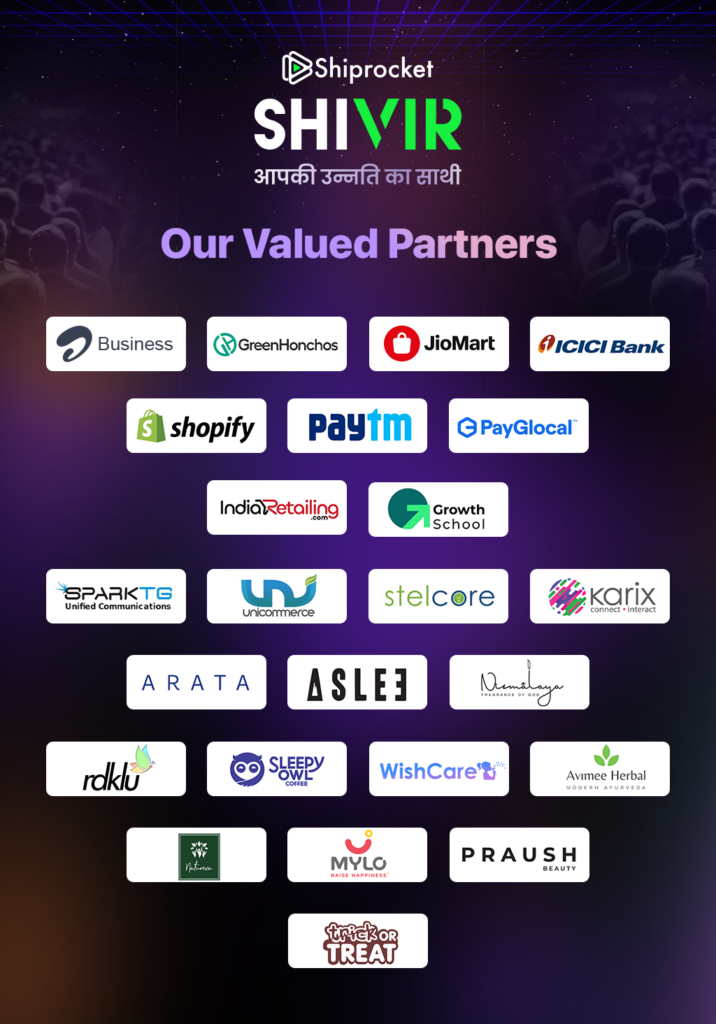 The conclusion was highlighted by a star-studded evening of Celebrating the eCommerce Game Changers, where we honoured 25 awardees under 12 categories. The night was graced by renowned stars and live music, perfectly commemorating the remarkable journey throughout Shiprocket SHIVIR 2023.
Here are a few categories and their corresponding awardees:
1. Emerging Entrepreneur
Winners: Varun Gupta, CEO & Co-Founder, Boult
Vishwadeep Kamble, Founder & CEO, Hackerhelps Global
Haritima Mishra, CEO, Attitudist
2. Fashion Trendsetters
Winner: Chakori
3. Sustainability & Eco – Excellence
Winners: Phool
Pee Safe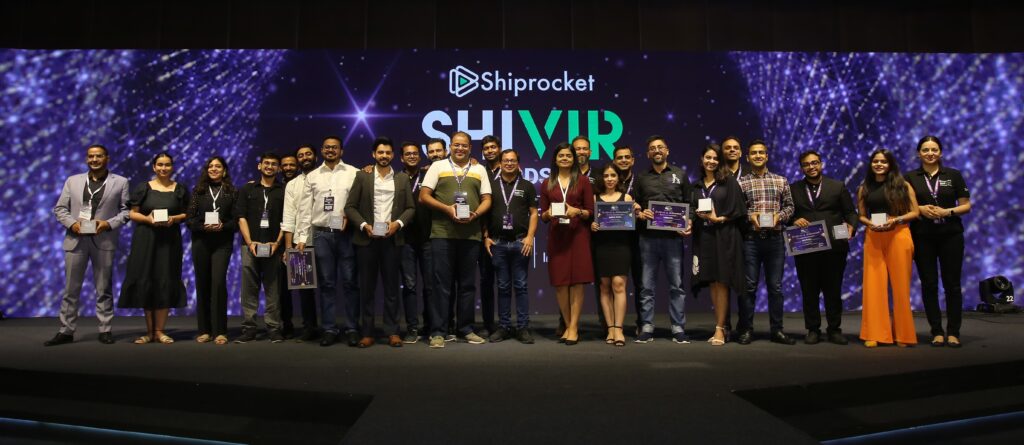 Strong brand recall and significant contributions have contributed to the legacy of each category and winner in eCommerce.
As the curtains draw to a close on the spectacular journey that was Shiprocket SHIVIR 2023, we feel both inspired and reflective. The summit has been pivotal in shaping digital eCommerce's future, marked by insightful discussions, groundbreaking ideas, and unforgettable moments.
Let this not be a farewell but a "see you soon." Until next year, let's continue to evolve, learn, and build together as we journey towards a future where eCommerce knows no bounds. Thank you for being a part of Shiprocket SHIVIR 2023, and we eagerly look forward to the chapters yet to be written in the next edition of this extraordinary event.
Calculate Your Shipping Costs Now