India's Top 10 eCommerce Companies
Electronic commerce, commonly known as eCommerce, involves selling goods and services through the internet. eCommerce has changed the face of business. The last few decades have seen a significant increase in internet commerce. eCommerce provides the convenience of online shopping from the comfort of one's home. It also offers a range of products and sellers to choose from.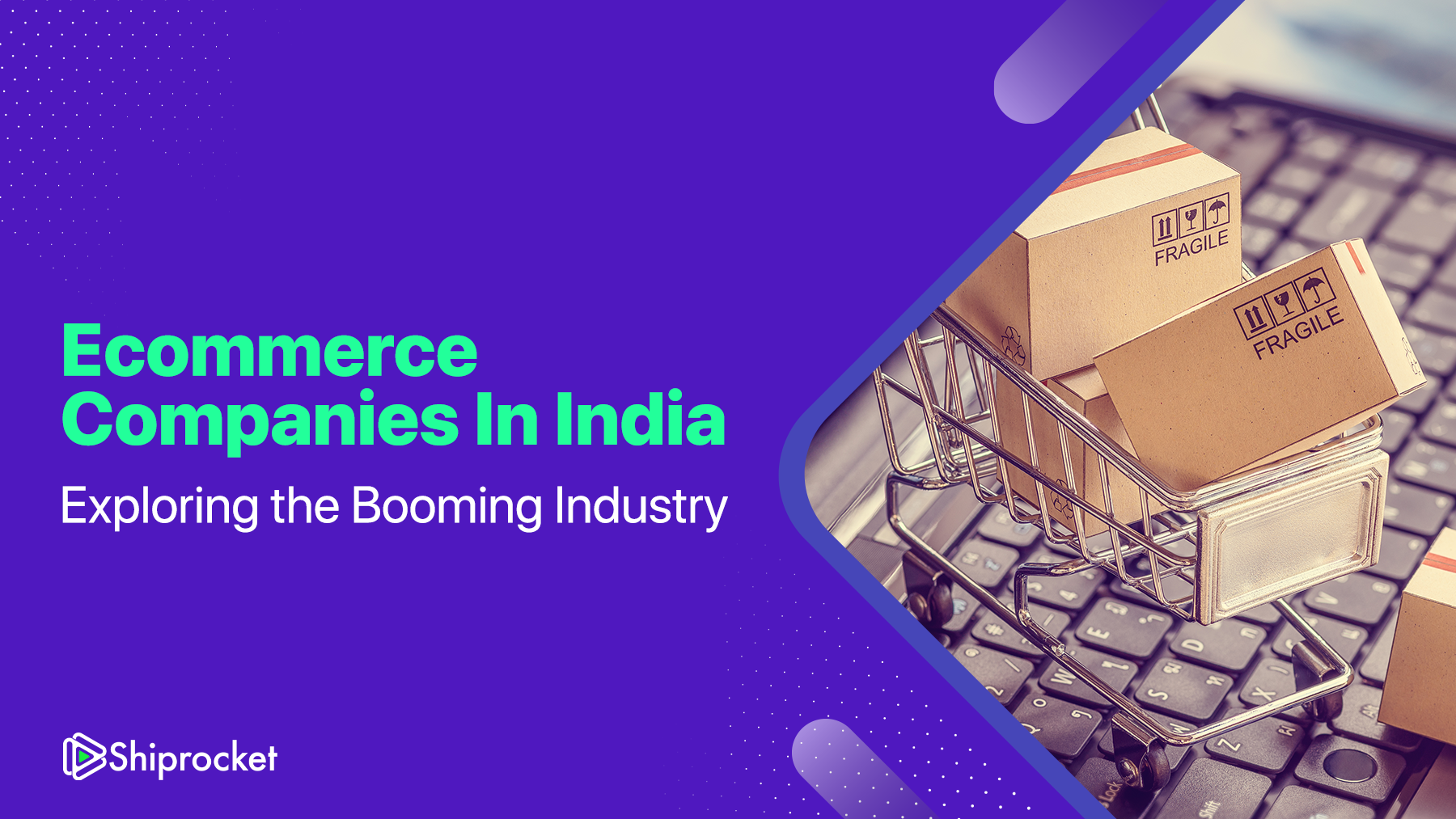 eCommerce companies in India have grown as there is an increasing demand for online shopping due to ease, low prices, and the lack of time. India's eCommerce market is expected to hit US$ 350 billion by 2030. In recent years, India has experienced a boom in internet and smartphone penetration, mainly driven by the 'Digital India' initiative. Increased digital literacy has led to the entry of many eCommerce platforms into the market. The heavy investment made by the Government of India in rolling out a fiber network for 5G is also helping boost eCommerce in India.
India is emerging as a global leader in the digital world and commerce. As such, the Indian eCommerce industry is expected to become the second-largest eCommerce market in the world by 2034.
Types of eCommerce Industries
There are three main types of eCommerce industries. They are as follows:
Business to Business (B2B) – for example, Alibaba, Acme, and Shopify. It sells goods or services to other businesses through an online sales portal.
Business to Consumer (B2C) – for example, Expedia, Trivago, and Amazon. This is also known as retail eCommerce. It is a sale between a business organization and consumers.
Consumer to Consumer (C2C) – for example, Craigslist, Etsy, and eBay. In this type, the sale or trade is between consumers.
The pillars of eCommerce are profitability, productivity, ease of payment, and personalisation. It is essential to ensure that eCommerce provides profitability. Without profit, eCommerce businesses will collapse, leading to company losses. This can also have a cascading effect on support functions such as shipping and courier delivery, which help fulfill orders. Productivity and payment will lead to profitability. Personalisation ensures that customers remain loyal to the eCommerce business. It builds the confidence of the customer in the company.
Top eCommerce Companies in India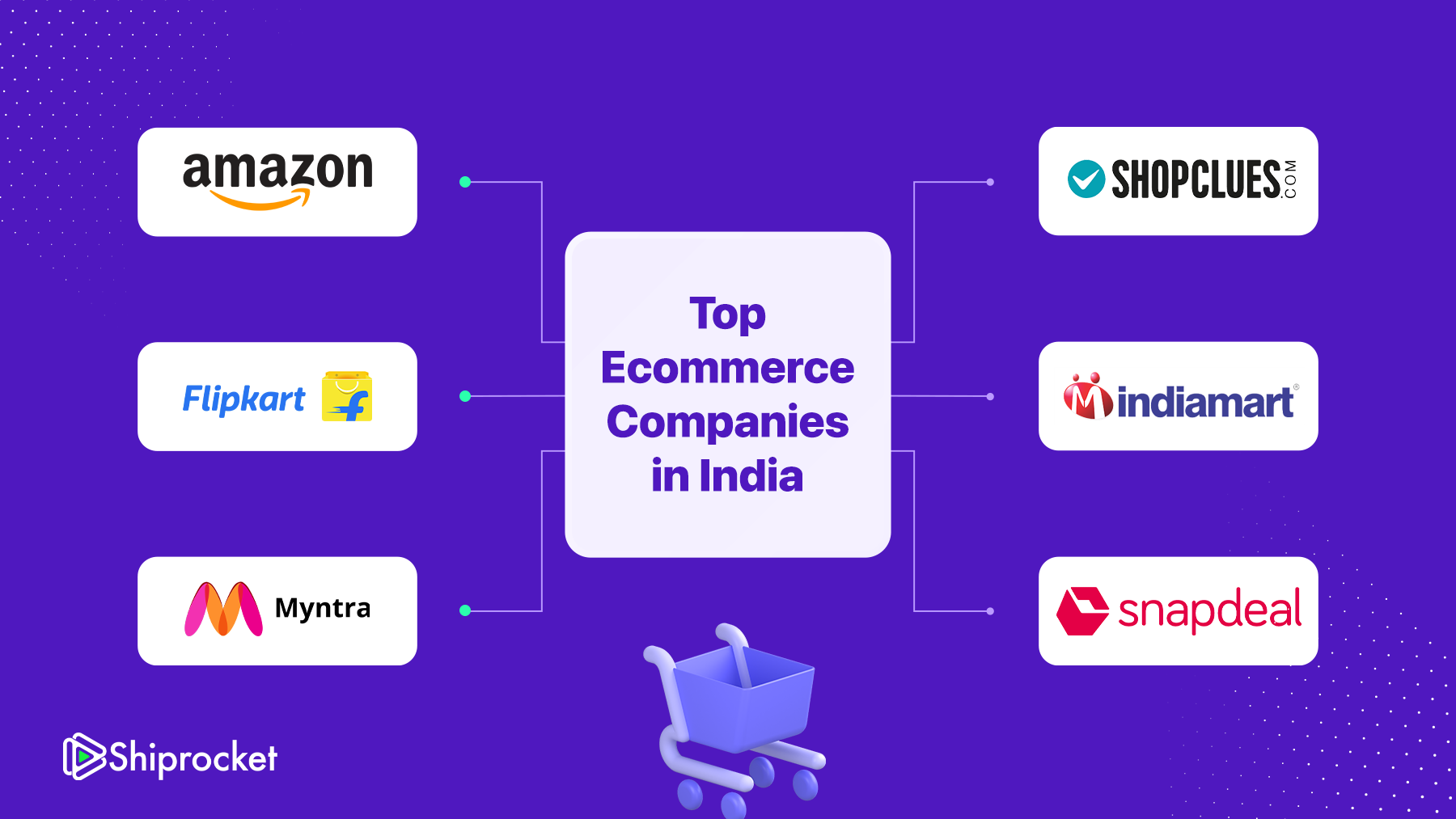 The eCommerce industry is flourishing in India. With technological advancement and digital platforms, eCommerce experienced fast-paced progress. Most eCommerce companies offer diverse product portfolios, while some companies offer niche value-based products. eCommerce businesses partner with logistics companies for their shipping and delivery needs. Depending on the company's size, leading logistics players tailor their services. For example, Shiprocket offers eCommerce-targeted shipping solutions that match customer budgets and needs at affordable prices to eCommerce businesses in India. Supporting sellers with the lowest shipping rates, broadest reach, and best customer service are the key differentiating factors for Shiprocket.
There are many eCommerce companies in India, and some of the top ones are as follows:
1. Amazon
It originated in the United States and was initially selling books online. Since it entered India in 2010, the company has grown enormously. It is currently the most popular eCommerce platform in India. Amazon sells books, clothes, electronics, toys, personal care items, and many more items.
2. Flipkart
It is an Indian-origin company headquartered in Bengaluru, started in 2007 by Binny Bansal and Sachin Bansal. Flipkart specialises in fashion, mobile, and other items. Flipkart has approximately 48% market share in India. It offers massive discounts and has a strong presence.
3. Myntra
It started as an online website to buy gift items. It is now a fashion eCommerce company headquartered in Bengaluru. It is a one-stop shop for meeting all fashion needs. It started with a B2B model during the initial years, and later the platform allowed customers to personalised products.
4. IndiaMart
This is one of the biggest eCommerce companies to buy industrial goods. It has provided support to many Indian manufacturers to showcase their products and sell them. It is a B2B marketplace Manufacturers and exporters can list various products on this platform.
5. ShopClues
This was established in 2011 by Sandeep Aggarwal, Sanjay Sethi, and Radhika Aggarwal. It sells home and kitchen appliances, apparel and fashion accessories, and electronics. It provides a platform for small and regional merchants, primarily from Tier 2 and Tier 3 cities, to showcase their products, thus enabling them to transform themselves as a national enterprise.
6. Snapdeal
Founded by Kunal Bahl and Rohit Bansal in 2010, it is slowly moving to a stronger position as an eCommerce company. They offer a host of items such as clothing, kitchenware, etc. Fashion and general items are sold in good volumes on this eCommerce portal.
7. FirstCry
This eCommerce company is headquartered in Pune. It was launched in the year 2010. The company is focused on products specialising for babies and children up to early adolescence, with more than 2,00,000 unique products available.
8. Nykaa
Nykaa is headquartered in Mumbai. Falguni Nayar founded it, and the company sells beauty, wellness, and fashion products across various websites, mobile apps, and offline stores. They sell both national and international products. Nykaa became India's first eCommerce company for men's grooming products.
9. BookMyShow
BookMyShow, founded in 1999, is India's one-stop destination for movies, events, plays, sports, activities, and monument tickets, as well as selling fan merchandise. As a result of its success, BookMyShow has expanded its operations in Indonesia, the UAE, Sri Lanka, and the West Indies. It also provides 24/7 customer service.
10. Meesho
Founded in the year 2015 by Vidit Aatrey and Sanjeev Barnwal, it is a well-known eCommerce company. It is a great platform to find affordable and fashionable Western wear for both men and women.
Conclusion
With its emergence as a global leader in the digital world and increasing consumerism, India is emerging as one of the leaders in the eCommerce market. The eCommerce organisations have established a pan-India footprint and contribute to the overall economic growth of the nation.
Partnering the internet boomers in online shopping and service delivery are technology-driven players like Shiprocket. Their all-in-one solution for eCommerce companies could well be the differentiator for businesses to gain a competitive edge.
Calculate Your Shipping Costs Now