Are Google Alerts Helpful for Online Retailers?
Typically, Google is the first Search Engine that comes to everyone's mind when searching for any given topic or thing. So, why not use the power of Google in collecting market information for your brand? With Google Alerts, you can receive notifications every time your company is mentioned anywhere on the internet. It is a free-to-use tool and takes just a few seconds to set up.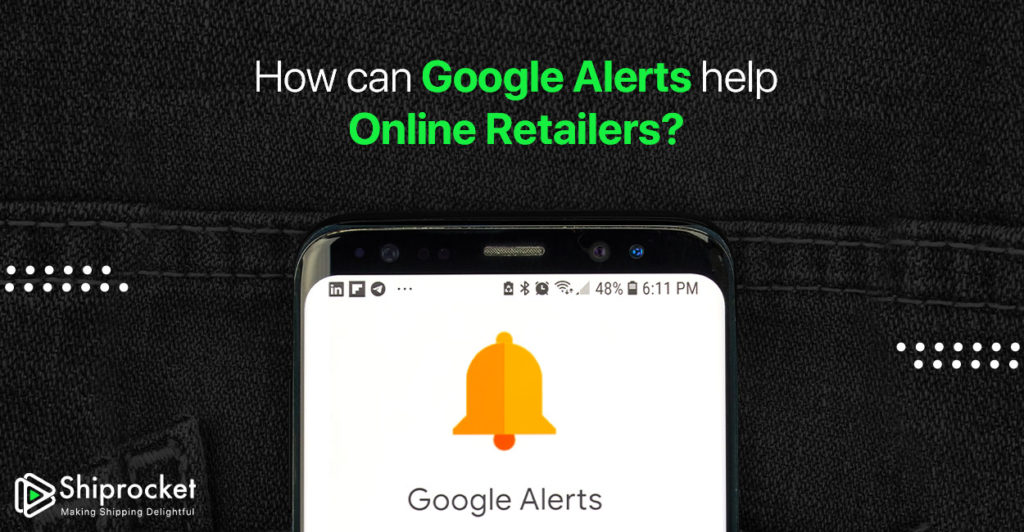 As stated above, online retailers can leverage Google Alerts competitive intelligence to sustain and grow their business. Read on to find out more about Google Alerts and understand how they can be helpful for online retailers.
What are Google Alerts?
Do you want to know the web mentions of your brand name? Or perhaps your product or service mentions? Or keep a tab on your competitors? Google Alerts is there for you.
Simple to use, Google Alerts is a content tracking tool. You can set it up for free to search for any topic, content, person, news, trend, or keyword, that is mentioned anywhere on the Google Index, by anyone. You will receive an email with the link to the website where the keyword is mentioned.
It is a research or analysis tool through which you can set multiple alerts related to your business. As per the need to monitor content, you can set as many Google Alerts as you want.
How to Set Google Alerts?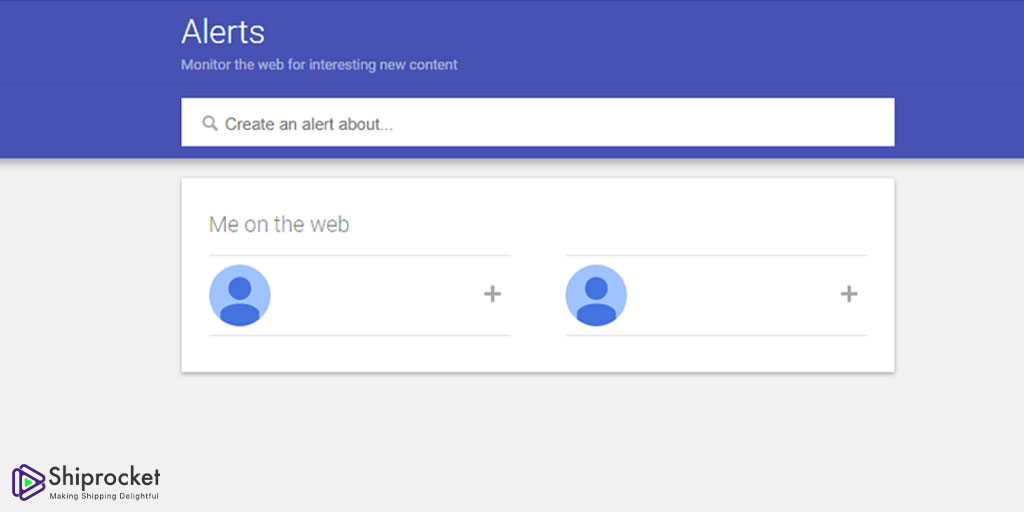 It is very easy to set Google Alerts:
Go to the Google Alerts home page.
Enter the search term for which you want to create an alert. For instance, you can write your company's name or product name.
Enter the email address where you wish to receive the alerts.
Confirm the new alert. And you're done!
You can customize Google Alerts as per different parameters by clicking on the drop-down list: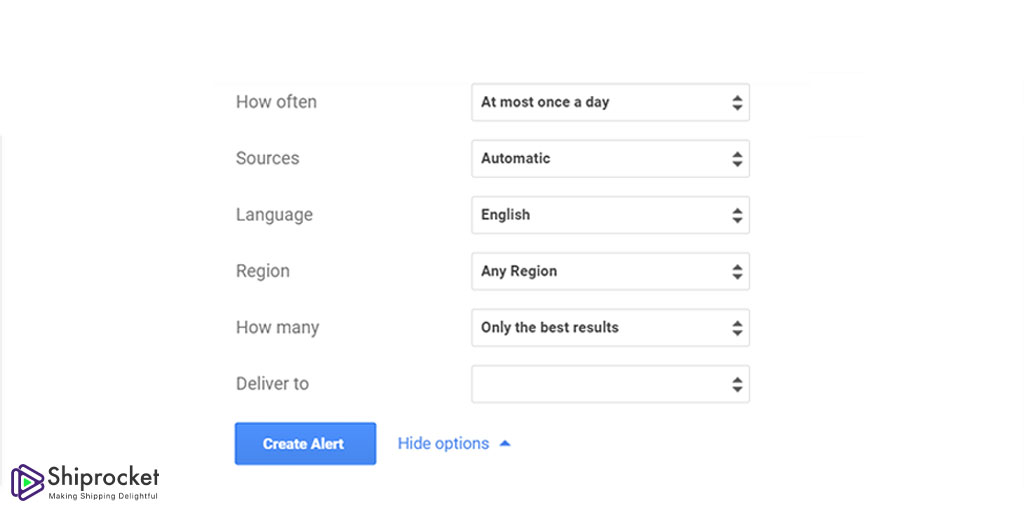 How often: once a day or week
Sources: news, blogs, web, video, books, discussions, or automatic
Language: English, Hindi, etc.
Region: India and all other countries
How many: All results or the best results only
What Can Be Monitored on Google Alerts?
You can monitor anything on Google Alerts, literally. But the goal is to track the information that's useful for your eCommerce business. Keeping the same in mind, the alerts should fall in any of the three mentioned categories:
Brand: monitoring brand reputation is crucial. Find out what consumers or clients are saying about the brand. If there is any negative mention of your brand, it can harm your reputation. In essence, if you can see it online, others can see it too. So, you can play around it to overcome the same.
Competitors: keeping an eye on the companies you're competing against is imperative. See what's working and what's not for them. Get inspired by new ideas and processes. A competitor might have come with a new product feature that has flopped in the market or created a controversy. This information can be helpful for you to decide whether or not to do certain things.
Industry: create alerts for general updates, trends, and attitudinal shifts in the industry. Gather information about new market players. Remember, knowledge is power and so, stay in the loop. You can create weekly, monthly, or even quarterly alerts for this.
How to get Most out of Google Alerts?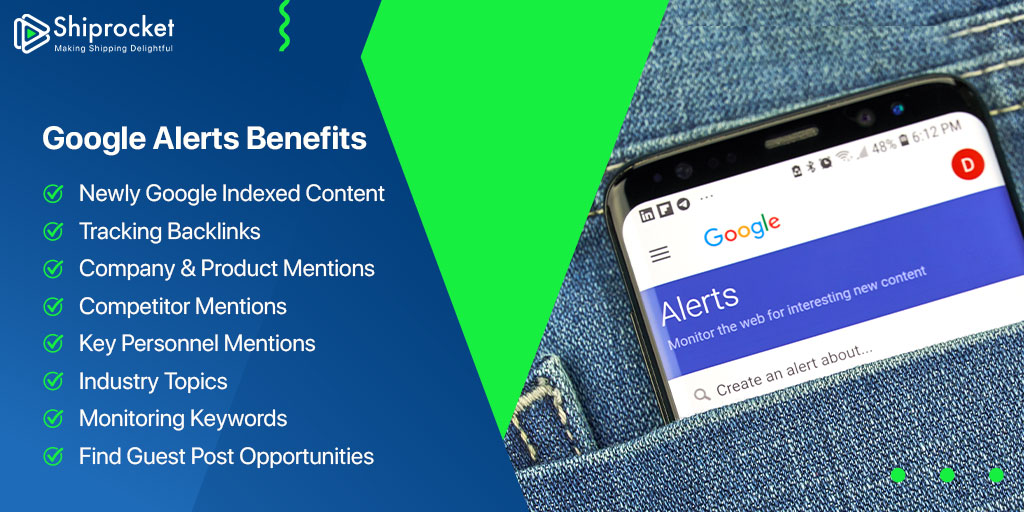 Google Alerts is advantageous for online retailers of all sizes and helps in keeping you one step ahead of the competitors. Here are a few ways in which Google Alerts can help online retailers:
Newly Google Indexed Content
Creating useful, informative, and SEO-friendly content is the best way to be found in Google organic search. As your company has an online presence, Google indexing of the published content is essential to get organic traffic and good ranking. Hence, you can keep a tab on the newly published content and if it is indexed by Google or not. You can track this by creating an alert for the company's name, blog page URL, or the title of the blog post.
Notably, if you track through the title of the blog post, you can also monitor if any other website republishes it. If you receive any republish alert, ensure that proper credit is given to you and the content is linked to the original blog post.
Tracking Backlinks
Link building is vital for businesses that have an online website. If you don't have a business website but want to build one, you can create it for free with the help of free website builder – Shiprocket Social. You will get an alert when another site links to your website. Having quality backlinks will improve SEO. They can help the page rank higher and generate good referral traffic.
Company and Product Mentions
Google Alerts is the best way to know the company mentions over the internet. The minute the content is indexed, you will receive an email. Not only will you be notified about the articles and blogs published but about the company mentions in the social media posts and conversations as well.
In addition to tracking company mentions, you can also track the product names and categories through the alerts. They are free, so create as many as you want! But remember, you will receive the same number of alert emails as well.
Competitor Mentions
Of course! You need to monitor your competitor mentions online. This would help you track their social media advertising strategy. It would be best if you don't create unnecessary alerts as your inbox will be flooded with alerts emails. You can create a weekly or monthly alert to get an idea of competitors' online marketing activities.
Key Personnel Mentions
Sometimes, the company's executive team or other key personnel are mentioned online. It makes sense to track their mentions as well. This would help in managing the company's online reputation and that of the key leaders of the organization. Besides, you can also manage your online engagement opportunities with this.
Industry Topics
It can be quite a task to keep tabs on industry trends, trade publications, etc. Creating alerts for the same will ensure you don't miss anything and also get the opportunity to participate in everything.
Monitoring Keywords
Strengthen your keyword strategy with Google Alerts. You can discover unique content angles and take advantage of the same for your organization.
Find Guest Post Opportunities
Guest posting is one among the best SEO opportunities to increase website and blog page traffic. It goes without saying that content is vital for generating traffic. To find out the best guest distributors, you can set an alert:
(topic) + "guest post by"
Once you start getting results, you can identify a few guest post writers and set an alert on their name by:
"guest post by" + "writer's name"
Google Alerts is more than just a marketing tool, and with the discussed tips, you can leverage it for the benefit of your organization.
Calculate Your Shipping Costs Now