How Shiprocket Helped Online Seller Shippoz Increase Shipment Volume By 60%?
Building an eCommerce business is no simple task. Finding success is an even more significant accomplishment. Mr. Malik Khan, one of Shiprocket's successful sellers, shares his ideologies regarding entrepreneurship, development, and customer satisfaction with Shiprocket. Read on to find out his impressive story about the journey of his business 'Shippoz'.
Tell us about your business.
Malik: My company deals in cross-border trade. We import Chinese products and sell them on our D2C website.
How did you come across Shiprocket?
Malik: I googled for a reliable logistics provider and came across Shiprocket. Upon going through your website, I felt convinced that I have found what I was searching for.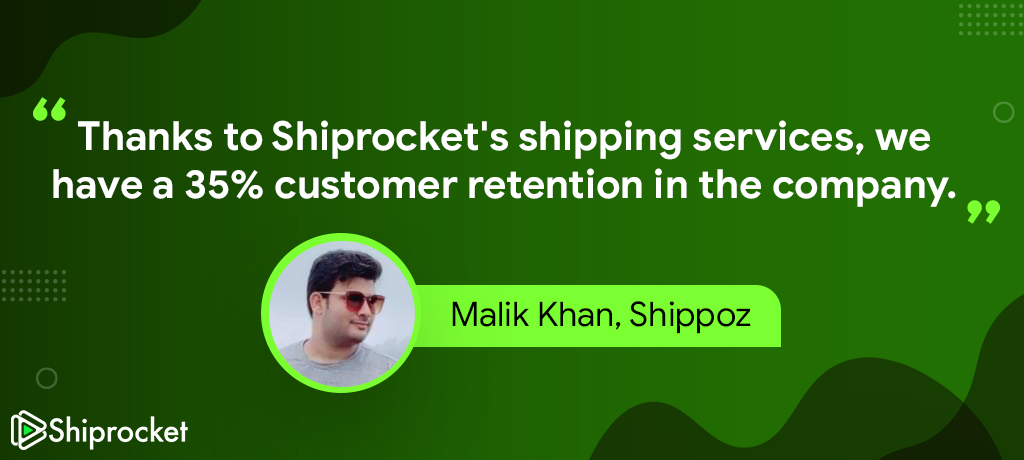 What problems did Shiprocket solve for your business?
Malik: Previously, I used FedEx, BlueDart, and some other popular courier companies to ship my products. Unfortunately, their panels were not wholly automated. Besides, logging into different accounts and keeping track of my shipments in multiple panels was extremely exhausting.
On Shiprocket, my seller panel showed me an impressive list of as many as 17 courier partners, including the ones I mentioned, all in one place.
Furthermore, I loved the CORE rating. It is easy to schedule a pickup with the right courier partner. CORE ratings have helped me conserve my many resources.
Have you seen an increase in the volume of shipments?
Malik: Yes, there has been a 60% increase in the volume of shipments. Moreover, we have a 35% customer retention rate in the company. It is because of the overall shopping experience that we provide, clubbed with Shiprocket's incredible order fulfillment. A delightful shipping experience is a massive part of what the whole online shopping experience is all about, these days.
What do you like the most about Shiprocket?
Malik: Your customer support team is amazing. They are always willing to listen to my grievances and get them resolved at the earliest. Before Shiprocket, I used to have at least four individuals assigned to handle logistics. Now, there is no more need.
Will you recommend Shiprocket to others?
Malik: Absolutely. There is excellent ease of scheduling a pickup with Shiprocket's panel. It is automated and hence, doesn't take much time. I save ₹40,000 every month because I don't have to hire employees to handle the logistics of my business. Thank you.
Making shipping easier, faster, and affordable has enabled Shiprocket to delight its sellers with timely order fulfillment and perpetual business growth. If you are also a seller in search of a reliable eCommerce logistics service provider – register with Shiprocket and join our fleet of happy sellers.
Calculate Your Shipping Costs Now