How to Sell on Instamojo With an Online Store in 5 Easy Steps
There are many ways to sell online and make a good profit. We'll explain one of the simplest ways. Let us show you how you can create a stellar, all-in-one online store with Instamojo.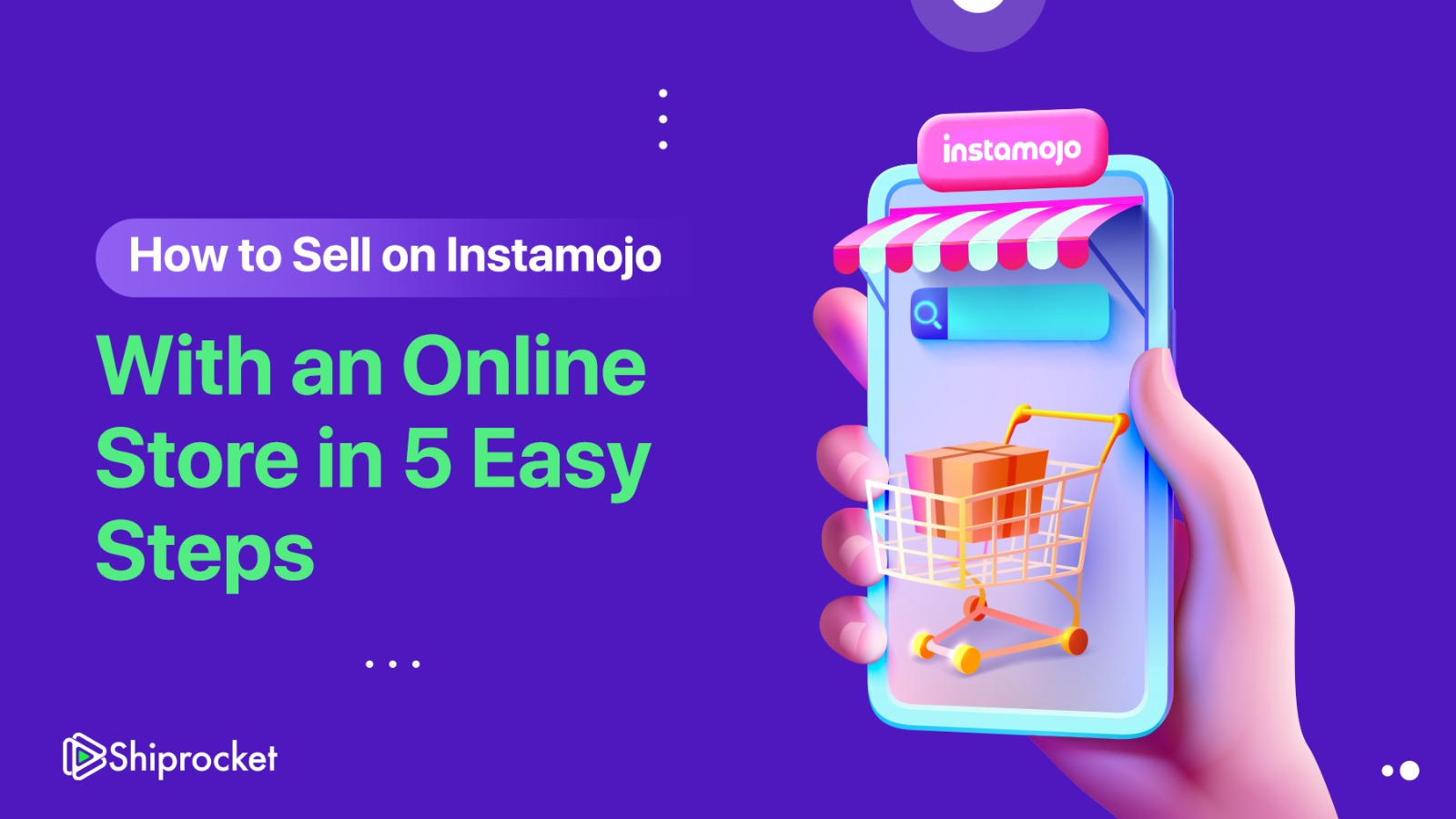 Instamojo gives you the power to control, manage and sell your products from your own website. You don't have to be a programmer or hire a developer, as Instamojo offers a built-in platform that gives small businesses and entrepreneurs an all-in-one solution to sell their products online.
Why Create an Online Store?
You can indeed run an eCommerce business without getting an online store. And many companies do it successfully. Then why should you take the extra effort and invest in an online store?
Here are three significant reasons why business owners go for an online store:
1. Easier to get repeat customers: Retention rate heavily influences business profits. In a survey, 65% of MSMEs say that the biggest benefit of having their own eCommerce website is the ease of retaining customers.
2. Enables you to beat the competition: The competition from prominent brands is a major challenge small businesses face. With an online store, you can attract customers and stand out from the crowd.
3. Increases efficiency: Business owners juggle multiple tasks daily to keep their businesses running. No more collecting orders and tracking payments manually! An online store will take some manual tasks off your hands and give you more time to grow your business.
Creating an eCommerce store is the first step to becoming a direct-to-consumer brand. Instamojo is a #D2CTech platform enabling you to create an online store without the hassle of undertaking complex technical operations.
Here's how you can create an online store for free on Instamojo and start selling instantly.
How to Create an Online Store on Instamojo?
Step 1: Sign Up for Free
You can create an online store for free on Instamojo.
Go to the Instamojo online store page and sign in with your email address. You'll be asked to verify your email address and phone number with an OTP.
Upon completion of this process, next, you will be presented with two options: payments and an online store. Choose the Free Online Store option.
Step 2: Fill In-store Details
Add links to your social media profiles and any external websites. This step is optional.
Next, you will be asked to name your online store. Use your brand name or domain name. If you have not decided on a name, you can add a temporary name, which you can change later.
They will ask for your business category based on the kind of products you sell. The different categories are physical, digital, services, and event tickets.
You'll also be asked to enter a URL structure for your website. The structure will be: yourbrandname.myinstamojo.com
Step 3: Add Your First Product
Congrats! You now have access to your Instamojo store dashboard. This is where you will customize your online store, edit its look, add products, and view orders.
The next simple step is to add your products. You can manually add products by going to the products section on the dashboard and choosing the 'add product' button.
Here, you can add product images, titles, descriptions, and prices. You also have the option to optimise your online store's SEO and put in a thank you message. Once you're done, click the 'Save' button on the top right-hand side of the page.
You can also choose the Bulk export option if you're on the pro plan. This will allow you to add your entire catalogue in one click.
Step 4: Set Up Your Online Store
Next, you can use the other store settings and edit the look and feel of your online store. Here are some of the store setup features available:
Upload logo and favicon
Link a custom domain
Choose fonts and colours
Choose a theme
Add testimonials
Once you're ready, go to your online store URL and check out how your store looks!
Here's an example of an Instamojo online store:
Step 5: Start Getting Orders
Promote your new online store across social channels or run ads to promote it. It will give you an overview of completed transactions, order details, and shipping status. Once customers make purchases, you can see the orders in the Orders section of your dashboard. You can also view abandoned carts and failed transactions.
Once you get into the flow of your eCommerce website, explore the other powerful features it offers.
Here are a few you can make use of:
Integrate with a trusted shipping partner automate shipping
Run abandoned cart recovery campaigns from your dashboard
Offer discounts to your customers
Advanced SEO to make your website discoverable
Manage reviews and ratings
Pro tip: A good shipping partner is essential to run your D2C business smoothly. Delay in product deliveries or absence of communication about the order status is a complete no-no in today's eCommerce world. Shiprocket is an eCommerce shipping solution trusted by 100k+ business owners. Sign up on Shiprocket today!
Sign Up For Your Own Free Online Store
As you can see, the steps involved in creating an online store on Instamojo are easier than you thought. Take the first step in becoming an independent brand by creating a store.
If you are an online shop owner, then Instamojo is the place to sell. An online store gives you greater control over your inventory and customers — and that's an opportunity you can't afford to miss out.If you're looking for a great way to jump-start your eCommerce journey, try Instamojo and accelerate your business.
Calculate Your Shipping Costs Now