eCommerce Marketing
Understanding Hypermarket: Definition, Advantages and Examples
Consumer requirements keep evolving and changing with time. The old method of shopping, which involved buying items from various stores and lots of patience and energy, has been replaced by the convenience of hypermarkets. These centralised locations offer a vast array of goods, providing consumers with almost everything they need in one easy stop. The consumer does not have to visit different stores to complete daily shopping. In this blog, we will analyse the distinctive qualities of hypermarkets, including their advantages and features.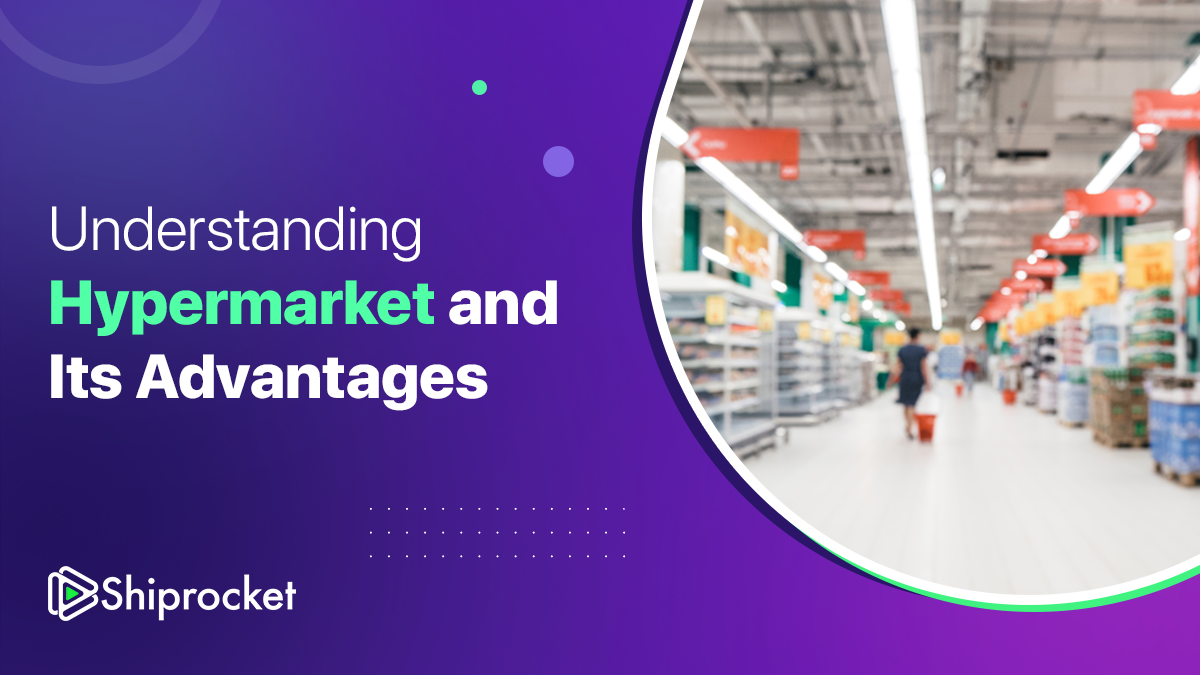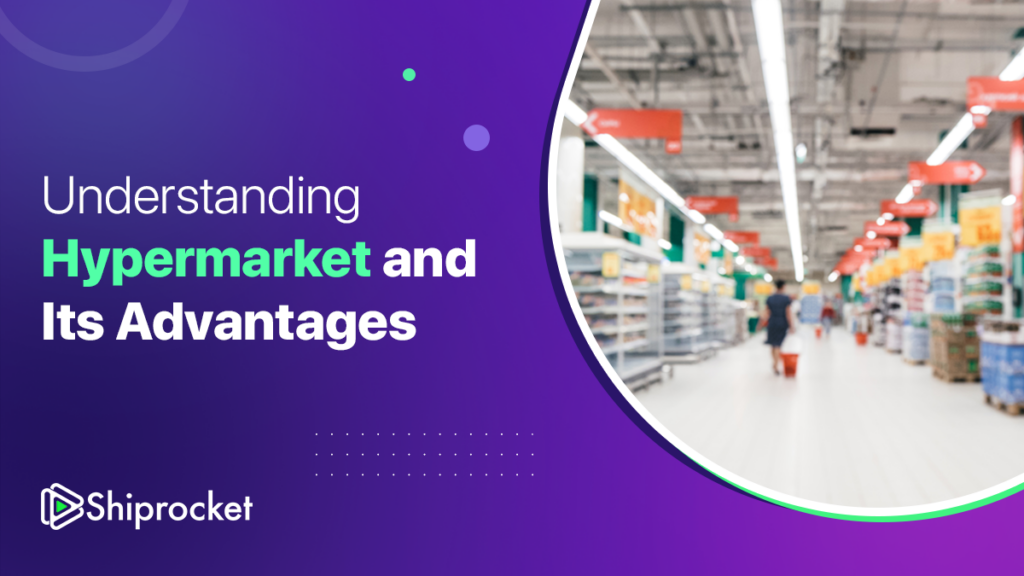 What is Hypermarket?
A hypermarket or a hyperstore is a place designed to fulfill the routine shopping requirements of a consumer in a single trip. The concept of hypermarket refers to a retail store which combines departmental stores and grocery supermarkets. It is often a very large establishment that provides a wide range of products, such as groceries, clothing, appliances, etc., all in one place.
Fred G. Meyer founded the first hypermarket named 'Fred Meyer' in Portland, Oregon, USA by Fred G. Meyer in 1922. So, the origin of hypermarkets can be documented to have started 101 years ago. Hypermarkets are similar to big-box stores that are physically large retail establishments. The 'big-box' term is derived due to the typical large appearance of the building occupied by the hypermarket.
Although many people assume that supermarkets and hypermarkets are the same, there are some significant differences. A hypermarket stores more products than what is stored in a supermarket. Also, the prices of items in a hypermarket are quite lower than in the supermarket. The supermarket would be decorated to attract a customer, whereas the hypermarket would mostly look like a warehouse. Hypermarkets are also larger than supermarkets as they have more products on display when compared to other shops. They may also have dedicated product departments for appliances and furniture that tend to require larger display areas.
The layout most commonly used in hypermarkets is a grid store layout. This design divides the floor space into aisles that form the shape of a grid. Each aisle is equipped with navigation signs to guide customers and encourage them to explore different product offerings, increasing the likelihood of spontaneous purchases. Let's look at some more advantages of hypermarkets in detail.
Advantages of Hypermarkets
There are many advantages of hypermarkets, such as:
1. Convenience
All the products are available under one roof. Hypermarkets provide a great shopping experience with good quality and a wide variety of products. It provides the convenience of not having to visit multiple shops for various types of products. Hypermarkets save time and money. Also, the customer can relax while shopping without worrying about the next product to be bought from some other nearby shop.
2. Extensive product range
Hypermarkets offer an extensive range of products, including groceries, electronics, apparel, household goods, organic foods, and specialised items. This makes it easy for customers to purchase everything they need from a single location.
3. Lower prices
The business model adopted by hypermarkets focuses on high-volume, low-margin sales. Since the volume of products on sale is high, hypermarkets can provide good discounts to their customers. These discounted rates encourage the customers to happily buy more at a lower price. It is a win-win situation for both the hypermarket and the customers, especially the ones who buy their supplies in bulk.
4. Self-service shopping
Customers can shop independently without waiting for a salesperson to assist them, making the process faster and more efficient.
5. Inhouse cafes and eateries
Hypermarkets contain restaurants, internet cafes, bookstores, beauty parlours, etc. These extra amenities enhance the overall shopping experience and provide customers with the opportunity to take a break and relax during their shopping trip. This also acts as a great tactic to make customers spend more time inside the hypermarket, which might eventually lead to more purchases.
6. Spacious shopping
Hypermarkets have wide aisles that provide a comfortable and enjoyable shopping experience for customers.
7. Good customer service
Hypermarkets are well organised and will give a high level of committed service from the various departments. This service will add to the happiness of the customer, ensuring customers are satisfied with their experience and become loyal to the store.
8. Promotions and offers
Hypermarkets often offer promotions and discounts during holidays, weekends, and special occasions, making them an attractive shopping destination for customers. Customers can benefit from these discounted sales and promotions and may also receive free offers for larger product quantities.
Examples and Unique Features of Hypermarkets
A few well-known hypermarkets worldwide are Walmart Inc, EG Group Ltd, Carrefour SA, Target Corp, etc. Some of India's well-known supermarkets are Big Bazar, DMart, Hypercity, Reliance Fresh, and Spencer's Retail.
The unique features of hypermarkets are:
Good accessibility
The hypermarkets usually ensure that the roads leading to the market are in good condition.
Long operating hours
Hypermarkets are open to late hours on all days to help customers buy products conveniently. This way, the customer does not have to wait for a day off from work or free time to do shopping.
Parking space
Customers can be carefree about the availability of parking space for their vehicles when they visit hypermarkets.
Increased checkout points
There are many payment counters available to handle the volume of customers and ensure that the customer can make payments quickly. Some hypermarkets also have self-checkout stations to further speed up the checkout process.
Bulk storage
Hypermarkets store goods in bulk. There is the availability of plenty of stock of material to make bulk volume purchases by customers.
Conclusion
A hypermarket is a big box store that provides a wide range of products under one roof. Due to the bulk buying done by hypermarkets, they can offer customers better offers, thus ensuring customer satisfaction. With many other benefits discussed above, hypermarkets have become a one-stop destination to fulfil one's shopping requirements.
Frequently Asked Questions(FAQs)
How do hypermarkets manage their supply chain and inventory?
Hypermarkets manage their supply chain and inventory by using bulk purchasing, vendor management, and inventory management systems to track and replenish stock as needed.
What are the benefits of hypermarkets to nearby localities?
Hypermarkets involve many activities, such as the movement of goods, cash management, store management, warehousing, etc. These activities need a workforce which can be sourced from the nearby locality.
What are the disadvantages of a hypermarket?
Hypermarkets require a large space to operate from and are normally located away from city centers. Most people who do not have a vehicle of their own would find it difficult to visit the hypermarket.
Calculate Your Shipping Costs Now