Top Ways To Increase Global Orders This Father's Day
Customers in the US are predicted to spend more than $20 billion this year on gifts on the occasion of Father's Day this year.
40% of the top gift items are usually ordered online, and the top gift categories for this special day are as under:
59% Greeting Cards
49% Clothing
45% Gift Cards
28% Personal Care Items
Looking at the above statistics, it is pretty safe to say that exporting your orders to the US during the festive season of Father's Day looks profitable for your cross-border business. But first, let us look into the challenges of shipping during International Father's Day.
Challenges Of Shipping During Father's Day
Like other festive shipping seasons, there are scenarios of surging demand for gift and personal care items. This comes as a challenge when you have very limited resources to take care of secured packaging and inventory stocking during the proactive period.
To add to it, the scarcity of logistic support in comparison with intensified demand for your products is a roadblock. Not only does the unavailability of a logistic solution create hassles in customs compliance, but also creates more possibilities of non-delivery and order returns.
Tips To Increase Father's Day Sales
Create Combo Packages
During this time, users are unusually confused about which products to buy or gift across to their father's and husbands. Taking this in mind, it is always advisable to offer multiple products in single packages as combos. This lures your buyers into buying multiple items together at a lower price.
Share Catalogs As Gift Guides
Sharing gift recommendations to every buyer landing on your product pages as guides for gifting on Father's Day is one of the best Father's Day sales ideas you can implement. But it is important to offer only those recommendations which you have the maximum stock of – including their seasonal demand, excess inventory, and customer requirement.
Offer One-Of-A-Kind Promotions
The festive season is the best time to run flash sales, i.e., sales that have high discounts for a very limited amount of time. This helps create urgencies in customers for your products as well as creates a need to make any or some purchase from your site during International Father's Day.
Strategise Social Media Promotions
Your products should be on your customers' minds all day long. This means leveraging social media, the most used channel in the current times, to promote your products. You can either run sales and offer advertisements on social media, or create interactive stories for your buyers to take part in and win gift items in return. The latter helps you acquire loyal, delighted customers in the long run.

Best Practices To Ship Hassle-Free On Father's Day
Plan And Stock In Advance
Draft a primary plan of how usual orders look like around International Father's Day, and stock up on your inventory accordingly. This helps to both meet your customer demands efficiently as well as calculate your shipping expenses in advance. In this period, you should also regularly check your shortage and excessive item ratio to run a post-festive season offer.
Package Orders Securely
Since most of the orders in this season are gift items, it is highly important to ensure the orders reach your buyers across the globe safely and all items intact. To ensure this, packaging plays an important role. The orders would be needing highly-protective, shock-proof packaging material, to endure long transit times and all kinds of weather changes. Additionally, if the order is of the fragile category, it's vital to secure them with additional wraps and label them fragile for delicate handling at ports.
Efficient packaging not only keeps your product secure, but it also minimises the probability of returns due to product damage.
Track Every Shipment
End-to-end tracking is important for your buyers because most times, people order gifts for the occasion of international father's Day depending on whether the order is delivered on the desired dates.
This also makes the post-purchase experience better for your buyer and the load easier on you. Here's how – instead of back-to-back calls and emails to you for information on a shipment's location status, the buyer can seamlessly track it from the comfort of their mobile phones. Some logistic partners also provide customer service to your buyers in case of any queries and concerns related to the order.
Partner With A Reliable Courier
Surging orders call for all hands on deck. This means a partner that can help with timely pickups and expedited deliveries, including smart tracking and security cover options. Cross-border shipping options like Shiprocket X not just help you streamline your orders from all top marketplaces like Amazon, eBay, and Etsy, but also provides multiple shipping options from economy to express, depending on your preferred choice of shipping rates and delivery timelines.
Conclusion: Make The Most Of This Father's Day For Your Business
According to a survey of US citizens, there will be a total of approximately $174 spent on average this Father's Day. 47% of the increase in a surge of orders is mostly attributed to clothing and electronic items, amongst others. Most of the buyers globally are studied to be between 35-44 years of age. This international Father's Day, ship your products to top export markets like the US effortlessly with advanced eCommerce order management and fast delivery schedules with Shiprocket X.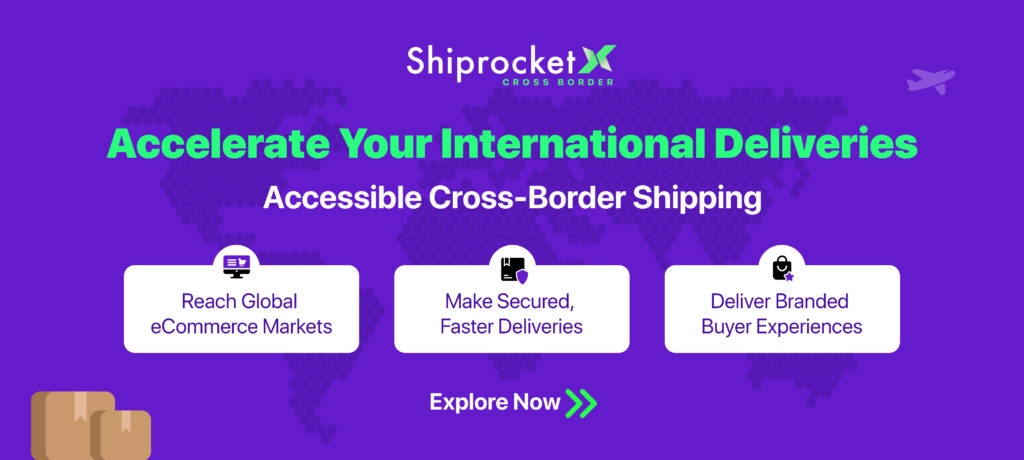 Calculate Your Shipping Costs Now