How Shiprocket Helped the Brand Mali Grapes Ship Their Products Using Multiple Courier Partners
Grapes are one of the most important fruit crops in India. They are said to be cultivated for nearly 7,000 years. The grape enterprise is one of the most remunerative enterprises as well.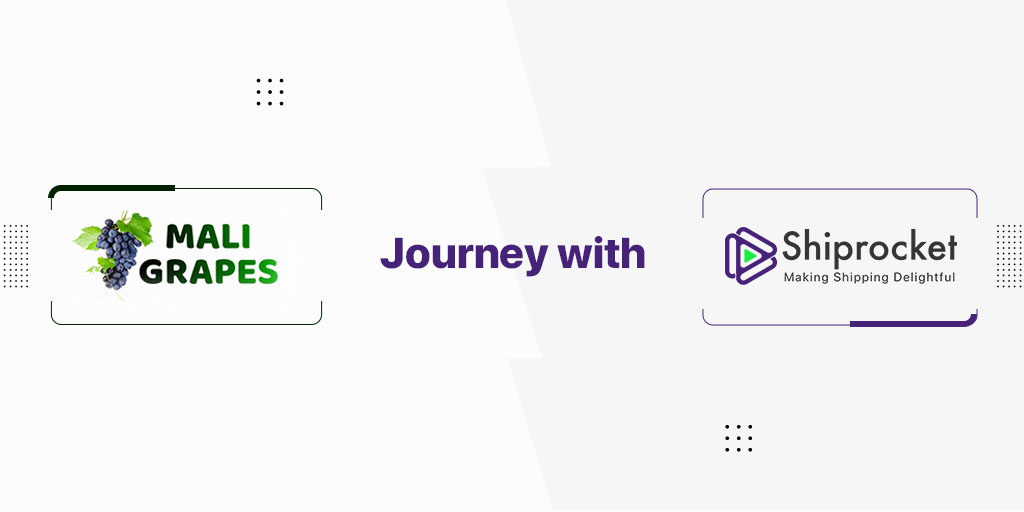 Grapes can be eaten as table fruit, dried as raisins, or processed into jams, juices, and jellies. Even grape leaves are used for a variety of cuisines. They are a good source of calcium, iron, vitamins, and phosphorus. Grapes are easily digestible and make for a great snack option for people who are health conscious.
India is one of the top ten countries in the production of grapes. Maharashtra contributes about 80% of the production, followed by Karnataka and Tamil Nadu. Evidently, there are a lot of opportunities in the grape industry.
The Inception of Mali Grapes
Brand Mali Grapes was launched more than 30 years ago. It is located in Kundal village of Sangli, Maharashtra, and offers black grapes and yellow and black raisins. It is experienced in grapes production and is successfully growing grapes in the most hygienic way.
Mali Grapes has minimized the use of pesticides while producing grapes and ensures that the grapes are safe and healthy for consumption. It sells organically processed grapes and raisins directly to the customers, keeping the products' taste natural.
The main concern of buyers that buy grapes and raisins is residue-free products. The brand tries to offer organic products that are natural in taste – this enhances the overall taste and quality.
The brand also offers farm visits to the customers. Customers can visit along with their children to learn about the production and processing.
Challenges Faced by Mali Grapes
When brand Mali Grapes started, its most significant concern was shipping. They did not have the right courier partner, which often led to order delays. The delay also led to customers losing their trust in the brand and slow down in sales.
Mali Grapes believes that shipping and customer satisfaction are two important factors while starting a business.

"Since we must concentrate on cost-cutting wherever we can, we use different shipping partners for different locations, and that is a little bit challenging."
Starting With Shiprocket
Brand Mali Grapes came across Shiprocket through Facebook Ads, and it started using Shiprocket for long-distance shipments.

Brand Mali Grapes feels that Shiprocket is the perfect logistics platform with high-end technology and good use of Artificial Intelligence.

As per the brand Mali Grapes, Shiprocket has helped them improve their business. They no more worry about delivering orders on time as Shiprocket has covered it all.
"Shiprocket is an easy to use platform. It keeps everything understandable for the users with guides, videos, and other such mediums."
In their endnote, while suggesting fellow sellers, brand Mali Grapes says, "keep your strategies simple. Don't make it complicated to achieve something big. Try to use digital media to maximize your business; it is a very good platform. Distribute the workload. Don't try to do everything on your own but keep people for work."
Calculate Your Shipping Costs Now