How To Minimize COD Failures And Returns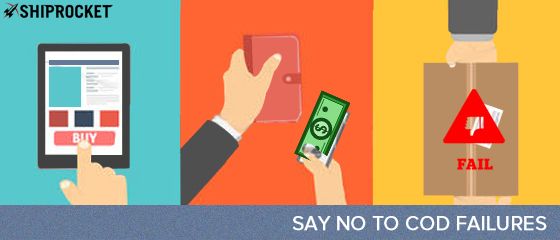 It was always a very risky way of payment to begin with. According to a report in the Times of India, Flipkart customers would order expensive goods "just for fun", and refuse to accept them upon delivery. Not only this, but the most frequent reasons for failed deliveries are:
1) Refusal to accept their orders and rejecting its delivery at all. This is one of the worst practical jokes to be played as the delivery site just ends up feeling really stupid as they don't get paid for the delivery, let alone the shipping cost which is never recovered.
2) Due to a slight dislike the delivery could be easily rejected, another absolute no-no for the company's economy.
 We really wish to incorporate COD even with its so many problems because it expands our consumer base rapidly. People with no access to online means of paying rely on COD only. Given the challenges of high return rates and fraud, and yet the absolute necessity of COD, we use some varied tactics to minimize COD failures:
Maximum Purchase Limit. What Flipkart did in the first week of June 2013 was a step to recognize people genuinely shopping, segregating them from the herds of people who do not value COD and mock it so openly. It announced that it was not going to be fulfilling cash on delivery orders of more than 10,000 rupees in certain areas of Uttar Pradesh.
Offers and Incentives on Online Payment. Giving discounts or free gift vouchers to people who pay online is a very beneficial scheme. Luring people to pay you online is a great way to confirm their credibility.
Have cash on delivery (COD) only for select categories. Often using COD for all categories may not make logistical sense. Some of the categories like books etc may not need the COD model. While electronics is something that COD model would work better with, so limit Cod to such categories only.
Keep a minimum purchase limit for availing COD. There is an upper limit to employing the COD so it makes sense to put a lower limit to it. A minimum amount should be set up only after which COD will be valid for customers.
Start a small charge for COD. Maybe a tiny amount to begin with, COD will then be perceived as an extra baggage charge which people will start avoiding soon.