Product Highlights from June 2023
In the modern era dominated by digital technology, businesses of all sizes rely on e-commerce as a vital platform to enhance their brand visibility and engage with consumers. Shiprocket acknowledges the importance of delivering a seamless and stress-free online experience for both Sellers and buyers.
Hence, we are committed to enhancing our platform and services continually to deliver the best possible outcomes for you. Let's take a look at what improvements we have made this month to improve your overall shipping experience with us!
Introducing New Mobile-First Tracking Page Theme
We are thrilled to unveil our latest update, a cutting-edge brand boost theme meticulously crafted with mobile users in mind. Recognizing that over 90% of our users access the tracking page through their mobile devices, we made it our priority to prioritize a mobile-first design that elevates the user experience for your buyers.
Discover the exceptional features of our new brand boost theme:
Seamless User Experience: Our mobile-first design ensures a fluid and effortless user journey, tailored specifically for mobile devices.
Streamlined Marketing Assets: Banners and product recommendations are strategically positioned to be easily accessible within one or two scrolls, maximizing their visibility and impact.
Amplified Click-Throughs: By optimizing the placement and visibility of marketing assets, we have observed a significant increase in clicks, leading to a higher number of redirects to your website.
NOTE: New theme will only be available in the Brand Boost paid plan.
We firmly believe that this dynamic new theme will elevate your users' experience and drive greater redirects to your' websites.
Request India Post Courier Service
Get ready to embark on an exciting shipping journey with India Post! We're bringing you a seamless and convenient way to request the India Post Courier Service for your shipments.
Experience the thrill of curiosity as a captivating pop-up appears, presenting you with not one, but two courier account options, complete with comprehensive shipping details for you to compare. Say goodbye to complex activation processes, as you can now activate India Post right from the comfort of the intuitive pop-up interface. If you are shipping a minimum of 5 daily orders per pickup address, you can request India Post courier service.
Steps to Request India Post Courier Service:
Step 1: Log in to your Shiprocket account.
Step 2: Go to the Settings option from the left menu and click on the courier option.
Step 3: Click on the courier selection and activate the India Post courier service from there.
Prepare to unlock unparalleled shipping excellence with India Post. Activate the service effortlessly, and enjoy a hassle-free and efficient shipping experience that is second to none.
Weight Assurance for Zero Weight Discrepancies
Weight Assurance (formerly known as Bundled Pricing) is a program designed for you that takes weight accuracy to a whole new level. The objective of the program is to give you a weight discrepancy-free shipping experience.
We started with an offline pilot more than six months back involving ~80 incredible sellers, resulting in no weight discrepancies being observed by these sellers. Inspired by this success, we're thrilled to announce the launch of a trial for this program! You can tell your fellow sellers about this program and how it could help to reduce your weight discrepancies to zero.

If your peers are interested in learning more about this program, encourage them to reach out to us for additional information. Together, we can achieve weight accuracy like never before with Weight Assurance.
Introducing Our New International Dashboard
Introducing our revolutionary International Dashboard, designed to revolutionize your user experience by providing you with a holistic view of your shipments, revenue, and much more. With its dynamic features, this dashboard empowers you with comprehensive insights, enabling you to make informed decisions and drive greater success in your international operations. Stay ahead of the competition and unlock new opportunities with our state-of-the-art International Dashboard.
New Dead Weight VCN Pricing
Say hello to SRX Premium Plus, a groundbreaking solution that has transformed the way we calculate Vessel Call Numbers (VCNs). With SRX Premium Plus, you'll experience a game-changing benefit: you will only be charged for the actual weight of your shipment, up to 10kg. This means no more unnecessary fees, ensuring you have complete control over your shipping costs. It's the market's first dead weight VCN pricing model, designed to provide you with unmatched flexibility and cost savings. Upgrade to SRX Premium Plus today and embrace a smarter, more efficient way to manage your shipments.
Enhanced International Rate Calculator
Introducing the enhanced International Rate Calculator – your go-to tool for shipping rates worldwide. With our latest update, we've added an incredible feature: the Estimated Delivery Date (EDD) for each courier. This means you can now enjoy complete service visibility and make informed decisions about your international shipments.
With the EDD feature, you no longer have to wonder when your package will arrive. You'll have accurate delivery estimates for each courier right at your fingertips. This empowers you to plan and manage your international shipments more efficiently, ensuring timely delivery and customer satisfaction.
Say goodbye to uncertainty and hello to enhanced convenience. With the improved International Rate Calculator, you can now confidently navigate the global shipping landscape, knowing exactly when your packages will reach their destinations.
Final Takeaway!
At Shiprocket, we understand the significance of a smooth and efficient selling process for the prosperity and growth of your business. We are committed to continuously improving our platform and enhancing its user-friendliness to provide you with a hassle-free selling experience. As we continue to innovate and enhance our platform, we will keep you updated with the latest improvements and announcements. We value your business and strive to serve you better.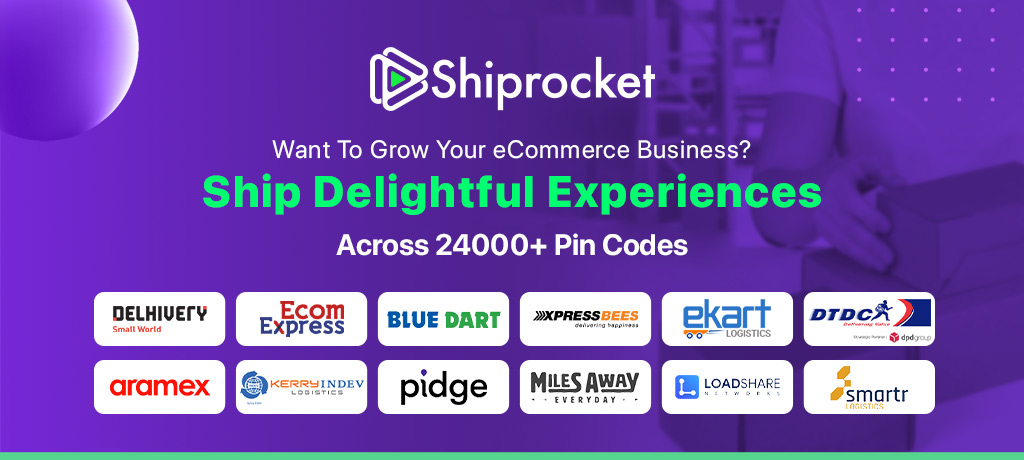 Calculate Your Shipping Costs Now