Product Highlights From November 2022
We hope this festive season ended on a good note for you with a rapid boost in sales and profits. To help you earn more profit and bring more sales to your business, we are back with our monthly roundup of the latest updates, improvements, announcements, and more. Take a look at what we've done to enhance your overall experience with us!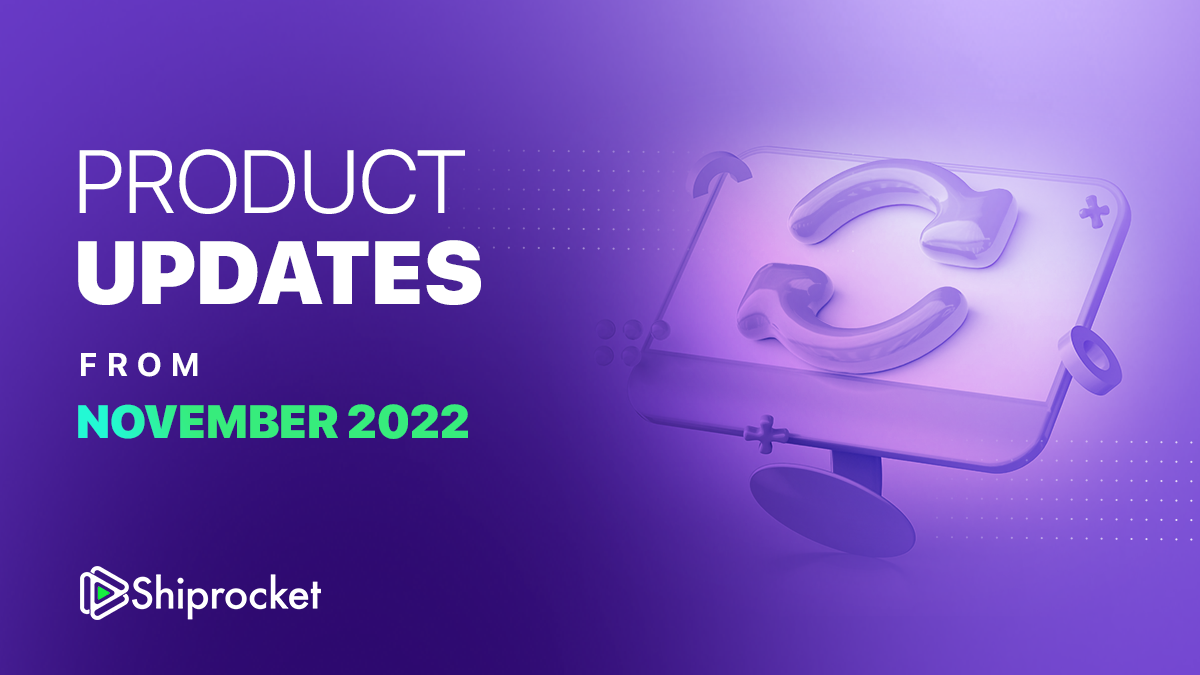 Live Whatsapp Communication on Order Status
We have launched Live Whatsapp Communication on order status to help you increase your buyer experience with real-time updates on their orders. This is an engagement driving feature where we will send Order Tracking Status updates to your buyers on Whatsapp which will ultimately result in the reduction of your customer queries.
Why you should opt for this feature?
To keep your buyers updated in a Non-intrusive manner
To reduce post purchase anxiety
Improve read rate to 94% & Reduce customer queries by 30%
Minimize cost risk by reducing overall cost before opting for the main feature
Pricing of Live Whatsapp Communication on Order Status
The price of this feature is also very affordable to perfectly fit within all sizes of budgets. You will be charged a minimal Rs 0.99 per message or an average of Rs 6.99 per order (excluding GST).
How to Activate Live Whatsapp Communication on Order Status?
Step 1: Go to settings & click Buyer Notifications.
Step 2: Try a sample message & customize your notifications.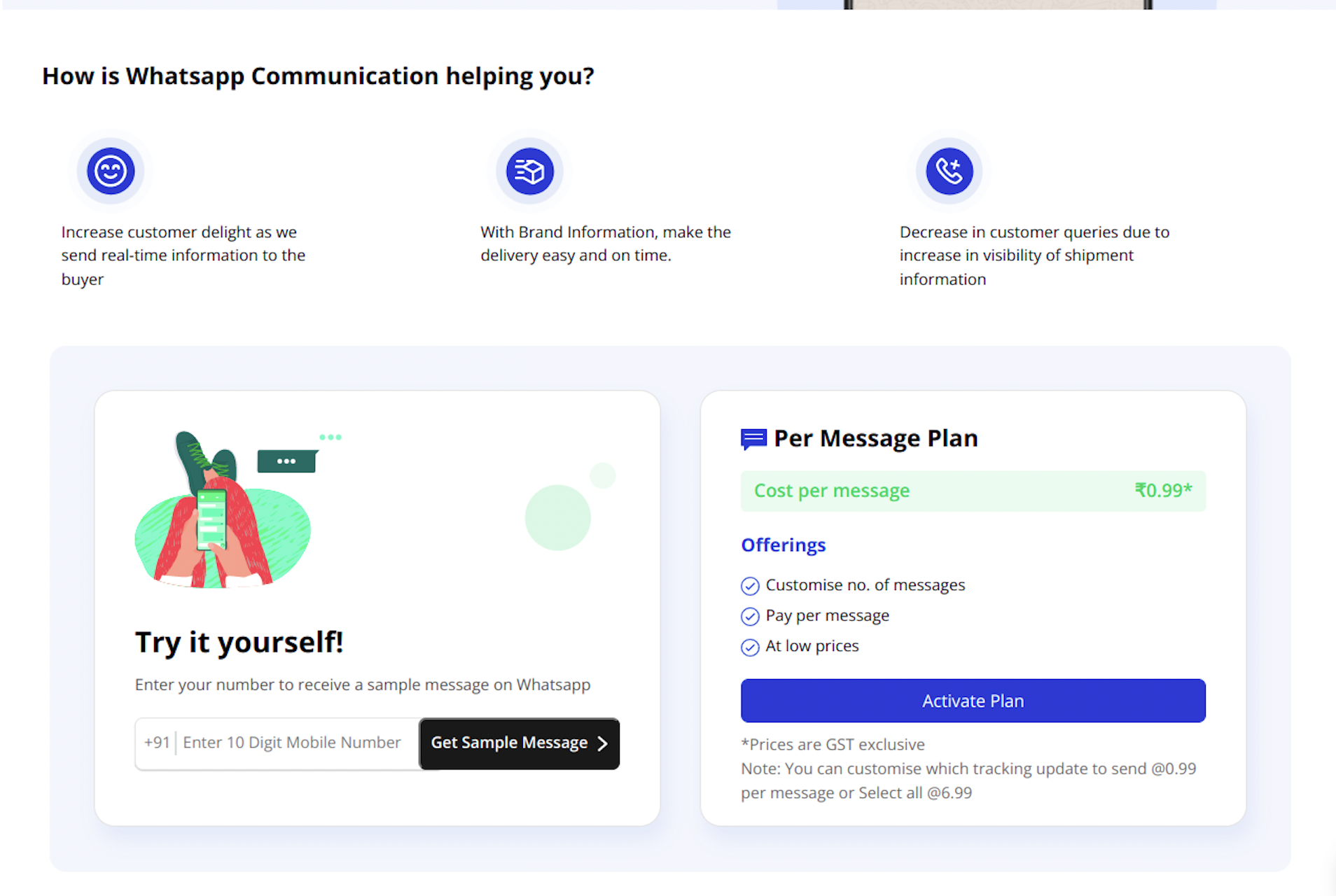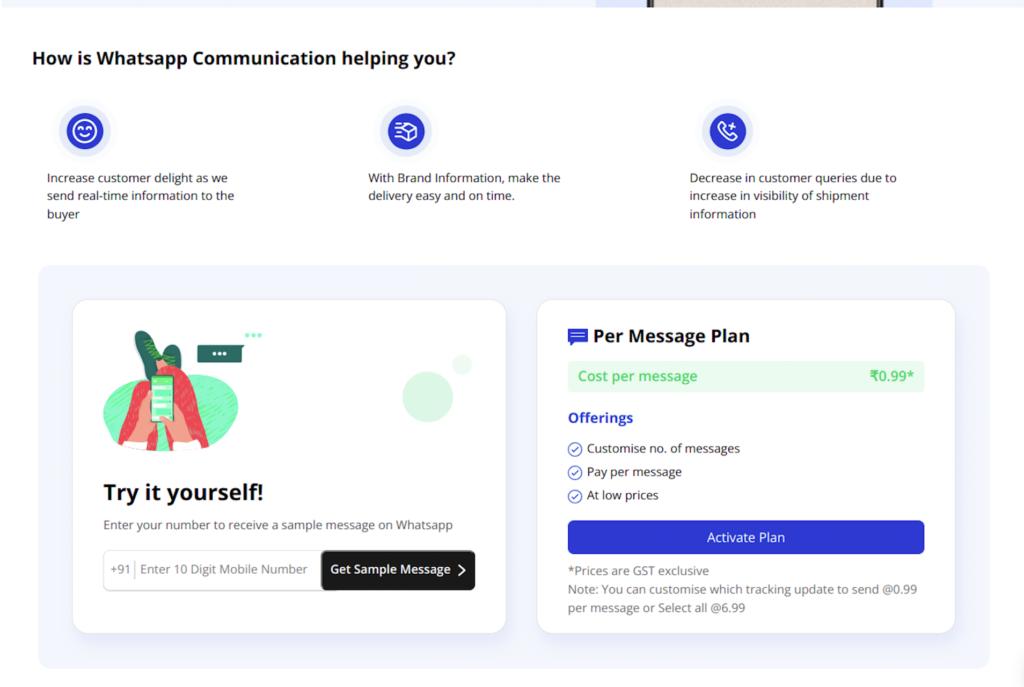 Step 3: Activate the Communication for your account.
Note: Once WhatsApp Communication gets activated for one user, it will get activated for all your users.
Messages will be triggered on the following status:
| | |
| --- | --- |
| Shipment is Packed | Early Arrival |
| Shipment is Picked up | Delayed Delivery |
| Shipped Status | Delivered |
| Out for Delivery | |
Check out What's New in your Shiprocket App
Reduced the Order Flow by One Step
If you are an android user, then we have reduced your order creation flow by one step. We have enabled the product catalog functionality which means that If you have already saved the standard size of any cataloged product, the weight and dimension will be fetched automatically during the order creation flow.
Create International Shipments via Mobile App
If you are an iOS user, you can easily create your international shipments right from your Shiprocket Mobile App.
What's New in Shiprocket Cross-Border
SRX Priority
We have added SRX Priority as a new courier to your courier list. You must experience the benefits of this courier service for your US Shipping needs at a very affordable price. SRX priority is an international courier by Shiprocket which enables you to ship your products Globally without border at a budget-friendly price and for now, we are available only for US Shipments.
Auto Weight Image Upload
To maintain the required transparency during weight discrepancies of your shipments, we have enabled the auto-weight image upload for SRX Premium shipments. Auto weight image means that the courier will upload the shipment weight image even without being asked so that there is end-to-end transparency between the courier and you if any weight dispute is raised.
SRX Premium on eBay
You can create your international shipments on the eBay Global Shipping (EGS) platform while choosing SRX Premium as your courier partner as we are now available on eBay too.
Better Price for Lightweight Shipments
If you are shipping a US shipment with SRX Premium which weighs less than 400 gm in dead weight and 1.3 kg in volumetric weight, then you will be charged only for the dead weight of your shipment.
Customize your Invoice Number and Date
To avoid date and number conflicts between your shipping bill and invoice during GST Claim, we are enabling you to customize your invoice date and number as per your requirement. This will help you to solve the date and invoice number mismatch issue in the shipping bills and invoices which will ultimately result in smoother GST claims.
Rate Calculator & Rate Card Reinvented
Rate Calculator and Rate Card got reinvented to offer you an accurate price estimate and find perfect deals for your shipments. We've added various filters to the rate card to help you find the right courier partner with more ease.
Rate Calculator: Rate Calculator is a quick courier charge calculator which helps you to find the estimated price of your courier. Rate is calculated based on various factors including distance between origin and destination, package weight, shipping plan, and shipping mode.
Rate Card: Rate card is designed to provide you with a holistic view of courier rates depending on various factors including package weight, shipping plan, and shipping mode. You also have options of filters that you can apply to get a more precise list of courier partners depending on your shipping needs.
Final Takeaways!
In this post, we shared all our recent updates and improvements that we successfully implemented this month on our panel with the hope to make some significant changes in your order processing operations and make shipping an even more streamlined experience with these updates. We are very sure that you will love the improvements and your enhanced experience with Shiprocket. For more updates around Shiprocket, stay tuned with us!
Calculate Your Shipping Costs Now