Product Highlights From September 2022
Every month, we do something new to enhance your user experience with shiprocket and this month was no different. Our goal is to provide you with a hassle-free shipping experience. In our endeavor to keep you informed of everything exciting, new and relevant at Shiprocket, we're back with our monthly roundup of our latest updates, improvements, announcements, and more. Let's take a closer look at the updates and improvements that we have made this month to enhance your overall experience with us!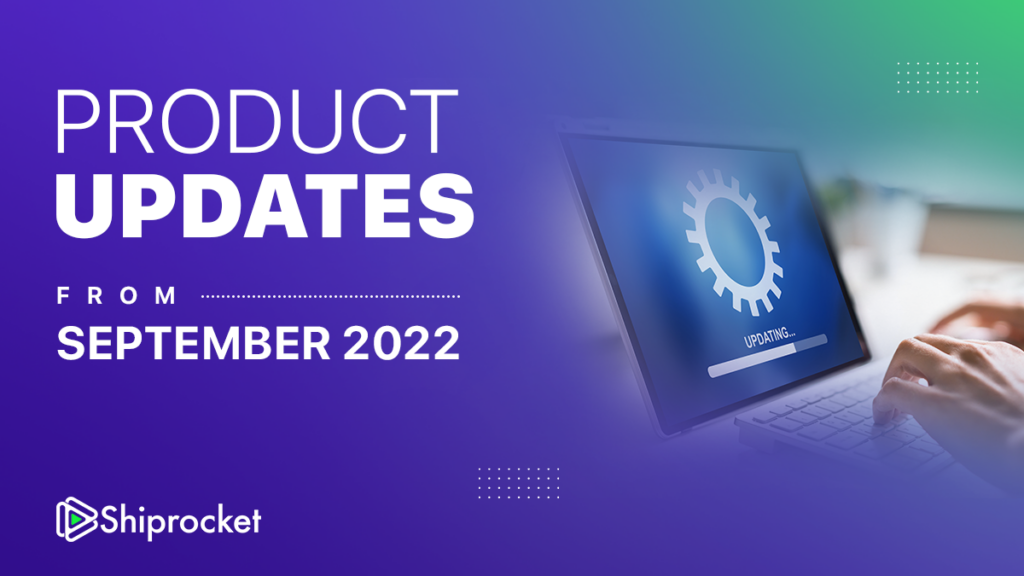 RTO Score to Improve Delivery Success Rate
We are introducing the RTO (Return to Origin) Score feature to improve the delivery success rate of your shipments. This feature will help you easily make a decision to eliminate the risk of RTO for your shipments with low and high RTO Prediction which leads you ultimately to save freight charges and GMV (Gross merchandise value).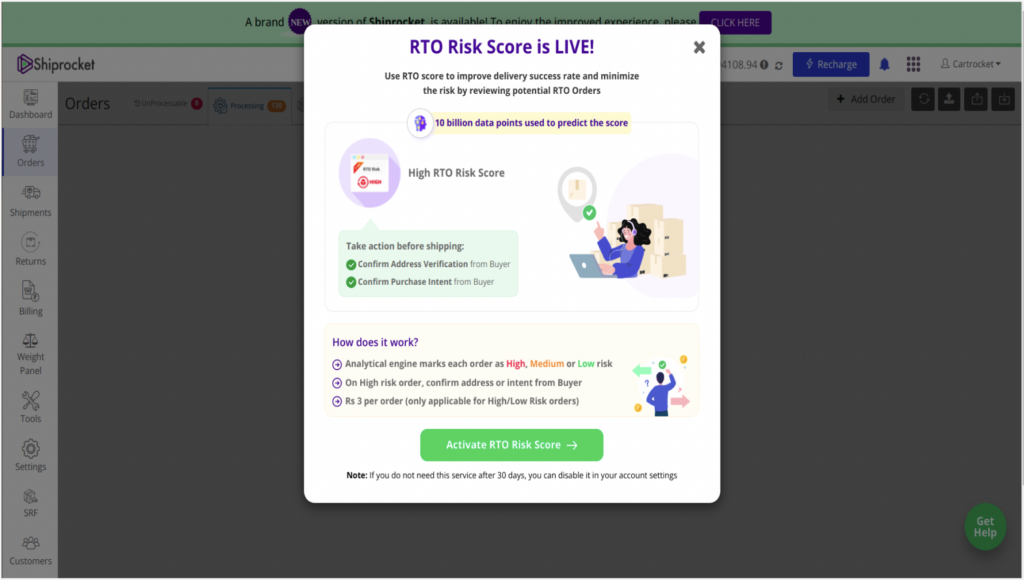 Aligning with this feature offered by us, we will take responsibility for delivering eligible orders i.e orders which are predicted as Low risk RTO by Shiprocket Sense API i.e an AI/ML based RTO prediction model to identify low and high-risk of the orders. The predictions are made only after the use of more than 10 million buyer data points.
Post shipping the order if shipment goes to RTO, in that case Shiprocket will pay one way freight charges amount to the sellers as refund.
Let's take a look at how Shiprocket will help you to reduce the RTO of your COD Shipments!
High: The High RTO alert means that the probability of the shipment to be RTO is very high and you should reconsider your COD Shipment once again as the buyer seems to be least genuine.
Low: Low RTO means that the probability of the shipment to be RTO is less and you can give a go ahead for your COD shipment as the buyer seems to be more genuine.
Charges Applicable: Shiprocket will be charging a nominal fee of 1.5% on the order value for all the shipments wherever shiprocket predicted as low. This feature is applicable only for the COD orders.
Note: Charges are subject to change.
Changes in Delivery Dispute
Now, we have added an In-progress state in between the delivery dispute raised and closed. This will enable you to communicate with Shiprocket regarding the update on your raised delivery dispute. Earlier, you were receiving an update only when you raise the dispute and another when the dispute is closed. This was creating a communication gap between the seller and us. So, to address this issue, we added an In-progress state in between the delivery dispute raised and closed so that you can get an update of your raised dispute in in-progress state as well. Not only this, but you can also request for an update in in-progress state by clicking on "Write to us" option available, we will provide you with a remark regarding the same.
Provide Additional Details to Raise Dispute
If you are raising a dispute with reason "Partial shipment received", you will have to provide two additional details of the shipment to confirm the missing quantity and the order amount of the missing quantity of shipment. There is also an option to upload pictures as well to support the information you have provided regarding the partial shipment received. This will help you to receive the right amount of refund for the missing quantity of shipment.
Dangerous Goods Acknowledgement
During the process of International KYC, you will receive an acknowledgement form for the list of Dangerous Goods. You need to acknowledge that list and agree to the terms which says that you will not send any of the mentioned items for international shipping. The reason for adding this Dangerous Goods Acknowledgement in international shipping flow is to ensure that all of you are well aware of the dangerous items that are prohibited from international shipping. This will also save time for you by saving you from failed international shipments.
Final Takeaway!
In this post, we shared all our recent updates and improvements that we successfully implemented this month on our panel with a hope to make some significant changes in your order processing operations and make shipping an even more streamlined experience with these updates. We are very sure that you will love the improvements and your enhanced experience with Shiprocket. For more such updates, stay tuned with Shiprocket!
Calculate Your Shipping Costs Now