Product Highlights From September 2023
In the modern era dominated by digital technology, businesses of all sizes rely on eCommerce as a vital platform to enhance their brand visibility and engage with consumers. Shiprocket acknowledges the importance of delivering a seamless and stress-free online experience for both Sellers and buyers.
Hence, we are committed to enhancing our platform and services continually to deliver the best possible outcomes for you. Let's take a look at what improvements we have made this month to improve your overall shipping experience with us!
Introducing Dependo NDD For Next-Day Delivery
Embrace 'Dependo NDD,' your new go-to solution for fast, cost-effective surface mode courier services. What sets it apart? With a remarkably low 500g chargeable weight, it's tailored for convenience and affordability.
Imagine effortlessly unlocking next-day deliveries, making your shipping process smoother and your customers even happier.
Boost Credibility With Association Certificate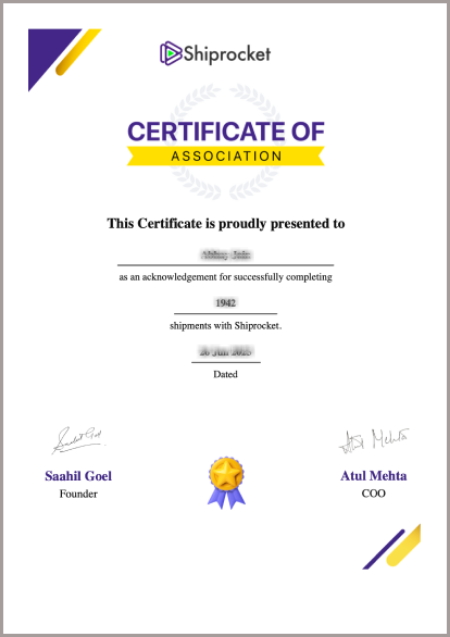 Customers are more likely to trust and engage with a brand that is transparent and showcases its affiliations. With the Association Certificate feature, you can do just that. Let your customers know that you're not just a brand; you're part of a trusted network. Your association certificate is a badge of honour that speaks volumes about your dedication to quality and reliability.
Enhanced Bank Account Mapping for Seamless Transactions
Now, you can easily connect your bank account to multiple company IDs, revolutionising transaction experiences on the Shiprocket platform. This enhancement is designed to simplify your financial operations, making your selling experience even more efficient.
Introducing Order Tags for All Order Statuses
The "Add Order Tags" button is now conveniently available across all order statuses, this feature empowers you to streamline order management effortlessly. Elevate your efficiency by tagging orders with relevant identifiers, allowing for seamless tracking and organised categorisation.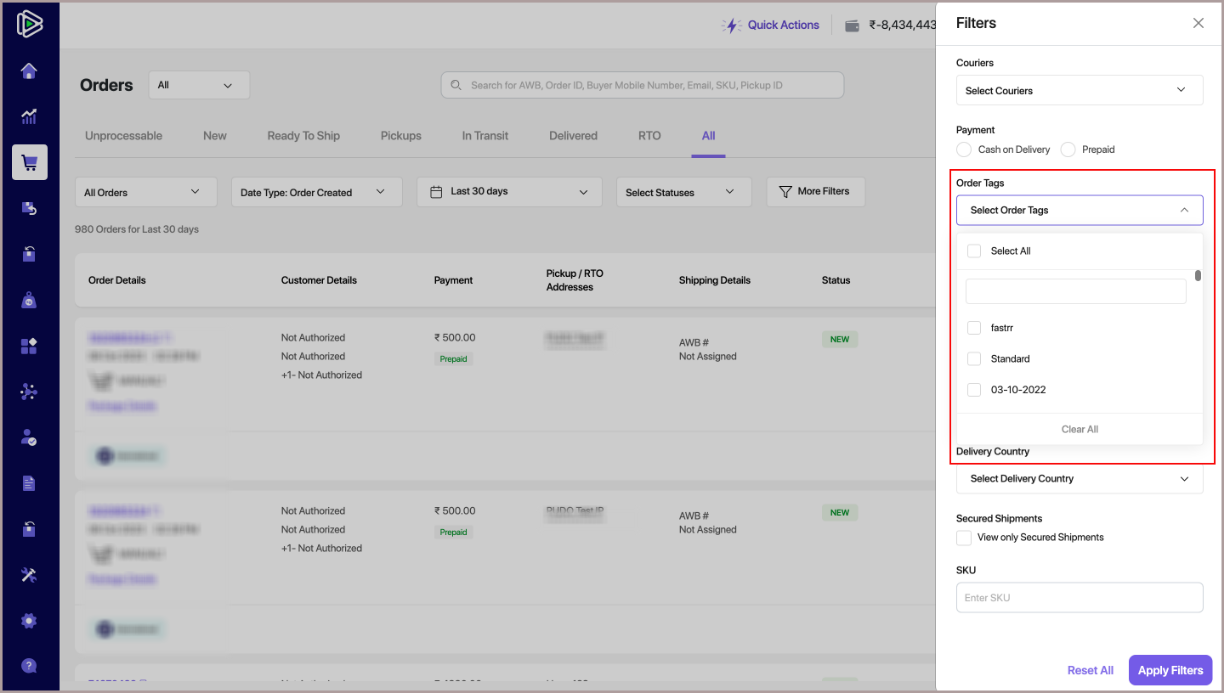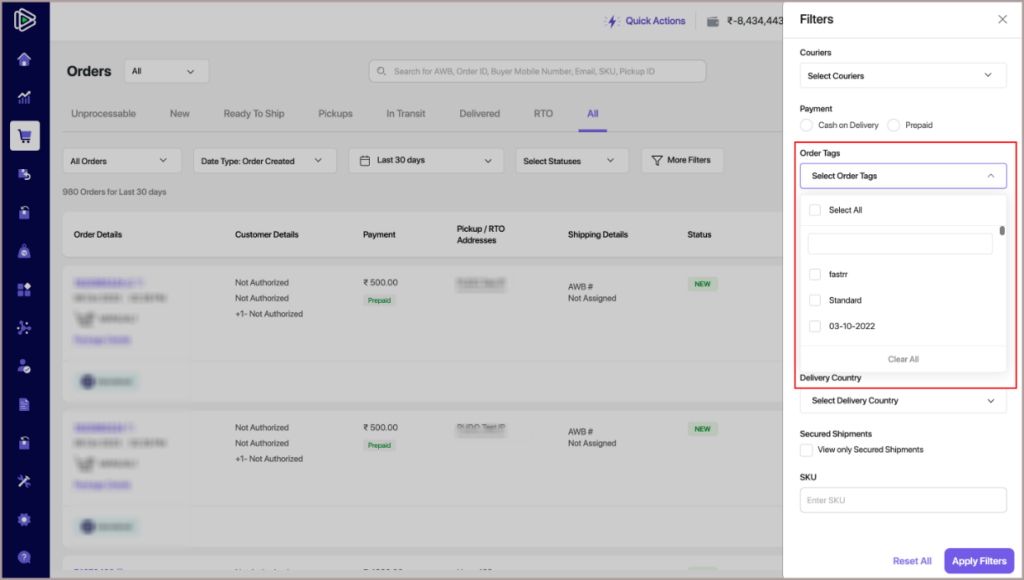 With this intuitive addition, optimising your shipping process and ensuring smooth order flow has never been more straightforward. Embrace this enhancement and revolutionise how you manage orders within the Shiprocket ecosystem.
Keep Tabs on Delivery Boost Activation and Deactivation Dates
Now, you can effortlessly monitor the activation and deactivation dates of your Delivery Boost, providing you with valuable insights to fine-tune your shipping strategy.
Delivery Boost is a feature offered by Shiprocket that helps you communicate with the buyer for order delivery confirmation. Once you enable this feature for your account, the AI-backed system will automatically send a delivery confirmation message to the buyer via WhatsApp. The message will seek confirmation from the buyer that they are available to receive the delivery or if they want the delivery to be reattempted at a later time. If the buyer confirms a reattempt, and the shipment is delivered successfully, it is considered a Delivery Boost shipment.
Efficiency With Streamlined SMS Order Updates
Experience hassle-free tracking with comprehensive SMS notifications specifically curated for 'Out for Pickup' shipments. We've revamped our system to keep you informed effortlessly, ensuring smoother logistics planning for your business.
Revamped Support For Better Support
We've revamped our support system for both mobile app and web to make your experience even smoother and more organised. We're centralising support requests into one place for faster assistance.
What to expect from the revamped support system:
1. Revamped Support
a) Improved Ticketing System: When you face complex problems that can't be fixed on your own, you can now easily submit support tickets directly from the help centre.
b) Dedicated Knowledgebase: The help centre has a wide range of helpful articles that can be your quick go-to guide for solving any questions or concerns you might have.
2. Alternate Phone Number in Call Support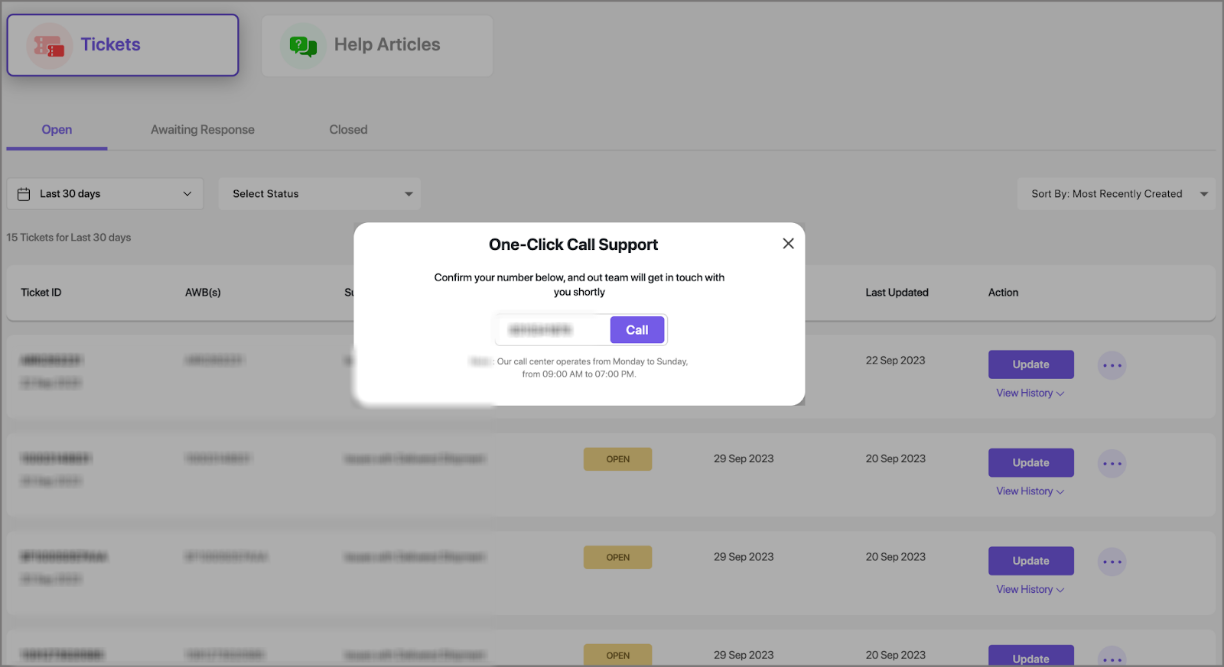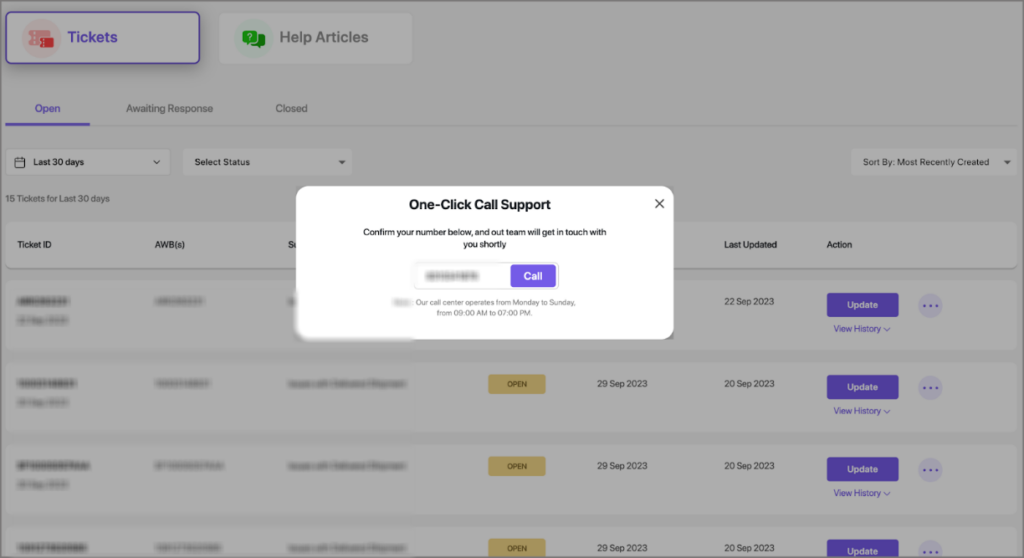 When reaching out to Support, you can now add an alternate mobile number to get support calls.
3. Showing all escalations in the Help Centre
We've made it easier for you to track and handle concerns from your Shiprocket account. All the raised issues will now show up in the Help Centre. When it's about a pickup delay, we'll use the Pickup ID as your Ticket ID. For all other concerns, the AWB will be your Ticket ID.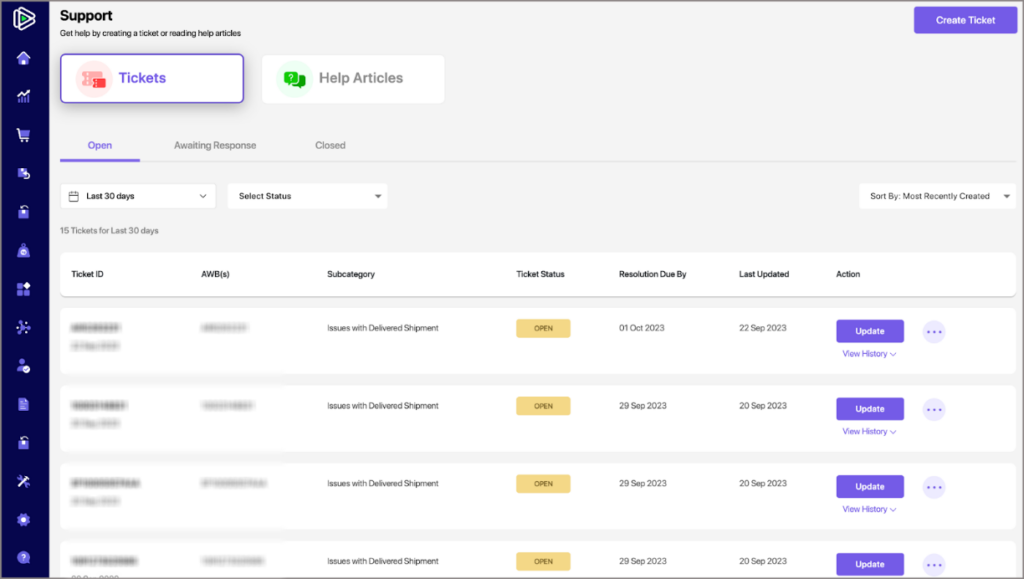 This way, you can manage and stay updated on all escalations in one place, without the hassle of going through emails or different screens in your Shiprocket account.
What's new in Shiprocket App
Hide Consignee Contact Number In Invoice
You can now hide the consignee's contact number on your invoice. This update is to keep sensitive information protected, adding an extra layer of privacy for your customers.
Tailor your invoices to suit your preferences and specific business needs without compromising on customer data security.
Hide SKU Names & Consignee Contact Numbers On Labels
If you are an iOS mobile app user, we've got something special for you! You now have the option to hide SKU names and consignee contact numbers on labels. You can keep sensitive information confidential by hiding SKU names and contact numbers on your labels, ensuring added security for your shipments.
Final Takeaway!
At Shiprocket, we value the importance of a seamless selling process for your business's success and growth. We are dedicated to improving our platform's user-friendliness, ensuring you have a hassle-free selling experience. Stay updated on our latest innovations and announcements as we strive to serve you better and appreciate your business.
Calculate Your Shipping Costs Now