eCommerce Shipping
How to Reduce Weight Discrepancies – Hacks for 2023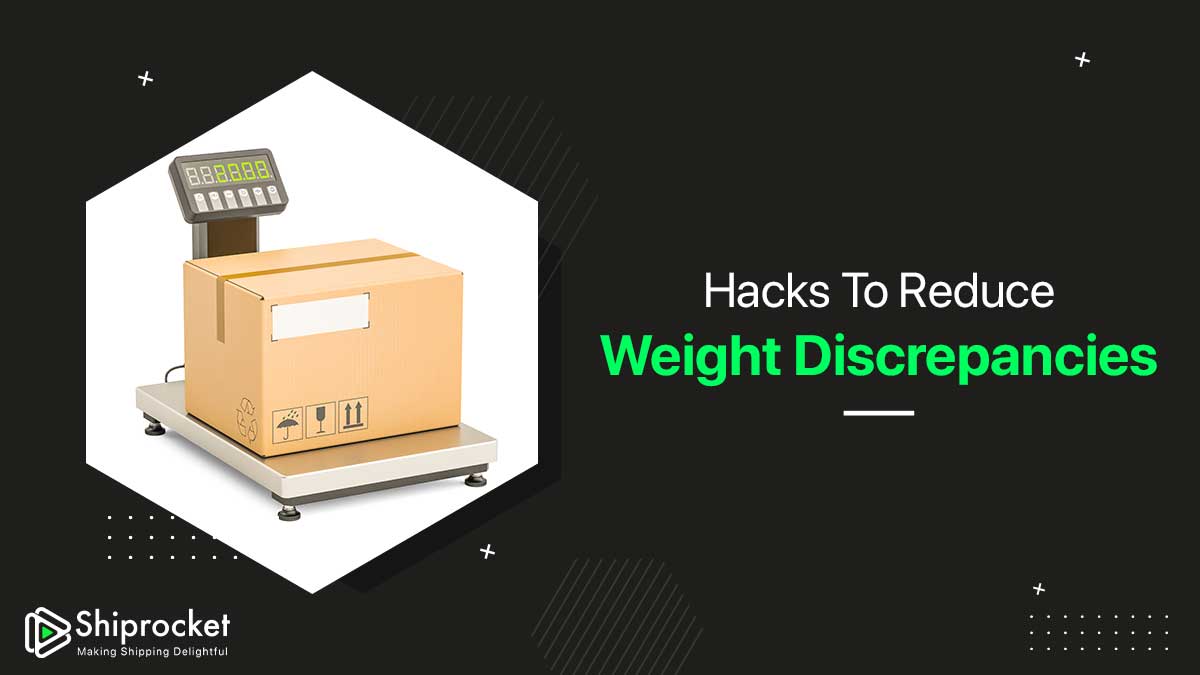 eCommerce has been a boon for the retail industry as it has opened the doors for general business and convenient retail. However, it has also brought in several challenges that you might not have dealt with before. Weight discrepancies and disputes with courier services are one of them.
For those of you who are starting, weight discrepancies can be challenging to manage if you ignore detail, and for those who are already dealing with them, you must want to know hacks to reduce them.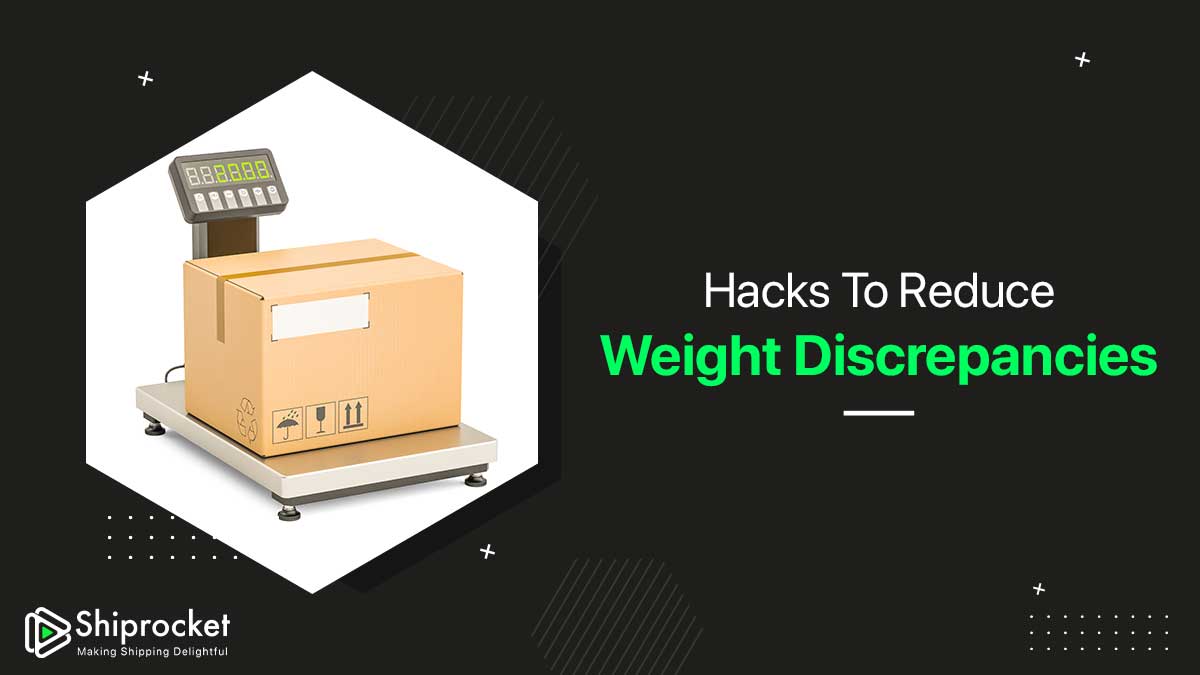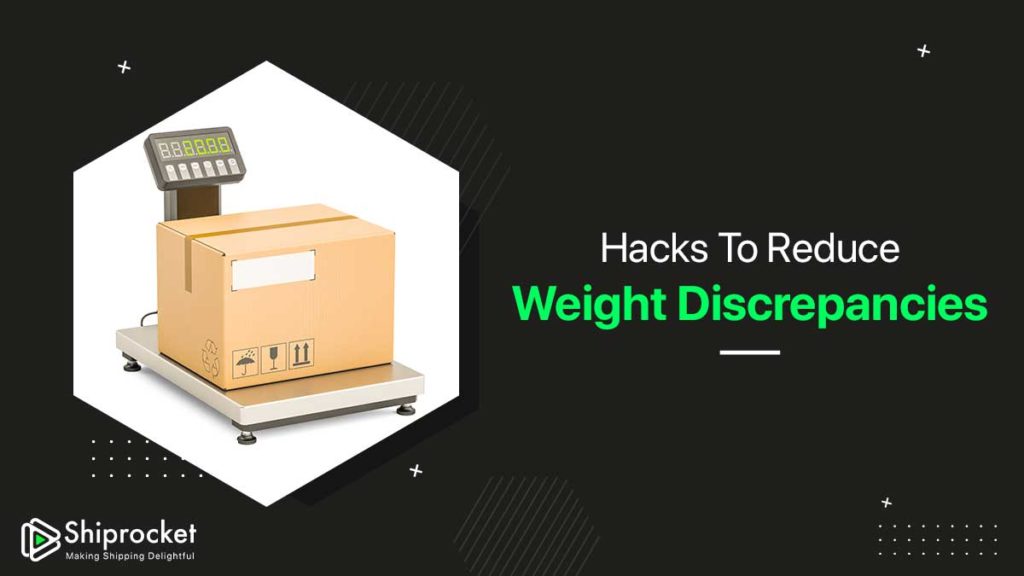 Let's dive right into it and understand what weight discrepancies are and how you can reduce them efficiently.
What are Weight Discrepancies?
When you ship your products to your customer, it first is picked up by the courier company. The courier company weighs the product at their hub and tells you the final product's weight, including the product and packaging material. Sometimes, the weight measured by you can be different from the weight estimated by the courier company. This impacts the final shipping costs of the shipment.
In most cases, when the shipping cost is more due to the weight that the courier company sends, it leads to a weight discrepancy issue.
So, in a nutshell, weight discrepancy refers to the dispute arising when there is a difference in the shipment's weight that the courier company measures and you.
It can either lead to you paying extra costs or justifying the weight that you sent for your shipment. Courier companies also measure the weight at their system to avoid any additional charges they might pay at customs, etc.
There are many reasons why weight discrepancies may arise. One of the reasons is inaccurate measurement of the volumetric weight. Along with this, the machines courier companies have are highly accurate and designed to precisely measure the shipment's weight along with the dimensions. Since it is difficult to install such machines in your facilities, it is recommended to record and calculate the weight as accurately as possible.
Now, let's look at how you can reduce weight disputes and ship without paying any additional shipping costs due to weight discrepancies.
How to Reduce Weight Disputes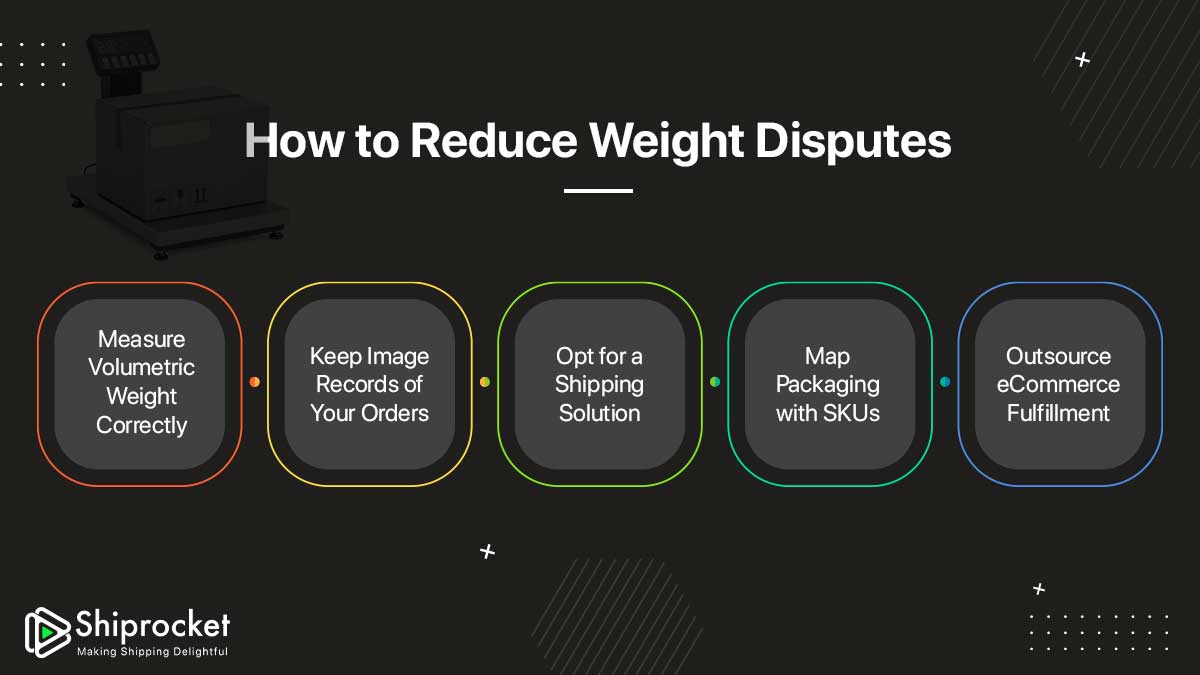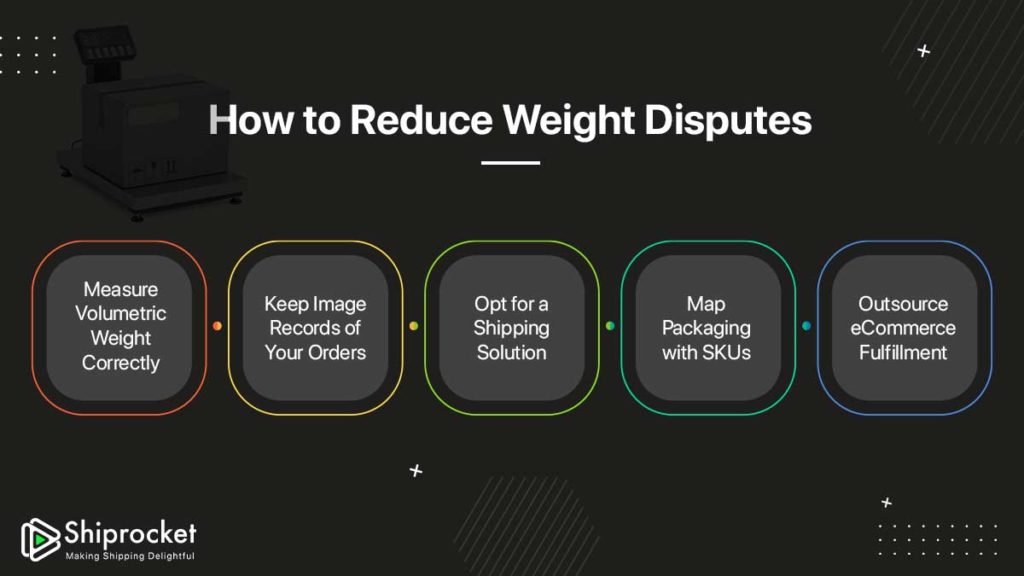 Measure Volumetric Weight Correctly
The first step to reducing weight disputes is by measuring the volumetric weight correctly. Volumetric weight refers to the shipment's dimensional weight, and it is calculated by dividing the product of length, breadth, and height by 5000, where all dimensions are measured in centimeters. The divisor of 5000 is not constant and can vary from carrier to carrier.
For this, it is essential that you take out the length, breadth, and height of the final shipment after packaging and then divide it by 5000.
For example, if the gross weight of your product is 500 g, and you have used extensive packaging material, and the length, breadth, and height of the shipment turn out to be 25 x 25 x 25, the volumetric weight will turn out to be ~3kg which is much higher. Therefore, you need to ensure your packaging is in sync with the product, not to pay additional costs.
Keep Image Records of Your Orders
Keeping an image record of your orders is extremely important since it helps you produce the correct evidence when presented with a claim. You must measure the length and click a picture while doing it. Similarly, you must do so for all the dimensions. In most cases, you can when the way to speak directly to your company if you have the images to prove your product dimensions.
Also, click a picture in Bing the product so that you can use that as evidence too.
Opt for a Shipping Solution
A shipping solution like Shiprocket gives you a chance to consolidate all your weight discrepancies and take action on them in the stipulated period. If you ship with only one courier company, there can be misses about the weight discrepancy, and you will have to pay extra as you would have exhausted the time to raise a dispute about it.
Shiprocket offers your consolidated platform where you can view all the discrepancies and take action on them within seven days. You can also upload images of your shipments to ensure that you provide ample proof to the courier company and claim your dispute in the most traditional way possible.
With Shiprocket, you can also freeze the images and dimensions for similar SKUs so that you do not have to upload pictures every time. We also go the extra mile to help you resolve these disputes.
Map Packaging with SKUs
Another intelligent technique to reduce weight discrepancies is by mapping packaging material with product SKUs. For example, if you have a product that weighs 500 g and you ship it with a specified box, you can map this SKU with the box so that whenever an order comes in, your team packs it only in this packaging. This way, your volumetric weight will not change for every SKU, and you can ship seamlessly without paying additional costs. Also, it reduces the room for error as the process becomes streamlined.
Outsource eCommerce Fulfillment
If your business is growing and you are still figuring out the products you are selling, an intelligent approach would be to outsource your eCommerce fulfillment operations to a 3PL fulfillment provider like Shiprocket Fulfillment. Once you do this, you get access to high-tech machines like the automated Falcon machine, where all your products are weighed before shipping. This helps you reduce weight discrepancies and avoid any room for error. Not just this, you also get to deliver faster.
Final Thoughts
Weight disputes are a big challenge for eCommerce sellers as most don't have access to sophisticated machines. However, being careful can help you reduce these disputes and discrepancies and save on additional shipping costs. Moreover, with improving technology, there are other means that you can adopt to reduce weight disputes.
Calculate Your Shipping Costs Now