Shipping Insurance For eCommerce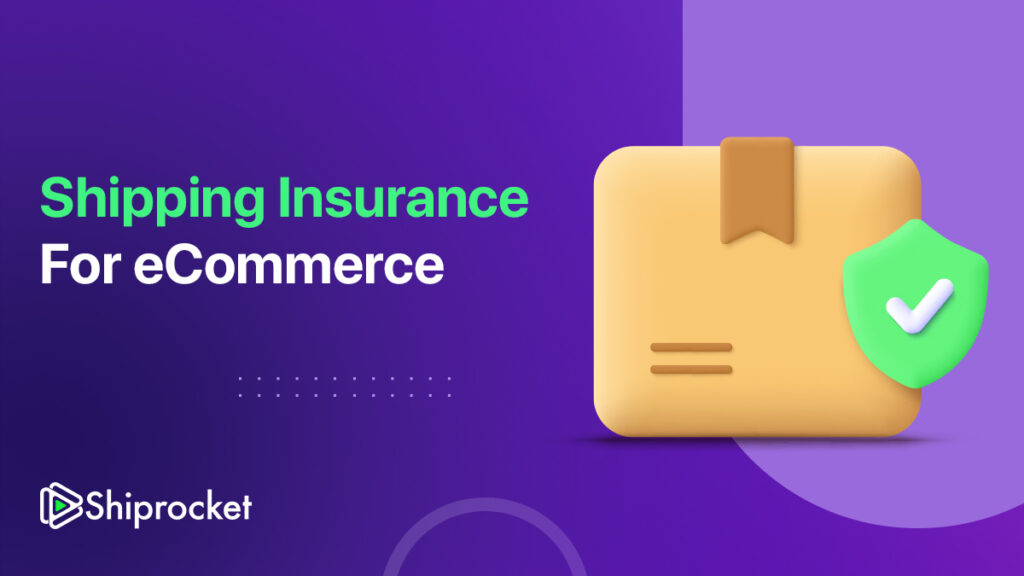 Overview of Shipping Insurance in eCommerce
With a rapid increase in the popularity of the eCommerce industry, the demand for reliable and good-quality shipping carriers is also on the rise. This has all been fueled by a drastic change in customer expectations. People need their orders delivered at the earliest along with a superior buying & returns experience. This is why even the most established players in the shipping business take the utmost measures to ensure customers are always happy.
This is a worst-case scenario every business should be prepared for. But despite the best efforts by all parties involved, there's still a chance for packages to get lost, misplaced, or damaged during transit. If this happens, not just the customer, you as an eCommerce business also risk monetarily losing out.
Now, the best way to save your business from this loss is by getting shipping insurance. This way, if insured packages get lost, reimbursement is provided to cover the loss. In this article, we'll give you a clear understanding of shipping insurance and how it works so, you can proceed with getting your packages insured confidently.
What is Shipping Insurance
Generally speaking, it is unlikely that your package will become damaged or lost during shipping, but the risks are still inherent and can never be fully predicted. While the losses associated with lower-value products might not be significant, when consumers buy goods of high monetary value, any damage to them could severely impact your business and its reputation. Instead of bearing these losses, you should consider shipping insurance, which will save you from unforeseen circumstances and help improve your business's reputation.
Shipping insurance, typically like other insurances, is a policy that provides a monetary cover for lost, stolen or damaged packages while shipping with a carrier. This type of shipment is generally purchased for goods of high economic value. It can be purchased for a single box, some packages, or a large cargo shipment.
The insurance could be bought and then added as a hidden cost in the item's price. It can be convenient for the business and consumers whenever a valuable package is involved, for instance, jewellery or cargo while moving to a new city.
How much does Shipping Insurance cost?
The cost of shipping insurance varies from package to package, depending on the value and volume of the shipment. Insurance for one single shipment is more expensive than for bulk or regular monthly containers. This is because shipping insurance providers often provide a volume discount via wholesale.
E-commerce businesses often purchase insurance from a separate provider to get volume discounts and wholesale rates. On the other hand, consumers usually purchase shipping insurance directly from the carrier.
While we're still discussing costs, let's look at the prices of shipping insurance from some of the top providers.
Is Shipping Insurance Required for your eCommerce Business
The volume and value of your items is the key determinant when deciding whether or not getting shipping insurance is worth the cost. The probability of an average shipment getting lost or damaged is low; however, if you're into shipping a large volume of high-value goods, the shipping insurance is most likely to pay for itself.
To get a better understanding of whether or not shipping insurance is worth your packages, let's take a look at these two categories of shippers and see which one your business fits into:
1) The Casual Shipper
This someone sends out packages once in a while and not in a large quantity. This type doesn't require shipping insurance unless the items are of exceptionally high value.
2) The Business Shipper
On the other hand, this kind is constantly shipping items of high value and possibly in large volumes. While shipping goods in large quantities, there's a higher possibility of packages getting lost or damaged, and thus, naturally, in these cases, your business has a lot to lose. Therefore, for a business shipper, shipping insurance is a must.
If you're still confused about whether or not to get shipping insurance, we recommend you get it anyway. If you're a business shipper, the cost of such insurance would be pretty manageable for you since It's only a few bucks. Moreover, since you're considering insurance, it's a given that your shipment must be valuable enough.
So go ahead and make a small investment in shipping insurance; it's worth the potential upside you'll get if things go wrong.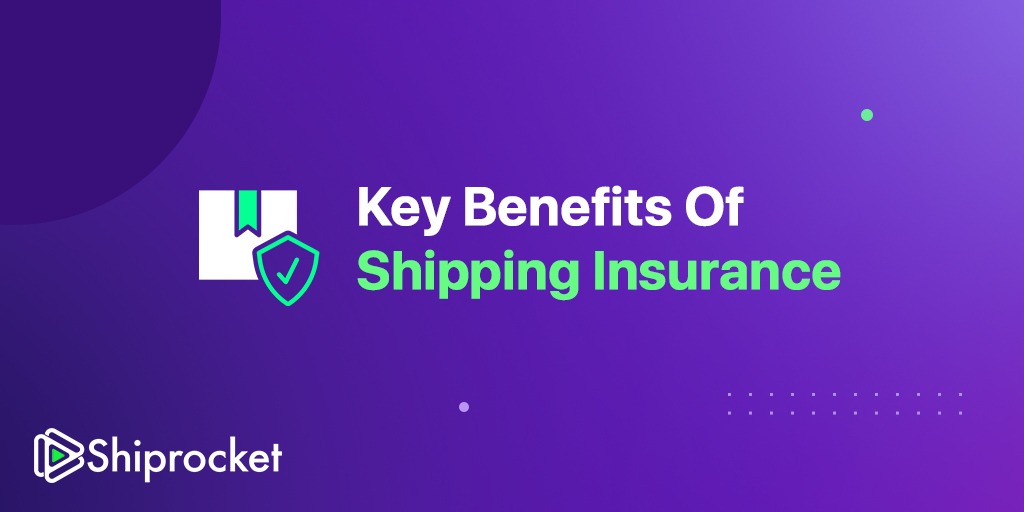 What are the Key Benefits of Shipping insurance?
Delivering products in the best condition is the utmost priority for any business. Nevertheless, retailers often tend to underestimate the importance of shipping insurance and later suffer from losses. Following are some benefits experienced by getting shipping insurance.
1) Ease Of Mind
For any retailer, day-to-day operations are tedious and stressful enough. The additional tension regarding the safety of shipment just adds on. By getting shipping insurance, you can be more at ease and avoid the extra stress about the safety of shipments, for there is coverage for your capital in case things go wrong.
2) Reduced Burden Of Replacement
If your shipment is lost or needs a replacement, you will not solely bear the burden of the loss. With shipping insurance, the losses will be shared between you and the retailer.
3) Easy To Get Insured
Getting shipping insurance is simple – you must contact your carrier and add shipping insurance to your package. Doing so at the time of shipping will automatically allow you to add it to your overall shipping price. This way, you can cover costs better and increase the prices of your products accordingly.
How do you get Shipping Insurance?
Now that most of the details and background regarding shipping insurance have been covered, you have to contact a carrier or insurance broker of your choice and strike the deal. Once you've researched the possible insurance policies your broker presents, you can narrow down on one and submit the following documentation.
1) Bill Of Lading/ Lorry Receipt/ Airway Bill
Based on the mode of transport you have chosen, you will be required to present either one of these documents to your insurance provider. Bill of lading is prepared while transporting goods via sea; lorry receipt is conditioned while transporting goods via road; airway bill is designed when goods are transported via air.
2) Packing List
This is a list of all the goods that are being transported. The nature and conditions of the goods will have to be provided in detail to the insurer so that they can determine if the goods can be insured.
3) Invoice
Invoices consist of details of the package, including key registration details that will later help the insurer conduct complete research about your finances and your company's reputation. Once your application has been completed and approved by your insurance company, you will be provided with an insurance policy. This is the most crucial document while filing for a claim, for it acts as proof of the insurance and has the terms and conditions upon which both parties agree upon.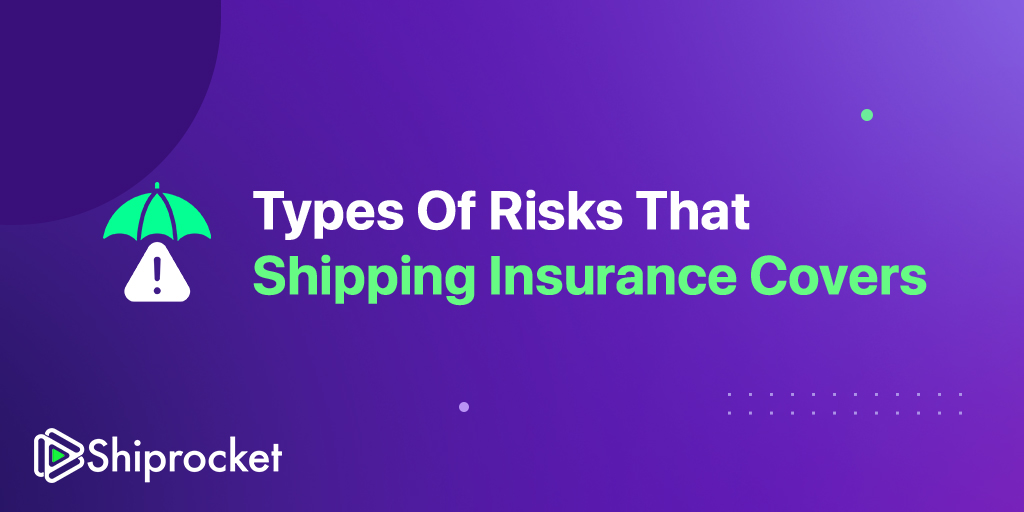 Different Types of Risks that Shipping Insurance covers
The best way to go about selecting the ideal shipping insurance is by closely studying each policy's coverage and selecting the one that best suits your requirements. Here's a list of the risks that most insurance providers cover you against.
1) Physical Damage
While loading and unloading shipments, the packages may get mishandled. Alternatively, the cargo can be severely damaged if a road accident or heavy storm. All this is covered under physical damage.
2) Stock Damage
This occurs while importing the goods and taking them to the warehouse before supplying them any further. Stock damage coverage provides insurance for damaged stock stored at your warehouse.
3) Rejection Risks
Sometimes, while shipping internationally, cargo is rejected by customs for not meeting specific standards. In such cases, the retailer faces tremendous losses. This is why for such case rejection, insurance provides complete or partial coverage for the loss, depending on the policy.
4) Exhibition Risks
Most often, suppliers send out samples of their products to exhibitions and expos worldwide for exposure; however, this comes at the risk of exposing the product to damage during transport or at the exhibition itself. Insurance provides coverage for such risks.
Conclusion
To get reimbursed on a package, a claim must be filed with your insurance provider, and you need to submit the necessary documentation proving the value of the items. If the shipment were lost or stolen, the carrier would look for it. Otherwise, the claim will be processed in a few days.
Calculate Your Shipping Costs Now