Tips to Manage International Delivery Efficiently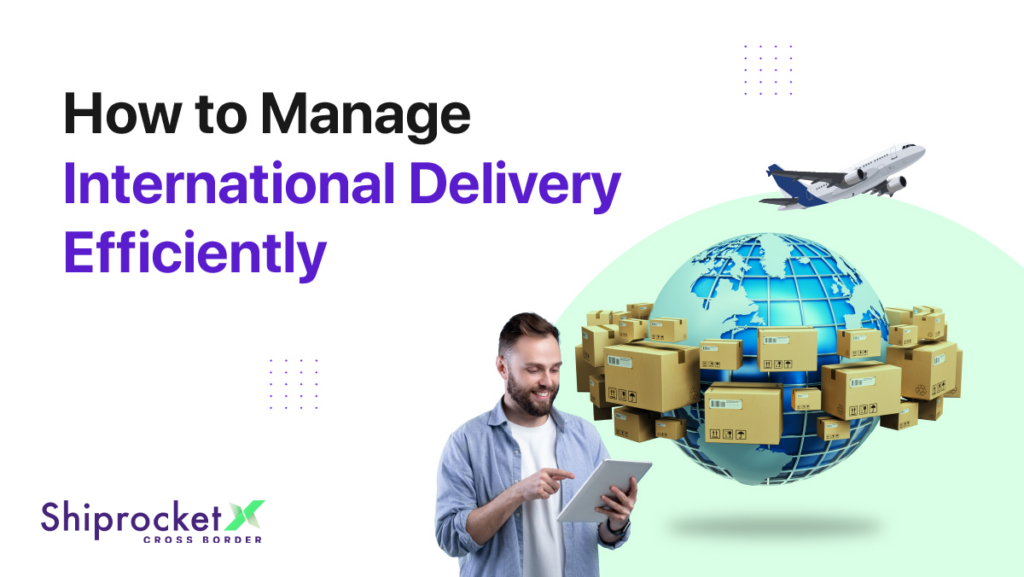 Gone are the days when you could sell your products just close to your vicinity. Now customers prefer to purchase online, and you can also sell your products online in every corner of the globe. You can ensure that you meet your international customers' demands with a reliable international delivery service efficiently.
When you do business outside your country's borders, there are a number of challenges and complexities that you can come across, like currency, language, etc. However, shipping and managing international deliveries are not so complex these days, with courier partners like Shiprocket.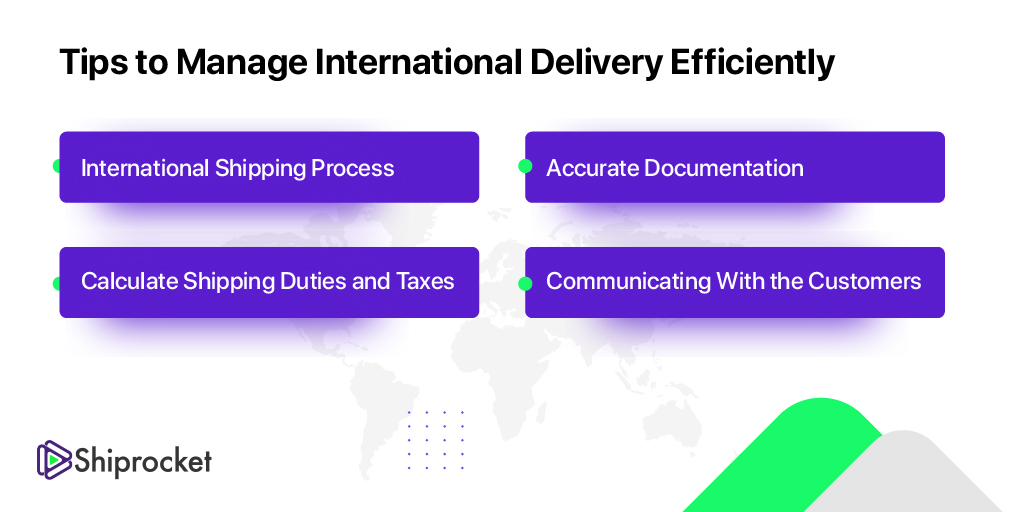 How to Manage International Delivery?
So, are you ready to take your business global? If yes, here are some tips for you on how to manage international deliveries efficiently:
International Shipping Process
Before beginning to sell globally, the first step is to understand the international delivery process – how it works and all customs. Customs can change, and generally, each product has a different rule. When shipping across the international border, custom plays a crucial role.
All countries have different compliance procedures and rules. So, you must be aware of all the different rules and regulations of the country(s) you are shipping your products to. Apart from knowing what you can ship, you must also know:
The customs agents will inspect the products. Thus, provide all relevant documents.
The custom will review the documents provided and verify the prices as well.
Duties and tariffs will be charged if the product value is above the minimum.
If the product shipped is Delivery Duty Paid (DDP), it will be released. However, if it is Delivery Duty Unpaid (DDU), it will be released once the receiver pays the dues.
Accurate Documentation
On-time international delivery majorly depends on the information (correct) provided. Incomplete documents or information can lead to a delay in shipment. Inaccurate or incomplete details will make it difficult for the customs agents to do their job faster. So, in order to ensure that your shipment moves through customs and reaches its destination on time, provide complete documents.
Calculate Shipping Duties And Taxes
When selling in a global market, it is vital to know how each shipped product is identified and what duties or tariffs will be imposed. The duties and taxes are calculated based on:
Shipment's declared value
Shipment's shipping cost
Country of origin and destination country
Communicating With The Customers
Customers are happy when you handle duties and tariffs – it helps them purchase products conveniently. The best way to do this is to communicate with the customers clearly and transparently. Depending on the cost, you can tell your customers its breakdown. You can also tell them if you will pay the handling costs or it is their responsibility.
Sometimes, the shipment can get lost in transit, leading you to redo the whole shipping process again. Thus, offering a live tracking service to the customers can be beneficial. You can ship your orders with Shiprocket X, which provides a unified tracking page to track all your shipments in one place. Besides, your customers are also notified about the shipment with live notifications via SMS and emails.
Shiprocket X: Global Shipping Made Easier
Expand your business to international borders with Shiprocket X. Deliver your products to more than 220 countries and union territories and track them all on a single platform. Integrate your website and 12+ sales channels with Shiprocket to process and ship orders conveniently.
Provide your customers a branded experience with a branded tracking page with your brand name, logo, support details, and offers. Also, secure your shipments against theft and damage and get a claim up to Rs. 1150.
Get started with Shiprocket X in just five single steps:
Step 1: Upload required documentation like import-export code and PAN.
Step 2: Add orders on the Shiprocket dashboard by integrating your sales channel.
Step 3: Choose the courier partner, speed of delivery, and shipment mode.
Step 4: Schedule a pickup and ship your order.
Step 5: Track your shipment throughout its journey.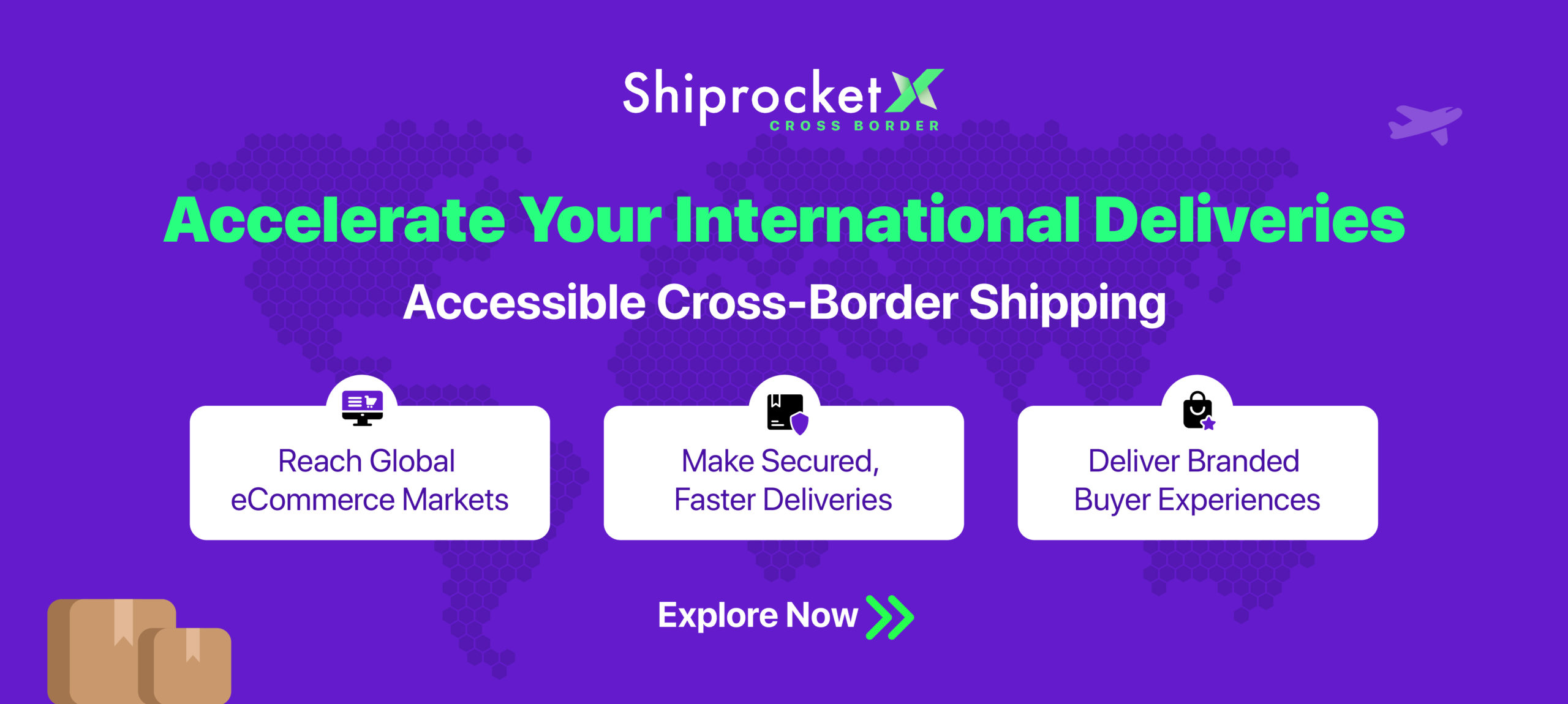 Calculate Your Shipping Costs Now