DDP vs DDU Shipping – Understanding The Differences
When it comes to international shipping then you must outsource these tasks to 3PL providers because there are many complications involved in the process. A 3PL provider specializes in global shipping services and makes sure that your goods would arrive at the same conditions in which they were handed.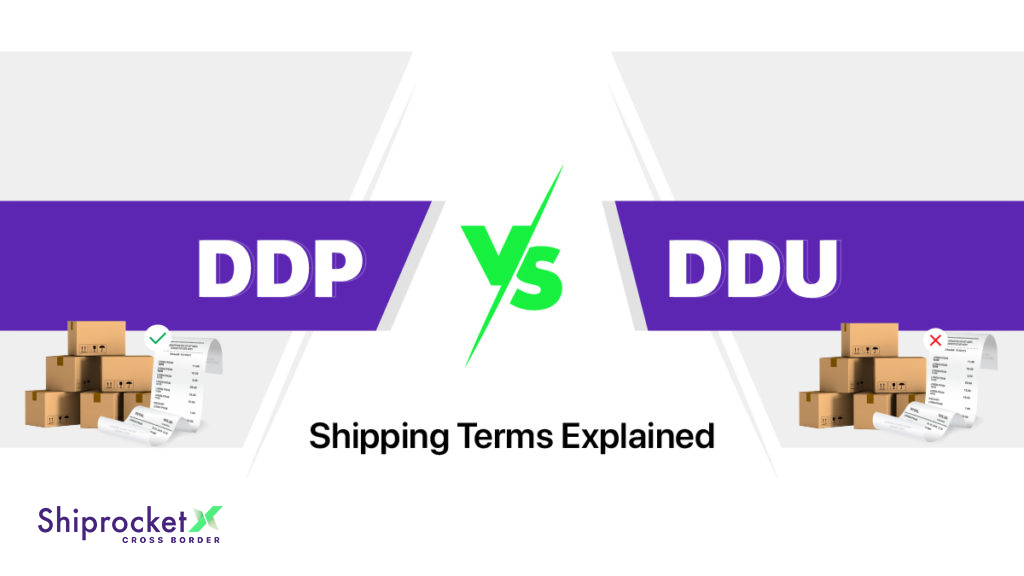 DDP (Delivered Duty Paid) and DDU (Delivered Duty Unpaid) are terms that were created to understand and develop an understanding of international shipping practices and business standards.
Definition Of Delivered Duty Paid (DDP)
DDP is the part of international commercial terms which is developed by the International Chamber of Commerce (ICC). Deliveries Duty Paid (DDP) standardizes international shipping transactions whereby the seller has to bear the full responsibility of export and import duties, insurance costs, taxes, and other expenses of shipping products until the buyer receives or transfers them at the destination port. Basically, DDP means that the seller has to bear all requisite import fees before the parcel crosses borders.
Definition Of Delivered Duty Unpaid (DDU)
Delivery Duty Unpaid or DAP (Duties At Place) is a shipping term in which means the seller is only responsible for ensuring the cargo arrives at the drop-off location. The buyer then transferred the financial responsibility for any customs charges, taxes, or transportation costs to arrange for the goods to arrive at their location.
DDP vs. DDU Shipments
For both buyer and seller, it's important to know the differences between DDP and DDU Incoterms to determine the most cost-effective shipping service for your company's needs. There are some key differences between DDP and DDU shipping services. Organizations can choose a shipping service for their specific business model.
For example, DDU shipments may be cheaper for international shipments as there are no processing fees that are added on the import duty that needs to be paid. However, it would be the seller's responsibility to communicate to the buyer that duties and taxes will apply when the shipment arrives in customs.
The reason DDP shipments are a little more expensive is that your seller will bear the full responsibility of paying the transportation and import fee on your behalf. But this will also reduce the chances of losing the shipment in customs, only you've to pay an additional fee to import your shipments.
In our view, Delivered Duty Paid (DDP) is a better option which results in a smoother international delivery experience. Now we will explore some of the differences between the advantages of DDP and DDU.
Advantages of DDP vs. DDU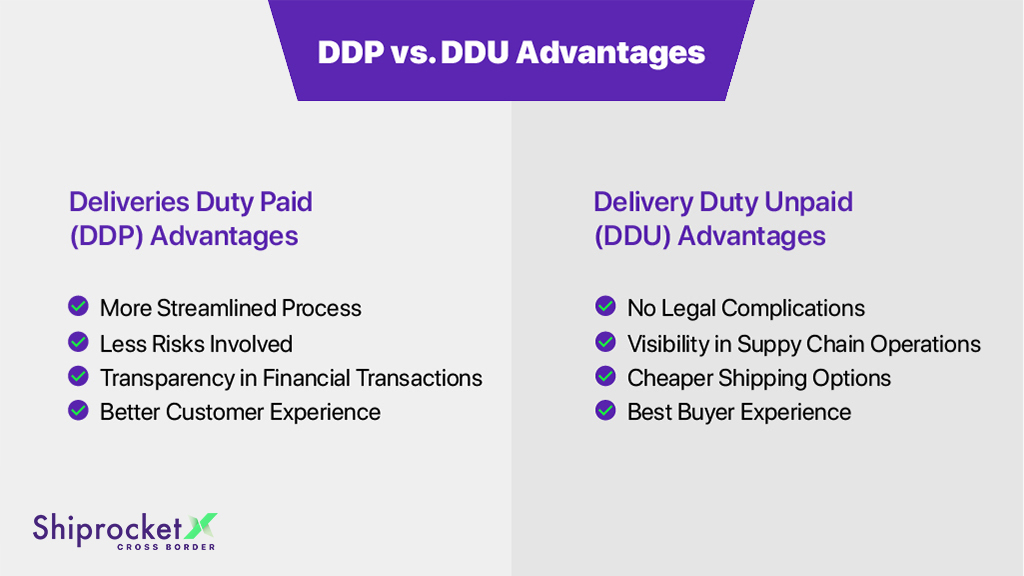 Shipment Handling
Handling all international transportation requirements in a DDP service allows sellers and buyers some peace of mind and a less complicated process. Delivered Duty Paid (DDP) shipping services guarantee that the courier facility will have the responsibility of handling shipments from cargo pickup to the necessary paperwork and costs all under the same shipping agreement.
A DDU agreement allows for less seller control during shipment transit. It is for international buyers that are looking to have complete control over the transportation of products. Delivery Duty Unpaid lets the buyer control the shipping costs, import/export duty, taxes without the seller's intervention.
Cost Factor
In a DDP shipping agreement, the cost of shipping starts right when the customer places an order. All potential cargo taxes and fees during the exporting and importing process are the responsibility of the seller. This makes receiving shipments much simpler for buyers as they don't need to bear any unexpected costs prior to receipt.
DDU agreement is a cheaper shipping option for sellers as all the services have contracted under the seller's jurisdiction. And the buyer is responsible for paying shipping services, taxes, import, and export duty, which certainly lessens the workload. DDU shipping options allow the buyer to take complete financial responsibility for the shipment, and saving the seller money and effort upfront.

Customer Experience
DDP shipping agreement allows for a better customer experience. During a DDP shipment, the buyer doesn't need to worry about the shipping requirements or custom procedures of a country. The buyer's goods arrive straight to their location without any hassle, which means a better customer experience.
Under a DDP shipping service, buyers or importers will be given complete control over the freight movement process. They will be given the ability to track each and every step of the shipment process, which ensures better customer experience and transparency.
In The End
In this article, I have explained the differences between the DDP and DDU shipping processes. As a trusted third-party logistics provider Shiprocket offers cost-effective international shipping options for sellers and buyers that seek to focus on growing their business with streamlined supply chain management. Contact us today to determine if a DDU or DDP shipping service is what your business needs to grow.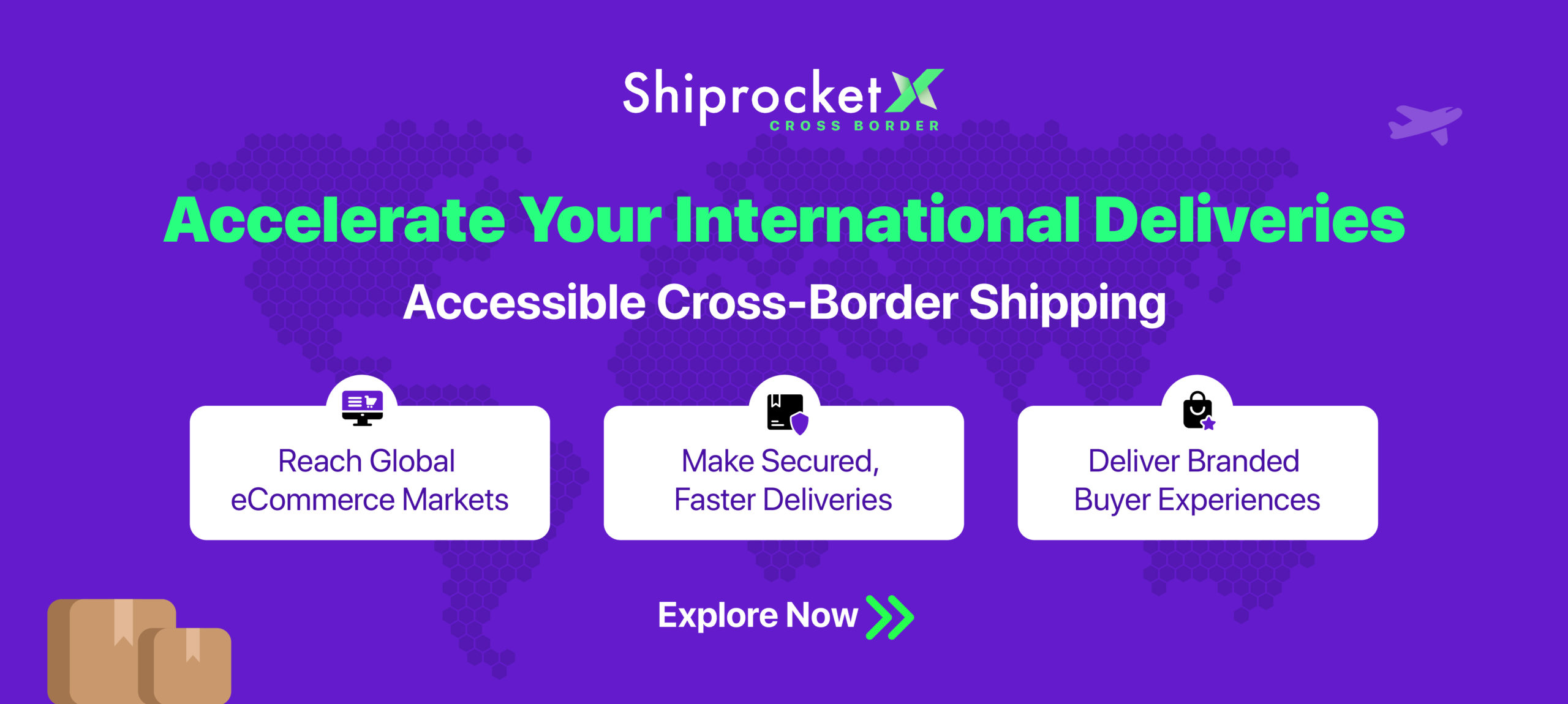 Calculate Your Shipping Costs Now