Delivered Duty Paid (DDP): Concept, Process, and Cautions
Understanding the complex logistics of shipping is crucial in today's vast international trade network, where millions of goods are shipped daily around the world. The International Chamber of Commerce devised the DDP Incoterm (Delivery Duty Paid), which forms the foundation of this procedure. The ICC revised Incoterms in 2010 and divided them into two groups according to the modes of transportation.
Understanding DDP is essential given the recent increase in cross-border shipping since it makes cross-border eCommerce easier and speeds up international transactions, which is advantageous for both customers and enterprises. Let's first talk about DDP shipping.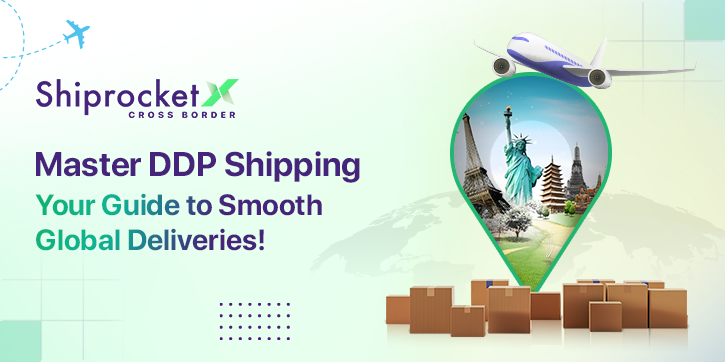 What is Delivered Duty Paid (DDP)?
Delivered Duty Paid (DDP) is an essential concept in international trade, automating the shipment procedure and providing benefits to both buyers and sellers. DDP provides an option if you're considering buying products from a foreign merchant and want to skip the lengthy process of good transportation.
Delivered Duty Paid (DDP) is a win-win situation for both parties. Customers benefit from a simple and safe purchasing process. Sellers bear the logistical weight required for the products to be delivered safely. The seller is responsible for all the details in getting your products to the designated location under DDP. This includes the cost of delivery, import and export taxes, and, most importantly, insurance.
Comparing Incoterms: DDP, DDU, and DAP
Here's a quick comparison of DDP, DDU, and DAP Incoterms:
| | | | |
| --- | --- | --- | --- |
| Points of Distinction | DDP (Delivered Duty Paid) | DDU (Delivery Duty Unpaid) | DAP (Delivered-At-Place) |
| Responsibility of Seller | The seller of the items undertakes to pay all expenses until the things are delivered at the location decided by both parties. | The seller needs to secure licences and handle other export-related procedures, producing an invoice at their expense, but has no obligation to buy insurance for the goods. | Delivered-at-place (DAP) is an agreement where the seller is responsible for all costs and risks associated with delivering goods to a specific location. |
| Key Advantages | Streamlined process, reduced risks, financial transparency, hands-off customer experience. | Cheaper options, buyer's control, supply chain visibility. | The buyer takes accountability, cash flow and inventory management. There is low liability. |
Why Businesses Opt for DDP?
Here are some key reasons why businesses opt for DDP:
1. Increasing Sales
In DDP shipping, all hidden shipping costs are eliminated, which persuades customers to choose your business, leading to increased sales.
2. Streamlined Customs Procedures
DDP handles customs clearances upfront, sparing customers from the hassle of dealing with customs formalities. This approach reduces delays, ensures quicker clearance, and simplifies shipping.
3. Faster Delivery
DDP leverages parcel carriers instead of traditional postal services. These carriers work closely with eCommerce merchants to expedite shipping. As a result, DDP reduces delivery times, providing a faster and more reliable shipping experience.
4. Enhanced Visibility
Visibility and transparency are crucial for eCommerce brands and international customers, especially when shipping high-value products. DDP ensures a transparent and trackable process through seamless technology integrations from the shopping cart and extending to the final parcel carrier.
5. Predictable Costs
DDP lets buyers see the total landed cost in the shopping cart, including all duties, taxes, and associated fees. This transparency eliminates any unpleasant surprises upon the parcel's arrival. This predictability significantly reduces cart abandonment and returns while boosting customer satisfaction.
6. Ease of Implementation
DDP shipping handles the burden of comprehending all the intricacies of international shipping.
The Step-by-Step Process of DDP Shipments
Understanding the complex process of DDP shipments is important for both sellers and buyers. DDP involves steps that make international product delivery successful and hassle-free. Let's look at the whole process and its benefits.
Step 1: Prepare the Goods for Shipping
This includes careful packing and creating essential documents like invoices and customs paperwork. It's vital to correctly identify the HS code, which determines product tax rates.
Step 2: Choose a Reliable Carrier
Selecting a trustworthy international carrier is crucial for safe and timely shipping. Picking a reliable carrier reduces the risk of damage and delays during transit. Shiprocket X offers access to a high-quality global network, discounted shipping rates, efficient routes, and door-to-door delivery worldwide.
Step 3: Handle Import, Export, and Customs Clearance
Requirements for importing and exporting, as well as customs clearance, can differ from one country to another. Properly preparing all the necessary paperwork and arrangements is essential to avoid packages getting stuck in customs.
Timely customs clearance is crucial to prevent delivery delays and meet customer expectations. Delays in customs can lead to extra costs like storage and demurrage fees.
Step 4: Transport from Port to Customer Destination
Even after goods arrive at the destination port in the customer's country and clear customs successfully, the seller's job is still ongoing. It's essential to arrange for the onward transport of the package to the customer's delivery location to ensure it arrives on time and in good condition.
Caution for Sellers: The Ins and Outs of DDP Fees
If you're a seller considering DDP shipping, it's crucial to exercise caution, as you'll be shouldering numerous responsibilities and costs during the process. Being well-prepared and informed about these financial obligations is essential to ensure a smooth and profitable international trade experience.
Sellers incur several expenses throughout the DDP shipping process until the product is delivered to the client. These consist of:
Shipping and Transportation Costs: Merchants are responsible for covering the shipping expenses and transporting the goods from their origin to the buyer's destination.
Import and Export Customs Taxes: The categorisation of products determines the import and export customs taxes merchants must pay.
Liability for Damaged or Lost Items: If items are damaged or lost during transit, the merchant must bear the replacement cost.
Shipment Insurance: To safeguard against potential losses, merchants should invest in shipment insurance.
Value Added Tax (VAT): The Value Added Tax (VAT) is the merchant's responsibility when applicable.
Storage and Demurrage Charges: Customs-related delays can result in unpredictable storage and demurrage charges for merchants.
Simplify Shipping with Shiprocket X: Your Passport to Hassle-Free International Shipping!
Shiprocket X is a flexible global shipping platform that makes international business development more accessible. Take advantage of affordable 10- to 12-day delivery or choose quick 8-day shipping with scalable courier networks that provide end-to-end visibility.
Through automated workflows, Shiprocket X expedites customs clearance, ensures transparent billing, eases the processing of overseas orders and offers real-time updates to your clients. Develop a worldwide courier network spanning more than 220 nations and provide a customised tracking link.
For prompt resolution and priority help, rely on cross-border specialists. Shiprocket X is your reliable partner for international logistics because of its robust integrations.
What is the primary benefit of DDP Incoterms for international businesses?
The fast and transparent shipping procedure DDP Incoterms provides is the main advantage for global enterprises. DDP improves the consumer experience by removing hidden shipping fees, ensuring fast delivery, and streamlining customs procedures.
Which sectors or categories of goods stand to gain the most from DDP shipping?
DDP delivery is frequently most advantageous to the luxury goods, electronics, and fashion sectors.
Can you provide examples of how DDP shipping can enhance the customer experience in international eCommerce beyond what's mentioned in the article?
DDP shipping could offer individualised delivery options and real-time package tracking to improve the consumer experience. Customers will be more satisfied if they can choose their delivery times and locations.
Calculate Your Shipping Costs Now