5 Tips To Reduce Export Shipping Costs
For small and medium-sized businesses, minimising transportation costs has always been one of the most prioritised factors in global shipping. This is because such businesses tackle budgetary issues almost every step of the way, including fuel charges, machinery, raw material procurement, as well as store setup.
Factors Influencing eCommerce Export From India
Shipment Weight
A shipping calculator, while confirming costs for a particular shipment, takes into account the parcel's size, dimensions, and weight. More often than desired, there are weight discrepancies observed in export shipping. If the parcel weighs more than its actual weight, you may end up paying extra during customs clearance at the borders. Not only this, heavy shipments incur shipping costs much more than lightweight ones.
Delivery Speed
The delivery speed chosen by brands often leaves an impact on the shipping cost for exporting their product. While many shipping companies have a standard timeline for delivering products beyond borders, express delivery options are also available which costs more than the standard delivery speed.
Shipping Insurance
Shipping to the wrong addresses and shipments getting damaged during transit are prominent possibilities in international order delivery. The security cover is a necessity in such shipments. While security cover is an added cost, it is quite less than the replacement or re-shipping of the same order to the buyer.
Customs & Duty Tariffs
Apart from regular international delivery charges, shipping costs also depend on the location you're delivering to and the customs taxes related to it. For example, duty tariffs for EU locations are different from US deliveries, and de minimis values differ from country to country all over the world.
Multi-Order Shipping
Multiple deliveries to the same destination on different timelines and delivery dates put forward different shipping costs for the same product. This is because the plan opted for shipping based on the timeline, packaging material, and weight would differ per shipment.

5 Ways eCommerce Businesses Can Reduce Shipping Costs
Pack Light And In Smaller Boxes
It is always advisable to wrap your shipments in light and minimal packaging materials such as air pillows that would not only protect them but keep the overall weight of the shipment less. You can also use plastic bags to avoid spillage in liquid-based items instead of bulky shipping.
Additionally, the boxes used in shipment packaging should only be slightly larger than the shipment so that you can secure the packages with minimum fillers to decrease shipping costs.
Ship In Bulk
When we talk about shipping, shipment of multiple items in one go is always cheaper, easier, and trackable than shipping multiple single items separately. You can also avail of discounts on shipping rates when shipping multiple orders together in bulk.
Opt For In-House Insurance
It is important to consider security cover on shipments that are high-value but at the same time, fragile. If you opt for shipping insurance from a third party, it is always going to be higher than the security cover offered by your shipping partner. Security cover from aggregated shipping solutions is always approximately 25% less than third-party providers.
Choose From Multiple Courier Options
Partnering with a cross-border shipping aggregator often helps with negotiating a shipping mode that best suits your choice of delivery speed, shipping cost, and regulatory requirements. Shipping solutions like Shiprocket X provides more than two solutions to opt from during international order shipping.
Look For All-Inclusive Shipping Solutions
If you are someone looking for same-day pickups, it is best to always choose shipping companies that provide rapid pickups from any business location and ensure safe warehousing before transfer to customs and the airport for export shipping. Immediate processing often helps to clear weight and volume discrepancies before it goes to customs.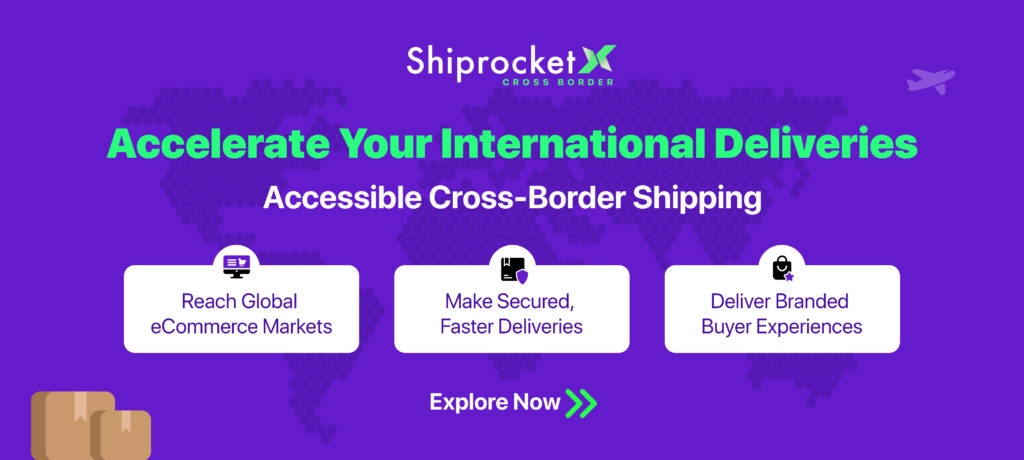 Calculate Your Shipping Costs Now