How To Export Toys From India
Exporting toys from India can be a lucrative business opportunity, given the country's diverse manufacturing capabilities and competitive pricing.
But the nation is now one of the top toy exporters, with a thriving toy manufacturing industry creating a wide range of products, including educational toys, wooden toys, stuffed animals, puzzles, board games, electronic toys, and more.
The key export markets for Indian toys worldwide include the United States, European Union countries, Australia, Canada, and the Middle East.
Top Cities In India Exporting Toys
India has several cities known for their toy manufacturing and export capabilities. Some of the top toy export cities in India are as under.
New Delhi
The capital city of India, New Delhi, has a significant presence of toy manufacturers and exporters. It serves as a major hub for toy production and has numerous exporters catering to both domestic and international markets.
Kolkata
Kolkata, the capital city of West Bengal, has a long-standing tradition of toy manufacturing. It has a vibrant toy industry, specializing in products such as dolls and soft toys. Kolkata serves as an important export center for toys.
Jaipur
Jaipur, the capital city of Rajasthan, is renowned for its traditional handicrafts and toy manufacturing. The city is known for its wooden toys, puppets, and traditional Indian games. Jaipur has a significant export market for its toys.
Ahmedabad
Ahmedabad, in the state of Gujarat, is an emerging toy export city in India. The city has a growing number of toy manufacturers and exporters, particularly in the wooden toy segment.
Apart from these cities, Mumbai, Chennai, and Bengaluru also have a strong presence of toy manufacturers, exporters, and associated industries, making them key players in India's toy export market.

9 Things To Do Before Exporting Toys From India
Exporting toys from India involves several steps and considerations.
Product Compliance
Ensure your toys meet the safety and quality standards of the target country. Familiarize yourself with international toy safety standards, such as EN 71 in Europe or ASTM F963 in the United States. Comply with labeling requirements and ensure that your products undergo appropriate testing and certification.
Business Registration
Register your business entity in India and obtain the necessary licenses and permits to export toys. You may need to register with organizations such as the Director General of Foreign Trade (DGFT) and obtain an Import Export Code (IEC) from the Regional Authority of DGFT.
Identify Buyers/Partners
Establish contacts with potential buyers or partners in your target market. Attend trade shows, exhibitions, and toy fairs to showcase your products and network with potential buyers. You can also utilize online platforms and directories to connect with international toy distributors, wholesalers, or retailers.
Pricing and Documentation
Determine competitive pricing for your toys, taking into account production costs, shipping, and potential import/export duties. Prepare the necessary export documentation, such as commercial invoices, packing lists, and certificates of origin. Familiarize yourself with the specific documentation requirements of the target country.
Logistics and Shipping
Arrange transportation for your toys. Choose a reliable freight forwarder or shipping agent who specializes in exporting goods from India. They can help with customs clearance, documentation, and shipping logistics.
Customs and Legal Compliance
Ensure that your export activities comply with customs regulations and legal requirements. Familiarize yourself with export restrictions, tariffs, and any specific regulations imposed by the target country. Complete customs declarations accurately and provide all necessary documentation for smooth customs clearance.
Packaging and Labeling
Ensure that your toys are properly packaged for safe transportation. Label the packages with clear and accurate information, including product descriptions, quantities, and any required safety labels or warnings.
Payment and Insurance
Establish secure payment methods with your buyers, such as letters of credit or international wire transfers. Consider obtaining export credit insurance to protect against non-payment or other financial risks.
After-Sales Support
Provide excellent after-sales support and customer service to maintain positive relationships with your international buyers. Address any inquiries, complaints, or product issues promptly and professionally.
Conclusion: Simplified Compliance Support For Easy Shipping
It's important to note that the export process can vary depending on the specific requirements of the target country and the nature of your toys. It's advisable to consult with relevant government agencies, trade associations, or export consultants to ensure compliance with regulations and streamline the export process. Export shipping aggregators in India like Shiprocket X also help with easy compliance support for toy exports.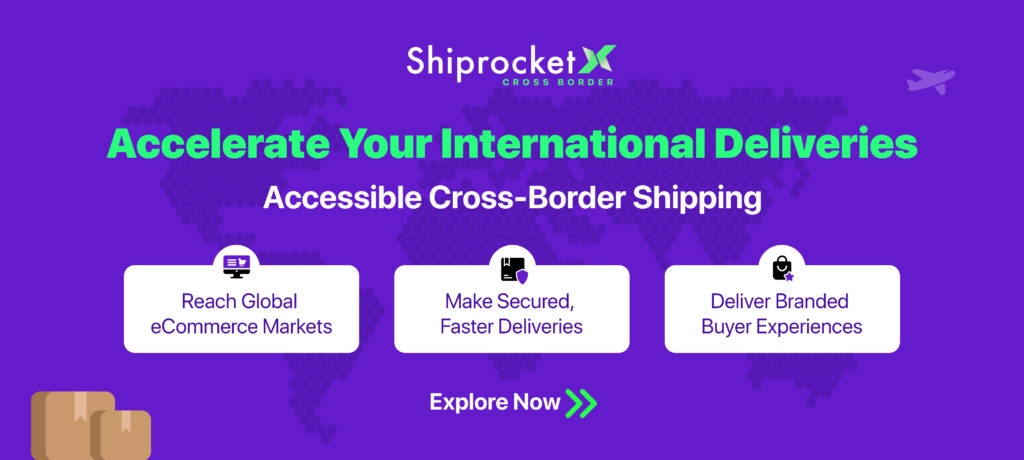 Calculate Your Shipping Costs Now