What Is Multi Courier Tracking For International Orders
The Atmanirbhar Bharat campaign gave India the necessary push to become self-reliant. Indian products were a necessity and luxury in many parts of the world. This campaign pulled them into the spotlight.
Many goods are exported extensively from India or are manufactured solely for exports. Among those, the products with the highest international demand are:
Engineering Goods: Accounts for 3% of the GDP and 27% of the total exports.
Precious stones and jewellery: Accounts for 10-12% of the Indian exports and 7% of the GDP.
Petrol Products: Their export share declined in 2020-21 to 8.9% due to covid restrictions.
Agricultural and Food Products: They brought an enhanced revenue of USD50.21 billion in 2020-21. Of this, rice, wheat, maize and buffalo meat hold the highest share in exports. Plus, India contributes 10% to global tea exports.
Pharma: India contributes around 20% to the international pharma supply, of which 60% is vaccines.
Medicinal products: Their demand increased by 38% year-on-year in 2020-21.
Traditional and native handicrafts: India exports goods worth USD4.35 billion in 2021-22.
Leather and Textile: The demand for home textiles increased by 37.5%. India is the sixth-largest exporter of artificial fibre textiles globally. Plus, India is the fourth-largest exporter of leather goods globally.
These products are different in nature and demand additional care in handling. For example, pharmaceutical, meat, and dairy products must be shipped time- and temperature-sensitive, while precious jewellery needs more security.
For such immaculate shipping, you need knowledge and expertise. You find both in a reliable shipping partner.
How To Start Shipping Using A Reliable Courier Partner?
Based on the following parameters, research well before choosing your courier partner:
Service Level: Whether you are catering to the domestic audience or trying to go global, your shipping partner must be able to serve you the way you and your customers deserve.
Delivery Speed and Geographical Expanse: Good service includes a decent delivery speed and bigger geographical coverage to expand your operations globally. Your partner must be able to catapult your business across borders.
Customer Service: No service is complete without good post-sales customer service. Their customer service must be strong enough.
Pricing: They must be able to provide you with the expected level of services at desired rates.
Shipping Needs for Specialised Cargo: Your partner must be able to transport special cargo like pharma, expensive items, and perishables that need extra care and specialised handling.
Experience and Expertise: Someone with ample industry experience and skills would match your needs as goods must be delivered in their expected state.
Courier Tracking Ability: Your courier partner must be able to track your shipments and provide regular updates on time.
Sometimes your customers might book multiple couriers for a particular location, different items from different locations via a single booking, or various carriers to ship parts of a single consignment. What happens then?
Let's take a look.
Challenges In Tracking Multiple Orders
Courier tracking is dependent on multiple factors and is prone to errors. But it can get trickier, leading to a lot of mess if not handled properly.
Here are the challenges you may face in multi-courier tracking, especially with an international shipment.
Inventory Distribution
Multi-courier tracking can become problematic if the booking includes various products and not all are available simultaneously. Or, if the booking needs different products to be picked from distantly located warehouses, this could be a challenge. Updating the courier tracking status is an additional hiccup in such a case.
Lack of Branding Expertise
If a single shipment has been split and booked on multiple carriers, each part may undertake a different packaging branding and notifications from the courier services. But ultimately, proper branding is critical for your business. If the consignee is the same, receiving some packages branded with your logo and the others with another's mark will make a poor impression.
Weight Discrepancies
A significant hurdle in multi-courier tracking. Different carriers might use a variety of weighing scales, which may show varied figures. Ultimately, the shipment suffers due to this discrepancy.
It might lead to unwanted hold-ups and delay the delivery, thus affecting the courier delivery tracking as well.
Delayed Delivery
It happens due to many reasons. If the shipment carries time and temperature-sensitive cargo, it can have financial implications. For instance, delayed delivery combined with poor storage facilities can spoil the vaccines or meat products, thus rendering them unfit for consumption or use by the public at the destination.
But in the end, they affect a customer's overall delivery experience, and every delayed shipment brings terrible reviews to your company profile.
Poor Information Flow
Customers demand timely and accurate information about their shipments. The courier company needs to update them with the shipment's whereabouts and the arrival time at the destination. A lack of correct data flow harms the company's image.
Collecting the correct information can be challenging if your shipping partners don't share it with you when needed. The ground gets more slippery if your shipment crosses multiple borders and customs to reach the destination. You might have to check many websites and portals and connect with several people to get your hands on the correct information about your shipment.
Damaged Goods
Damages can be expensive to bear because of:
Claims from the customer
Effect on the brand image due to poor service
Commodity replacement or repair
Discounts you may have to shell out to please the customer
Expenses on insurance and freight claims
Costs due to examination and disposal by customs
Managing product returns
Losing the existing and future customers due to poor reviews
All these problems occur when there are too many chefs cooking the broth. Dealing with many carriers at once can become a tad more organised if you could manage multi-courier tracking in a centralised manner, like a unified tracking mechanism.
Let's see what its benefits would be.

Benefits Of Unified Tracking
Centralised Inventory Database
A central repository of inventory information from multiple suppliers can help you better serve your customers. They can choose from a wider product range without disrupting the supply chain.
eCommerce Fulfilment Tool
Online fulfilment tools enable branding for every shipment. They can even sync the packaging design so that multiple parts of the booking don't arrive looking completely different from each other.
Computerised Weighing Mechanisms
A mechanised weighing and balancing tool can help you drive this problem away. Most advanced logistics companies use globally standardised machines that show the same weight and dimensional figures as the package moves across nations. A reliable courier partner can take care of this worry for you.
Inventory Accuracy And Capacity
Accurate inventory details are needed to enable the streamlined data flow from origin to destination. Advanced barcoding and automated operational flow can optimise the storage and logistics for your company.
AI And ML-Based Tools
AI and ML-based tools help streamline and optimise courier tracking while preventing human errors as much as possible. For example, automated chatbots can assist customers in courier delivery tracking. At the same time, intelligent supply chain management software helps you manage the backend efficiently.
Enhanced Product Packaging
Excellent packaging is needed for specialised and general cargo deliveries. Sturdy packaging helps prevent any damage or loss to the load. A skilled courier company knows how to protect your cargo and ready it for delivery over thousands of miles safely.
How can Shiprocket X Help?
Shiprocket X understands the need for a smooth movement and uninterrupted flow of information for your customers' orders. That's why the tracking process has been simplified, making it centralised and hassle-free.
All you need to do is:
Upload Documents: To begin, share your documents like the IEC and PAN card on our portal.
Order Information: The Shiprocket X platform has been designed keeping your needs for international shipping in mind. It allows you to import the order details from other marketplaces easily. Our system integrates with the portals like Amazon, Shopify and eBay, so that you can port order information with a snap of your fingers!
Looking to add order data manually for easy tracking? You can easily do that with our one-stop-shop for courier tracking needs.
Select the Shipping Mode: Air, land or sea; take your pick from the list of shipping modes and delivery speed as per the pin code serviceability. Numerous shipments, multi courier tracking, one solution: Shiprocket X.
Go Shipping: You prepare the package for shipping and leave the rest to Shiprocket. It's your go-to place for all services like generating labels and invoices and scheduling pick-up from the seller in one place. You are ready to ship the order in a few clicks.
Unified Courier Tracking: Multiple courier delivery tracking in one place. Know the courier tracking status for every package without the hassle of logging into different portals for information.
Multi-courier tracking can be complicated enough without the right pair of hands to support you in your journey abroad. Partner with Shiprocket X to sail across the borders smoothly. Connect with their team of experts today.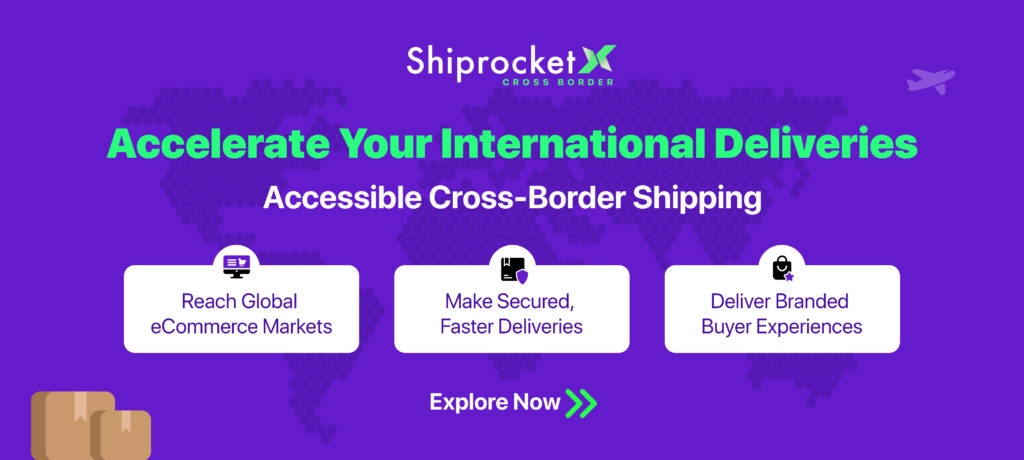 Calculate Your Shipping Costs Now