WhatsApp Communities: Your Ultimate Guide [2023]
Every business model has its own channels of communication and ways to reach its customers. While eCommerce uses social media, retail businesses use multiple marketing channels to reach their target audience. But what if you found that engaging your customers was as easy as messaging on your WhatsApp? Yes, a unified messaging feature on WhatsApp called 'WhatsApp Community' allows you to create a community of your user groups. And you can use this powerful in-app communications tool for all crucial business services, from payments to data analytics to presentations and plenty more.
Did you know that WhatsApp will have nearly 795.67 million monthly active users by 2025? Soon WhatsApp Communities could be part of the eCommerce market value in India, at a whopping USD 350 billion by 2030.
Want to know more? Here is where you learn how to use the now ubiquitous green-icon app to power your business growth. This ultimate guide for WhatsApp Community [2023] will decode the steps to engage your customer community and grow your business.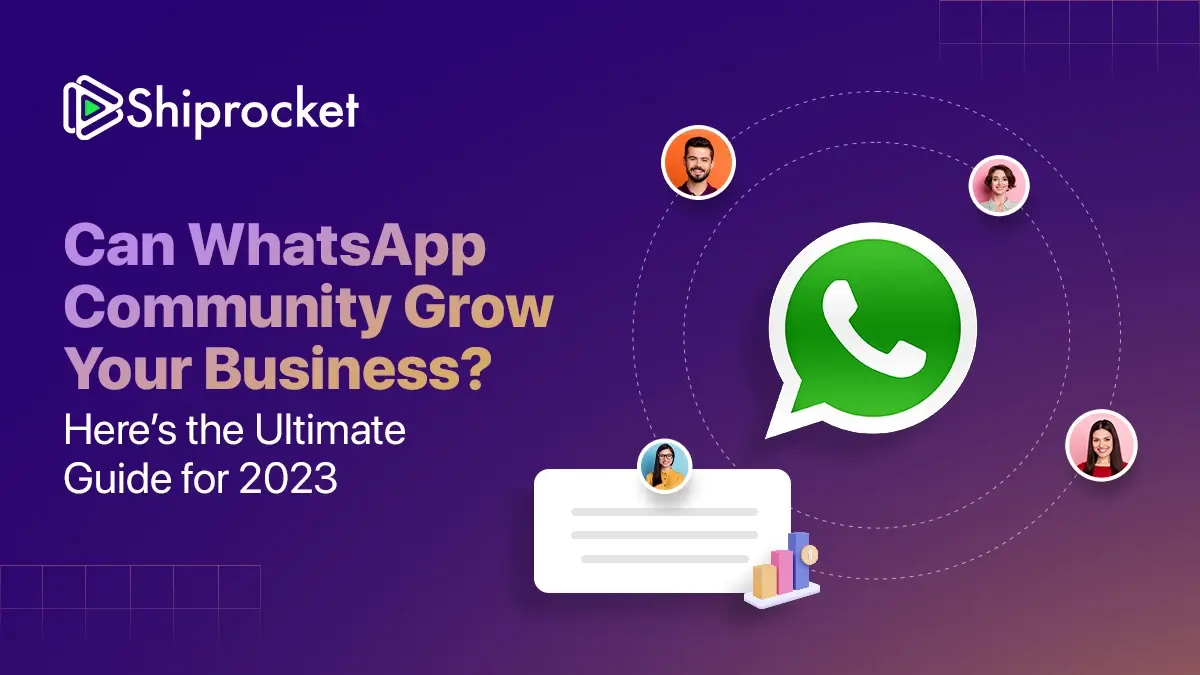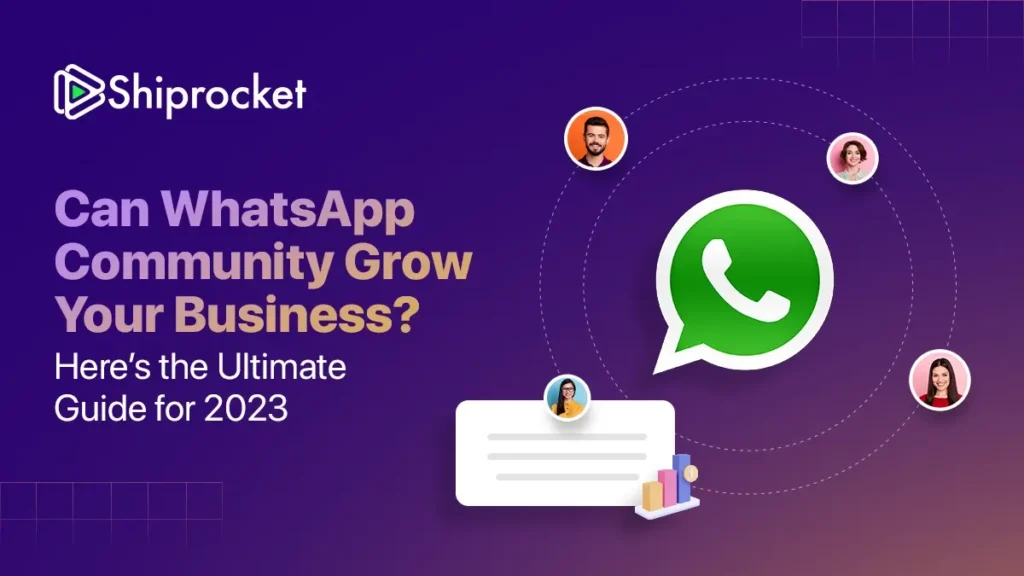 WhatsApp Communities: What Exactly Are They?
WhatsApp first made an appearance in 2009 as a freeware, cross-platform, centralised messaging and voice-over-internet protocol service. In 2016, Meta acquired WhatsApp. In recent years, Meta has been building a social commerce ecosystem. WhatsApp is slowly but steadily evolving into a strong, secure communications and in-app payment service.
The WhatsApp Community feature was officially launched in November 2022. The philosophy is about bringing WhatsApp Groups together into a community to discuss and chat about their shared interests. This is a feature that allows businesses to create, manage, and engage with a group of customers, clients, or fans directly on the Meta-platform. Catch the tweet of the WhatApp Community launch below.
You can plan or design the community to be a private and invite-only platform that connects different groups of a WhatsApp Business account. Customer members can collaborate and become a part of a bigger, engaged community of users.
Features of WhatsApp Communities
Developers want users to optimise the use of WhatsApp communities and include a wide range of features to help businesses engage in social commerce. They ensure a secure environment for this purpose. Here is a closer look at the main features of WhatsApp communities.
Direct Communication: The USP of WhatsApp Communities is their ability to connect one-on-one and in group chats with their customers. This creates an inclusive and personalised connection or community feeling.
Rich Media Sharing: You can provide a wide range of media content to your member-customers via text, images, videos, and even documents. Therefore, your members have value from being a member of your community and updates.
Announcements: You can make announcements via quick message, text or image to update your community. This will ensure your community is always informed about the latest activities.
Engagement Metrics: You can use the insights feature to understand which factors engage your community and which factors do not interest your members. Based on these insights, you can tailor your messaging for maximum impact.
Membership Control: As the admin or the creator of the group, you can ensure only vetted customers become part of your group. You have the power to manage and moderate your community, which helps in ensuring the safety of all members.
Why WhatsApp Communities Are a Game-Changer for Your Business
While the WhatsApp Community has a strong communication ecosystem with encryption and rich media-sharing features, how does it become the game-changer of your business? Here are some basics you need to explore:
1. Direct Access to Your Audience: One of the defining features of this business tool is the ability to connect directly with customers. WhatsApp Communities provide a direct line of communication to your audience, bypassing the noise and algorithms of other social media platforms. You can connect with your customers in real time, fostering a sense of closeness and trust.
2. Personalised Engagement: WhatsApp Communities help you tailor your messages and content according to the preferences of your community members. It helps in building a unique and close relationship with members of your community. Other channels of engaging customers are also more difficult to sustain for businesses in the long term.
3. High Engagement Rates: WhatsApp Communities have one of the highest open-and-response rates in the messaging industry. This ensures your best discounts and offers are noticed by your customers. Most marketing campaigns suffer due to mailers landing in spam boxes. Messages sent through WhatsApp are more likely to be seen and acted upon.
4. Privacy and Exclusivity: Another winning feature of this messaging platform is the privacy protection and the one-to-one exchange of messages.
5. Valuable Insights: The insights provided by WhatsApp Communities help you understand your audience better. You can use this information to refine your marketing strategies and product offerings.
As a result, WhatsApp communities allow you as a business to offer meaningful interactions, valuable content and build strong brand loyalty among your customers.
Creating Your Very Own WhatsApp Community: Step-by-Step
If the above discussion on WhatsApp features sounds exciting to you and motivates you to create your WhatsApp Communities, here is how you can do it:
Step 1: Set Clear Goals: Create the structure of your Community based on the content you want to share.
You need to decide the goal of your WhatsApp Community. Are you looking to provide customer support, share exclusive content, or gather feedback? Depending on the goals, you can begin to create the structure and the content you want to offer your community of users.
Step 2: Collect Phone Numbers: In this step, add the members to your WhatsApp Community.
You will need a list of the phone numbers you want to add. However, the main focus is to ensure that you protect the privacy of these users as per regulatory needs.
Step 3: Choose a Platform: Install the third-party platform
Choose the third-party service provider platform you think will be ideal for you to administer your community. From the Google Play Store, you can install the service provider's software. This software will tailor its services according to the voice of your brand.
Step 4: Create Guidelines: Write out the Guidelines.
Since communities will have a diversity of members, it is always important to establish community guidelines and rules. These will help in a respectful and engaging environment for your members and should be included in the onboarding process.
Step 5: Craft Engaging Content: Create entertaining, informative and engaging content for your community.
Content has the power to convert members into consumers of your products and services. Therefore, the process of creating and sharing valuable content that resonates with your audience is very important. You can vary the content: provide product updates or behind-the-scenes (BTS) glimpses and exclusive offers.
These 5 steps will help you create the WhatsApp Community that will change the way you do business.
Growing and Nurturing Your WhatsApp Community
The earlier sections of this guide explained the steps you need to take to build your WhatsApp community. However, keeping the community growing is an ongoing process. Here are some quick tips to help you succeed in this:
Be Consistent: You should have a well-defined schedule to post your content. Consistency is key to keeping your community satisfied.
Foster Engagement: Be quick to interact with members and encourage members to interact with one another. You should schedule polls, ask questions and create other opportunities for the community to discuss.
Provide Value: With every message you update, your customers should find value. Only then will they act on it. At the same time, it should inform, entertain, or solve their problems.
Reward Loyalty: This feature is very important as it helps you recognise those members who spend the most time in your community. By recognising and rewarding them, you respect their engagement and encourage further loyalty by community members. Offer exclusive offers, premium content, and other incentives for effective engagement.
Stay Updated: This is a very important step as it allows you to leverage the latest features and enhance your community's experience.
Some online branded communities that have emerged lately are: Shopify, Sephora, The Lego ideas and the Shiprocket Community.
Innovative Ways Your Business Can Leverage WhatsApp Communities
The original idea for developing the WhatsApp Community was for executives in organisations to coordinate and improve communication when working on multiple projects. However, businesses have been able to use these multi-group features to their advantage and communicate effectively with customers. Apart from communication, WhatsApp Communities has emerged as a powerful tool for marketing. Here are some innovative ways for businesses to use WhatsApp Community for marketing purposes.
The core marketing strategies are as follows:
Share updates and promote products
Create a 360-degree view of products
Offer online assistance with unboxing products
Call experts to answer their questions on product use or services
To know more about the working of the Shiprocket Community, go here!
Conclusion
As the world begins to use advanced communication tools and platforms, it is important for businesses to reach their audiences on such platforms. A WhatsApp community is a unique way to begin conversations with customers and engage them effectively for meaningful relationships. The end-to-end encryption that WhatsApp offers is crucial and becomes an important factor for businesses to attract customers to their communities. These are some of the steps that have helped businesses nurture an effective business community based on a telephone number and shared interests. It helps you to harness the power of WhatsApp Communities to propel your business forward in 2023 and beyond.
How does the Shiprocket Community offer Businesses?
At Shiprocket we believe in three R's – LeaRn, gRow and eaRn. Our Community is a platform for businesses and eCommerce companies to network, create marketing goals and grow together.
Is there a limitation on Creating WhatsApp Communities for different purposes?
No, Meta allows you to create multiple WhatsApp Communities so that you have a different communication group for every purpose.
What is the maximum number of groups I can have in a WhatsApp Community?
You can have a maximum of 100 groups in your WhatsApp Communities. You can add 1024 people to the groups in the community. As and when you want to include more members, you can add or create additional communities.
What are the costs I will have to bear to use WhatsApp Communities for businesses?
There are no subscription fees charged to use WhatsApp Communities. There could be some indirect costs, like paying for third-party tools if you download them or choose add-on services for community management.
Calculate Your Shipping Costs Now