Cheapest Courier Services in Delhi for Your eCommerce Business
People of all ages adore shopping online as they find happiness and comfort in making online purchases rather than buying from physical shopping stores. ECommerce is witnessing unprecedented growth all around the globe. India, in particular, has become a hub of eCommerce, leveraging the logistics industry and, likewise, the thousands of shipping service providers.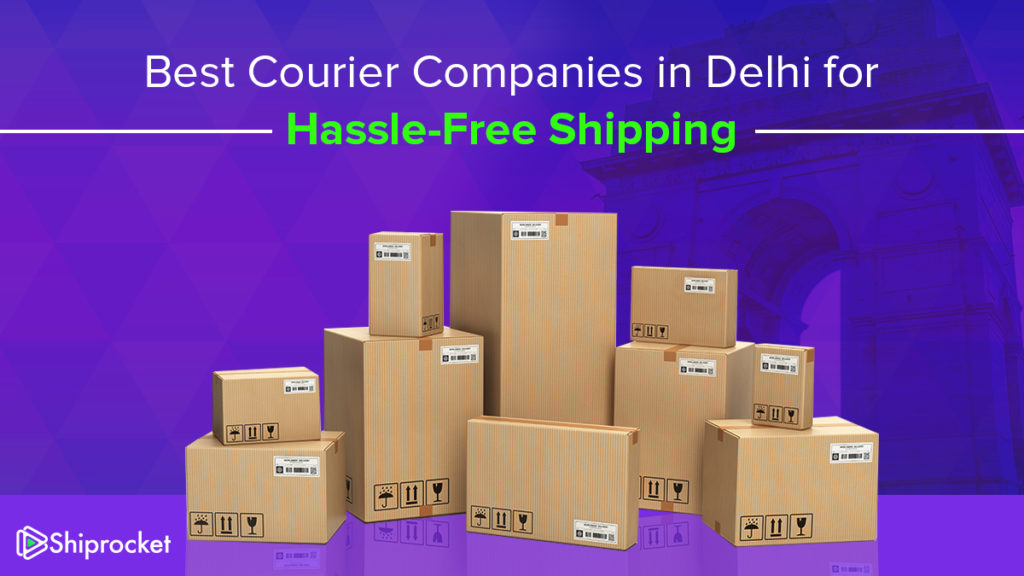 This blog is for you if you are an eCommerce seller looking for the cheapest courier services in Delhi to ensure shipping cost is not eating your profit.
Read on to know about the ten best courier companies in Delhi for your orders to be delivered on time and in good condition at affordable prices.
Top 10 Cheapest Courier Services in Delhi
Shiprocket

If you are looking for all the cheapest courier partners offering discounted prices in one place, Shiprocket is the best option. Shiprocket has partnered with 25+ courier partners such as FedEx and Delhivery. With the majority of top courier partners on their platform, there is an assurance of finding the most reliable courier partner at an affordable price. Shiprocket provides an automated shipping solution for a seamless shipping experience that allows you to focus on your business operations. You can sync orders from all channels effortlessly and ship them from one platform across 220+ countries and territories.
DTDC

The most preferred courier company in Delhi, DTDC, has been in the shipping business since 1990. As an Indian-originated courier company, DTDC has its wings spread across the world. While it is not necessarily an adequate courier partner for every business, it covers a significant chunk of the nation with reliable courier services and comparatively affordable rates.
Blue Dart

The next big name in Delhi concerning courier services is Blue Dart. Having its headquarters in Mumbai, Blue Dart is popular amongst the end customers and has a good reputation in shipping and logistics operations. While the customers' satisfaction rate is pretty extraordinary, the prices may not appeal to every eCommerce seller. There is an option to bargain, but as quality comes at a cost, the services are relatively high-priced.
Delhivery

Next on the list is Delhivery. It is one of the best courier partners in the league that aims at maximum order fulfillment. Its Express delivery assures same-day, next-day, or on-demand deliveries at competitive prices. After starting operations in Delhi and Mumbai, Delhivery has expanded nationwide and international logistics with the notable addition of reverse logistics.
FedEx

Another top-rated courier partner, FedEx, has robust goodwill among eCommerce sellers in Delhi for their reliable shipping services and reasonably competitive prices. There is nothing particularly negative about FedEx except they do not cover a wide area of delivery in the region. Their services are excellent and comparatively cheap, but for extensive coverage of the pin codes, you may opt for Blue Dart or Shiprocket.
First Flight

While not the most popular or reliable courier partner, First flight Courier has cemented its reputation in Delhi. Suppose you are an eCommerce seller most concerned about prices and want tremendous pin-code coverage, irrespective of the inconsistency in timely-order deliveries. In that case, First Flight may be the right courier partner for you.
Ecom Express

As a newbie in the shipping industry, Ecom Express has shown significant potential in its quality of service and response time. They offer affordable rates for all sections of sellers and are mainly reliable. If you don't bother choosing a less experienced shipping partner instead of others on the list, Ecom Express is a great option.
Gati

Founded in 1989, Gati has a dependable reputation for express deliveries. Its Express Plus service is commendable considering its background of timely order deliveries. Gati is an excellent option if you want to appease your customers by not making them wait longer for the products they order. With the choice of COD, you can ship at significantly low costs.
DHL

DHL is a common name for everyone, even those not belonging to the eCommerce or logistics industry. If you want broad pin-code coverage with steep pricing, DHL is the best courier partner. However, their Midas touch has been lacking in Delhi as sellers are acquainted more with Blue Dart, DTDC, and Shiprocket. Considering DHL is associated with Shiprocket, this reliable courier partner provides seamless courier services in one way or another.
India Post Service

Last but not least, India Post Service beats every other courier company due to its mammoth experience and expertise in providing relatively timely order deliveries even in the remotest of the location. If you are a budding eCommerce seller with a limited amount of monthly shipments, India Post Service will get the job done for you.
Do these courier companies offer discounted rates?
Courier companies have different rates depending on the pickup and delivery pin code and mode of communication. Courier aggregators like Shiprocket offer discounted shipping rates.
Do these courier providers offer express shipping?
Yes. Most of these courier services in Delhi provide express shipping for eCommerce.
Will I be able to send my customers their order tracking details if I ship with these couriers?
Yes. These carriers do offer an order tracking facility.
What can I send using domestic courier services in Delhi?
You can send documents, electronic items, food & beverage, cargo, apparel, medical equipment & other items using domestic courier services in Delhi.
What services will I get from domestic courier services in Delhi?
You can avail of services like same/next day delivery, express shipping, reverse pickups, intercity delivery, interstate delivery, speed post and other services.
How much do domestic courier services in Delhi cost?
The expense of domestic courier service will differ depending on different factors such as the weight of the parcel, the distance and the delivery speed.
Are there any reliable domestic courier services in Delhi?
Yes, there are various reliable domestic courier services in Delhi. They will take care of your packages and offer lower-cost delivery.
Will domestic courier companies deliver my parcel on time?
Yes, many domestic courier service providers offer on-time delivery and express delivery options.
Calculate Your Shipping Costs Now