Contactless Delivery – A Hygienic Delivery Technique for Delivering Essentials
According to the latest update by the MHA, you can ship non-essential items in the government listed Red, Orange, and Green Zones. We are not shipping any items to Containment Zones. Sellers who have serviceable pin codes included by our courier companies can ship essential and non-essential items from 18 May 2020. If you want to ship your products with Shiprocket, please contact your account manager. If you do not have an account manager, connect with us at 9711621040 so we can align your pickups accordingly.
Maintaining personal hygiene and sanitation is of utmost importance, particularly in these challenging times of the Corona Virus outbreak in India. Not just the end customers, i.e., your buyers are at risk of contracting the disease. The delivery associates also need to be protected. To ensure that deliveries carry on smoothly, you can opt to ship your products via contactless delivery. Let's have a look at what contactless delivery is and how you can implement it in your shipping and delivery strategy.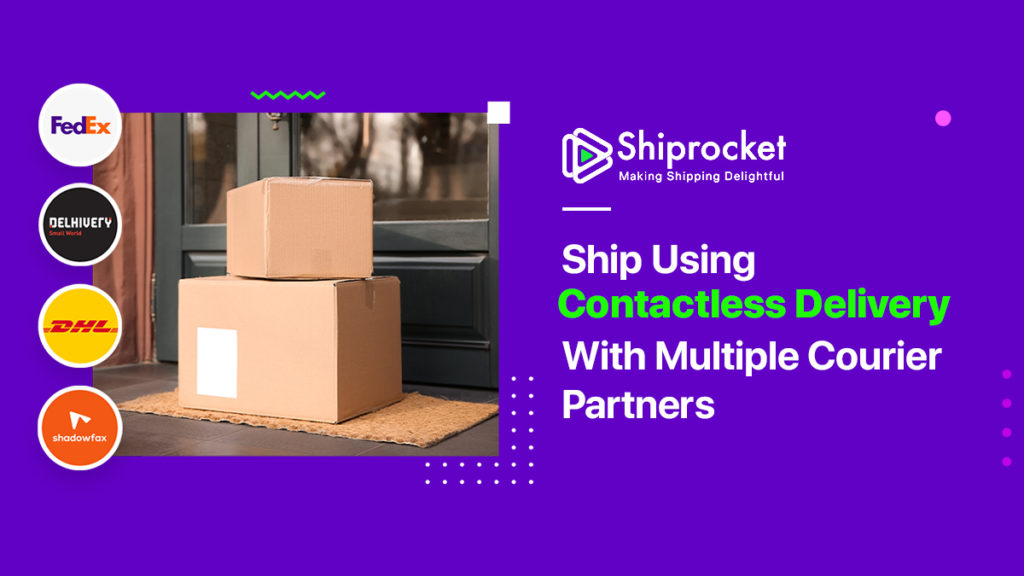 We request all our sellers to educate their buyers about contactless delivery. Ensure all shipments are delivered in this manner.
What is Contactless Delivery?
Contactless delivery refers to the process of delivering the product without physically meeting or interacting with the buyer. It is a safe and hygienic technique that can help reduce the contact by a large margin.
How Does Contactless Delivery Work?
First, when the buyer places the order, they can opt for contactless delivery at the time of checkout.
Following this, they can coordinate with the delivery agent to drop the product at a safe and clean area designated to receive the products.
The delivery executive can then click a picture of the delivered product and share it with your buyer.
The buyer can then collect the product from the designated area and use it.
Through this process, you can eliminate the need for physical contact, and buyers can directly receive products in a sanitized condition.
Why Should You Opt for Contactless Delivery?
Contactless delivery is currently the best alternative to reduce physical contact and avoid the spread of coronavirus. Since essential goods are necessary for the functioning of every household, eCommerce operations cannot be entirely stopped as the country goes into a 21-day lockdown. Therefore, with contactless delivery, you can do your bit and reduce the transmission.
To implement contactless delivery most seamlessly, you must ensure that no cash is exchanged in the delivery process. Make prepaid payments mandatory and avoid cash on delivery payments for the time being.
If everyone does their bit and contributes to safety and hygiene, we can together combat the spread of COVID-19 and flatten the curve.
Ship Essential Items With Shiprocket
If you are a seller who wants to ship essential items, you can do so with Shiprocket. We are shipping with several courier partners to help you ship essential items such as masks, sanitizers, grocery items, and medical equipment across 5000+ pin codes in India (Pin code number will be updated regularly).
You can find more details here – https://www.shiprocket.in/ship-essential-products-covid-19/
Reach out to us at 9711621040
Calculate Your Shipping Costs Now